Sunday | May 8, 2011
open printable version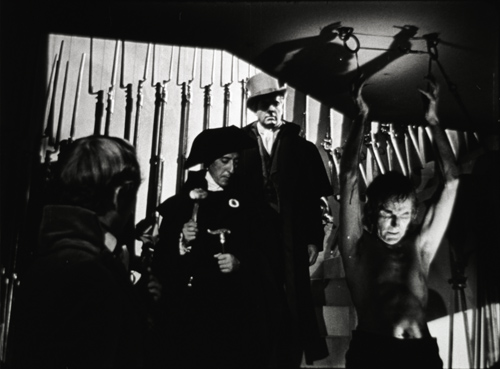 The Black Book (aka Reign of Terror).
DB here, catching up with books, videos, and events: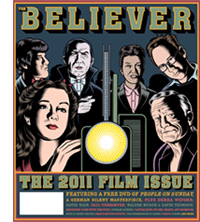 David Cairns has written a lively appreciation of William Cameron Menzies for the March/ April issue of The Believer. The essay bristles with rapid-fire aperçus, such as the suggestion that the great, demented Kings Row is something like the Twin Peaks of its day. David is particularly good at plotting the extent to which Menzies dominated the work of his directors. Directors without a visual style of their own, he points out, were easy for Menzies to overwhelm, but those with an already-developed signature could assimilate his contributions, as Hitchcock did in Foreign Correspondent.
In The Black Book (aka Reign of Terror) Menzies found soul mates in two other aggressive pictorialists, Anthony Mann and John Alton, the team becoming "a crazy triangle," eager to indulge in "thrusting gargoyle faces in fish-eye distortion, clutching shadows, and funky, teetering compositons." Bob Cummings never looked so bizarre, before or since. I didn't talk about this wild movie in my online Menzies material here and here because I had such poor illustrations from it. Now things have changed, and a decent, or perhaps rather indecent, sample of the film's delirium (above) can serve to back David's point.
David's "Dreams of a Creative Begetter" is one of several film-related pieces in this issue of The Believer. The issue includes a DVD of the seminal People on Sunday (Menschen am Sonntag, 1930), which gathered the talents of Billy Wilder, Curt Siodmak, Robert Siodmak, Edgar G. Ulmer, Fred Zinnemann, and Rochus Gliese. A helpful introductory essay is at the Believer site.
Speaking of David's writing, don't miss his superb shot-by-shot analysis of a key scene in Gilda at his Shadowplay site, an obligatory stop for all cinephiles.
Seldom does a monograph on a single film probe so deeply as Mette Hjort's new book on Lone Scherfig's Italian for Beginners. It's easy to take this movie as Dogme Lite, since compared to the earliest, rather harrowing Dogme efforts, it's an ingratiating romantic comedy-drama. Mette does justice to this side of Scherfig's film, but she also shows that it's an exercise in moral seriousness. Reconstructing the production process, she conducts in-depth analysis of performance and technique. She is sensitive to actors' moments, such as simply laying down a knife and fork; aware that these gestures are developed through improvisation, she is able to trace how each character is built up through details.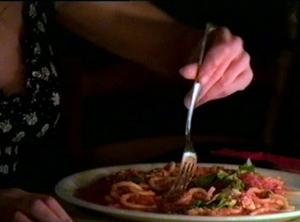 In her books and articles on the Dogme school Mette has shown that its innovations go beyond the vaunted technical "rules." She always addresses them, of course; here she provides an illuminating typology of ways the rules have been followed or dodged. But she also stresses, as most writers don't, that Dogme films engage with matters of political importance. For example, she has shown that The Idiots' controversial display of "spazzing" triggered an important debate about Danish attitudes toward the disabled. In her new book Mette indicates that Scherfig's efforts to endow her characters with the dignity to be found in everyday life offers viewers a chance "to re-connect with one of their culture's most powerful moral commitments." Mette talks about the project in this video.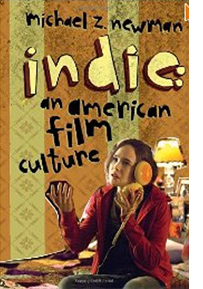 David Gordon Green directs Your Highness; Justin Lin signs his third Fast & Furious movie. With indie filmmakers eagerly joining the tentpole and franchise business, the whole phenomenon seems due for a rethink. This makes Michael Z. Newman's Indie: An American Film Culture all the more necessary. Although I can't be unbiased, because I served as Michael's advisor on the dissertation that became the book, I think that any reader would find the result a fresh and vigorous exploration of the achievements of the Sundance/ Miramax generation.
Michael starts by looking closely at the audiences and marketing. He suggests that viewers engage with the films through particular viewing habits (e.g., "Characters are emblems"). He then shows how these habits were nourished and refined by distributors, promotion, and film festivals. The next two sections of the book consider what we might take to be the two poles of indie difference from Hollywood: greater realism, and more self-conscious artifice. The central chapters analyze realism in relation to "character-centered" filmmaking in the Indie trend. Michael turns a critical eye on characterization in films as different as Walking and Talking, Lost in Translation, and Welcome to the Dollhouse. The third batch of chapters considers the trend's other major appeal, the sort of play with style and form we get in the Coens, Tarantino, Nolan, and others.
Michael shows how character-driven realism and gamelike artifice mesh well with the mandates of distribution and reception—how, in effect, "originality" becomes something that can be calculated and branded. The book concludes with thoughts on the evolution of the trend, comparing Happiness with Juno and raising the inevitable question: How artistically independent is independent film? Newman leaves us pondering: "Indie cinema has become Hollywood's most prominent alternative to itself."
One of the hallmarks of the Wisconsin program in film studies is its nuanced refusal of the art/ commerce duality that supposedly rules filmmaking. From many angles, researchers here have shown that creative impulses and business mandates mix in complicated ways, and the results are often fascinating. Indie is one example of this sort of research project, and so is another dissertation-become-book, Christopher Sieving's Soul Searching: Black-Themed Cinema from the March on Washington to the Rise of Blaxploitation. (Again, I was involved, serving on the committee chaired by Tino Balio.)
Chris concentrates on 1960s black-themed films from A Raisin in the Sun onward, because he wants to trace how filmmakers tried out a variety of ways to represent and comment on black life. It was a transitional era, but as he puts it "because of the insights they reveal about the periods that bracket them, transitional periods are among the most fascinating and significant in all of film history."
For Chris, Gone Are the Days (1963), The Cool World (1964), Uptight (1968), The Landlord (1970), and the unproduced Confessions of Nat Turner provide case studies of alternatives to what became the crime-and-comedy product of blaxploitation. Why did decision-makers believe that black-themed films would sell broadly enough to repay investment? What choices and compromises were necessary to "universalize" material (for white viewers) while also retaining "authentic" blackness? Or was it better simply aim the films at white liberals?
Chris tackles such questions through a painstaking study of the film industry's efforts to find, or create, an audience for films that took great risks. Written with verve (on the screen handling of the Black Panthers, Chris talks about Hollywood's "Black Power outage"), Soul Searching revives films that are all but forgotten and shows how their efforts to create one variety of independent cinema failed for particular social and industrial reasons.
Someone I've been meaning to spotlight for a while: Frédéric Ambroisine is a multitalented critic, filmmaker, stuntman, and collector based in Paris. One of his careers is making supplements for French DVD releases of Hong Kong films, both classic and current. If you have even a smattering of French, you can follow his supplements with ease. He gets precious interviews with screen legends like Kara Hui Ying-hung and Ku Feng (below), master villain of the great New One-Armed Swordsman.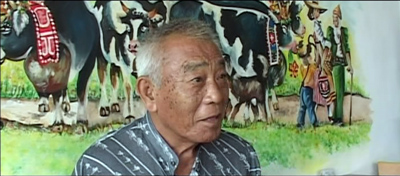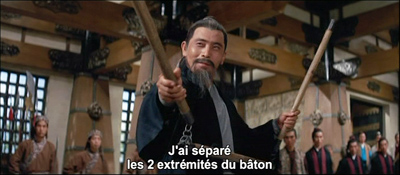 The videos from Wild Side often include Fred's featurettes. You can follow Fred's activities at actionqueens.com and alivenotdead. Much of the material in both places is in English.
Finally, if you're in Los Angeles this week, why not visit the celebration of Orphan Films playing at UCLA 13 and 14 May? While I was in New York in February, I met NYU's Dan Streible, moving spirit of the Orphan Films movement. Dan and his colleagues work with archives, collectors, and filmmakers to save films that fall through the cracks, digging up everything from home movies to news clips and experimental cinema. Dan curated a program of orphans at our local festival earlier this spring. At UCLA he will be a guest for screenings and discussions of many orphan titles, including the mysterious Madison Newsreel (Madison, Maine alas, not Wisconsin). Go here for Sean Savage's discussion of the orphan oddity that has become a cult movie, and here for background on Northeast Historic Film, which found the footage.
PS: Speaking of friends, I should thank the solicitous people who wrote me during my recent illness. I appreciate your get-well notes, and I'm happy to report that I'm on the mend.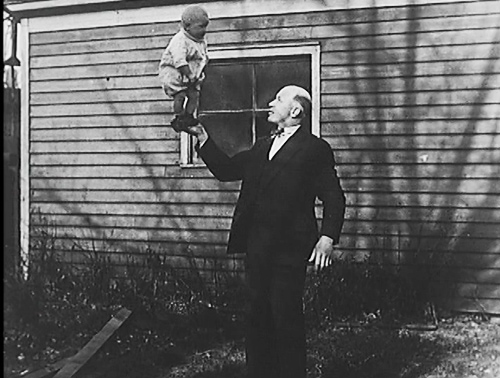 "World's Youngest Acrobat" (Hearst Metrotone/ Fox Movietone 1929). From Orphans 7: A Film Symposium.