Sunday | January 30, 2011
open printable version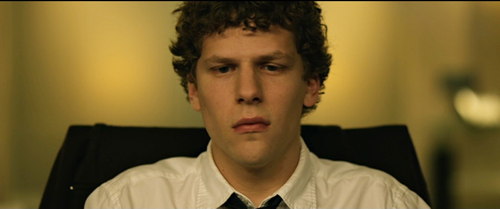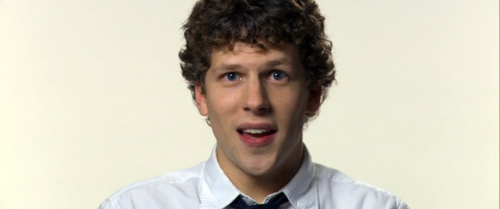 DB here:
What do John Ford, Andy Warhol, and David Fincher have in common? Eyeball these remarks.
Ford, asked what the audience should watch for in a movie: "Look at the eyes."
Warhol: "The great stars are the ones who are doing something you can watch every second, even if it's just a movement inside their eye."
Fincher, on the big club scene in The Social Network: "What's cinematic are the performances . . . . What their eyes are doing as they're trying to grasp what the other person is telling them."
It isn't just cinema that makes eyes important. Eyes are felt to be significant in literature, from the highest to the lowest. In just a couple of pages of a pulp adventure story you can read these sentences:
"Then it certainly does look very mysterious," he said, but his blue eyes were quiet and searching.
Chief Inspector Teal suddenly opened his baby-blue eyes and they were not bored or comatose or stupid, but unexpectedly clear and penetrating.
What do quiet eyes look like, actually? Or searching ones: perhaps they're moving a bit? Bored or comatose eyes might be droopy, so let's count the eyelids as part of the eye. But what could make eyes, by themselves, penetrating? Nonetheless, we think we understand what such sentences mean.
Watching eyes is tremendously important in our social lives. We need to monitor other people's glances to see if they are looking at us. We need to track what else they might be looking at. We need to watch for signals sent by the eyes, particularly attitudes toward the situation we're in. For example, we seldom look directly into each others' eyes, as characters in movies do constantly; in real life, "mutual gaze" is intermittent and brief. But if two people stare intently at each other, we're likely to assume keen attraction or rising aggression.
In an essay from Poetics of Cinema available on this site, I talk about mutual gaze in cinema and how it can be exploited for dramatic purposes. The same essay takes up the issue of blinking; we blink frequently, but film characters seldom do, and the actors usually make the blinks emotionally expressive (of fear, uncertainty, weakness, etc.).
The problem is that eyes, by themselves, tell us very little about what the person behind them is thinking or feeling. We can show this with a little experiment.
Do the eyes have it?
What do these eyes tell us?

Certainly they give us information–about the direction the person is looking, about a certain state of alertness. The lids aren't lifted to suggest surprise or fear, but I think you'd agree that no specific emotion seems to emerge from the eyes alone.
So what happens if we add eyebrows? (I've tipped the one above to conceal the brows; now you get to see the face's proper angle.)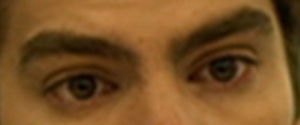 Now there's a degree of surprise. The brows are lifted somewhat. But still the emotion seems fairly unspecific: not particularly sad or angry or distressed; probably not joyous either. Then what?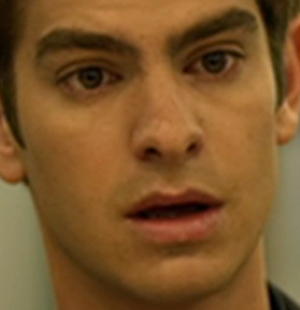 I'd call this dazed, slightly perplexed surprise. The sloping brows suggest the man is trying to figure out what's happened; but the mouth is a slight gape. You can almost imagine the lips murmuring: "Ohhh," or "Wow," and not in appreciation or pleasure. If you wanted to show someone being blindsided, this is a pretty precise way to do it.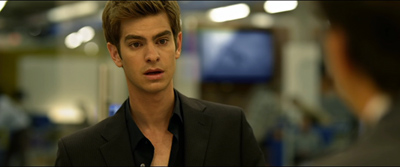 Of course context helps us a lot. Eduardo Savarin has just been gulled by his partner Mark Zuckerberg and by the interloper Sean Parker. His stock in the company that he co-founded is now worthless. So the situation informs our reading of Eduardo's expression, and this permits the actor to underplay. Actor Andrew Garfield doesn't give us bug-eyed surprise or frowning bafflement; he relies on our understanding of what he must be feeling (what we would feel) in order to refine and nuance his expression. When an actor underacts, we're often expected to fill in the emotions we could plausibly imagine him to be feeling, on the basis of the story at this point. In isolation, the expression might be vague or ambiguous; the narrative situation helps sharpen it.
Back to the main question: How informative are the eyes alone? Try this one.

Again, I've tipped the shot a little to conceal the brows. Not much evident from the bare eyes, is there? Again, a certain focus and interest, but that's about it. No marked surprise or fear or sadness.

Something has been added. The brows aren't lifted in surprise or fear or sadness or distress; they seem to be relaxed. The angle of the look suggests concentration, but we're not getting as much information as we got from Eduardo's brows. We need a mouth.
The impression of concentration is greater, and I think we'd agree that this small smile of satisfaction gives us some insight into what the character is feeling. Again, the eyes tell only part of the story.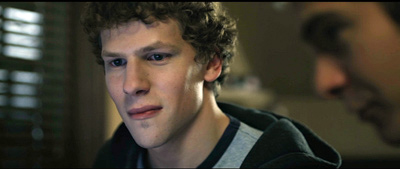 And again context matters. Mark Zuckerberg has just figured out that he can enhance The Facebook by adding users' information about their romantic relationships. The tight, sidelong smile confirms not only his genius but also his view that college is partly about getting laid.
Less with the eyebrows
At this point you might be getting impatient with me. Isn't this all obvious? Of course the actors use their faces–they're paid to do that. But sometimes going obvious can get us to notice things.
For one thing, the eyes in themselves aren't that emotionally informative. Pupil dilation can convey physical arousal, but that's another story for another time. More commonly, the eyes give us the all-important information about what the person is looking at. The lids convey alertness, or drowsiness, or if they're pinched a bit, concentration or anger.
Sometimes the eyes give us all the information we get. Here is Mark just before he agrees to take the job coding for the Winklevoss brothers' project, The Harvard Connection. He moves from alertness to calculation by narrowing his eyes. As the phrase goes, you can hear the wheels turning.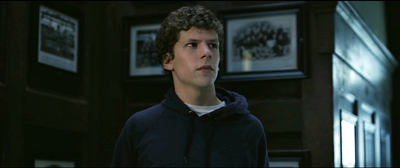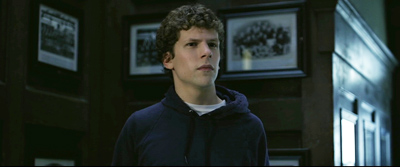 Crucial to this moment is that nothing but Mark's eyes and lids move; he doesn't even turn his head. At the film's climax, he will open up a little bit, and the eyelids play a central part. Getting the news that the Facebook party has been busted, Mark starts to breathe more laboriously, then wobbles his head slightly and closes his eyes. For once his concentration is broken.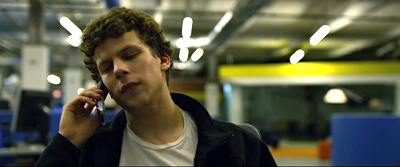 It's about as close as Mark comes to a canonical expression of sadness.
Obvious as it seems, by isolating the eyes we can notice the division of labor among eyes, eyelids, brows, and mouth: Each component supplies a bit of information. We're remarkably skillful in integrating all these cues. What researchers into face perception call the informational triangle–the two eye regions tapering down to the mouth–creates a package of social and psychological signals. It's this whole ensemble, the most informative parts of the face working together, that guides us in making sense of other people, or of film acting.
I've come to especially appreciate eyebrows. Daniel McNeill, in The Face: A Natural History, writes:
The eyebrow is the great supporting player of the face, and its work generally escapes notice. It helps signal anger, surprise, amusement, fear, helplessness, attention, and many other messages we grasp almost at once. Indeed, without eyebrows the surprise expression almost disappears. The eyebrows are such active little flagmen of mind-state it's amazing anyone can wonder about their purpose. We use them incessantly (p. 199).
Since eyebrows are so important, actors must control them carefully. In the film's first scene, Erica Albright moves her eyebrows vivaciously (and widens her eyelids too), but Mark's brows are rigid and knit together.
This scene introduces us to Mark's facial behavior. He will glance to the side when he's pressed, but he'll focus sharply on the other person when he's trying to dominate the conversation. His mouth seems to be ruled by the triangularis and mentalis muscles, creating the inverted smile sometimes called the "facial shrug," even when the lips are relaxed. Erica smiles a lot, something that usually triggers a responding smile. But not from this guy, though a smirk will occasionally flit over his mouth when he says something insulting. The closest we get to a true smile, I think, is at the blowout conclusion of the contest for internships, and that's seen in the fairly distant long shot at the top of this section.
Above those eyes and that mouth sit those hooded brows, almost never lifting or lowering. Which is to say that Mark seldom shows surprise, and his anger will usually be visible in the set of his mouth (and in his words.) His flatlined brows sometimes suggest keen concentration, sometimes aloofness when he tilts his head back, or more pervasively the sense that everything in the vicinity is irritating. He seems to be permanently scowling, an effect that Fincher and DP Jeff Cronenweth accentuate by lighting that draws his brows closer together and hollows out the eye sockets.
How different this performance is from the actor Jesse Eisenberg's everyday facial configuration (or at least the one he employs to send us other signals) can be seen in the making-of documentary accompanying The Social Network on DVD. One example surmounts this entry and shows a much different set of expressive cues–raised eyebrows, wider eyes, more cheerful mouth. The actor's face is very mobile; he can even turn in the inner corners of his brows, which is hard to do voluntarily.
In one section of the making-of, Jesse reports that Fincher was often telling him, "Less with the eyebrows," and onscreen Eisenberg delivered. By the end, for the last shots of Mark alone, Fincher asked for what's become famous as the Queen Christina effect–an expression that could be read in many ways. "I want everybody to put anything on it."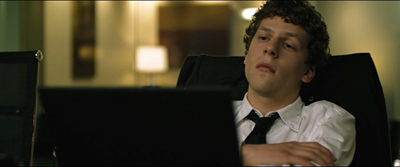 The result is a portrait of Generation Whatever, or an image of stoic loneliness, or of bemused curiosity about an old girlfriend, or. . . .
One more consequence of my noting the obvious: The centrality of faces to modern movies. Today's films use close-ups very heavily, probably more than at any other point in film history. (The Way Hollywood Tells It explores some reasons why.) What I've called the "intensified continuity" style of modern cinema relies on tight single shots of individual players.
So modern players must be maestros of their facial muscles and eye movements. In other styles of filmmaking, currently and historically, the actor's performance is projected onto more body parts through gestures, stance, gait, and the like. Recall Cary Grant, who performed with his whole body. Of course he wasn't bad in close-ups either.
Faces aren't everything in movies like The Social Network. Most characters use their arms and hands freely–probably the Winklevi the most. Mark is straightjacketed, but even he will gesture sometimes, as when a drooping Twizzler becomes his hand prop. He usually prefers a shrug, though it's executed without the eyebrow lift most people add. Postures and personal walking styles play key roles in the film as well.
Still, as in most movies today, here eyes and brows and mouths are the main channels of emotional information. Fincher again: "It was really a movie about kids' faces." And even films from the 1910s, made before directors used a lot of cutting, often used long-shot staging to direct attention to the body's most informative zones. A 1913 book on film acting noted, "Facial expression is perhaps the most important part of photoplaying. . . . After all is said and done the eyes are really the focus of one's personality in photoplaying."
Facebook facework
I can't offer a complete account of nonverbal behavior in The Social Network here, but I want to end with a hypothesis that would be worth more detailed inquiry. The film's central relationship is that between über-nerd Mark and Econ-major Eduardo, the coder and the aspiring tycoon (although he also supplies Mark with a crucial algorithm). Through facework, Fincher and his actors delineate the contrasting personalities and trace their shifting dynamic.
From the start, we get Mark's stare of frowning concentration, drawing on the muscle called the corrugator, Darwin's "muscle of difficulty." By contrast, Andrew Garfield's performance is marked by a look of worry and abashment. He's often kinking his eyebrows, furrowing his brow, and ducking his head. Fincher motivates this behavior by having him often stoop over Mark's workstation, tilt his head downward, and lift his eyes from underneath his brow.
In this shot/ reverse-shot passage, Mark's mask never slips but Eduardo, wrinkling his brow and tipping his chin down a bit, looks apologetic.
Even when Eduardo has every right to berate Mark, he looks like he's the one in the wrong. Instead of displaying the jammed-down, pinched-together brows of an angry man, he won't lose his patient, slightly anxious look.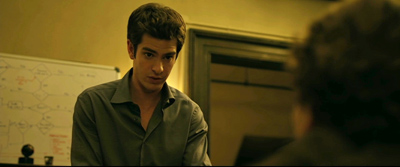 See the last image on this entry for a moment when Eduardo seems on the verge of tears–and this is after he's gotten an invitation to join two alluring women.
You can argue that the blindsided expression we dissected earlier is one culmination of the facial cues that Andrew Garfield has been blending in the course of the film. But things are more complicated. The plot gives us two forward-moving timelines, one in the past tracing the rise of Facebook, the other in the present, during which Mark is deposed in two lawsuits. At an early deposition, Mark's implacable stare works to make Eduardo revert to his old obeisance.
But in a climactic face-off, we come to see a different Eduardo.
Eduardo's quiet testimony about whether anyone's share but his was diluted ("It wasn't") affects Mark more deeply than the bluster of the Winklevoss brothers. The words are delivered without the usual sidelong glance, kinked eyebrows, or head ducking that has defined Eduardo earlier. His brow is smooth, his brows level. This is man to man, and it's Mark who breaks off eye contact.
You could nuance this transformation by tracing it scene by scene, and contrasting it with the body language displayed by other characters. For today I simply wanted to sketch the broad development that I think is at work in this core relationship. The drama of domination and betrayal is played out in eyes, eyebrows, mouths, mutual gazes, and the like as much as it is in the dialogue and incidents.
There is no art, Shakespeare's Duncan says, to read the mind's construction in the face. He's right about the reading part; we grasp expressions fast, intuitively, and often reliably. But there is art in the performer's construction of the face, and of the director's cinematic shaping of it.
---
John Ford's remark about looking at the eyes is quoted in Joseph McBride's Searching for John Ford (Jackson: University Press of Mississippi, 2010), p.2; the Warhol quotation comes from Andy Warhol and Pat Hackett, POPism: The Warhol '60s (New York: Harper and Row, 1980), p. 109; quotations from David Fincher come from the bonus features on the collector's edition DVD of  The Social Network. My quotations about eyes in fiction are drawn from Leslie Charteris, Prelude for War (New York: Doubleday, Doran, 1938), pp. 171, 173. The 1913 quotation about eyes comes from Francis Agnew's Motion Picture Acting (Syracuse: Reliance Newspaper Syndicate), p. 40; I learned of it from Janet Staiger's article, "'The Eyes Are Really the Focus': Photoplay Acting and Film Form and Style," Wide Angle 6, 4 (1985), pp. 14-23.
Ed Tan offers a very good analysis of the issues I mention here in his article "Three Views of Facial Expression and Its Understanding in the Cinema," in Moving Image Theory: Ecological Considerations, ed. Joseph D. Anderson and Barbara Fisher Anderson (Carbondale: Southern Illinois University Press, 2005), pp. 107-127. I find Vicki Bruce and Andy Young's In the Eye of the Beholder: The Science of Face Perception (Oxford University Press, 1998) a very helpful guide to ideas in this research area. The "facial shrug" is described in Gary Faigin's excellent The Artist's Complete Guide to Facial Expression (New York: Watson-Guptill, 1990), pp. 104-105.
There's a fascinating debate in the human sciences about whether particular aspects of nonverbal communication are constant across cultures. Gestures vary considerably, but are facial expressions universal to some degree? Or do they differ from culture to culture? Are they primarily expressions of the person's emotion, or are they signals which have developed, through evolution or cultural convention, to influence others? You can read more about these and other issues in Paul Ekman and Wallace V. Friesen, Unmasking the Face (Cambridge, MA: Maor Books, 2003) and Alan J. Fridlund, Human Facial Expression: An Evolutionary View (San Diego: Academic Press, 1994). The classic account is by Darwin, whose 1872 book Expression of the Emotions in Man and Animals is available in an edition in which Ekman includes an afterword explaining the development of this research tradition.
Up to the minute, more or less: Contemporary research on smiling and eye contact.
PS 2 February: Thanks to William Flesch for correcting my Shakespeare citation: I originally attributed it to Hamlet.