Saturday | January 15, 2011
open printable version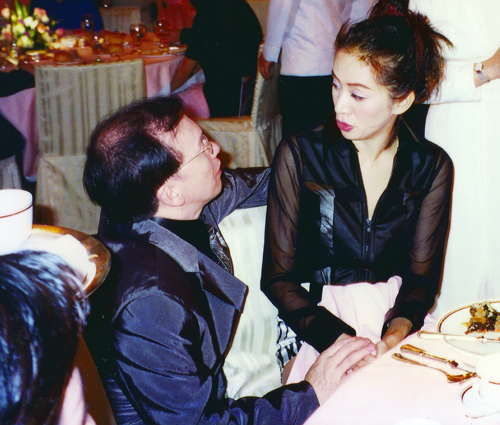 The late Anita Mui Yim-fong with Joe Junior. Hong Kong Film Awards party, April 1995.
DB here:
Planet Hong Kong, in a second edition, is now available as a pdf file. It can be ordered on this page, which gives more information about the new version and reprints the 2000 Preface. I take this opportunity to thank Meg Hamel, who edited and designed the book and put it online.
As a sort of celebration, for a short while I'll run daily entries about Hong Kong cinema. These go beyond the book in dealing with things I didn't have time or inclination to raise in the text. The first one, listing around 25 HK classics, is here. The second, a quick overview of the decline of the industry, is here. The third, on principles of HK action cinema, is here. The one following this considers western Hong Kong movie fans, the next entry focuses on directors, and the last entry reflects on film festivals, while adding a short list of some of my favorite HK movies. Thanks to Kristin for stepping aside and postponing her entry on 3D.
Today I want simply to share some photos I've taken of HK film performers over the last fifteen years. I'll concentrate on the years B.B. (Before Blog)–that is, before 2007, when I began writing entries about my visits to the Hong Kong International Film Festival. Many other pictures of stars can be found in those annual entries, which can be accessed from this point on. I provide some links identifying the performers if you want to track down some films they were in. My snapshots' quality isn't professional–often my protagonists are bathed in tinted light–but for what it's worth….
We reach back to the Analog Era, starting with my first visit to the Fragrant Harbour. Two couples at the 1995 Hong Kong Film Awards: Carina Lau Ka-ling and Tony Leung Chiu-wai; and Sandra Ng Kwun-yu and Simon Yam Tat-wah.
So on my first visit I was within viewing distance of two gods and two goddesses of Hong Kong film. Still, my most memorable moment came before the ceremony, when Jackie Chan came in and boldly wrote his name at the very top of the message board, above everybody else's.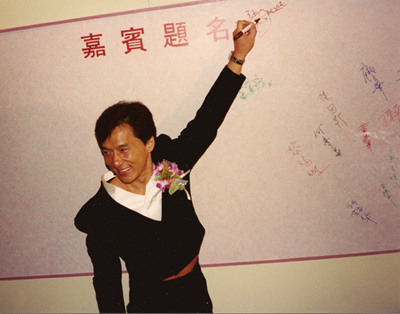 Two years later, when I was doing research for PHK, I met some performers in less public situations. This being Hong Kong, food was usually involved. Below, Francis Ng Chun-yu at a restaurant paused to promote his latest movie, Mad Stylist; and Shu Qi at Manfred Wong Man-chun's fine restaurant.
Before you ask: Yes, I ate dinner with each of them. I was so dazzled I don't remember a damn thing. Good thing I took pictures.
During the same 1997 visit, I managed to interview several filmmakers, one of whom was Anthony Wong Chau-sang. And what he said, I do remember. I took notes.
Alhough Anthony said it felt strange to be interviewed by a professor, he talked pretty freely. The interview ranged over acting styles (he was one of the few who experimented with the Method) and told some anecdotes about working with John Woo, Ringo Lam, and Kirk Wong. He also talked about his punkish rock music; who would think this gentle-looking guy was the lead performer on his classic "Let Thunder-God Gash All the Manic Bullies."
One of the great things about Hong Kong is that stars from earlier eras are still treasured by younger moviegoers. I've seen Ti Lung, hero of many Shaw films of the 1970s and of the classic A Better Tomorrow (1986) several times, and he's always surrounded by a swarm of young fans asking for his autograph. Here he is in a quieter moment at the 2001 Hong Kong Film Awards afterparty. Alongside is the ruggedly handsome Roy Cheung Yiu-yeung at the same event.
Earlier that evening at the Awards Michelle Yeoh was, as you'd expect, besieged by fans and news people.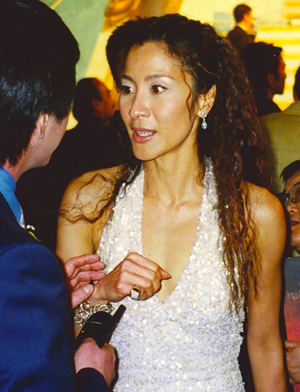 Two from 2004: Jackie on the red carpet, more sedately dressed than before; and Eric Tsang Chi-wai.
Hong Kong Film Awards, 2006. An axiom of the 2000s Hong Kong cinema, Lam Suet; and Simon Yam again, this time with inveterate HK fan Mike Walsh.
Skipping ahead to 2008 and the premiere of Run Papa Run, here is the director, the ever-radiant Sylvia Chang Ai-chia, and one of her stars Louis Koo Tin-lok. I think of him as a newcomer, which he was when I was first visiting Hong Kong; but he has been in over sixty movies since 1994.
Also from 2008: Lau Ching-wan clowns in the kitchen of Paulina and Johnnie To Kei-fung, with Mrs. Lau (Amy Kwok) not at all put out. (More of Lau, from a few years earlier, here.)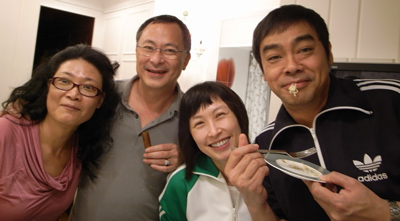 One thing that struck me from my very first visit onward. Here stars are unbelievably approachable. Most enjoy meeting their fans, and they aren't pretentious. This warmth adds to their lustre; glamorous as some stars are, they remain close to everyday people. As Leslie Cheung Kwok-wing put it, "In Hong Kong, once the audiences love you, they go on loving you for a very long time."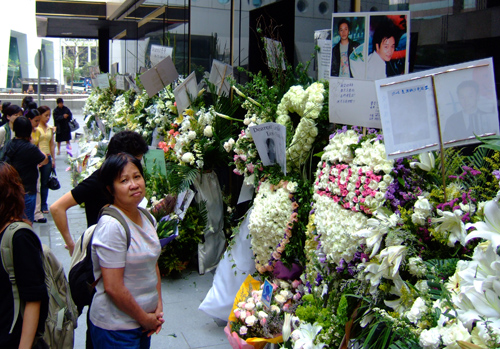 The annual tribute to Leslie Cheung, held on the anniversary of his 2003 death; Mandarin Oriental Hotel, 2007.