Tuesday | January 11, 2011
open printable version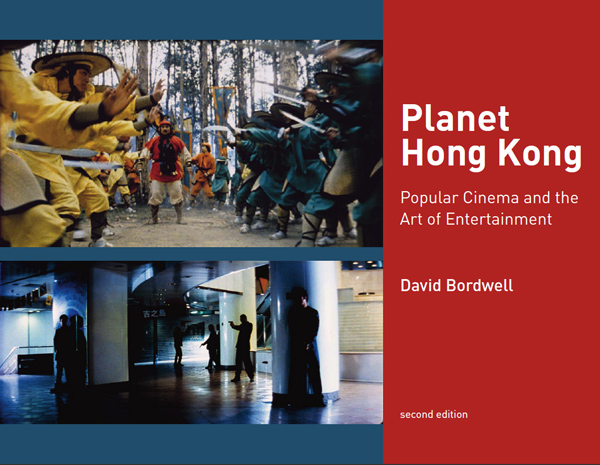 DB here:
Planet Hong Kong, in a second edition, is now available as a pdf file. It can be ordered on this page, which gives more information about the new version and reprints the 2000 Preface. I take this opportunity to thank Meg Hamel, who edited and designed the book and put it online.
As a sort of celebration, for a short while I'll run a daily string of entries about Hong Kong cinema. These go beyond the book in dealing with things I didn't have a chance to raise in the text. This is the first one. The second, a quick overview of the decline of the industry, is here. The third, on principles of HK action cinema, is here. The fourth, a photo portfolio of HK stars, is here. The following ones deal with western fandom, some Hong Kong directors, and final reflections on film festivals and a list of other intriguing movies. Thanks to Kristin for stepping aside and postponing her entry on 3D.
± 25 classics: A cheat sheet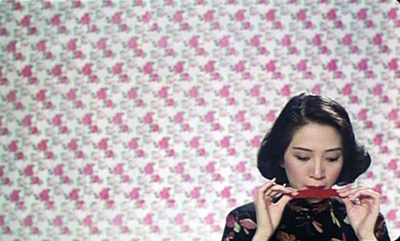 Rouge (1988).
I have an aversion to list-making (some day I'll explain), but I'm often asked to recommend Hong Kong movies to people wanting a quick start. So I'm launching this suite of daily entries around Planet Hong Kong by charting some widely recognized high points in this effervescent cinema.
Some items are important for their historical influence, some for their intrinsic quality, some for both. I'm restricting myself to the years after 1960, although there are several influential and powerful films before that (e.g., In the Face of Demolition, 1953). Still, if you want a fair sample of this cinema's output you must sample these more or less official classics. If the bug bites, you can supplement them with other items that I'll mention in passing here and in the days to come. Several of these films are discussed in more detail in the book, and most are available on DVD.
The Wild, Wild Rose (1960): Cathay (to use its shortest name) was one of the two major companies of the 1960s and in this brassy show-business drama Grace Chang (Ge Lan) had her defining role as the Carmen of the nightclub scene. Another Grace Chang classic is Mambo Girl (1957), and you can get a sense of the gorgeous star culture of Cathay by seeing her and other top actresses in Sun, Moon, and Star (1961), sort of a Hong Kong Gone with the Wind.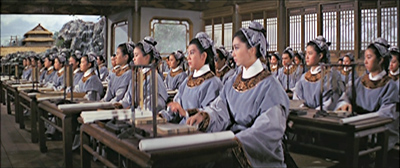 The Love Eterne (1963, above): This adaptation of the "plum-blossom" opera was given lavish treatment by the Shaw Brothers studio, the major studio of the period. Li Han-hsiang's spectacle of colorful costumes, big studio sets, and gender masquerade won several awards and helped establish Hong Kong films across Asian markets. Li went on to make many other sumptuous costume pictures, as I discuss briefly here and in subsequent entries. This web essay focuses on Shaws' anamorphic output.
Come Drink with Me (1966): The first Shaw entry in its new martial arts cycle, pioneered by King Hu. In an inn various characters in disguise meet and bluff one another; eventually the woman warrior Golden Swallow takes on all comers. Strictly speaking, King Hu's other films belong to Taiwanese cinema, but he is one of the greatest of all Chinese directors, so you will naturally want to see Dragon Gate Inn (1967), The Fate of Lee Khan (1973), The Valiant Ones (1975), and his official masterpiece, A Touch of Zen (1971). I give him a fair amount of space in Planet Hong Kong because of his historical importance and his innovations in the aesthetics of action. I talk a little about those innovations here.
Golden Swallow (1968): Shaws' dominant director from the late 1960s onward, Chang Cheh specialized in films of "staunch masculinity," martial arts pictures that replaced the female-centered romances and opera films. Golden Swallow shows the woman warrior, the nominal protagonist, muscled aside by a typical brooding Chang hero—Jimmy Wang Yu, acting as if he still nursed a grudge from being The One-Armed Swordsman (1967). Later Chang developed the masculine pairing of Ti Lung and David Chiang Da-wei (Blood Brothers, 1973) and the brawny teamwork of what came to be known in the West as the Five Venoms (as in Invincible Shaolin, 1978).
Fist of Fury (1972): Child star Bruce Lee came home from Hollywood, and his first kung-fu film, The Big Boss (1971), was a sensation. The most influential star in all Hong Kong cinema, Lee stands at the center of his classics; the plots, staging, and shooting simply set off his glowering charisma.  Fist of Fury provides a string of archetypal scenes: he wipes the floor of a dojo with its students and master, he kicks to splinters a sign barring Chinese from a park, and he ends his life by hurling himself, shouting, into a hail of bullets. Remade as the no less enjoyable Fist of Legend (1994) with Jet Li.
The House of 72 Tenants (1973): The success of Shaw Brothers' export-driven Mandarin-language product led to a decline in films made in Cantonese, the local language. (Hong Kong audiences heard Bruce Lee dubbed into Mandarin.) 72 Tenants, based on a popular play, brought back Cantonese cinema in a crowd-pleasing guise. Under the direction of veteran Chor Yuen, the crisscrossed stories of neighbors became an enduring reference point for local cinema—cited again last Lunar New Year in 72 Tenants of Prosperity.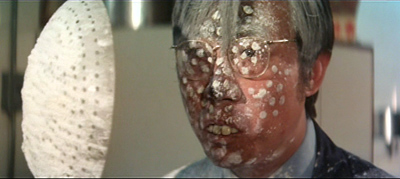 The Private Eyes (1976): Another victory for Cantonese vernacular cinema. The Hui brothers, popular from television, brought their episodic sight-gag comedy to the big screen and were among the biggest stars of the 1970s. There are many classic scenes, including Michael and Sam's sleight of hand with candies, a shark attack in a kitchen, and a bout of chicken aerobics—plus a weird contagion of neck braces. See also Security Unlimited (1981) and, for fairly daring mockery of Beijing, The Front Page (1990).
The 36th Chamber of Shaolin (1978). As his employer Shaw Studios was fading from the scene, Lau Kar-leung (aka Liu Chia-liang) created in nearly twenty films a virtual encyclopedia of the kung-fu tradition. Any choice among the films is arbitrary (I'll mention more in a future entry), but let this exuberant display of color, movement, and emotion stand as an outstanding accomplishment. A young man burning with rebellion enters the Shaolin monastery. Through persistence and discipline he achieves the highest distinction and returns to his home town to fight the Manchu oppressors. Featuring the director's brother Gordon Lau Kar-fai and Lo Lieh, both martial-arts icons.
Young Master (1980): Jackie Chan's comic kung-fu caught fire in Snake in the Eagle's Shadow (1978) and Drunken Master (1978). Young Master is a prime instance of his rubbery energy and bottomless masochism. It benefits from extended byplay with Yuen Biao, splendid jumper, and Shek Kin, patriarch of the Hong Kong martial arts movie. Soon Jackie would show both ambition and directorial prowess in Project A (1983), his leap into big budgets and pan-Asian superstardom.
Aces Go Places (1982): The most successful franchise in Hong Kong history was launched by this jaunty action comedy, stuffed with pratfalls and high-tech chases. The buffoonery was carried off by an unruffled Sam Hui Koon-kit and a sprightly Sylvia Chang Ai-chia, not to mention the robots. Any film is improved by robots.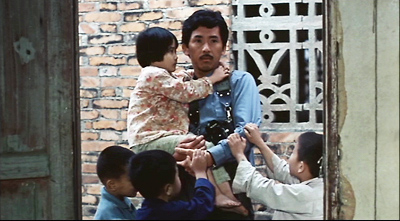 Boat People (1982): Ann Hui On-wah, a practitioner of serious drama for over thirty years, established her reputation in world cinema with this poignant story about a photographer's discovery of children cast out by war. Her earlier film about Vietnamese refugees, Story of Woo Viet (1981), gave TV actor Chow Yun-fat his first major film role. Another characteristic Hui work is Song of the Exile (1990).
Zu: Warriors of the Magic Mountain (1983) Which early film by Tsui Hark to choose? The Butterfly Murders (1979) looks forward to his recent Detective Dee; the hectic We're Going to Eat You (1980) suggests Romero turned loose in China; many critics pick Dangerous Encounter—First Kind (1980), a rough-edged Buñuelian indictment of class differences. With Zu, however, Tsui showed his resolve to update classic genres, in this case the Cantonese swordplay fantasy, using modern technique and special effects—a trend that has continued right up to the recent Storm Warriors (2010). Go here for more thoughts on Tsui.
Police Story (1985): Possibly Jackie Chan's directorial masterpiece. A rip-roaring auto chase through a hillside shantytown, capped by a runaway bus, would be the climax of any other movie, but here it's just for openers. The film ends with a fight in a shopping mall that, for precision and visceral impact, deserves to be ranked with the great sequences in film history. More on this scene here.
Peking Opera Blues (1986): The woman warrior's shining hour, complete with the obligatory cross-dressing. Tsui Hark moves toward historical action/ adventure in a breathless movie that showcases three great beauties: Brigitte Lin Ching-hsia, Sally Yeh, and Cherie Chung Cho-hung.
A Better Tomorrow (1986): The film that defined a generation and cemented Chow Yun-fat's star stature. John Woo came out of Taiwanese exile to make a film that revived the Chang Cheh spirit of brotherhood, made even more romantically doomed by the idea that Hong Kong was living on borrowed time.
Rouge (1988): A courtesan's ghost revisits contemporary Hong Kong and finds that no one else is willing to die for love—not even the man who pledged to join her in death. Stanley Kwan Kam-pang's delicate yet straightforward handling of the plot, refusing all special effects, gives an extra poignancy. Others would suggest Kwan's Centre Stage (aka Actress, 1992), a biographical study of the great film star Ruan Lingyu.
The Killer (1989): The Chow/ Woo collaboration that brought them to the attention of the West. Often imitated, at home and abroad, the original retains its bold lyricism and outlandish emotion: crime and punishment as (mostly male) melodrama, accompanied by cadenzas of annihilation. To be supplemented by A Better Tomorrow II (1987), Bullet in the Head (1990), and Hard Boiled (1992), all of which brought awed fanboys to their knees.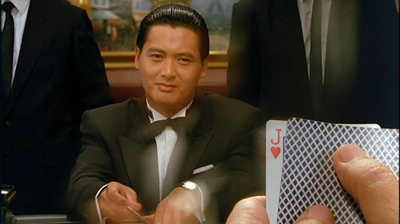 God of Gamblers (1989): A financial triumph for bad-boy producer/director Wong Jing and the definitive gaming movie for a town that loves a bet. Shamelessly cheesy in its plot mechanisms, surprisingly elegant in its direction, the movie yanks us from laughter to pathos. Plus Chow Yun-fat in a tuxedo. To be seen alongside Stephen Chow Sing-chi's parody All for the Winner (1990).
Days of Being Wild (1990). Wong Kar-wai's breakthrough film about young people adrift in the early 1960s. A dazzling array of stars (Leslie Cheung Kwok-wing, Maggie Cheung Man-yuk, Andy Lau Tak-wah, et al.) creates a languid movie about the magnetic pull of selfish passion. For many local critics, the most important film of the last thirty years. I discuss a rare alternate version of the film here.
Once Upon a Time in China (1991): Tsui Hark doing Movie Brat revisionism again, this time with the Southern Chinese folk hero Wong Fei-hong. This flamboyant exercise in fervent nationalism ushered Mainland wushu champion Jet Li onto the world stage. If Bruce Lee radiated a cocky sexual energy, this film helped establish Li's star image as a shy and chaste warrior.
Chungking Express (1994)/ Ashes of Time (1994): A coin-flip. The first showed that Wong Kar-wai could make a movie fast, cheap, and charming. The second showed that a swordplay film could be drenched in romantic longing. Both bristled with audacious storytelling tactics. Chungking spliced two stories together (prefigured in the way characters bump into each other), while Ashes zigzagged and spiraled in time, refusing plot certainties but offering a hypnotic reverie instead. Western critics and fans, notably one Q. Tarantino, sat up and noticed. PHK devotes an entire section to Chungking; go here for more on Ashes of Time.
The Mission (1999): Johnnie To Kei-fung's stealth classic. Made on a shoestring, shot in less than three weeks (without a developed script), filled with great character actors, this ascetic polar has some of the subtlest plot twists in Hong Kong film. If Kitano Takeshi in his prime had made a Hong Kong film, it might look like this. Of course the mall shootout has become a classic.
Crouching Tiger, Hidden Dragon (2000): This US-Hong Kong-Taiwan project showed that the world was ready for the wuxia pian, or film of heroic chivalry. CTHD became the top-grossing foreign-language film in U. S. history. The versatile Ang Lee centered the drama on two couples, one young and one older, and their life in the jianghu–that virtual, larger-than-life world of forests and rivers that tests warriors' righteousness. Lee's film prodded Zhang Yimou to make the artier Hero (2003), first in a procession of historical dramas that helped revive the Mainland film industry.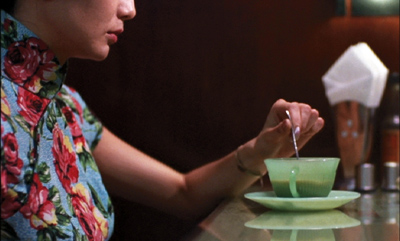 In the Mood for Love (2000): Julia Roberts' favorite movie, I'm told. Revisiting the period and perhaps some of the characters of Days of Being Wild, Wong Kar-wai evokes muffled yearning through averted glances, hidden faces, radiant costumes, and a typically spine-tingling soundtrack. This Cannes prizewinner was given a sequel, 2046 (2004), that is harsher but no less romantic in its commitment to cherishing the past.
Infernal Affairs trilogy (2002-2003): A deliberate effort to break away from the hell-for-leather action film, the IA trio showed that Hong Kong filmmakers could construct a taut, restrained crime plot. The first installment is a compact, efficient suspense exercise, the second a wide-ranging exploration of betrayal, and the third a fairly daring experiment in time-shifting and subjectivity.  Many recent crime films have taken their cues from the trilogy's huge box-office success. Portions were remade as The Departed, and for once it was the Hollywood movie that was overblown (not least the contribution of Mr. Nicholson). I set down some thoughts on the two versions here and here.
Kung Fu Hustle (2004): Stephen Chow purists may consider it a case of comedic elephantiasis, but this big-budget extravaganza is historically significant for winning worldwide distribution and big box-office. Kung Fu Hustle is also packed with engaging CGI-enhanced gags, on every scale from tenement demolition to cobra-smooching. One of the funniest scenes will encourage you not to use the phrase "hair on fire." The even more inventive Shaolin Soccer (2001) was Chow's previous step toward making movies at once China-friendly and globally marketable; not for nothing is his company called The Star Overseas.
Later this week I'll offer a list of other Hong Kong films that I think are worth attention. (So wait until you've seen all my picks before writing me to point out titles I've omitted here!) And somewhere I'll try to wedge in some outstanding sequences. This is nothing if not a cinema of rousing set-pieces.
---
Nearly all the films  I mention are available on DVD, with European and American editions usually being of superior quality to Hong Kong editions. Many of the filmmakers mentioned are discussed in other entries on our site; check the Directors category on the right.
In 2005, Chinese critics assembled a list of the 103 best films from the PRC, Taiwan, and Hong Kong. That list can be found here.
PS 3 Feb: Another list of top Chinese films, tilted somewhat toward Taiwan, is here.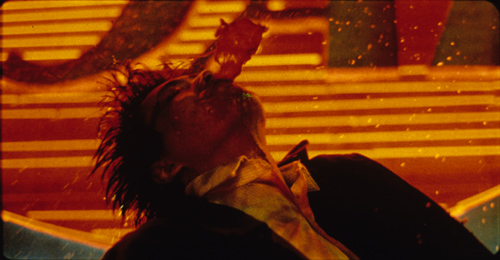 A Better Tomorrow (1986).