Saturday | July 24, 2010
open printable version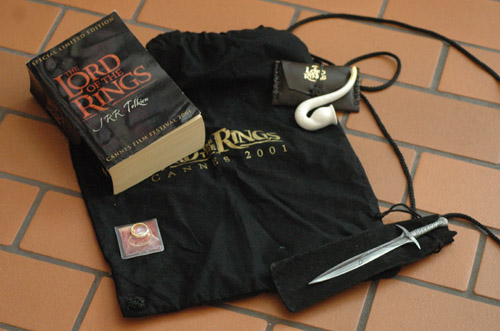 Gift bag from the New Line Cannes party of 2001
Kristin here:
Two days after I returned from "Il Cinema Ritrovato" in Bologna, the "On, Archives!" symposium began here in Madison. The Wisconsin Center for Film and Theater Research turned fifty this year, and this was its celebration. It was held in conjunction with "The Symposium on Broadcasting in the 1930s." I didn't attend the whole event, but I dropped in to hear several of the film-related papers.
Among these was Susan Ohmer's "The Archive in the Age of eBay." Susan's an old friend of ours. She wrote a book on the Gallup organization in Hollywood, studies animation, teaches and is an associate provost at Notre Dame, and is married to another old friend and colleague, Don Crafton.
Her topic intrigued me, since I first made my way onto eBay looking for items related to the Lord of the Rings film franchise, which I was researching at the time. It was tremendously useful, and I wanted to hear what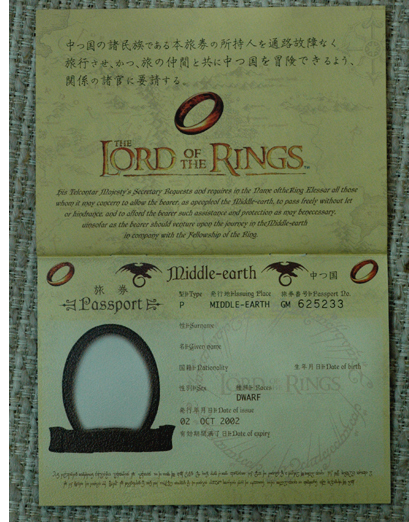 Susan had to say.
She started by acknowledging how exciting it can be to work in archives, handling original documents and sometimes finding that smoking-gun piece of evidence you could never get from published sources. Plus for those of us who love books and libraries, just being in an archive can be very pleasant (apart from that darned "pencils only" rule and the occasional snippy archivist).
But, as she pointed out, going to archives can be expensive, given the travel and lodging involved. Moreover, one doesn't always have the time to study the documents to the extent that one would want to. For some types of evidence, one solution is to acquire the documents yourself.
In Susan's case, it was Big Little Books, and specifically those based on Walt Disney films and comic books. There were lots of these, but although some archives collect them, most have only a few of the titles. Susan realized that she could actually save herself money by buying them and be able to study them to her heart's content. Since then she has acquired around ninety on eBay, and I'll bet she really has saved money in comparison with what the research would have cost. (Moreover, if she eventually sells them for around what she paid, they research would have cost nothing beyond the time and trouble of following auctions, bidding, and paying.)
There's more to this tactic than just saving money. As Susan said, there's a pleasure in owning these objects and having the sense of having one's own little private archive. Very responsibly, she has even invested in archival boxes to store her treasures.
Private collectors, of course, have always been played a valuable service in preserving rare or unique objects. Every painting or ancient artifact that we see in a museum with a "gift of" note on its label probably was enjoyed for years by its owners in their own home. Many a film has been preserved because some people collect old nitrate films. (Yes, nitrate prints do occasionally show up on eBay.) The same is probably true of just about any kind of cultural artifact.
For a long time I had vaguely thought of blogging on the topic of eBay and scholarly research, but I never sat down and thought the subject through. Susan's paper spurred me to create a rough typology of ways in which one can find what one needs online.
1) The real things
Every now and then an old, original document that really should be in an archive surfaces on eBay. That's usually because it's signed by a celebrity.
I remember a few years ago running across a couple of letters from Fritz Lang. I don't remember what they were about, but they were from the late 1940s and had to do with his work for producer Walter Wanger. I alerted our friend Matthew Bernstein, who had written an important biography of Wanger. He decided not to buy the letters, which as I recall were going for over a thousand dollars each. Devotion to research only goes so far.
Maybe some rich archive like the Harry Ransom Research Center at the University of Texas bought those letters. I suppose archivists keep track of such listings on eBay. If such an institution didn't buy them, they're presumably in a private collection somewhere. Similarly, I ran across a letter signed by Buster Keaton; something about renewing his MGM contract, I think. I'm sure such things happen fairly frequently. If an item with really important, unknown contents came online, including material that fit directly into someone's research, he or she might decide it was worth buying.
But the point is, there are archival-quality historical documents sold on eBay.
2) eBay evidence
Even if one doesn't want to buy such a document, one can read the contents and make a print-out or take notes. That has to be done quickly, since sometimes these things don't stay around for long.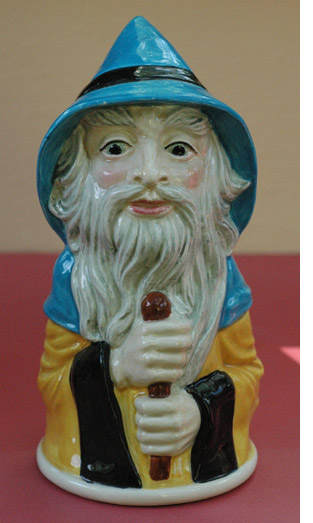 I'm working on a book on J. R. R. Tolkien's novels. There was an excellent volume of Tolkien's letters published in the 1970s, but it doesn't contain nearly everything that exists. Such letters come up for sale now and then, always at a high price. It's fine by me if collectors wind up with these, but I want to get the information before they do. I have tried to make copies of every one I find, unless it's just a polite reply to a fan. I've got a dozen now, two or three of which contain passages relevant to my project.
Sellers tend to make copying difficult, since they superimpose words or logos on the image of the item. They also make the image rather poor in quality. All these stratagems are reasonable, since sellers don't want people to use these documents to concoct fakes. Still, I have found that with a bit of work with the brightness and contrast in Photoshop, one can usually get legible images. They wouldn't look good framed, but they're sufficient for extracting information, though it may take patience and some squinting.
3) Cutting edge
If you're researching a contemporary subject, the relevant materials might make their way into archives, but not soon enough. When I was writing The Frodo Franchise, I planned a chapter on new methods of studio publicity. Most studios promote big-budget the film through free or cheap means like like brand partnering and press junkets, but I wanted to study how New Line controlled the form that such publicity for The Lord of the Rings took.
One section of the chapter was devoted to the Electronic Press Kit (EPK), which has largely replaced the traditional kit that consisted of printed material, photos, and slides. Some archives hold such traditional kits; the WCFTR has many from old Warner Bros. films. I hope somewhere there are archives collecting today's EPKs. But even if there are, they wouldn't have had the ones from The Lord of the Rings yet.
I wanted to analyze the contents of an EPK from one of the franchise installments, and there were only two ways to do that. One option was to get the kit directly from New Line's publicity department. I did obtain the EPK for The Two Towers from the film's unit publicist during my first research trip to New Zealand. There weren't any copies of the Fellowship one left, which may show just how ephemeral these things are. Maybe the Return one wasn't finished yet.
Fortunately the EPKs for all three parts showed up on eBay, if not frequently, at least often enough that I was able to buy the other two without much of a wait. My analysis in the book was based on the Towers one, since that was the only one I already had by the time I began writing.
(These weren't the only EPKs put out for the film. There were separate discs issued with additional photography, as well as promotional ones put out to herald each DVD release and to boost the films for Oscar nominations. An archivist's nightmare. I'm sure I don't have them all, but all the ones I have except the Towers one came from eBay.)
4) Doesn't fit in an archival box
Then there are the things public archives don't collect, as far as I know. From my personal experience, those would include the huge number of franchise products and publicity objects that get made around any big franchise or blockbuster films these days. I needed to see some of these for my work on the Rings franchise. People who study fan culture, like Henry Jenkins, presumably also look at such material.
With luck, the corporate archives of the studios are keeping one copy of everything generated for each film they make. Disney certainly has its own archive, currently closed to outside researchers. I presume a whole run of those Big Little Books exists there.
But for the researcher, finding a cooperative collector or starting a bit of a collection oneself is the only way to see this stuff. So I joined eBay, got myself a PayPal account, and learned the ways of online bidding. I got pretty good at it, if I do say so myself.
I particularly needed Rings items because I assumed I would use some of them as illustrations for the book. As it turned out, I didn't have space in the book to include very many of the licensed products, especially since I was mainly concentrating on how digital technology has changed franchise products. So there was a chapter on DVDs and one on video games, but not much on things like action figures and board games.
I did run across some very odd items from around the world, some of which I purchased. One of the oddest was this series of Rings-decorated model trucks, sold only in Germany. There are twenty in all, but I thought two would do: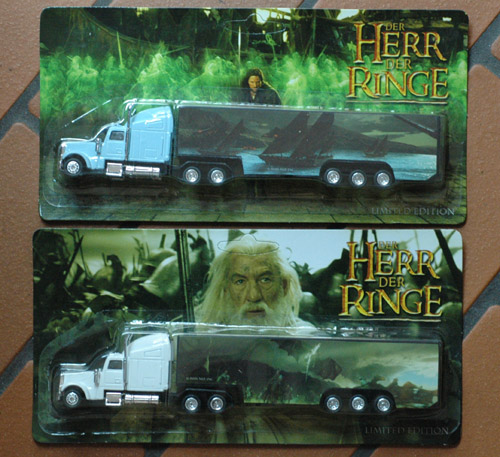 I also bought a small number of franchise items related to the book, many of them pre-dating the film project. The point was to show that the success of the Tolkien's novel in the 1960s led to a franchise of its own, with action figures, calendars, posters, puzzles, and even early video games. I used a group of these as an illustration. It didn't include the Toby Bell Gandalf (above left), a 1983 item from the book franchise that I acquired later.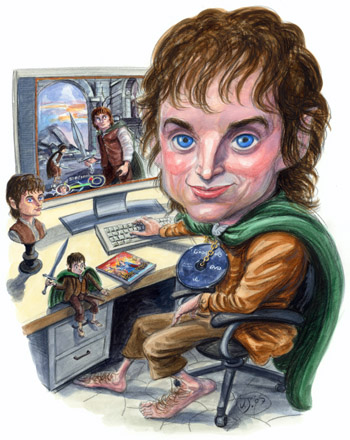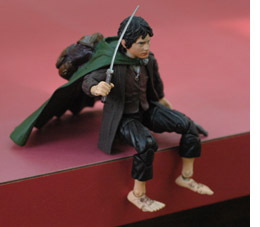 Other franchise goods that I bought ended up being very useful as models for the wonderful caricaturist, Victor Juhasz, when he agreed to do the illustration for the front cover. I had thought about the cover for quite some time as I worked on the book, since a franchise is not exactly an easy thing to convey with one image. I settled on the idea of Frodo playing a video game with himself on the screen, surrounded by franchise items of him: a Sideshow Weta bust, a Toy Biz action figure, and a DVD on the chain around his neck, in place of the Ring. I shipped the bust and action figures to Victor, along with a few of the tie-in books with pictures of Elijah Wood in costume. I also sent one of the video-game strategy books, so that Victor could choose a picture to copy for the monitor screen. He came up with exactly the illustration I had in mind.
So now I have a fairly decent collection of Rings-film-related stuff. Maybe someday I'll offer it to an archive, if any will take it. But my collection is far, far from complete. I don't know if anyone has absolutely everything, every British lottery ticket with Frodo's face on it, every paper plate, every mouse pad. But I did meet someone on eBay who probably has come as close as anyone to achieving that goal.
Springlering Lord of the Rings Virtual Museum and Shop
I mentioned that private collections often serve as archives, and this is especially important when it comes to ephemeral items. I first met Melinda Burnett (aka Springlering) online when I bought some items from her. I mentioned my book project, and she sent me information about buying on eBay, who the major collectors were, and so on.
I recommend this, by the way. If ever you buy something on eBay related to research, mention your project to the seller when you pay. There's always a little box where you can write messages about special shipping instructions or whatever. By telling sellers about my book, I got lots of information, plus an offer from a bookstore owner in Queenstown, New Zealand, to hold a signing of my book in his shop. (Alas, I never did book signings in New Zealand.) These people are often friendly and even excited at the idea that something you purchase from them might end up in a book. Several of them asked me to notify them when the book came out. I emailed these people when it did. Some of them probably bought copies.
But back to Springlering. She herself is one of the major Rings collectors, going far beyond the ordinary T-shirts, action figures, and cardboard standees. She has the four Japanese promotional "Middle-earth passports" (see the dwarf one, above right), the French fèves (literally, "beans," little ceramic prizes hidden inside bakery goods; see below), the Polish Nutella drinking glasses, the 2004 Mardi Gras Elijah Wood medallion, and so much more. Basically she sells her duplicates in order to be able to afford new items (or at least that was still the case when the trilogy was still current).
Not only is she a collector, but she has photographed many of the items in her 6000+ collection and put them on the internet as a virtual museum. She's still adding to it. I just wish she had had it up when I was researching my book. There must be other enthusiasts in other fandoms who do similar things.
Springlering has left eBay (and gives her reasons in the blog on her site) and now sells directly in her online shop, where you, too, can buy fèves while supplies last. According to the "about" page, she has given talks on collectibles at fan events. If I had been doing more with the licensed Rings products, I would have been wise to interview her.
I should note that this post doesn't just apply to eBay. There are other online auctions or sellers. The stores that sell on the American Book Exchange, for example, sometimes have original letters, drawings, and other sorts of film memorabilia on offer.
---
May 3, 2017: These and other items I obtained while preparing The Frodo Franchise now reside in the Raynor Memorial Libraries of Marquette University, Milwaukee. The comprise the "Kristin Thompson Tolkien Fandom Collection," a subset of the much larger "J. R. R. Tolkien Collection." Thanks to Archivist William Fliss and his team for recognizing the value of collecting these kinds of peripheral objects and for allowing my collection to reside in the shadow of the Master.
A display case for fèves: "Depart on the quest for fèves" ("A delight for both collectors and dentists!" as Springlering says)