Wednesday | June 9, 2010
open printable version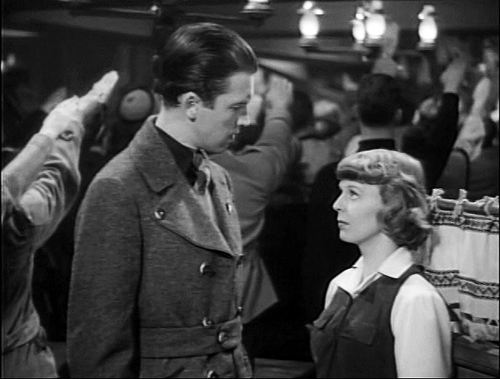 DB bere:
As Freud's mom says in Huston's film, "Memory plays queer tricks, Siggy." Herewith, some journeys into the past, launched on a lazy June afternoon.
Ten-best lists are nothing new. The New York Times ran them in the 1930s. Here's one for 1940 (NYT 29 Dec 1940, p. X5).
The Grapes of Wrath, The Baker's Wife, Rebecca, Our Town, The Mortal Storm, Pride and Prejudice, The Great McGinty, The Long Voyage Home, The Great Dictator, and Fantasia.
The author's runner-up titles include Of Mice and Men and The Philadelphia Story. Pretty tasteful by today's standards, no? Who came up with a list including Hitchcock, Borzage, Sturges, Pagnol, Chaplin, Disney, Milestone, Cukor, and Ford twice?
None other than Bosley Crowther, long-serving Times reviewer who became the emblem of middlebrow taste in endless polemics (including some I've mounted). Who knew he was a closet auteurist?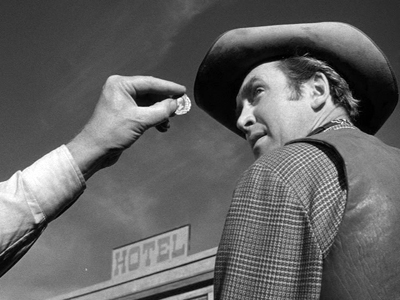 Winchester '73 (1950).
Now try this one.
The movies live on children from the ages of ten to nineteen, who go steadily and frequently and almost automatically to the pictures; from the age of twenty to twenty-five people still go, but less often; after thirty, the audience begins to vanish from the movie houses. Checks made by different researchers at different times and places turn up minor variations in percentages; but it works out that between the ages of thirty and fifty, more than half of the men and women in the Unites States, steady patrons of the movies in their earlier years, do not bother to see more than one picture a month; after fifty, more than half see virtually no pictures at all.
This is the ultimate, essential, overriding fact about the movies. . . .
Yes, another oldie, this time from Gilbert Seldes' book The Great Audience (1950). What we've been told for years was characteristic of our Now—the infantilization of the audience—has been in force for at least sixty years.
By the way, here are some US features released in 1950: Father of the Bride, Gun Crazy, House by the River, In a Lonely Place, Julius Caesar, Mystery Street, Night and the City, Panic in the Streets, Rio Grande, Shakedown, Stage Fright, Stars in My Crown, Summer Stock, Sunset Blvd., The Asphalt Jungle, The Baron of Arizona, The File on Thelma Jordan, The Furies, The Gunfighter, The Third Man, Twelve O'Clock High, Union Station, Wagon Master, Where the Sidewalk Ends, Whirlpool, Winchester '73, and probably some other good movies I haven't seen.
Perhaps not a luminous year, but I'd settle. Especially compared with 2010. Did kids just have better taste then?
Beyond reviewing
Most people conceive a film critic as a film reviewer. The review is a well-established genre, and we all have its conventions in our bones. At a minimum, you synopsize the plot, comment on the acting, mention the pacing or the cinematography, throw in some wisecracks, and recommend or condemn the film. Good reviewers do these things well, but the genre remains a limited one.
Crowther was a reviewer; Seldes was something more. But how to define that extra something? Two long-lived heavyweights can help us.
In the 1935 essay "The Literary Worker's Polonius: A Brief Guide for Authors and Editors," Edmund Wilson spells out what he takes to be the duties and genres of literary labor. At the time, the "New Criticism" in the universities had barely gotten started, so most literary criticism Wilson encountered was journalistic and belletristic—that is, reviewing.
Accordingly, Wilson distinguishes different types of reviewers. There the people who simply need work. There are literary columnists who pump out observations on the latest books. There are people who want to write about something else; that's when you use the book under review as a pretext to ride your hobby horse. There are the reviewer experts, as when a philosopher is called in to review a book of philosophy. Then there's the rarest, the "reviewer critics." Here is why such creatures are rare.
Such a reviewer should be more or less familiar, or ready to familiarize himself, with the past work of every important writer he deals with and be able to write about an author's new book in the light of his general development and intention. He should also be able to see the author in relation to the national literature as a whole and the national literature in relation to other literatures. But this means a great deal of work, and it presupposes a certain amount of training.
In sum, the best critic has to be very, very knowledgeable. But is knowledge enough?
T. S. Eliot, it's often said, believed that the only qualification of a critic is to be very intelligent. (One example of this claim is here.) What Eliot actually wrote is more interesting. His 1920 essay "The Perfect Critic" is considering Aristotle as a theorist of literature. Of The Poetics he notes:
In his short and broken treatise he provides an eternal example—not of laws, or even of method, for there is no method except to be very intelligent, but of intelligence itself swiftly operating the analysis of sensation to the point of principle and definition.
The final clause is a good description of what I take "poetics" to be as applied to film. We analyze effect ("sensation") so to discover not laws but principles (governing a genre, a trend, a style, whatever) that we in turn articulate ("definition"). In this analysis, we don't use a method—that is, I take it, a prior commitment to a system of thought that blocks our seeing the object in its own terms.
Contrary to the common modern view that our personal feelings and ideas color everything we think about, Eliot seems to advocate a more objective way of thinking. Aristotle the theorist is praised because "in every sphere he looked solely and steadfastly at the object." His search for the principles underlying tragedy, comedy, and epic is contrasted with the dogmas of Horace, the "lazy critic" who offers us precepts, tips from the top about laws to be obeyed. (Sound familiar from screenplay manuals?)
Aristotle, Eliot thinks, was endowed with "universal intelligence": "He could apply his intelligence to anything." Such a gift overrides the sort of specialized inquiry that yields "methods." I read "The Perfect Critic" as recommending that critics try to combine their sensitivity to nuance with Aristotelian intelligence:
Aristotle had what is called the scientific mind—a mind which, as it is rarely found among scientists except in fragments, might better be called the intelligent mind. For there is no other intelligence than this, and in so far as artists and men of letters are intelligent (we may doubt whether the level of intelligence among men of letters is as high as among men of science) their intelligence is of this kind.
This is what it is to be "intelligent" in Eliot's sense: to be wide-ranging, rigorous, and committed to understanding the artwork both as unique object and embodiment of principle. He finally spells it out in his praise for the Symbolist Remy de Gourmont:
Of all modern critics, perhaps Remy de Gourmont had most of the general intelligence of Aristotle. An amateur, though an excessively able amateur, in physiology, he combines to a remarkable degree sensitiveness, erudition, sense of fact and sense of history, and generalizing power.
So Wilsonian erudition and historical knowledge aren't enough. You need sensitivity, "a sense of fact," and "generalizing power"—the ability to see larger implications and principles at work in what you're writing about. In short, the best critics don't shy away from probing ideas.
The general go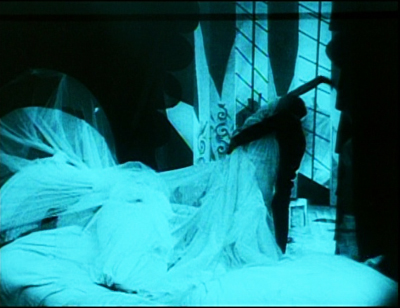 Where do the ruminations of Wilson and Eliot leave us with writers who go beyond reviewing? Let's go back to Seldes.
He became one of our best American critics, in fact one of our first media critics, thanks to his "generalizing power."  The 7 Lively Arts (1924) was a trailblazing defense of Tin Pan Alley, comic strips, vaudeville, jazz, and films. Reacting against "genteel" taste, Seldes believed that the bursts of exaltation to be found in the "minor" arts were as profound as anything to be found elsewhere. "Our experience of perfection is so limited that even when it occurs in a secondary field we hail its coming." Such perfection is to be found, he says, in an instant in The Cabinet of Dr. Caligari, when Cesare seizes Jane and the bed curtains snag her gown. He starts with what Eliot called "sensation," the piercing arousal.
A moment comes when everything is exactly right, and you have an occurrence—it may be something exquisite or something unnamably gross; there is in it an ecstasy which sets it apart from everything else.
But Seldes goes beyond noting moments that give him a buzz. He tries to explain how and why the vulgar arts can arouse us. It's hard for us now to realize that what we take for granted as vital popular culture was scorned by the much of the intelligentsia. In 1924 Seldes set out on a crusade to convince his readers that the Keystone Kops, Flo Ziegfeld, Irving Berlin, ragtime, and Fanny Brice offered more of genuine artistry than the Bogus Arts (we'd say middlebrow) that were then ruling high culture. In 1924, this was a thunderbolt:
The daily comic strip of George Herriman (Krazy Kat) is easily the most amusing and fantastic and satisfactory work of art produced in America today.
If the best critics offer not only opinions but information and ideas to back them up, The 7 Lively Arts had both in abundance. Seldes begins the book with the suggestion that the consolidation of the film industry, and particularly the establishment of Triangle, Kay-Bee, and Keystone, was the turning-point in the history of American film. But instead of the usual litany of praise for Griffith's and Ince's discovery of "cinematic" storytelling, Seldes condemns them as too quickly seduced by extravagant spectacle. The journeyman Mack Sennett stuck to making "the most despised, and by all odds the most interesting, films produced in America. . . . He is the Keystone the builders rejected." Far more than the work of Griffith and Ince, Sennett's comedies exploit what cinema is best suited for: chases, crashes, explosions, "locomotives running wild, yet never destroying the cars they so miraculously send spinning before them. . . . And all of this is done with the camera, through action presented to the eye."
Seldes wrote about radio, dancing, and other pastimes, but films were his special love. An Hour with the Movies and the Talkies (1929) and The Movies Come from America (1937) combine historical knowledge with subtle appreciation of the forces operating on studio picturemaking. These books thrum with ideas. For instance, Seldes defends the director as the key creative artist in cinema. One reason is that only the director can control pacing.
The director is responsible for the general go of a picture, for making it run off neatly, for controlling the speed of its various parts, for seeing that a romantic episode does not race along while a melodramatic conversation lags. He is, or ought to be, responsible for the interruptions of the main action of the picture so that a comic interlude is not placed too near to the climax of a tragic one, but only near enough to give more intensity to the emotion.
What about the camera? Hollywood movies, he says, have developed a rapid-turnover tradition that favors conciseness and novelty in the flow of images.
When Van Dyke in 1934 [in The Thin Man] wished to show a familiar event in the life of any man who walks a dog—an event which, although familiar, might not be passed by the censors—he merely showed the leash tightening and the hand of the man being  jerked back; then the man stood still and a little later the same operation was repeated. . . . The part not only takes the place of the whole, but is more effective because the imagination of the spectator supplies what is missing.
Seldes might have added that once we've supplied that missing piece, we laugh at Asta's ability to puncture Nick Charles' serious disquisition on murder.
Seldes became a tamer thinker later in life. By the 1950s he was part of the media establishment, producing television shows on culture. He grew disappointed with the film industry, leading to his critiques in The Great Audience. Still, his critical skills persisted. His next major book, The Public Arts (1956), pins his hopes on television but also offers a balanced account of Hollywood's widescreen revolution. Confronted with CinemaScope and its kindred systems, he worried, again, about pacing.
Wherever the movie touches time, it as mysterious and primordial as the beating of the heart. Absorbed in new techniques, directors may neglect essentials as they did a generation ago when they immobilized the camera to favor the microphone; but, as they recovered mobility then, so I am confident that they will recover the art of using and manipulating time in the substructure of their pictures.
Although he's seldom discussed in film circles now, Seldes stands out as a worthy critic not because of one-off reviews but in virtue of his pointed, sometimes daring ideas, his knowledge, and the zest they arouse in the reader. These are the payoffs, I think, when a critic leaves reviewing, even the 10-best lists and other fun parts, behind.
---
My quotations from Seldes come from
The Great Audience
(New York: Viking Press, 1950), 12;
The 7 Lively Arts
(Mineoloa, NY: Dover, 2001), 204, 309, and 5;
Movies for the Millions
(London: Batsford, 1937), 75;
The Public Arts
(New York: Simon and Schuster, 1956), 55-56. For more on Seldes and his milieu, see Michael Kammen's excellent intellectual biography,
The Lively Arts: Gilbert Seldes and the Transformation of Cultural Criticism in the United States
(New York: Oxford University Press, 1996).
My quotation from "The Literary Worker's Polonius," comes from Edmund Wilson, Literary Essays and Reviews of the 1920s and 1930s (New York: Library of America, 2007), 490.
Although the terminology is different, Eliot seems to be advancing something similar to Kristin's arguments about film analysis in the first chapter of Breaking the Glass Armor: Neoformalist Film Analysis (Princeton: Princeton University Press, 1988).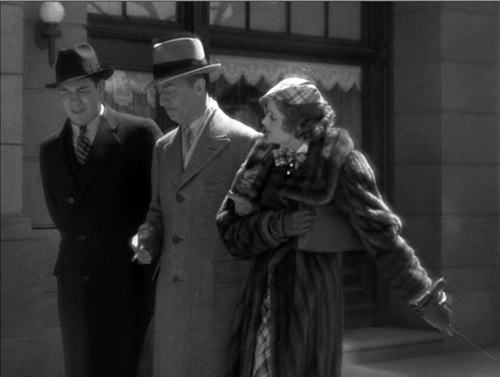 The Thin Man (1934). Seldes forgot that it was Nora, not Nick, who senses Asta's response to the call of nature.