Wednesday | March 3, 2010
open printable version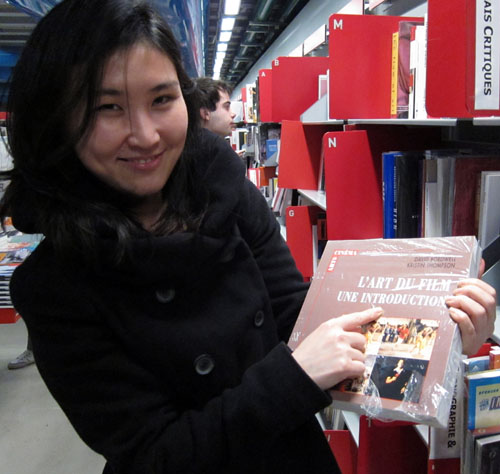 Jinhee Choi, Centre Pompidou, January 2010.
Propinquity: Nearness, closeness, proximity: a. in space: Neighborhood 1460. b. in blood or relationship: Near or close kinship, late ME. c. in nature, belief, etc.: Similarity, affinity 1586. In time: Near approach, nearness 1646. —Oxford Universal Dictionary
DB here:
In any art, tools and tasks matter. From the first edition of Film Art (1979) to the present, our introduction to film aesthetics starts with an overview of film production. How is production organized within the commercial industry, or within a more artisanal mode? What freedom and constraints are afforded within the institutions of filmmaking? How does current technology support or limit what the filmmaker can do? And how do filmmakers explain what they're doing—not just as personal proclivities but as rhetorical "framings" that lead us to think of their work in a particular way?
Some would call this approach "formalism," but that label doesn't capture it. Traditionally formalism refers to studying an artwork intrinsically, as a self-sufficient object. In this sense, our perspective is anti-formalist: We look outside the movie to the proximate conditions that shape its form, style, subjects, and themes.
More literary-minded film scholars have sometimes been impatient with this perspective. Yet in the history of painting and music, it has yielded real advances in our knowledge. It continues to do so in film studies too, as I learned when we came back from Yurrrp to find some books awaiting us. (Kristin has already remarked on the stacks of DVDs that had accumulated.) Among these were books that illustrate the continuing value of situating film artistry in its most immediate context: the creative circumstances, the norms and preferred practices operating within traditions, the rationales that artists offer for their choices. Even better, the books were written by friends, so we have both intellectual and personal propinquity. I have always wanted to use the word propinquity in a piece of writing.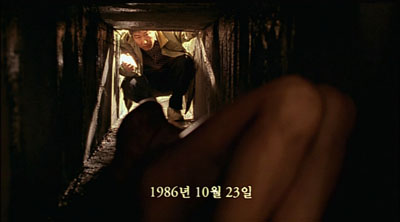 Memories of Murder (Bong Joon-ho).
Jinhee Choi's The South Korean Film Renaissance: Local Hitmakers, Gobal Provocateurs is a wide-ranging survey of what some have called the "next Hong Kong"–a popular cinema of brash impact and technical polish, on display in JSA, Beat, Dirty Carnival, My Sassy Girl, and the like. But unlike Hong Kong, South Korea has a strong arthouse presence too, typified by Hong Sang-soo's exercises in parallel narratives and thirtysomething social awkwardness. Between these poles stands what local critics called the "well-made" commercial film, as exemplified by Bong Joon-ho's Memories of Murder.
Choi, a professor at the University of Kent, mixes analysis of cultural and industrial trends with consideration of crucial genres (notably the "high school film") and major auteurs. She is the first scholar I know to explain changes in the Korean film industry as emerging from a dynamic among critics, filmmakers, private funding, and government sponsorship. A must, I would say, for anyone interested in current Asian film.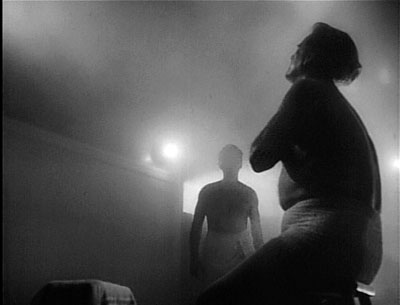 T-Men (Anthony Mann, cinematographer John Alton).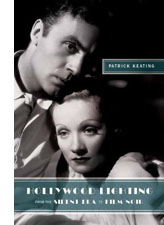 The South Korean Film Renaissance is matched by a work of equal subtlety, Patrick Keating's Hollywood Lighting: From the Silent Era to Film Noir. Keating has an MFA in cinematography from USC, and his Ph. D. work concentrated on classical American cinema. His book captures the craft of the great studio cameramen, following not only what they said they were doing (in interviews and in the trade papers) but also what they actually did. He homes in on the contradictory demands facing artists who, they claimed over and over, had to serve the story. How do you claim artistry if your contribution is unnoticeable? This problem becomes acute with film noir, where the style is expected to come forward to a significant degree.
Keating scrutinizes the films with unprecedented care, tracing not only cameramen's distinctive styles but showing that originality was always in tension with the conventional lighting demands of various genres and situtations. Many big names are here—John Seitz, Gregg Toland, John Alton—but the book also examines innovations coming from solid craftsmen like Arthur Lundin, who lit Girl Shy and other Harold Lloyd films. You won't look at a studio movie the same way after you've digested Keating's richly illustrated analyses.
Both Jinhee and Patrick were students here, and I directed the dissertations that eventually became these books. So of course I'm biased. But I think that any outside observer would agree that these monographs show the value of studying how film artistry and the film industry intertwine.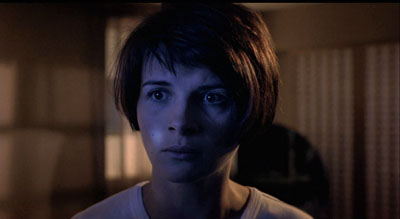 Blue (Krzysztof Kieslowski).
No less sensitive to the interplay of art and business is Patrick McGilligan's Backstory 5: Interviews with Screenwriters of the 1990s. The collection is as illuminating as earlier installments have been. How could it not be, with career ruminations from Nora Ephron, John Hughes, David Koepp, Barry Levinson, John Sayles, et al.?
I've long found Pat's Backstory volumes a treasury of information about Hollywood's craft practices. Every conversation yields ideas about structure, style, and working methods. In this volume, for instance, Richard Lagravanese points out that scenes have become very short; with slower pacing in the studio days, scenes had time to breathe. And after claiming over and over that cinematic narration comes down to patterning story information, I was happy to read Tom Stoppard:
The whole art of movies and in plays is in the control of the flow of information to the audience. . . . how much information, when, how fast it comes. Certain things maybe have to be there three times.
In the studio days this last condition was called the Rule of Three: Say it once for the smart people, once for the average people, and once more for Slow Joe in the Back Row. Some things don't change.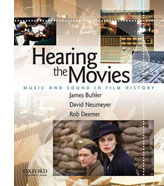 Pat McGilligan is also a Wisconsin alumnus, so to keep these notes from getting too incestuous, I'll just mention that I know the distinguished musicologist David Neumeyer chiefly from his writing (though I have to confess I first met him when he visited . . . Madison). Along with coauthors James Buhler and Rob Deemer, David has published an excellent introduction to film sound. Hearing the Movies: Music and Sound in Film History is designed as a textbook, but it's so well written that every movie lover would find it a pleasure to read.
The examples run from the silent era (including Lady Windermere's Fan, a favorite of this site) to Shadowlands, and while music is at the center of concern, speech and effects aren't neglected. There's a powerful analysis of the noises during one sequence of The Birds, and the authors pick a vivid example from Kieslowski's Blue (above), in which Julie is shown listening to a man running through her apartment building; we never see the action that triggers her apprehension.
The authors provide a compact history of sound film technology, including many seldom-discussed topics. For instance, 1950s stereophonic film demanded bigger orchestras and more swelling scores, while separation among channels permitted scoring to be heavier, without muffling dialogue. Throughout, Neumayer and his coauthors balance concerns of form and style with business initiatives, such as the growth of the market for soundtrack albums and CDs (a topic first explored by another Wisconsite, Jeff Smith, in his dissertation book). Once more we can arrive at fine-grained explanations of why films look and sound as they do by examining the craft practices and industrial trends that bring movies into being.
Watching back episodes of the American version of The Office recently, I've been struck by the premise it takes over from the UK original. This comedy of humors in Cubicle World is supposedly recorded in its entirety by an unseen film crew. I enjoy the clever way in which the show bends documentary techniques to the benefit of traditional fictional storytelling. The slightly rough handheld framings suggest authenticity, and the to-camera interviews permit maximal exposition by giving backstory or developing character or filling in missing action. The premise that an A and a B camera are capturing the doings at the Dunder Mifflin paper company permits classic shot/ reverse-shot cutting and matches on action.
The camera is uncannily prescient, always catching every gag and reaction shot; even private moments, like employees having sex, are glimpsed by these agile filmmakers. Above all, the camera coverage is more comprehensive than we can usually find in fly-on-the-wall filming. For instance, Dwight is preparing Michael for childbirth by mimicking a pregnant woman and Andy, behind him, tries to compete. Here are four successive shots, each one pretty funny.
Somehow the cameramen manage to supply a smooth cut-in to Andy, and that's followed by a reaction shot, from a fresh angle, showing Jim watching. The range of viewpoints, implausible in a real filming situations, is often smoothed over by sound that overlaps the cuts, as in both documentary and fictional moviemaking. (See our essay on High School here to see how a genuine documentary uses these techniques.)
Of course I'm not faulting the makers of The Office for not rigidly imitating documentary conditions. Any such blend of fictional and nonfictional techniques will involve judgments about how far to go, as I indicate in an earlier post on Cloverfield. It's just to acknowledge that TV visuals have their own conventions, and these can be creatively shaped for particular effects. We ought to expect that those conventions would encourage close analysis as easily as film traditions do. Jeremy Butler's new book Television Style offers the best case I know for the claim that there is a distinct, and valuable, aesthetic of television.
Following his own study Television: Critical Methods and Applications (third edition, 2007) and paying homage to John Caldwell's pioneering Televisuality, Butler gets down to the details of how various TV genres use sound and image. Butler's conception of genres is admirably broad, considering dramas, sitcoms, soap operas, and commercials, each with its own range of audiovisual conventions and production practices. His discussion of types of television lighting complements Keating's analysis; put these together and you have some real advances in our understanding of key differences and overlaps between film and video.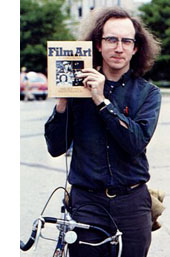 Kristin has met Jeremy, but I haven't yet. In any case, Television Style shows that he's a kindred spirit who's made original contributions to this research tradition. Like Jinhee, Patrick, Pat, and David, he demonstrates that we can better grasp how media work if we study, patiently and in detail, the creative options open to film artists at specific points in history. He began thinking about these matters in 1979, as the photo attests.
None of this is to say that artistic norms or industrial processes are cut off from the wider culture. Rather, as becomes very clear in all of these books, cultural developments are often filtered through just those norms and institutions.
For example, everybody knows that in classical studio cinema, women were usually lit differently from men. But Keating notices that often women's lighting varies across a movie, depending on story situations. He goes on to make a subtler point: there was a greater range in lighting men's faces. Men could be lit in more varied ways according to the changing mood of the action, while lighting on women was a compromise between two craft norms: let the lighting suit the story's mood, and endow women with a glamorous look. The fluctuations in the imagery stem from adjusting cultural stereotypes to the demands of Hollywood's stylistic conventions.
Careful studies like these, alert to fine-grained qualities in the films and the conditions that create them, can advance our understanding of how movies work. Pursuing these matters takes us beyond both the movie in isolation and generalizations about the broader culture; we're led to examine the filmmaker's tasks and tools.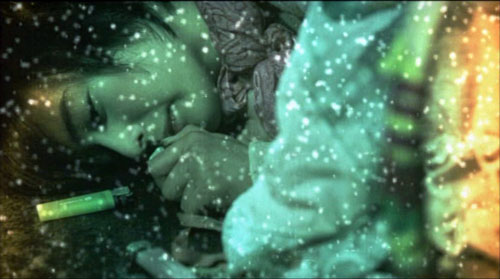 Resurrection of the Little Match Girl (Jang Sun-woo, 2002).