Archive for December 2009
We are delighted to learn that we were selected "Critics of the Naughts" by IFC.com. "Naughts" doesn't mean naughty, or that our efforts are for naught; it just refers to the decade of the 00s, now ending. So our thanks to Matt Zoller Seitz, filmmaker and film critic extraordinary, for his generous essay about our work. He has high standards for film writing, and we'll try to live up to them.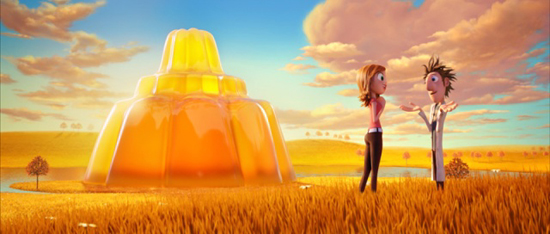 Two Jell-o lovers share a romantic interlude in Cloudy with a Chance of Meatballs
Kristin here:
Back in early 2007, I posted an entry about the supposed over-supply of animated films due for release that year. I realize that journalists have to find topics to fill pages. That year one topic making the rounds was speculation about whether audiences would tire of so many cartoons.
Now that worry has gone, and writers rejoice over the fact that there are enough animated features from 2009 qualifying for Oscar nominations to create a field of five rather than three. There are no fewer than twenty qualifiers: Alvin and the Chipmunks: The Squeakquel, Astro Boy, Battle for Terra, Cloudy with a Chance of Meatballs, Coraline, Disney's A Christmas Carol, The Dolphin – Story of a Dreamer, Fantastic Mr. Fox, Ice Age: Dawn of the Dinosaurs, Mary and Max, The Missing Lynx, Monsters vs. Aliens, 9, Planet 51, Ponyo, The Princess and the Frog, The Secret of Kells, Tinker Bell and the Lost Treasure, A Town Called Panic, and Up.
The six nominees for the Annie Award for best feature have already been announced: Cloudy With a Chance of Meatballs, Coraline, Fantastic Mr. Fox, The Princess and the Frog, The Secret of Kells, and Up (below).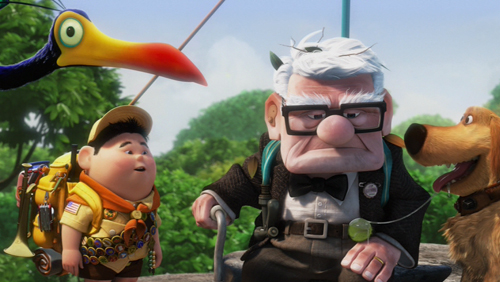 The Annies are no guaranteed predictor of Oscars. Far from it, given the famous, even notorious top award to Kung Fu Panda rather than WALL-E last year. But I'm not trying to predict awards here. I just want to comment on what seems something of a watershed year for animation.
I've seen only six of the above films. Some of them haven't been released yet, and others are being platformed before going wide. The Princess and the Frog is being showcased in only two theaters so far before going wide on December 11. The Secret of Kells, which seems to be the one of the more lauded of the unknown films, won't open in the U.S. until March 6. Judging from the trailer, it's made in a simple, somewhat abstract style that recalls the UPA alternative to Disney and Warner animation that appeared in the 1950s. (The Incredibles pays homage to that style.)
Some of these films haven't played in Madison or, like Astro Boy, came and went quickly. I passed up other the eligible films deliberately. The first Ice Age movie struck me as mildly pleasant but one of those small-kids' movies with little entertainment aimed at the parents. After Beowulf, I wasn't about to see A Christmas Carol. The fifth animated item I saw was Monsters vs. Aliens, which was more entertaining than the reviews would suggest, but it's not Oscar bait.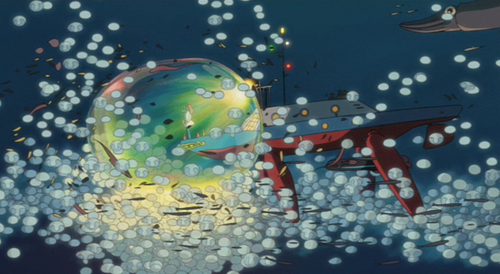 Ponyo on a Cliff by the Sea
In the past, any Pixar film was automatically the obvious choice as best animated feature. I think that Monsters, Inc. was better than Shrek and Cars better than Happy Feet, but perhaps Academy members felt a little guilty not sharing the wealth. It's lucky that there was no Pixar film in 2002, so that Hayao Miyazaki could get the Oscar for his masterpiece, Spirited Away, and in 2005, when Nick Park could take home his fourth for Wallace & Gromit: The Curse of the Were-Rabbit. (The only Nick Park film that didn't win an Oscar was the first Wallace and Gromit film, A Grand Day Out, which lost out to . . . Nick Park's Creature Comforts.)
Now there are more companies producing animated films, not only in the U.S., which once used to dominate this form, but internationally as well. The Secret of Kells, for example, is a French-Belgian-Irish co-production (originally called Brendan and the Secret of Kells). Up to now, foreign animated films have had a better chance in the shorts category, but representation of films from abroad among the features will no doubt increase.
Wonderful though it is, Up is less the obvious choice than previous Pixar films have been. Coraline has earned great respect from critics and industry insiders. Witness its receipt of the largest number of Annie nominations, ten, with Up right behind it at nine. Add in Ponyo (original title, Ponyo on a Cliff by the Sea) and Fantastic Mr. Fox (below), and you have at least four credible contenders for top honors. I suspect Ponyo will be hampered by its English dubbing, including the substitution of another song for the charming final-credits one. Plus Ponyo is aimed at much smaller children than most of Miyazaki's recent films. It does have the director's typical focus on the environment, this time humanity's pollution of the oceans; but it has less of the gravitas that has endeared the filmmaker's last few films to arthouse audiences.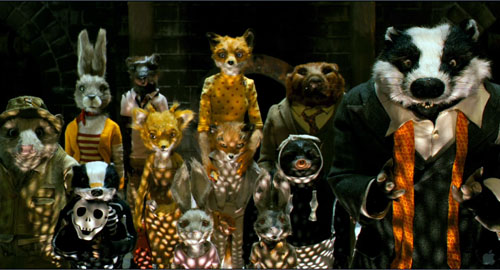 For what it's worth, Fantastic Mr. Fox has a very rare 100% fresh rating at Rotten Tomatoes among the "Top Critics," with Up at 95%, Ponyo 91%, The Princess and the Frog at 83%, and Coraline, surprisingly, at a mere 78%. The critics' opinions don't correlate with those of Academy voters, so those figures are probably not a good guide when it comes to your office Oscar pool.
I'd like to put in a good word for Cloudy with a Chance of Meatballs. It's not likely to beat out the four powerhouses mentioned above, but it would be nice to see it nominated. It has a fast-paced, extraordinarily well-constructed script and makes for a thoroughly entertaining 90 minutes. It's a pleasure to see a whole group of motifs, some in pretty funny but throwaway moments, coming back again and again, and just when you think they've been wrung for all they're worth, they return one last time with a twist. Like Up, Meatballs' 3D version has some strong moments without the special effects seeming gratuitous, as when the hero has to slither down a long rope that seems to go on forever into the distance. Cloudy seems currently to be transitioning from first to second run. If you've got a cheap-seats theater near you, it's worth seeing on the big screen, whether in 2D or 3.
Speaking of which, I should point out that Up, Coraline, and Cloudy were all conceived and executed in 3D (as opposed to the early digital features that retooled in-progress films for 3D). So far it's still easier to make animated 3D films than life-action ones. All three use the technology well, though I'm sure they all look good in 2D.
Ever since the creation of the best-animated feature Oscar category in 2001, there have been complaints that it prevents outstanding animated work from being nominated for the best film of the year. Now people writing about the Oscars are complaining that there aren't a lot of obvious live-action candidates for best film—in the very year that the Academy has to find ten of them. Maybe this year the best animated features will provide more excitement than the main event. Maybe they will also make it more evident that at this point in the history of mainstream filmmaking, the best animated films are better than any but the very best live-action films. I doubt that the animated-features category will drop back to only three nominees very often in future years.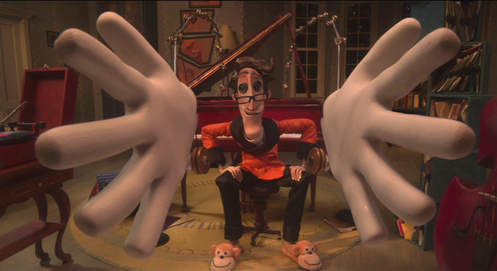 Coraline