Wednesday | May 27, 2009
open printable version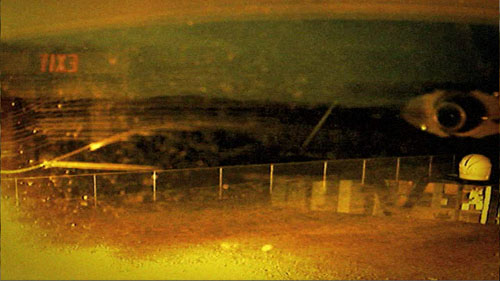 Optical Vacuum.
DB here:
While I try to whip up seven lectures for the Bruges Summer Film College and a couple more for the University of Copenhagen and our June Society for Cognitive Studies of the Moving Image confab, I offer some quick notes on notable DVDs and books lugged to our door by our mailman.
When machines film better than they know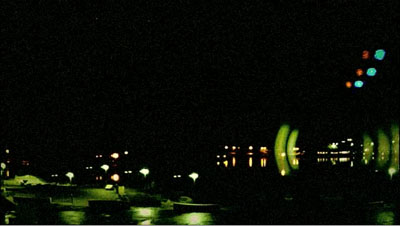 Snow blankets a terrace and the furniture on it. A bottle jerks back and forth on a pavement. Christmas lights blink on and off. Everything looks desolate. What people we see scuttle across washed-out landscapes, play mahjongg in stammering gestures, and toil in computer labs under glaring fluorescent lights. What planet are we on?
These images are available to any of us. For two years Dariusz Kowalski trawled through sites like www.opentopia.com for surveillance-camera footage. He chose only material from hidden cameras. He added nothing except some slow motion ("otherwise it would be too fast") and a voice-over commentary from artist Stephen Mathewson reading passages from a year's diary. The result was a fifty-five minute assemblage film called Optical Vacuum (2008), which I saw and admired in Hong Kong back in April.
Sometimes the diary account intersects with what we see: Mathewson talks of washing his laundry/ shots of a Laundromat. More often, the voice drifts off on its own. Optical Vacuum isn't an effort to make a film essay or to create a complex audiovisual dynamic. Mathewson's diary provides an intimacy that the footage lacks, but I think the film would stand up strongly without it.
As a flow of impersonal views, usually from a distant perch, the footage creates a bleak beauty.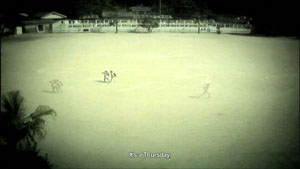 Occasionally a human operator has commanded the camera to focus on something, usually a woman.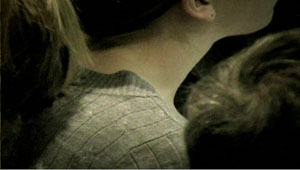 But most often the camera is just mindlessly recording.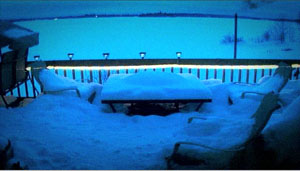 In the process, the surveillance camera reinvents avant-garde film—not just the barely inflected fields of Structural cinema, but also the time compression and melting glimpses, the reflections and superimpositions, the transient ghosts and brutal geometry we find in silent experimental work by Richter, Vertov, and others. These stupid cameras can't help turning reality into something else. They don't know any better.
Optical Vacuum, along with other pieces by Kowalski, can be found on a PAL uncoded DVD from the extraordinary Austrian collective sixpack. The handsomely mounted Index release is available here, and elsewhere on the Net.
Dragons and tigers in the Udine sun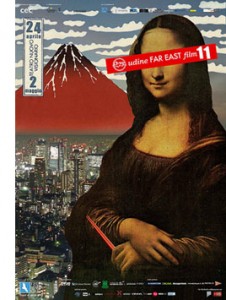 Italian festivals of specialized cinema are mounted with incomparable flair–lots of screenings, panels, interviews, book sales, and of course outstanding food. Most famous are Pordenone's festival of silent cinema and Bologna's Cinema Ritrovato. But for admirers of Asian cinema, just as important is the Udine Far East Film event, which completed its eleventh installment on 2 May.
Alas, I've never been. In its earliest years it overlapped with the Hong Kong film festival; more recently, my commitments elsewhere, such as Ebertfest, have kept me away. But I have followed this celebration of Asian cinema at a distance through its remarkable publications.
The Udine event concentrates on popular cinema, mostly recent releases that are unlikely to come to US theatres or video stores. You can see films from Japan, Korea, and China but also from Thailand, Malaysia, and the Philippines. This year's highlights include regional hits like Cape no. 7, Beast Stalker, Departures, and Ip Man as well as obscure and delirious items like Love Exposure and The Forbidden Legend: Sex and Chopsticks. Many screenings are European premieres.
The programmers also mount adventurous retrospectives of rare items. One year it was a survey of the work of Patrick Tam, still too little known among Asian aficionados. This year the retrospective was devoted to Ann Hui's TV films, which are among her best work. These films, shot in 16mm and broadcast in the 1970s, were strong meat for a culture unused to social criticism in its popular media. Hui's dramas showed police corruption, the sex trade, abandoned children, and drug addiction. The episodes were researched and scripted under great time pressure, and Hui was allotted two weeks for shooting and post-production. "We were experts at shooting in the streets on the sly." The stories' concern for ordinary people and their problems has resurfaced again in The Way We Are (2008) and Night and Fog (2009).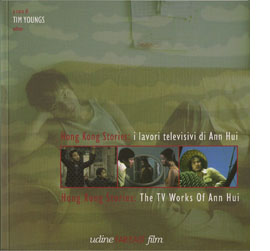 The Hui volume is a model of the profuse documentation the Far East festival provides. Several concise essays, all in both English and Italian, enhance appreciation of the films. Contributors Law Kar, Shu Kei, and editor Tim Youngs do a fine job of situating Hui's TV work in its context, and a lengthy interview with the director explores her working methods and intentions. There's also valuable filmographic information about the episodes (four of them available on DVD).
As if this weren't enough, the Udine event publishes a mammoth catalogue called Nickelodeon. Each year it's a treasure chest of enthusiastically presented information. This time around, surveys of 2008 developments in all the major countries are accompanied by Roger Garcia's special section on the history of Thai action cinema. A vast section of reviews of the films to be shown rounds out this gift to the Asian cinephile. (A little of this material is available at the Udine site.) There is no coordinated effort to sell the books to the public, but if you want to purchase them, try writing to the festival directors at cec@cecudine.org.
So a tip of the hat to the dedicated Udine team, headed by Sabrina Baracetti, and a signal to you that if you have the time and the money to go, you would surely have a hell of a week. (Note that professors and students are offered lodging for some nights.) Who knows? A director might show up to put the audience in a movie, as Johnnie To once did. Even if you can't make the trip, the quality of the publications makes them indispensible for research and enjoyable reading.
Rabbits from a hat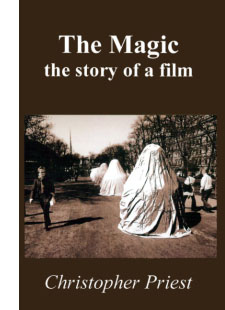 It's tiresome to hear novelists kvetching that film adaptations mangle their work. So it's a pleasure to read Christopher Priest's brisk account of how his novel The Prestige became a film. In The Magic: The Story of a Film Priest takes us through the whole process, but this isn't the usual behind-the-scenes tour. He never visited the set or met the principals. Instead we get the viewpoint of a writer living in East Sussex, following the production through agents' correspondence and the gossip frothing up on Google Alerts.
Priest is a lively writer, and he is frank about the ups and downs of the process. Initially he is happy that Nolan acquired the rights because the novel, a cunningly designed piece of misdirection, seems ideal for the director of Memento. But he confesses disappointment when the Prestige project is sidetracked by Batman Begins ("overlong, simplistic, and dull"). When the production gets under way, there are more swerves in the road. Given an early script, Priest admires the craftsmanship of Jonathan Nolan. But then he's baffled that Christopher Nolan is saying two inconsistent things: that the film is completely different from the book, and that reading the book will spoil the film. Then again, during a press preview in Leicester Square, Priest succumbs to the film's intricacies. "It has one of the most complicated and sophisticated narrative structures ever seen in an entertainment film."
The story of the production ends here, but Priest goes on for about fifty pages to analyze the film in considerable detail. He dwells on the opening, which has no equivalent in his novel, and praises it for its fluent shifts among different points in story time. He appraises various aspects of the film, and he doesn't stint criticisms. He notes that the Nolans stripped off his contemporary story, crucially altered the roles of the women, and turned his elusive mysteries into plot-driven secrets. Yet he concludes:
There is hardly a line of dialogue or moment of action in the film that can be traced back word-for-word, yet the whole thing is faithful to the novel in spirit, in story and in effect. I have differences with the screenplay in places, but none of those detracts from my general impression that it is a classic film adaptation of an existing novel, one which intending screenwriters would do well to study alongside the novel. (157).
Priest is a former movie critic (for the sturdy old British Film Institute publication Film) and an astute observer of what happens in a shot and on a soundtrack. He contacted me after my March blog entry discussing micro-repetitions in The Prestige and told me of The Magic. I ordered a copy pronto, and I'm glad I did. If you want to give your mail carrier a bit more job security, go to this page and click on GrimGrin Studio.