Wednesday | April 1, 2009
open printable version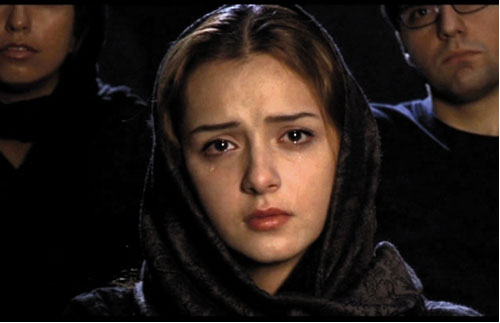 DB, still at the Hong Kong International Film Festival:
Abbas Kiarostami has the widest octave range of any filmmaker I know.
His humane dramas of Iranian life, from The Traveller to The Wind Will Carry Us, have justly won acclaim on the arthouse circuit. He has written scripts as well, some—like the under-seen The Journey (1994)—that are as compelling as a psychological thriller. He can conjure suspense out of the simplest acts, such as whether an adult will rip up a child's copybook (Where Is the Friend's Home?) or whether a four-year-old boy locked in with his baby brother can figure out how to turn off a stove (The Key). Indeed, I think that one of the great accomplishments of much modern Iranian cinema, with Kiarostomi in the vanguard, has been to reintroduce classic dramatic suspense into arthouse moviemaking.
But at times Kiarostami has moved to an opposite pole, that of extreme minimalism and "dedramatization." The drift toward a hard-edged structure was there in Ten (2002), which gave us one of his drive-through dramas—people conversing in the front seat of a car—but in severe permutational form (different drivers, different passengers). Rigor was pushed to an extreme in Five Dedicated to Ozu (2003): Five lengthy shots of water landscapes, each many minutes long, taken at different times of day. The biggest dramatic action was the ducks walking through the frame. With Kiarostami, it seems, we cinephiles can have it all—Hitchcock and James Benning in the same filmmaker.
Now Shirin (aka My Sweet Shirin, 2008) marks another highly original exploration. I don't expect to see a better film for quite some time.
After a credit sequence presenting the classic tale Khosrow and Shirin in a swift series of drawings, the film severs sound from image. What we hear over the next 85 minutes is an enactment of the tale, with actors, music, and effects. But we don't see it at all. What we see are about 200 shots of female viewers, usually in single close-ups, with occasionally some men visible behind or on the screen edge. The women are looking more or less straight at the camera, and we infer that they're reacting to the drama as we hear it.
That's it. The closest analogy is probably to the celebrated sequence in Vivre sa vie, in which the prostitute played by Anna Karina weeps while watching La Passion de Jeanne d'Arc. Come to think of it, the really close analogy is Dreyer's film itself, which almost never presents Jeanne and her judges in the same shot, locking her into a suffocating zone of her own.
Of course things aren't as simple as I've suggested. For one thing, what is the nature of this spectacle? Is it a play? The thunderous sound effects, sweeping score, and close miking of the actors don't suggest a theatrical production. So is it a film? True, some light spatters on the edge of the women's chadors, as if from a projector behind them, but no light seems to be reflected from the screen. In any case, what's the source of the occasional dripping water we hear from the right sound channel? The tale is derealized but it remains as vivid on the soundtrack as the faces are on the image track. What the women watch is, it seems, a composite, neither theatrical nor cinematic—a heightened idea of an audiovisual spectacle.
Moreover, there are the faces. We see some more than once, but new ones are introduced throughout. Spatially, they float pretty free; only occasionally do we get a sense of where the women are sitting in relation to one another. All are stunningly beautiful, whether young or old. We get an encyclopedia of expressions—neutral, alert, concentrated, bemused, amused, pained, anxious. During a battle scene, faces turn away, eyes lower, and hands shift nervously. The best person to review this movie is probably Paul Ekman, world expert on the nuances of facial signaling.
The weeping starts, by my count, about thirty-eight minutes in, during a rain scene uniting the two lovers Shirin and Khosrow. Thereafter, tears run down cheeks, along jaws and mouths, down necks and nostrils. The film is an almost absurdly pure experiment in facial empathy. It arouses us us by our sense of the story unfolding elsewhere, somewhere behind us, enhanced by lyrical vocalise and brusque sound effects, but above all by these eloquent expressions. It's a feast for our mirror neurons. If you're interested in reaction shots, you have to recall Dreyer remarking that "The human face is a landscape that you can never tire of exploring."
I once asked Kiarostami how he got the remarkable performances in shot/ reverse-shot that we see in films like Through the Olive Trees and The Taste of Cherry. He said that he simply filmed one actor saying all his lines and giving all his reactions, then filmed the other. Often the two actors were never present at the same time, especially when he shot the car sequences. This montage-based approach, creating a synthetic space simply by cutting, has been taken to an extreme in Shirin, where the soundtrack supplies the reverse shot we never see. We're told that Kiarostami filmed his female actors here reacting to dots on a board above the camera! Indeed, Kiarostami claims he decided on the Shirin story after filming the faces. Despite that, Shirin becomes one of the great ensemble pieces of screen acting, although the actors almost never share a real time and space. (Take that, green-screen wizards!) Like Godard, Kiarostami has been busy reinventing the Kuleshov effect (perhaps by way of Bresson).
This catalogue of female reactions to a tale of spiritual love reminds us that for all the centrality of men to his cinema, Kiarostami has also portrayed Iranian women as decisive, if sometimes mysterious, individuals. Women stubbornly go their own way in Through the Olive Trees and Ten. The premises of Shirin were sketched in his short, "Where Is My Romeo?" in Chacun son cinema (2007), in which women watch a screening of Romeo and Juliet. But the sentiments of that episode are given a dose of stringency here, particularly in one line Shirin utters: "Damn this man's game that they call love!"
One last note: Kiarostami built movie production into the plot of Through the Olive Trees. Now he has given us the first fiction film I know about the reception of a movie, or at least a heightened idea of a movie. What we see, in all these concerned, fascinated faces and hands that flutter to the face, is what we spectators look like—from the point of view of a film.
For more on the production background, see the lengthy interview with Kiarostami here.