Wednesday | December 3, 2008
open printable version
KT here-
This past weekend I returned from a tour of ancient sites in Jordan. I didn't plan to see any movies during the trip, but in a way it was a movie that sent me there.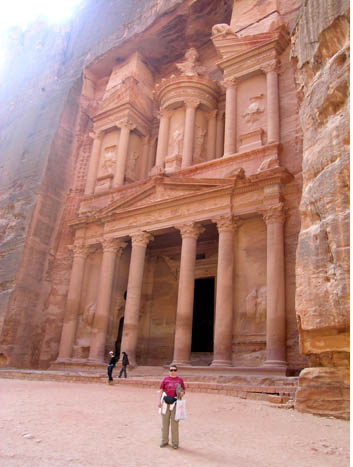 I suspect that, like me, many people first become aware of the ancient city of Petra when they watch the climactic scene of Indiana Jones and the Last Crusade. Indie and his companions ride through a tall, narrow canyon and emerge to confront a huge red rock-cut building (above).
That's not a set. It was shot at Petra in southern Jordan. The canyon is real. It's called the Siq ("shaft" in Arabic), and it's a dramatic crack that runs for about a mile between tall, undulating cliffs of red sandstone (on the lower layers, where most of the city's buildings were carved) and white sandstone (on the upper layers). The other structures include a theater, temples, and many tombs.
As I learned a bit more about Petra as a real place, I conceived an ambition to visit it—not for its Indiana Jones connection but because it is such an extraordinary archaeological site. In fact, last year it was voted one of the new seven wonders of the world.
I was one of seven members of a London-based tour, plus our lecturer and local guide. There are many ancient sites in Jordan, but Petra was left until the end. What, after all, could hope to follow it and not seem a let-down?
No, I didn't go to see movies, but I discovered it's pretty hard to escape them. References and connections tend to pop up.
We approached the entrance to Petra through the usual rows of souvenir and refreshment stalls. Some entrepreneurs were exploiting the Indiana Jones connection. Images from posters adorned coffee shops, and more than one shop had hats on sale. They weren't really much like the famous felt fedora, being mostly of leather and not quite the right shape.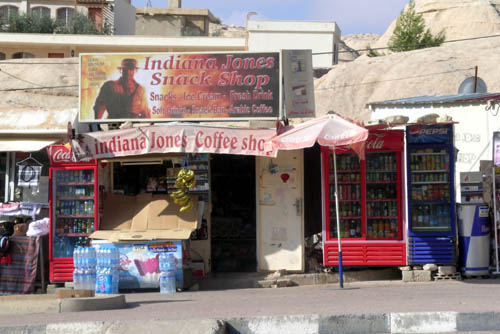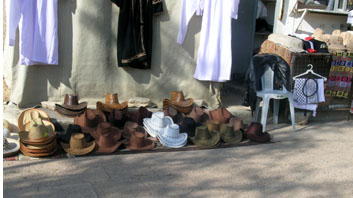 Right beside the Indiana Jones stalls, there was the Titanic Coffee Shop. My companions were mystified as to why anyone would choose that name. To me it seemed pretty obvious. American movies are popular, and why not name your shop after the most popular of them all? There was a restaurant near our hotel called Mystic Pizza. I didn't see any images from the film on the outside, and I didn't go inside to find out if there were any there.
Back in early October I reported on Captain Abu Raed, reportedly the first fiction feature made in Jordan in fifty years. There doesn't seem to be any big stigma against films, though. I saw theaters and video-rental shops, some of the latter adorned with unlicensed paintings of Mickey Mouse.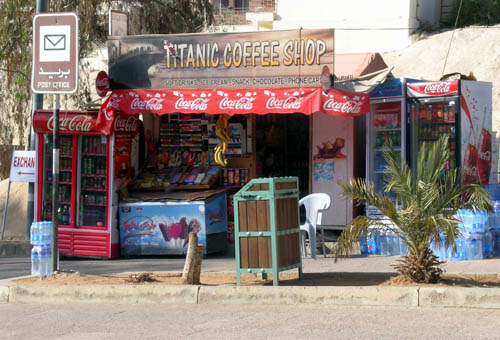 Our last stop after Petra before returning to Amman was the Wadi Rum (below), an austerely beautiful landscape of desert and small, craggy mountains. The film motif followed us. Part of Lawrence of Arabia was shot there. On the spot where the real Lawrence had trod, the real Peter O'Toole sang, "The Man Who Broke the Bank at Monte Carlo."