Wednesday | October 8, 2008
open printable version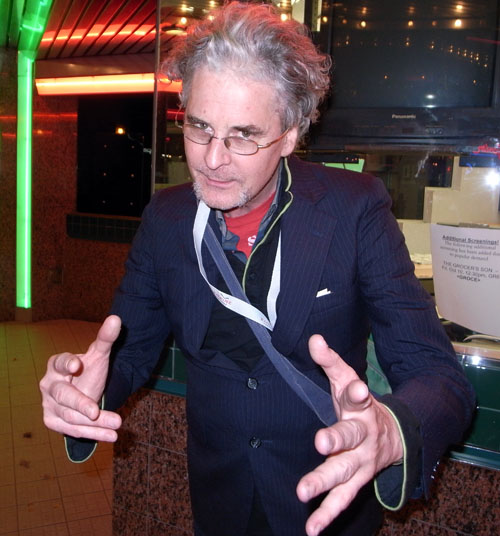 Craig Baldwin, upper half.
DB here:
Tonight we're packing to leave the Vancouver International Film Festival, and we still have to write up comments on several more films. We'll scribble as we drive back and try to post our final blog entry after we've returned to Madison. In the meantime, here are some snapshots from a superb two weeks and an aggregate of over forty movies between us.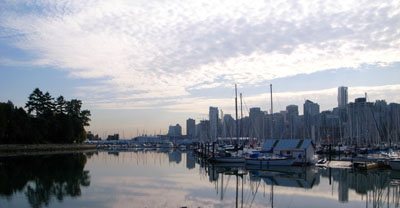 First, the context. Vancouver must be one of the most gorgeous cities in North America, at least when it's not raining. For the first time in my four visits to the festival, I actually had time to do a little exploring, thanks mostly to a longer stay but also to Kristin's being along. It's more fun to do touristic things with somebody else–especially if that somebody can read a map.
At the festival, guests gathered for breakfast in the reception room of the Listel Hotel. Over tasty waffles we could catch up with old friends and make new ones. Here is Lisa From Toronto, a long-time aficionado of Chinese film, with programmer Shelly Kraicer and Michael Walsh, former Wisconsin student and now a professor at Flinders University in Adelaide.
Pan-ek Ratanaruang, director of Last Life in the Universe and other major films, was always fun to have at the table. Here he regales Sean Axmaker, of the remarkable new website Parallax View, and in the background, Tony Rayns, VIFF programmer and coordinator of the Dragons and Tigers award.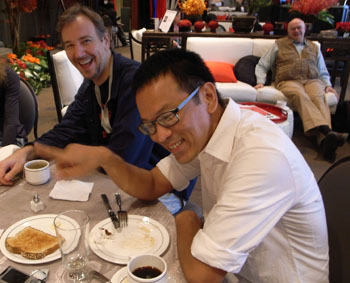 Alissa Simon, Variety reviewer and programmer for the Palm Springs Film Festival, is another former Wisconsite. I saw her about a year ago, but Kristin hadn't seen her in many years, so we had a chance to catch up with each other's news.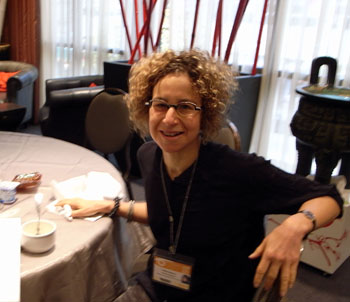 Gerwin Tamsma, programmer from the Rotterdam International Film Festival, makes a point as Nik Sheehan looks on. Nik is the director of FlicKeR, a remarkable movie about Brion Gyson and his Dream Machine.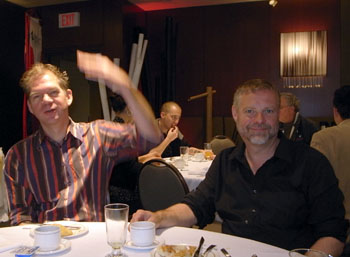 When breakfast was over, we went to the movies, sometimes five per day. As often as not, we were sitting near Frank, one of Vancouver's most passionate and knowledgeable cinephiles.
Frank is an ardent fan of Albert Serra's Birdsong (aka Song of the Birds, which I wrote about here), and he was there to hear Serra explain that the film's final shot has the graphic shape of a goblet or chalice.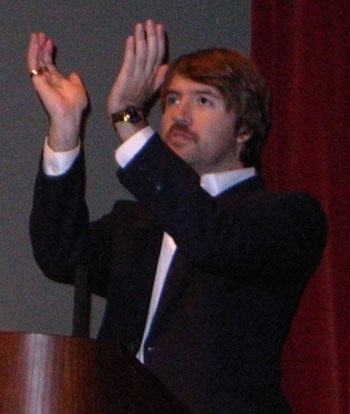 Another director I enjoyed talking to was Lance Hammer, whose admirable Ballast is now circulating throughout the U. S. (Go here for my comments in our prior entry.)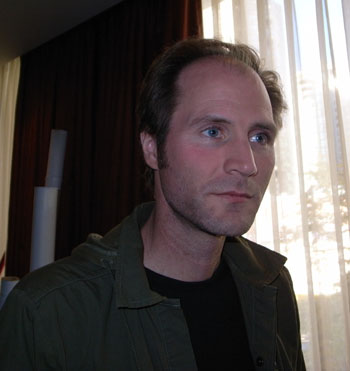 Old friends Tony Rayns (a long-running presence on this site) and Geoff Gardner, another Aussie with long-lived love of movies, were often found larking about, as they would say.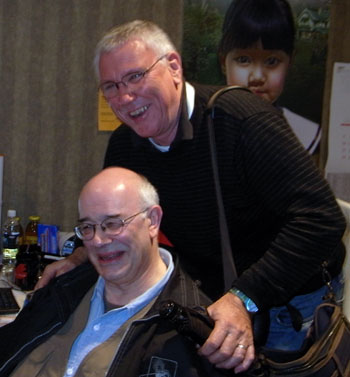 When we weren't watching movies or talking with other viewers, we ate. A lot. Vancouver harbors many fine fooderies, at all levels of cost and taste. One thing you can get in profusion is crepes, of all sorts.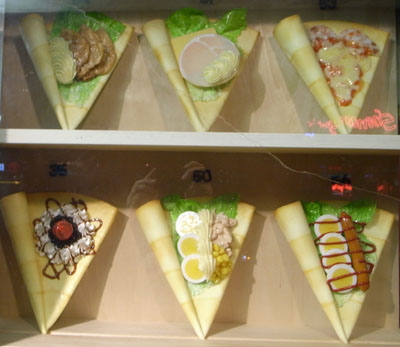 In Chinatown, at the Jade Dynasty, the mango pudding comes in cute shapes.
Speaking of fish, an inevitable tourist spot is the Vancouver Aquarium Marine Science Center in Stanley Park, where the jellyfish never take bad pictures but film profs are likely to.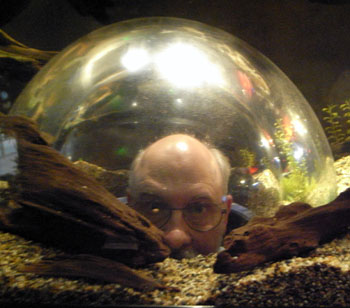 Our early days in the city were spent with nephew Sanjeev and niece-in-law Maggie, who came along from Seattle and proved excellent company. Which is to say, they were willing to laugh at my lamest jokes. Here they are with Michael Campi, cinephile nonpareil and scout for the Melbourne Film Festival.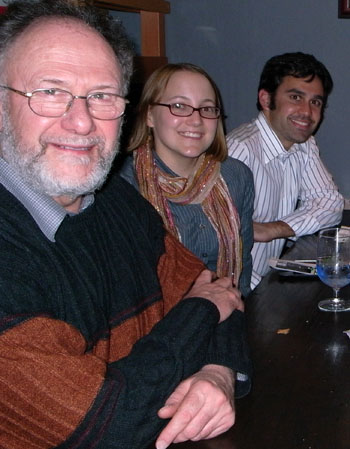 That's it for now; back to packing. More pictures, and lots more text, to come some time this weekend, we hope.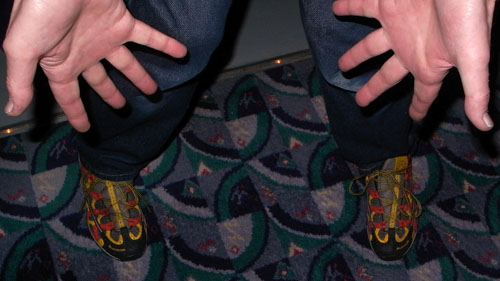 Craig Baldwin, lower half.