Thursday | July 3, 2008
open printable version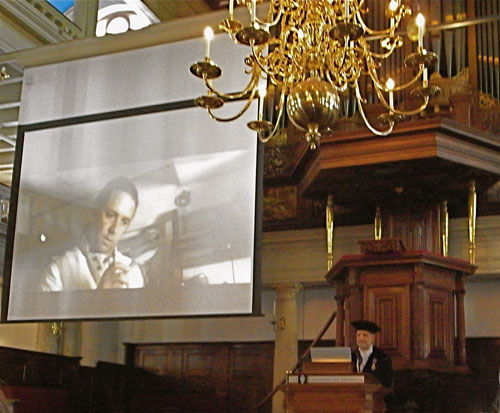 DB from the road:
The first leg of our summer trip was a brief stopover in Amsterdam. It's a city of canals and bicycles, some of them parked in patterns recalling a scrimmage. (See end of blog.) We visited the excellent comics shop Lambiek, strolled around, and tried to get over jet lag. Kristin did. Always does. I didn't. Never do.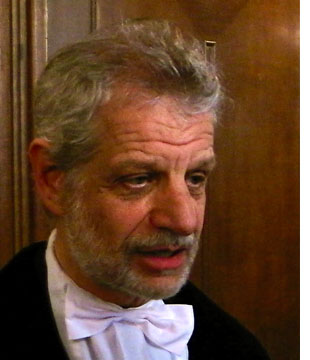 Our reason for coming was the series of events surrounding the official retirement of Thomas Elsaesser from the University of Amsterdam. Thomas is renowned for several accomplishments—his remarkable essays on Hollywood melodrama and 1970s cinema, the major books on New German Cinema and Fassbinder, his enormously wide-ranging comparative study of European and American cinema, his reflections on cinema's ties to nineteenth-century media. He also established an excellent book series at the University Press.
Thomas is also an old friend, a big influence on our work ever since his days at Brighton Film Review and Monogram, and a generous host when we were visiting London in the 1970s and early 1980s to work on our book, The Classical Hollywood Cinema. He kindly published Kristin's Lubitsch book in the Amsterdam series. I wrote a little tribute essay for his sixtieth birthday festschrift, available in English here.
In 1991 Thomas left the University of East Anglia to form a film department at the University of Amsterdam. Many members of the university looked askance at the study of cinema, but he grew his program spectacularly. A department with scarcely half a dozen faculty members expanded to sixty staff members and 1400 students. The range of study is now immense, from classical cinema and Dutch moviegoing in the silent era to theorizing about contemporary digital media.
During our visit there were three main events. On Thursday 26 June a large and warm symposium featured brief papers from 21 of his students, many of them known to English-language readers—Ginette Vincendeau, Peter Krämer, and Warren Buckland. The topics included cultural history of media (even advertising movies), gender and melodrama, the relation of European cinema to US cinema, and "mind-game films." We had to miss the final sessions in order to check into our hotel, but what we heard was stimulating. One session was graced by an image that metamorphosed from Elsaesser to Hitchcock and back again. You can see it here.
The following day was the formal ceremony: Thomas' farewell speech in the University Auditorium, a converted chapel. Thomas and other professors, garbed in robes and caps, filed in and Thomas took the floor to present his talk, "Of Feedback and Phasmids: A Farewell to Film Studies." He offered both an oblique account of his institutional political battles and a broader account of trends in film theory across the last three decades. He wove clips from Master and Commander into his talk, which sometimes bolstered a comparison between his tough-minded handling of the program and Captain Jack's nautical tactics.
Other colleagues paid glowing tribute, and there followed a reception, where Thomas received people's formal congratulations. We also had a chance to catch up with old friends and make new acquaintances. We saw Noll Brinckmann and Peter Krämer.
Kristin caught up with Karel Dybbets, historian of Dutch cinema and a pioneer in the study of local movie theatres.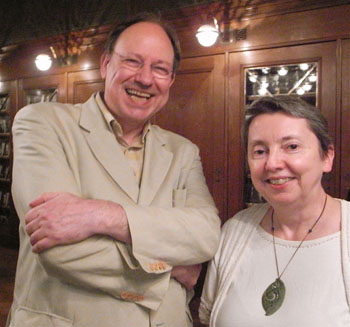 And though we met John Ellis and Roz Coward back in the 1970s, we hadn't seen them since. They were great company.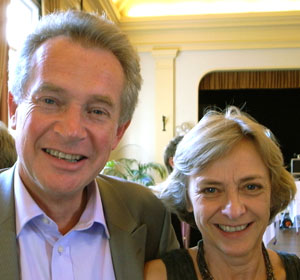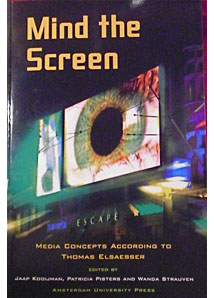 The final event was held that evening, in a reception room looking onto the Amsterdam Zoo. The department holds an end-of-year party, and this one had special meaning as Thomas' last official one. He'll continue to supervise dissertations, and he intends to keep living in Amsterdam—when he's not doing guest teaching in other places (at the moment, Yale).
It was a terrific two days for us, not least for witnessing the great admiration and devotion that his colleagues and students displayed. They even edited, in secret, a book in homage to him (left). Thomas has not only reshaped our sense of how film works, but his dedication to media education has created a generation of lively and original young scholars.
Next up: B is for Bologna, a report from Il Cinema Ritrovato.