Wednesday | August 8, 2007
open printable version
Kristin here—
More on Len Lye
After my recent post on Len Lye, I heard from both Roger Horrocks, Lye's biographer, and Tyler Cann, Curator of the Len Lye Collecton of the Govett-Brewster Art Gallery in New Plymouth, New Zealand. (Neither with corrections, I am happy to say!) They have filled me in on some activities that should make Lye's film work more accessible.
First, a DVD of Lye's films is being prepared. Unfortunately factors like the process of assembling the best surviving prints means that the finished product will not be available in the near future.
Second, the near future will bring a touring program of Lye's films to North America. Called "Free Radical: The Films of Len Lye," it has been organized by The New Zealand Film Archive, the Len Lye Foundation, and Anthology Film Archives. (The name was inspired by Lye's scratched-on-film animated short, Free Radicals, 1958.) Here are the venues and dates: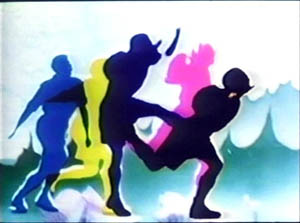 Oct 12 Anthology Film Archives, New York
Oct 18 NASCAD (Nova Scotia College of Art and Design) Halifax, Nova Scotia
Oct 23 Pacific Film Archive, Berkeley
Oct. 28 Film Forum, Los Angeles
Oct 30th CALARTS, Los Angeles
Nov 2nd University of Notre Dame, Indiana
Nov. 7th George Eastman House, Rochester
Nov. 26th Harvard Film Archive, Cambridge
Dec 8th Chicago Filmmakers, Chicago
Dec. 15th International House, Philadelphia
Roger tells me that he intends to write a book on Lye's theory and practice of what he called "the art of motion." This reminds me that I forgot to mention that there is a collection of Lye's writings, Figures of Motion: Len Lye Selected Writings, co-published in 1984 by Auckland University Press and Oxford University Press. It was co-edited by Roger and Wystan Curnow and is, alas, long out of print. Another thing to look for in your local library.
The Frodo Franchise
I am happy to report that The Frodo Franchise is now in the process of being rolled out. The University of California Press has been shipping copies for weeks, and it should soon appear on bookstore shelves—and may have already in some places. The copy we pre-ordered from Amazon back in April arrived on July 30.
I have bowed to the inevitable and am in the process of constructing a separate website, "Frodo Franchise," to deal with matters relating to the book and the films. (That is, Meg, our web czarina, is constructing it.) I don't want information about the book, comments on the Hobbit film situation, and similar items to overbalance our blog, which they threaten to do. I'll post a notice when the site is up and running.
In the meantime, Pieter Collins of the Tolkien Library, an excellent reference and news site dedicated to the novels, has interviewed me about my book. You can read the result here. Henry Jenkins has done the same, through his site, Confessions of an Aca-Fan, is more oriented toward popular media and fandom. The interview is in three parts here, here, and here.
Hollywood Blockbusters Doing Pretty Well
On February 28 I posted an entry, "World rejects Hollywood blockbusters?" There I argued against claims in an article by Nathan Gardels, editor of NPQ and Global Viewpoint, and Michael Medavoy, CEO of Phoenix Pictures and producer of, among many others, Miss Potter. They claimed that there were many signs that Hollywood's big-budget films are being rejected at the box office: "Audience trends for American blockbusters are beginning to show a decline as well, both at home and abroad."
Since then, of course, Hollywood blockbusters have been cleaning up at home and abroad. We're all familiar by now with the series of huge international openings, with many blockbusters being released day and date in most major markets. As one example, take Harry Potter and the Order of the Phoenix, which so far has grossed $774,070,000 worldwide. The US and Canada claimed only about one-third ($264 million) of that total (Box Office Mojo, August 4). Overseas, Phoenix has scored $510 million, for 65.9% of its global haul. The Three Threes, Shrek, Pirates, and Spider-man, all cleaned up internationally, as did Transformers. (The fourth Three film, The Bourne Ultimatum, looks set to do the same.) The Simpsons Movie has recently begun its climb to box-office glory.
Leonard Klady, an excellent writer on the international film industry, summed up the situation for 2007 in the 22 June print edition of Screen International: "Worldwide predictions that 2007 would break recent box-office records look to be well founded. The international box office generated $4.5bn in the first four months of 2007. Combined with revenues from the domestic North American marketplace, the global gross for the period was $7.2bn. International theatrical [i.e., markets outside the U.S. and Canada] accounted for 61.6% of the worldwide box office on gross figures that exceeded domestic ticket sales by 60.6%. Based on current viewing trends, global box office could finish the year at a record-breaking $24.6bn."
Klady points out that much of the rise comes from the factor I discussed in my earlier entry: the expansion of the international market. According to him, "The international market has become increasingly significant in the past decade." A decade ago, foreign income averaged 45% of Hollywood films' takings. By 2006 it was around two-thirds.
These facts also bear on Neil Gabler's February article, "The movie magic is gone," where he lamented the purported decline in theatrical films' importance. That there was such a decline, he claimed, was evidenced by the fact that box-office revenues are down, both domestically and abroad. I refuted Gabler's claims at some length in this March 11 post, and the successful summer that Hollywood is now enjoying adds further evidence to show that his argument was based on false assumptions.
DB here–
The Udine Far East Film Festival had a tremendous program this year, and just the YouTube promo made you want to book a ticket. But I couldn't go! Still, the organizers kindly sent me their excellent catalogue Nickelodeon and the real topper, the festival's thick volume dedicated to Patrick Tam Kar-ming. Editor Alberto Pezzotta, indefatigable researcher into Hong Kong film, organized a vast retrospective of Tam's key New Wave films, such as Nomad and The Sword, as well as his less-known television work. The book includes critical essays, a detailed filmography, and a long, informative interview. Tam brought a cosmopolitan sensibility to Hong Kong film, thanks to his sensitivity to European directors like Godard and Antonioni. His latest film, the widely acclaimed After This, Our Exile, signals a new phase in his career.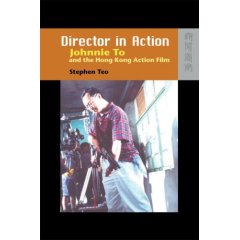 When I was writing Planet Hong Kong between 1997 and 1999, I was often frustrated by a lack of solid information and in-depth critical writing. Tony Rayns' superb essays and the annual catalogues published by the Hong Kong International Film Festival were about all I could rely on. That situation has improved in recent years, with many well-researched books on Hong Kong film appearing. Outstanding here is Stephen Teo, who has given us two books this year alone: King Hu's A Touch of Zen and the just-out Director in Action: Johnnie To and the Hong Kong Action Film. This efflorescence of writing comes just when local cinema is in its deepest slump. You won't find me quoting Hegel often, but in this instance it does seem that the owl of Minerva is flying at dusk.