Tuesday | April 24, 2007
open printable version
Meg Hamel introducing a film at the gigantic Orpheum Theatre.
DB here:
Today a chatty, catching-up blog filled with peekaboo links. Lots to do, know what I mean? Or do you?
Excuses, excuses
Kristin and I meant to blog about the Wisconsin Film Festival last weekend. We really did. But I missed the first night because my plane from Hong Kong got in late, and on Saturday I felt enough jetlag to mope around in a desultory fashion. I did see Fay Grim, Ten Canoes, Vanaja, and of course Johnnie To's Exiled (better than ever on that CinemaScope Orpheum screen). Kristin saw several more films than I did, and that was part of the problem: She was too busy watching films to blog about them. By the time she finished, the festival was over and we faced some looming deadlines.
Regrettably, we simply let our festival blog go. Kristin drove off to Toledo for a conference of the American Research Council in Egypt. A fine conference it was too, but preparing for that took away some time for blog duties. To meet our Internets obligations, I pulled out a general essay that was sitting on the shelf. It turned out to be one of our most popular ever.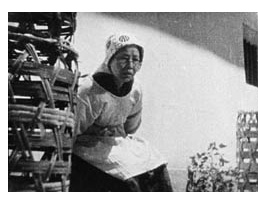 Over the same days I was occupied with two publishing projects. First is the online version of my 1988 book Ozu and the Poetics of Cinema, available here. In the original book, the frames taken from color films were reproduced in black and white. Markus Nornes of the University of Michigan, who first suggested putting the book online, wanted to replace those with color frames. Since virtually all the book's pictures came out poorly in the pdf scans posted online, we decided to replace the black-and-white images with scans from my original negatives. Kristi Gehring, our stalwart assistant, digitized all the black-and-white stills, and Markus found the color frames. So in the next few months the good folks at the University of Michigan should be replacing the tawdry stills with nicer ones. A bonus: Markus and his colleagues are working on giving the stills a click-to-enlarge feature.
I'll also be adding a new Foreword to the book. That will reflect on the book's approach and its reception, and I'll add corrections and new thoughts. In all, the updated online version should be available in late September. It's been quite a struggle to revive the old thing, as I've chronicled earlier, but several people have taken a lot of trouble to help, and I'm grateful. Because, you see, I believe that Ozu is the greatest filmmaker who ever lived.
The second publishing project is my Poetics of Cinema collection. Delays, endemic in academic publishing, have pushed it past its spring release date. I've just gotten page proofs, and indexing should take place in August. So the thing is now slated for October. It's rather big and expensive: 500 book pages, with about 500 stills. About half the essays are new to the volume. If you want to lay down your plastic before seeing it, you can order it here.
Coming attractions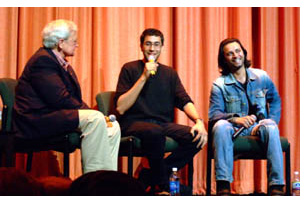 At the moment we're preparing for Roger Ebert's Festival of Forgotten and Overlooked Films, which comes up later this week. Previous years' sessions have been excellent. Alongside, you see a 2006 photo of Roger interviewing Ramin Bahrani and Ahman Razvi, director and principal actor of Man Push Cart. Ramin's new film, Chop Shop, is now in the Directors' Fortnight at Cannes.
This year should be lots of fun: a chance to meet Herzog, Alan Rickman, Joey Lauren Adams, and other creative film folk…and to see Roger and Chaz again. The films run the gamut from Holes to Beyond the Valley of the Dolls. Kristin and I will be moderating the screening of Sadie Thompson, with an orchestral score by Joseph Turrin. Another musical event: a performance by Strawberry Alarm Clock. (Now I do feel old.) We hope to post at least one blog, with pix of course. Other blogomanes will be present, notably the audacious David Poland and the hyperenergetic Jim Emerson.
Speaking of festivals: the biggest of them all is coming up, and to celebrate it Turner Classic Movies is running, on 16 May, Richard Schickel's documentary Welcome to Cannes. It samples the glitz but also affords information about the caste system of screening passes, the role of Cannes in easing films into the world market, and even the harm that a Cannes prize can do to a director. There's neat footage of Godard and Truffaut preparing to shut down the festival in May of 1968–an event that a couple of interviewees claim was a turning point in the festival's history. Along with the docu, TCM will screen four Palme d'or nominees/winners: The Big Red One, Blowup, Taxi Driver, and Pale Rider. But one question remains: Why does nobody think of the French as cheeseheads like us?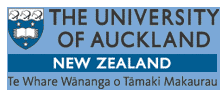 When we get back to Madison from Ebertfest, we have just enough time to pack for a month in New Zealand. Brian Boyd has arranged for us to come as guest lecturers to the University of Auckland, under the auspices of the Hood Fellowship.
Kristin will be lecturing mostly from her Lord of the Rings study, The Frodo Franchise (for instance, here), but she also offers a talk on her Amarna research. I've got a more varied agenda: talks on CinemaScope, on ShawScope, on the history of cinema style, on the cognitive approach to film theory, and on scene transitions, as well as a visit to the Philosophy department. One or more of these items may materialize as an essay on this site some day. We'll also be visiting the University of Otago, in Dunedin, for a brief stay and a lecture apiece.
While dwelling among the Kiwis, I hope to write a short online essay reflecting on our 1985 book The Classical Hollywood Cinema, which amazingly still arouses some discussion. I'll also be thinking about plans for two further books, one on Hong Kong cinema and the other on a new approach to film theory.
We're planning to maintain our blog while we're away, recounting our activities down under, and posting some more general pieces that I've already prepared.
Just butter, hold the popcorn
But what about our film festival just past? To be blunt: A hell of a time was had by all. We screened 182 films and attracted our biggest audience to date, with 28,700 tickets sold. Not bad for a festival that starts on Thursday night and ends on Sunday night, held in a town of about 240,000. Isthmus, our free arts-and-politics paper, offered an outstanding preview, and other local coverage was enthusiastic, natch. The event earned a glowing first-page write-up from Charlie Olsky in Indiewire. The official wrapup is here. For more on Madison cinephilia, go to our earlier entry.
We know whom to thank. Festival director Meg Hamel, The Boss of It All, is pictured at the top, channeling Judy Garland's Palladium sessions. Technical supervisors Erik Gunneson and Jared Lewis are the calm and cheerful gents pictured below. We also owe a lot to Tom Yoshikami, Karin Kolb, Stew Fyfe, and a host of volunteers, as well as to several university agencies, notably the Department of Communication Arts and the International Institute.
With Sundance 608 opening in a couple of months, we might be able to spread next year's fest between the downtown (cozy, near the students, lots of eateries) and the west side (the Borders-Whole Foods demographic). And with our University Cinematheque screening weekly, Madison film culture offers something for everybody.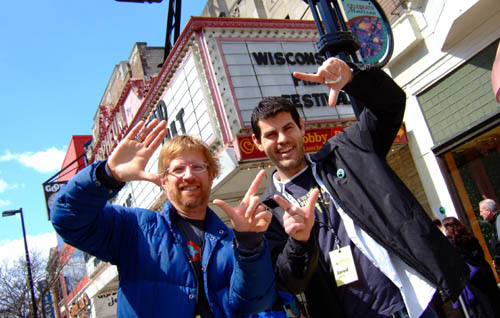 Erik and Jared pay homage to the canted angles of Hartley's Fay Grim.