Saturday | April 14, 2007
open printable version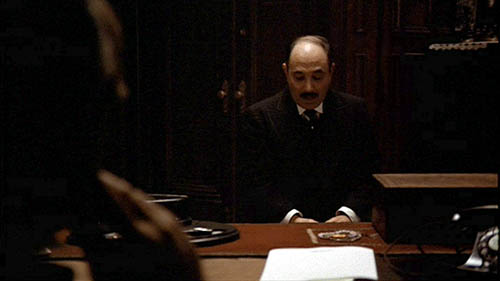 Hide your face
"Angles alter perceptions," notes a recent Newsweek story. You bet, as we say in Wisconsin. But intriguing evidence emerges from new research into videotaped confessions.
Over 500 jurisdictions now record confessions on video, we're told. In virtually all instances, there's only one camera, and it shows only the accused. That means, in movie terms, there are no reverse shots of the questioner.
What difference does it make? Quite a lot, it seems.
In Newsweek's words, "When a camera shows only a suspect's face, studies show, potential jurors are more likely to believe the confession was voluntary and the suspect guilty than when it shows the faces of both suspect and interrogator." The problem may also infect judges. Experiments conducted by G. Daniel Lassiter at Ohio University found that a sample of 21 judges appraised the confessions as more voluntary when the camera framed only the confessor and didn't show the police officer.
The obvious worry is that we can't be sure that the confession is voluntary if we don't get any sight of the questioner. To take an extreme, but not fanciful, possibility, maybe the person offscreen is holding a weapon. But even if the questioner isn't threatening the confessor, his or her facial expression will help us appraise the whole situation more fully. Is s/he reacting with sympathy, anger, or neutrality? Do the questioner's facial expressions set a context for the questions asked? We can't know, and this absence of knowledge may encourage us, by default, to side with authority and presume that the confession is genuine.
In fiction films, sometimes the camera doesn't give us the reverse angle. It may simply dwell on one character, often when she or he is delivering a monologue. A close analog to the videotaped confession occurs in Truffaut's 400 Blows when an offscreen therapist questions the boy Antoine about his life.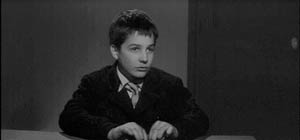 Several effects flow from Truffaut's choice of this technique. The handling suggests a quasi-documentary objectivity in recording Antoine's replies. Making the questioner unseen suggests that she won't become a significant character, rather a voice that typifies the impersonal authority of the detention facility. The fact that the questioner is a woman reminds us of Antoine's relation to his mother, an important topic in the interview. In all, this strategy concentrates on Antoine, letting us see new sides of his past and his mind.
In other scenes, I've noticed that suppressing the reverse angle not only showcased the character we see but also rendered the scene's action more suspenseful or ambiguous. Recall the famous first shot of The Godfather, which concentrates on the mortician and refuses to supply the reactions of Don Vito.
The shot gives full sway to Bonasera's monologue. At the same time, by slowly zooming back, the shot creates a growing suspense. To whom is he speaking? What is the listener's reaction? Only at the end of Bonasera's plea, when he rises to whisper in Vito's ear, does Coppola supply the view of Don Vito—a big theatrical entrance for this character and the actor playing him.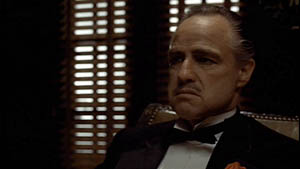 Less operatic is an early scene in Sauvage Innocence (2001), by Philippe Garrel. The filmmaker François is going over his dead wife's belongings, which his friend has preserved. Garrel gives us an establishing shot of the action, then, as the friend continues to talk, the camera concentrates on Francois's reaction to the letters, poems, and photographs. Although his expressions are somewhat ambivalent, at least we can see them.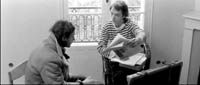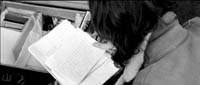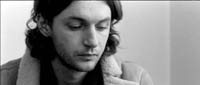 But in the next scene, a single shot lasting about seventy-five seconds, Garrel withholds the reverse angles that we'd normally get when his protagonist speaks. The camera favors the friend, a minor character, who asks questions about François's new film while feeding a baby. François replies that he's having trouble finding a producer, and if this last opportunity fails, the project will be over.
Garrel doesn't choose to reveal François's expression as he reports this critical state of affairs: no reverse shots. We must infer his emotional state from his voice, his pauses and sighs, and his postures as he replies, rises, and sits down.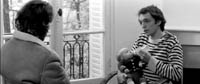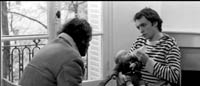 At most we can assume that he's dispirited, perhaps because of his film's slim prospects and the reminder of his dead wife.
In the scene, there's one glimpse of his face, as he turns slightly, and—Tim Smith might be able to confirm this—I'd bet that most viewers zero in on him at that moment. (The movement is centered in the frame as well.) But that view is pretty brief and uninformative.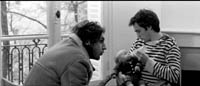 Overall, we have to infer François's attitude from other cues than his expressions, and the results aren't clear-cut. It seems to me that Garrel's choices here are typical of one strain of "art cinema." This storytelling tradition aims to make scenes somewhat indefinite in their meaning and to leave considerable room for spectators to play with various implications of the action.
Cutting and Social Intelligence
Some years ago I developed some ideas about the importance of shot/ reverse shot cutting in an essay called "Convention, Construction, and Cinematic Vision." (1)
One school of thought in film studies holds that cinematic conventions are wholly arbitrary social constructions. This implies that we have to learn to watch movies, just as we have to learn any arbitrary sign system, like Morse code or written languages. My essay argued that cinema, like painting, offers a continuum of conventions: some require a lot of exposure to learn, while others require much less. The easiest ones rely on regularities of everyday experience. I tried to show that shot/ reverse shot is a fairly easy convention to learn because it mimics the alternation between speaker and listener that we find in the turn-taking of ordinary conversation.
As my examples suggest, even if person A is doing all the talking, we don't fully understand the scene if we can't also monitor the reactions of B. By contrast, the shot/ reverse-shot patern keeps a running tab of the dynamics of the conversation. When a director wants to suppress information about B's response, deleting the reaction shot can create uncertainty or suspense.
Confessions aren't fictional films; we don't assume that they use much staging. I'd argue that in videotaped interrogations any uncertainty about the listener's reactions is quelled by our assumption that the officer is neutral or that any emotion she expresses has no effect on the confession. In other words, during a videotaped confession, any reaction on the part of B is presumed, perhaps wrongly, to be irrelevant. But in watching a fiction film, we tacitly assume that the director has suppressed B's reaction in order to shape our experience in a particular way. The use of shot/ reverse shot, then, has a narrational function, governing the flow of story information.
We might posit this maxim of social intelligence: We understand an interchange more fully when we can see both participants' responses to it, moment by moment. This notion underpins our old friend shot/ reverse shot, a convention that requires no specialized learning beyond watching and participating in conversations in real life. The absence of the reverse shot in videotaped confessions forces us to fill in one side of the conversation, and what we fill in may not be warranted.
Lassiter suggests a subtler effect of single-shot confessions. He has specialized in what psychologists call "illusory causation," as explained in a 2002 press piece.
Criminal interrogations are customarily videotaped with the camera lens zeroed in on the suspect. Psychological research has shown that objects that are the focus of attention, are "more likely than less conspicuous objects to be judged the originators of a physical event, even when there is no objective basis for such a conclusion," said G. Daniel Lassiter, author of the study. This phenomenon is referred to as "illusory causation."
So by concentrating wholly on the suspect, the framing attributes a greater causal power to him or her than would a shot/ reverse-shot sequence.
I can't at the moment see how this might come into play in a fiction film. In both of my major examples here, Bonasera and the baby-feeding friend have less causal power than the character whose response is suppressed. I suspect that the story context of film scenes provides our main sense of who has the causal power, which film style can reiterate or undercut.
Censoring Syndromes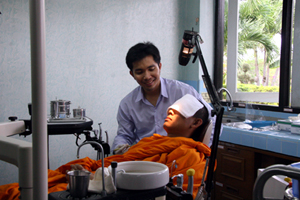 Apichatpong Weerasethakul's Syndromes and a Century was one of the best new films I saw last year. It has played at Venice, Vancouver (my quick remarks are here), Hong Kong, and other major festivals. It also won the best editing award at the Asian Film Awards. You can read the Variety review here. Jeff Reichert's exhilarating appreciation appears, in keeping with the theme of the above entry, at Reverse Shot.
But now Apichatpong has withdrawn the film from theatres because local censors have demanded cuts. The objectionable portions include shots of monks playing with toys and a doctor kissing his girlfriend in a hospital. Details are available at Variety and Limitless Cinema. According to Screen Daily (not available free online):
Apichatpong questions why many other Thai and foreign films which contain excessive violence, nudity, coarse language, crude jokes on other ethnic groups, and monks doing stupid things did not suffer the same fate.
Below I reprint Apichatpong's most recent statement and information about a petition that's available online.
Free Thai Cinema Movement Petition
Statement by Apichatpong Weerasethakul with Bioscope, the Thai Film Foundation, Thai Film Director's
Association, and Alliances.
I am saddened by what has happened to my film. However, this is not the venue to try to make SYNDROMES AND A CENTURY shown in Thai theaters. It is not my intention to use this opportunity to promote my work.
But, it is time to seriously think about what is going on with our censorship laws, so that the next generation of filmmakers will not face the same problems as us, and so that the Thai audiences can truly achieve a freedom of choice.
It is time we discuss whether all films, before being released, should be seen by the Buddhist council, doctors council, teachers council, labor council, the army, pet lovers group, taxi union, representatives from other foreign countries etc? Or, is it easier to turn our nation into a Fascist state so that we can live in harmony and don¹t have to waste time talking about democracy?
The system of the Thai Board of Censors needs to be evaluated. Their members' relevancy and efficiency needs to be questioned, and we should decide whether the laws should be changed.
I would like to ask you to reflect on the censorship practices in our country and to provide us with advice at
http://www.petitiononline.com/nocut/petition.html
Later on, this Petition will be submitted to the Thai government. Your support will be a great contribution to our fight for one of our most basic rights – that of freedom.
I am grateful for your time and your participation. Thank you very much.
Warmest Regards,
Apichatpong Weerasethakul
KICK THE MACHINE FILMS Co., Ltd.
(1) It's not available online; it was published in Post-Theory and will be reprinted in my forthcoming Poetics of Cinema collection.