Wednesday | April 11, 2007
open printable version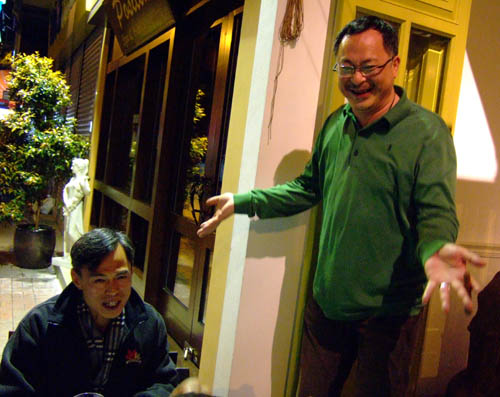 Two sides of the Triangle: Ringo Lam and Johnnie To.
My last day in Hong Kong, and still so much to say.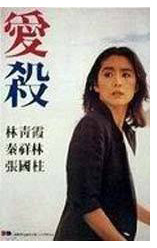 A few days ago I saw the new print of Patrick Tam's Love Massacre (1981). It's one of the stranger contributions to the Hong Kong New Wave of the late 1970s and early 1980s. The early stretches play as Antonioniesque scenes of alienation and loss, with a dash of Godard in the red/white/blue color design. About halfway through it becomes a movie about a stalker with a knife. Tam has great visual flair and devises some remarkable compositions and cuts, but I think that the film's descent into gore comes too abruptly. We never understand the killer's dementia, or his relation to his suicidal sister. Brigitte Lin Ching-hsia is as usual restrained and subtle in her performance, but such can't be said for most of the other participants.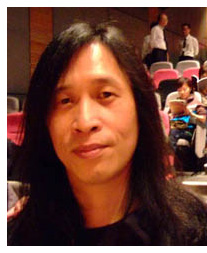 The seminar on Herman Yau's films, "Herman's Hermitage," offered valuable critical commentary and a dialogue with Mr. Yau (right). A major cinematographer, Yau gained fame with two remarkably aggressive films, The Untold Story (1993) and Ebola Syndrome (1996). He has worked in many genres, lending a distinct local tang to cop dramas and even musicals. He's a unique and energizing presence on the Hong Kong scene.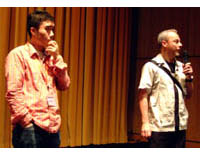 Two docus of note to fans of Asian film: In Development Hell (2007), Fukazawa Hiroshi chronicles the efforts of Teddy Chen to make Dark October, a film about Sun Yat-sen. As we follow Chen's efforts, we learn of an earlier project undertaken by Chan Tung-man, father of prominent director Peter Chan Ho-sun. Tidbits about HK filmmaking emerge from comments by producers and directors.
Yves Montmayeur's In the Mood for Doyle (2006) follows Chris Doyle across a year of projects and interviews his collaborators, including Wong Kar-wai and Fruit Chan. Doyle appears somewhat calmer than I've seen him before (and certainly calmer than his reputation would indicate), and he shares some of his working methods.
Some points, such as the importance of place in determining a film's style, Doyle has emphasized fairly often. But I'd never heard him say this before: "The choices you make push you in a certain direction, and that becomes what people call style." Exactly right, methinks. Making a film is what technological historians call "path dependent"; one choice creates a limited but coherent set of future choices. The cascade of choices can precipitate into an overall stylistic pattern.
In a film with many good quotes, Peter Chan contributes another: "Working under the banner of a genre can give you more creative freedom." In the Mood for Doyle and Development Hell would both be fine for festivals.
I have been written up a little in the Chinese-language press here and here. The loyal Golden Rock blogspot has pointed out that the stories misunderstood what I said in my blog about Johnnie To's style.
Speaking of Johnnie To, as I frequently am: Last week he invited critics Lorenzo Codelli (below) and Shelly Kraicer and your obedient servant to dinner at his brother's restaurant in Sai Kung. It was a wonderful meal, from the French sausages to the Kobe beef, prepared by the estimable Dracula Kwong. I never thought anybody would ever say this sentence to me: "And now meet Dracula."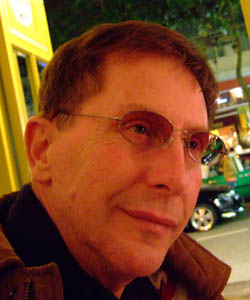 Soon Mr. and Mrs. To were singing American pop hits of the 1960s, including Simon and Garfunkel's "The Boxer."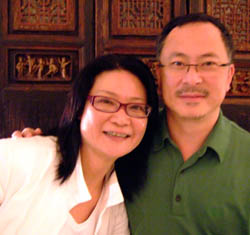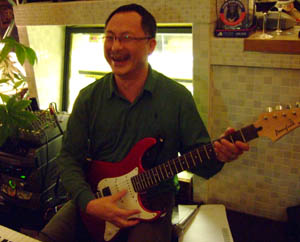 Ringo Lam, one of Hong Kong's most celebrated filmmakers, dropped by.
Mr. Lam is the director of the middle section of Triangle, which I commented on in an earlier blog. In our conversation, he pointed out that the idea of taking off from another director's story was something already present when he and Mr. To worked at TVB. The station would commission a 100-episode series (!), and either he or Mr. To would be responsible for the first five episodes. Then the next director would pick up the series and contribute another five installments, possibly taking the plots in entirely new directions. So this sort of serial production, a bit like Japanese linked verse, was already at work in Hong Kong popular culture.
Mr. Lam is known as bringing a level of harsh realism to the action pictures of the 1990s. In our conversation, he talked a lot about censorship troubles with the hard-edged School on Fire (1988). He also explained how he shot the jarring vehicle chase in Full Alert (1997) with virtually no retakes. "No problem! If other drivers see a crash or gunfire, they just drive around it." Remarkably, Mr. Lam recalled reading our book Film Art when he was studying film in Canada.
Shu Kei has made a brief, gentle film called Ten Years, centered on a pair of dancers at the Academy for Performing Arts, where he is head of the School for Film and TV. Without words, accompanied solely by a Keith Jarrett piece, it tells its story through abstract compositions and carefully selected details.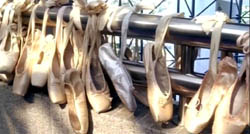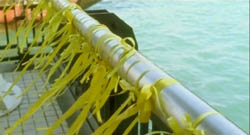 A plush new local magazine, Muse, has published Vivienne Chow's discussion of attitudes toward the festival. The story, not available online, discusses the festival's efforts to broaden its public and seek commercial sponsorship. For many years after its launch in 1977 HKIFF ran as a municipal venture, but recently it went private. Now several high-profile companies like Giordano, Diesel, Starbucks, Shui On Land, and others support it. The festival has filled the central city with banners and billboards and created many red-carpet events, which generate press coverage and sizable local turnout.
Some long-time supporters feel that HKIFF has been pandering to the mass audience. They suggest that the festival's principal mission was once to bring to Hong Kong the rare films, usually European, that wouldn't be shown theatrically. Others resent the influx of viewers who aren't strict cinephiles. One loyal festival attender is quoted in Chow's piece: "The gimmicks and publicity brought in a lot of non-regulars who do not have much theater etiquette." Long-timers complain of cellphone chatter and rude patrons.
As an outsider, I offer my $.02.
There are now a huge number of festivals, chasing the same films, lusting for red-carpet events. In Asia alone, Pusan, Tokyo, and Shanghai have become strong contenders, all more or less imitating Hong Kong. Moreover, the western world has finally recognized that Asia is a source of tremendous cinematic innovation, and now the big European and American festivals are cherry-picking films and filmmakers. If Wong Kar-wai can premiere his film at Cannes, why should he offer it to Hong Kong a month before? The HKIFF is hurt by its years of success: many of the filmmakers it introduced to the world are now snapped up by other festivals.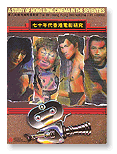 Just as important, the festival has offered comprehensive documentation of local cinema. Recognizing that Hong Kong film was largely unknown, the festival set about creating retrospectives and publications that brought to light the entire history of a great tradition. (On right, the festival's book on the 1970s.) Without the precious catalogues published by the festival, both Chinese and westerners would know much less about Hong Kong cinema. The festival's mission of education and scholarship has continued unabated, matched by the programs and publications of the Hong Kong Film Archive.
The festival shrewdly merged with a broader event, the Entertainment Expo, which included Filmart, the Asian Film Financing Forum, and the Asian Film Awards. Variety reports that a lot of business was done at Filmart, and the Awards were broadcast and rerun on Chinese television. In all, the festival seems to have created a unique identity for itself as a regional gathering place for both industry types and film fans.
Like all great festivals, this is really many festivals in one. Confronted by nearly 300 programs in 23 days, you're in a vast cafeteria. You could, as I did, stick close to the Hong Kong retrospectives and archival shows. But you could also attend a rich array of avant-garde screenings, highlighted by the Paolo Gioli work. Or a documentary thread, including Enemies of Happiness and Nanking. Or a sampling of contemporary Asian film, showcasing dozens of works from South Korea, Japan, Malaysia, Thailand, Indonesia, India, and on and on. Viewers craving contemporary European items had a chance to see eight films from Romania, eight from Germany, eight from the Nordic countries, and assorted titles from France, Italy, Portugal, and elsewhere; not to mention retrospectives of Visconti and Pedro Costa.
Add to this the enormous friendliness of everyone you encounter and the sheer exhilaration of being in this city. It would be ungrateful to ask for more. For the chance to see all these movies and wander through Hong Kong, I'd let Starbucks stamp its logo in my tooth fillings.
Will I see you here next year?