Saturday | February 3, 2007
open printable version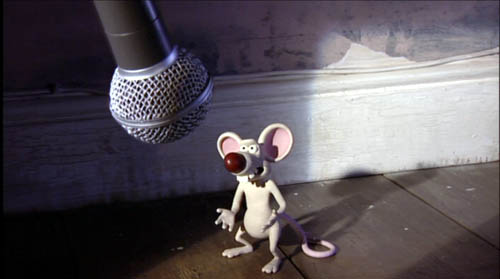 Creature Comforts: The Brood.
Kristin here—
On December 6, 2006, I commented on a Variety article which suggested that DreamWorks was probably going to sever its distribution pact with the British animation firm Aardman. The reason was the poor box-office performances of Wallace & Gromit in the Curse of the Were-Rabbit and Flushed Away.
At the time I claimed that DreamWorks had not done a good job promoting either film, despite its earlier success with its first Aardman release, Chicken Run.
Now, as Variety predicted, on January 30 Aardman announced that they would no longer be distributing through DreamWorks. The official press release on the firm's site states:
"We've enjoyed a hugely successful and creative relationship with Jeffrey and DreamWorks Animation," stated Peter Lord and David Sproxton, co-owners of Aardman Animations, "but both companies are aware that our ambitions have moved apart, and it feels like the right time to move on. Aardman has an ambitious slate of feature film projects in development and will announce their future production and distribution plans shortly."
Variety's coverage of the split quotes another Aardman spokesman, Arthur Sheriff: "The business model of DreamWorks no longer suits Aardman and vice versa, but the split couldn't have been more amicable."
The report notes that Aardman is currently making a series of seven episodes of an American version of its hit British TV show Creature Comforts. (The two seasons of the British series are available on DVD.) CBS ordered the episodes but has not yet announced when they will be aired.
Variety's article remarks, "Skein could be another test of whether U.S. auds have cooled on Aardman's claymation style and quirky British humor, which stands in sharp contrast to the fast-paced, jokey CG toons of DreamWorks and most other American animation studios.
This looks like a case of blame the victim. American audiences haven't had much of a chance to warm up to Aardman's style. DreamWorks made little or no attempt to promote Aardman as a brand or to make the signature characters, Wallace and Gromit into stars as familiar as Shrek. (I'll take the penguin in The Wrong Trousers over the ones in Madagascar any day.) Maybe DreamWorks subscribes to the peculiar notion that there may be too many 3D animated features in the market. Or maybe becoming a subsidiary of Paramount has made its executives determined to stick to the tried and true and exploit the Shrek franchise until it drops below its target income. Or both.
I suppose the ideal would be for Pixar/Disney to pick up the American distribution of Aardman's future films. John Lasseter and company know how to sell a toon.