Thursday | November 30, 2006
open printable version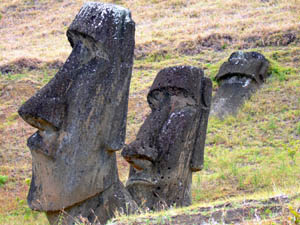 Yes, we've been away for the last 12 days, 8 of them in Easter Island (aka Rapa Nui). The figures above are sort of the opposite of moving images, though there is a lot of controversy about how they got shifted around the island. These are at the quarry of Rano Raraku.
We had a great time and hope to chat about it at intervals in upcoming blogs. No movies playing theatrically there, though there is a video rental shop; a local restaurant runs Rapa Nui several times weekly on DVD. All I saw, courtesy of iPod, were episodes of Naked City and The Wire.
En route, we spent a little time in Santiago, itself a very intriguing city. On the pretext of keeping the film thread going, I'll just mention that it still has genuine porno movie theatres. They boast big screens and Dolby sound, so we assume that they're screening DVDs.
If this doesn't get us a lot of hits, or at least a lot of spam, we'll be surprised.
We have lots more to blog about, from James Mottram's new book The Sundance Kids to ideas about how the media industry plans to pressure the new Congress to further tighten laws on intellectual property. But we need to get caught up with correspondence and to recover from travel fatigue. And we need to get caught up on all the new movies, including The Fountain, Bobby, and the like.
In our absence, Andy Adams has been enhancing other features of the site. Very soon we'll be adding pdf files of film analyses cut from various editions of Film Art, as well as hard-to-find articles of mine that people have asked me about.
–DB