Archive for the 'Directors: Benning' Category
13 Lakes.
"What I like about looking is how many ways there are to see the same thing."
Sadie Benning
DB here. Today no extended essay, just some jottings.
Some day I really must do an extended tribute to the Eureka/ Masters of Cinema DVD line. To call it the UK Criterion is partly right, given the painstaking transfers and the ample supplementary material. But Eureka ventures into some very fresh territory. A company that puts out the terminally peculiar Funeral Parade of Roses (Toshio Matsumoto, 1969) as well as a double-disc set of Mizoguchi's Sansho the Bailiff and Gion Bayashi deserves points for audacity.
A recent batch of Eureka releases:
*Two cult animation items by René Laloux, Gandahar and Les maitres du temps. Fans of Fantastic Planet and the bande dessinée artist Moebius will snap these up, as much for the large booklets as for the discs.
*Then there's Nosferatu. You say we've already got enough? Nope. First, we can never have too many of this, one of the greatest of silent films. Second, this version looks scarily definitive: a two-DVD set with the Murnau-Stifung restoration and the original score, plus a documentary, plus a book including some primary material along with essays by Enno Patalas, Gil Perez, Thomas Elsaesser, and Craig Keller.
*Sticking with Murnau (who directed, some say, in a white lab coat), Eureka offers a double-disc set of Tabu, also from the Murnau-Stiftung and with previously unseen scenes and title cards.
*Finally, there's Peter Watkins' Edvard Munch in its long version, with a booklet including a Watkins "self-interview."
Unbelievably, many more great movies are on the way. Check the catalogue and preview lineup here.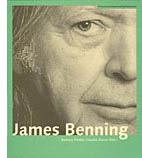 Also from overseas, the Austrian Filmmuseum adds a new title to its Synema book series, alongside Alexander Horwath's remarkable dossier on Sternberg's Case of Lena Smith (discussed in an earlier entry here) and many other books on experimental cinema. It's the first book devoted to James Benning.
I have a personal interest. I met Jim when I came to Madison in 1973. He was working on his MFA in film and art, and he was one of four teaching assistants assigned to me. There was Doug Gomery, already an impressive film historian, soon to go on to fame for his work on the US film industry. There was Brian Rose, one of the most alert cinephiles I ever met, and one of the funniest. There was Frank Scheide, already an expert on Chaplin, Keaton, and their peers. And there was Jim, a master mathematician (helpful for computing grade curves) and the only filmmaker in the bunch. Jim and Frank, both serene, had a calming influence on the rather hyper Rose, Gomery, and Bordwell. It was a great team, my Dirty 1/3 Dozen, and I remember our collective grading sessions fondly.
Jim had already made Time and a Half, but his most famous works, starting with 81/2 x 11 (1974), were yet to come. He left Madison and went on to teach filmmaking at several places, settling finally at Cal Arts. I kept in occasional touch with him and his work. He visited our Wisconsin Film Festival with his remarkable, politically charged Four Corners, El Valley Central, and Los. I've seen him more frequently in the last few years because turn up at the same film festivals—me as an observer, him showing gorgeous and provocative films like 13 Lakes, 10 Skies, and One Way Boogie Woogie/ 27 Years Later.
So the book, edited by Claudia Slanar and Barbara Pichler, is very welcome. It just arrived, so I haven't had a chance to read it through, but I signal it to all those interested in a filmmaker who has been enthralling and surprising us for thirty-five years. Apart from a career chronology and a complete filmography, it features essays by Julie Ault, Sharon Lockhart, Volker Pantenburg, Dick Hebdige, Amanda Yates, Scott MacDonald, Allan Sekula, Michael Pisaro, Nils Plath, and of course Sadie Benning, a mean hand with Pixelvision. Lockhart supplies lustrous shots of some Wisconsin beer bottles in Jim's collection.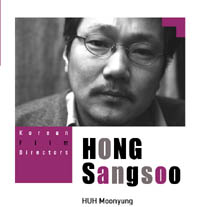 Speaking of books, not beer, the Korean Film Council has just published a series of trim books on major directors, both classic and contemporary. Each volume includes a detailed filmography and a lengthy interview. Some volumes are through-written by a single author, others consist of analyses and appreciations by various hands, including major Korean critics and Asian cinema expert Chris Berry.
The directors honored are Kim Dong-on, Im Kwon-taek, Lee Chang-dong, Kim Ki-young, Park Chan-wook, and Hong Sang-soo. This last volume, edited by Huh Moonyung, includes an homage by Claire Denis and a small essay by me, "Beyond Asian Minimalism: Hong Sang-soo's Geometry Lesson."
Books in the series may be ordered here.
Speaking, again, of books. . . The paper edition of Phillip Lopate's American Movie Critics: An Anthology from the Silents until Now (The Library of America) has just come out. I found reading the first edition addictive, like eating peanuts and M & Ms. Now we need a second volume including Frank Woods (a critic close to Griffith), Welford Beaton, and other less-known early writers.
In the meantime, the new edition has grown to include an essay on Fincher's fine Zodiac by Nathan Lee and internet pieces from Stephanie Zacharek (Salon.com) and your obedient servant. I've never imagined an essay of mine in a collection that includes my teenage idols Mencken, Macdonald, Sontag, and Sarris, so this volume amounts to a swell early Christmas present. Thanks to Mr. Lopate and Geoffrey O'Brien for all their help.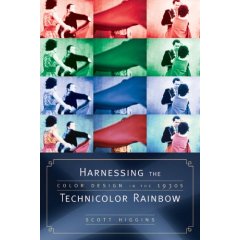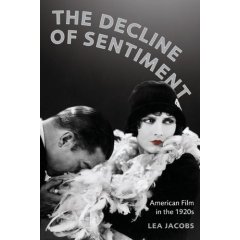 Speaking, yet again, of books. . . A plug is in order for Scott Higgins' meticulous, engagingly written Harnessing the Technicolor Rainbow: Color Design in the 1930s, just out from Texas. I sat on Scott's dissertation committee, and I was impressed by his imaginative research methods (e.g., using Pantone swatches as an objective measure of color hues in movies) and his sensitive attention to the way the movies look. Nobody before Scott has analyzed color in film so carefully. Scott is also attentive to production practices, so filmmakers interested in the history of technology should find a lot to chew on here. Several pages of original Technicolor frames support Scott's case in graceful detail. No beer bottles, however.
More books from Wisconsin scholars: The above-mentioned Doug Gomery has a new book due out early next year, A History of Broadcasting in the United States. Lea Jacobs' The Decline of Sentiment: American Film in the 1920s should follow soon. I've read the latter already, but both are without doubt worthy of your attention. If you like your American film history at once informationally solid and intellectually daring, you will like these items. Neither Doug nor Lea is a fan of conventional wisdom.
Finally, for fans of Hong Kong cinema: Johnnie To and Wai Ka-fai's Mad Detective (I filed a note on it from Vancouver) has been a hit in Hong Kong, beating Beowulf. An analog Lau Ching-wan can thrash a digital Ray Winstone any day of the week. Milkyway Image's boundlessly energetic Shan Ding has set up a Facebook page as a place to chat about movies and, one hopes, to keep us apprised of developments in Mr T's upcoming remake of Melville's Cercle Rouge.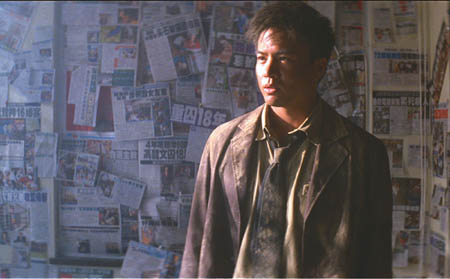 Mad Detective.
PS: Just learned about an informative interview with Jim Benning here, with more ravishing shots from 13 Lakes. This entry also includes several other links to web discussions of Jim's films.