Sunday | August 30, 2020
open printable version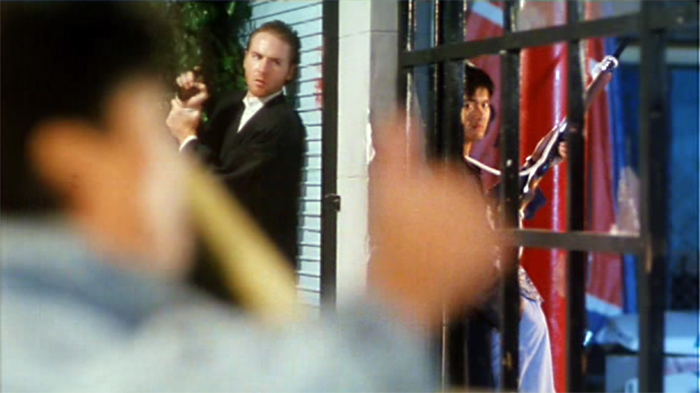 Tiger on Beat (1988).
DB here:
Simple equipment includes, but is not limited to, knives, pistols, shotguns, ropes tied to shotguns, surfboards, chainsaws, etc.
Herewith another attempt to brighten your days with a choice film sequence that never fails to bring a foolish grin to my face. Apologies as ever to Ken Jacobs for my swiping his title.
Tiger on Beat (aka, but less pungently, Tiger on the Beat, 1988) is prime Hong Kong showboating. This final scene assembles some of the greats—Chow Yun-Fat, Gordon Liu Chia-Hui, Chu Siu-Tung (too little to do)–and near-greats like Conan Lee Yuen-Ba, who gets points for heedlessly executing the stunts Chow and Chow's doubles can't. Lau Kar-Leung (aka Liu Chia-Liang), one of Hong Kong's finest directors, imbues both the staging and the editing with the crisp, staccato rhythm that this tradition made its own, and that few American directors have ever figured out. (It's a long clip, so it may take a little time to load. In addition, our Kaltura operation is having problems, so you may want to try different browsers.)

Come to think of it, this little-stabs entry contains some fairly big stabs of its own.
The whole film is worth a look. Opening scenes feature Chow in outrageous threads, the very opposite of a cop in plainclothes, and there's a fine car chase in which many risk life and limb. But this sequence, lit high-key so that every splash of saturated color pops, is for me the highlight, a tour de force of action cinema. Probably not for the kids, but what do I know about kids?
Sequences like this were what drove me to teach Hong Kong film and write Planet Hong Kong. They also impelled Stefan Hammond and Mike Wilkins to write Sex and Zen and a Bullet in the Head (1996), the most deeply knowledgeable fanguide to this glorious cinema. Stefan followed it up with Hollywood East: Hong Kong Movies and the People Who Made Them (2000). Now Stefan and Mike have effected a merger of these and updated and expanded them. They've also recruited a band of other Guardians of the Shaolin Temple: Wade Major, Michael Bliss, Jeremy Hansen, Jude Poyer, David Chute, Dave Kehr, Andy Klein, Adam Knee, Jim Morton, and Karen Tarapata.
The result is another indispensable volume, More Sex, Better Zen, Faster Bullets: The Encyclopedia of Hong Kong Film. The recommendations are sound, the plot synopses are nearly as much fun as the movies, and the authors have wisely retained chapter titles like "So. You think your kung fu's. . . pretty good. But still. You're going to die today. Ah ha ha ha. Ah ha ha ha ha ha."
They weigh in on today's sequence: "This gory Armageddon-duet consistently scores on Top Ten End-Battle Lists among HK film aficionados." Makes me even more confident to recommend it to you. They add that the credits music is "a hard-rocking theme song by HK power diva Maria Cordero." So I let it run.
---
I analyze this and other action sequences in this blog entry. An appreciation of Lau Kar-Leung is here.
For more little stabs, check out earlier entries in this series.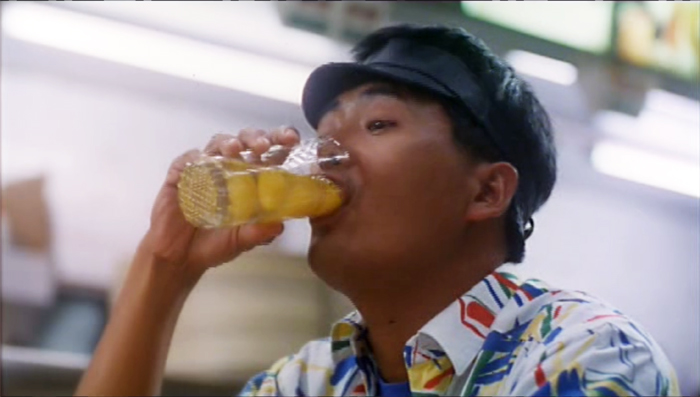 Chow Yun-Fat gets his daily dose of egg yolks (Tiger on Beat).