Friday | July 12, 2019
open printable version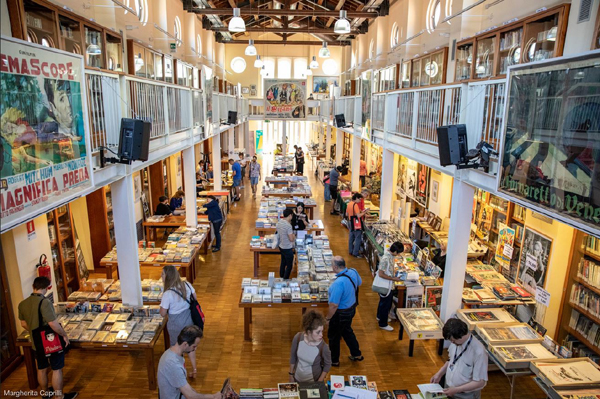 Il Cinema Ritrovato Book Fair (photograph Margherita Caprilli).
Kristin here:
I mentioned in my entry on the African thread at this year's Il Cinema Ritrovato that I filled in blank spaces in my program with a miscellany of intriguing films. Here are some of those films I saw, and others that David saw.
O Pão (1959)
Manoel de Oliveira's first film, the gorgeous black-and-white documentary short, Douro, Faina Fluvial, was released in 1931. His last, Um Século de Energia, another documentary short, came out in 2015, the year of his death aged 106 (as did Visita ou Memórias e Confissões, a deliberately posthumous legacy film shot in 1982). That's an 84-year career. I doubt any other filmmaker can claim as much.
Initially that career proceeded in fits and starts. He made more documentary shorts in the 1930s and then a black-and-white feature, Aniki-Boko (1942), during the war under an authoritarian regime. After the war he could not find funding and decided to study color filmmaking in Germany. During the 1950s he applied his resulting expertise to two documentaries: O Pintor e a Cidad ("The Painter and the City," 1956) and O Pão (Bread). A beautiful print of the latter was shown in this year's Ritrovati e Restaurati thread. It was to be his last film before he turned to feature filmmaking, though he never entirely gave up documentaries, particularly near the end of his life.
This hour-long film slowly follows the entire progress of bread, from wheat-fields to milling to baking to consumption. The images, whether in field or factory, are lovely, showing that Oliveira had indeed learned a great deal about color.
There is no voice-over narration, even during a lengthy scene in a large mill where technicians perform mysterious tests on samples of flour. The slow progression creates a soothing, almost mesmeric tone. Only toward the end does some social criticism emerge. A hungry urchin stealthily retrieves a roll dropped by a shopper, only to have it snatched away by a little street thug. Clearly bread, despite the lyricism of its production, is not for everyone.
Ghazieh-e Shekl-e Avval, Ghazieh-e Shekl-e Duvvum (1979)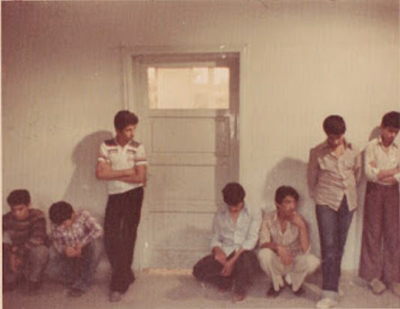 Another must-see was Abbas Kiarostami's early film, First Case, Second Case, also presented in the rediscovered-and-restored thread. Like Oliveira, Kiarostami began in documentary work. This remarkable film was started before the 1979 Iranian Revolution and finished after it–and then banned.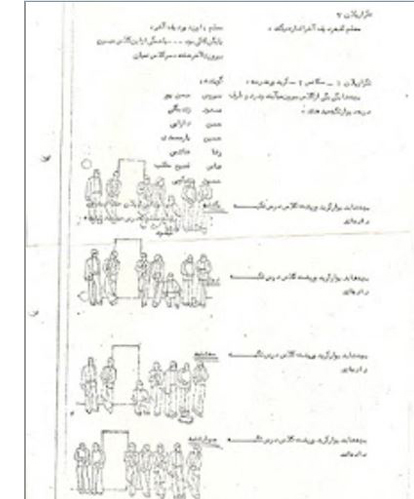 The film's beginning rather resembles other Kiarostami openings, with a simple scene in a classroom. A teacher drawing the anatomy of an ear on a blackboard is interrupted by a knocking noise caused by one of his students. No one confesses or reveals who caused the noise, and the teacher suspends seven of the boys, who spend the next days in the hall outside the classroom.
This scene is revealed to be a 16mm film being shown to a succession of teachers, government officials, religious leaders, and the fathers of some of the boys. In the latter cases, some variant of the framing above is shown, with an arrow pointing to the son of the father being interviewed. Unseen, Kiarostami asks them the same question: did the boys do right in refusing to reveal who disrupted the class? Some of these interviewees became key figure in the Islamic Revolution. (Jason Sanders' program notes for a screening of the film provide some information about this historical context.)
This "documentary" has of course been carefully staged. A page from Kiarostami's script reveals how he designed the passing days of the boys' suspension, with different ones standing or sitting each time. The illustration is from Ritrovato programmer Ehsan Khoshbakht's blog entry on the film, where he credits First Case, Second Case with introducing the interview technique into the director's work.
This first case shows the boys maintaining their refusal to identify the culprit. In a new scene, the second case, an alternative outcome shows one of the boys naming the guilty classmate to his teacher. Again, Kiarostami interviews many of the same people as to whether they believe the boy's decision can be morally justified.
If not as charming as some of Kiarostami's later work, First Case, Second Case contains a familiar combination of complexity and simplicity, as well as a fascination with people telling their own versions of events.
The film has been picked up by Janus in the USA, which should mean that it becomes available from Criterion on Blu-ray and/or its streaming service, The Criterion Channel.
Twelve O'Clock High (1949)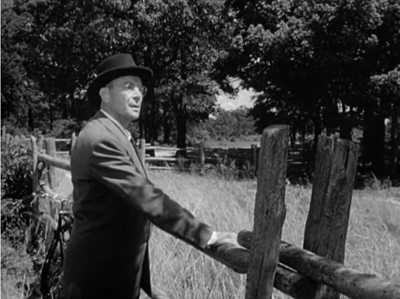 In recent years, Il Cinema Ritrovato has featured the films of a major Hollywood director as one of its main threads. This year it was Henry King. I managed to miss nearly all of his films. In part I feared that, since the auteur du jour is always one of the the more popular items in the program, the screenings would be crowded. Word of mouth suggested that they were.
Still, I had an afternoon free, and I wanted to guarantee myself a good seat for Varda par Agnès, showing later in the day. I went to an earlier screening in the same theater, and I was glad I did. Twelve O'Clock High is an impressive and entertaining film, if not an outright masterpiece.
Fitting into David's set of innovations typical of the 1940s, the action is enclosed by a framing situation. A man we eventually discover was an American officer posted in England during World War II bicycles out into the countryside and visits the derelict remains of the military airport where he served. (Above, played by Dean Jagger in a role that won him a best-supporting-actor Oscar).
For a long time the story concentrates on General Frank Savage (Gregory Peck), who takes over command of an underperforming bomber unit in the same air station we saw at the beginning. He proves an absolute stickler for discipline, initially alienating the pilots he commands. Eventually he wins their respect, of course, and he learns to unbend a bit.
Eventually a series of air battles occur, with some very impressive and genuine combat footage, including aerial views of bombs exploding on their German targets. The film was presented in a nearly pristine 35mm print, which certainly contributed to my pleasure at having ended up at that screening somewhat by chance.
Faubourg Montmartre (1931)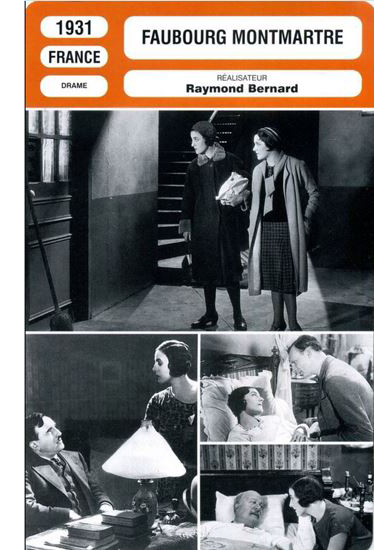 I definitely planned from the start to see this film. I very much admire director Raymond Bernard's 1932 World War I drama Wooden Crosses, his next feature after Faubourg Montmartre. Indeed, I had done a video on it for The Criterion Channel ("Observations on Film Art" #16 "The Darkness of War in Wooden Crosses")
While a slighter film than Wooden Crosses, Faubourg Montmartre is quite stylish and technically impressive, considering that it was Bernard's first sound film. In it he abandons his concentration during the silent era on historical epics (his best-known being The Miracle of the Wolves, from 1924).
Here he tackles a melodrama in a contemporary setting, centering around Ginette, a somewhat naive young working-class woman, played by popular star Gaby Morlay. She and her older sister Céline live and work in the titular district of Paris, the disreputable area of cheap entertainment and brothels. Céline works as a prostitute but tries to protect Ginette from such a life. Becoming more dependent on drugs, however, she nearly dupes Ginette into following her into prostitution.
Despite its grim setting, the film has many light moments, mostly provided by the amiable Morlay. It also contains some impressive musical numbers, one a variety number by Florelle and a café song about prostitution by Odette Barencey.
The film was yet another in the festival's Ritrovati and Restaurati thread.
Georges Franju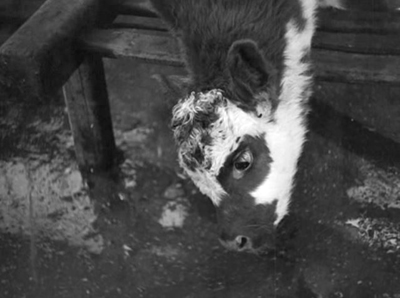 There was an unaccustomed focus on documentaries this year, which presumably was the occasion for devoting a small thread to Franju. Of the thirteen shorts which he made or at least is tentatively credited with (most of them commissioned documentaries), eleven were shown. Judex, his fiction feature paying homage to the serial of the same name by Louis Feuillade, was also on the program.
I tried to see all the Franju shorts, since only Le Sang des bêtes (above) and Hôtel des Invalides are well-known in the US. The prints shown ranged widely in quality, some being in 35mm and some 16mm. En passant par la Lorraine was almost unwatchable, though most of the rest were in varying degrees acceptable.
The most interesting revelations were perhaps Mon chien (1955), a melancholy narrative based on the common habit of people abandoning their pets in the countryside. The amazingly callous parents of the little heroine dump her beloved German shepherd in the woods on their way to a vacation spot. The film follows the faithful animal's trek home, only to find a locked house and a dog-catcher waiting. An empty cage signals that the animal was euthanized, with the voiceover of the girl calling forlornly for her pet. The other was Les poussières (1954), a lyrical survey of many kinds of dust generated in the world, ending in a strong anti-pollution message.
It was a pleasure to see this body of work brought together, but the screenings also demonstrate the pressing need to restore many of these films.
A Gabin tribute
DB here (with films I saw in boldface):
Jean Gabin has become emblematic of French cinema from the 1930s and after, so the several films devoted to him were welcome. Programmer Edward Waintrop included the classic Pépé le Moko (1936) but correctly assumed he didn't have to show this crowd La Grande Illusion (1937), La Bête Humaine (1938), and Le Jour se Lève (1939). Edward's catalog entry wisely emphasized how much Gabin owed to Julien Duvivier, an underrated director who helped the young actor find starring roles.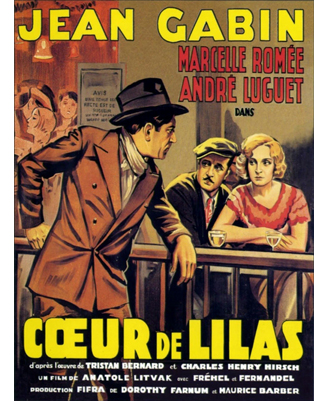 From the heroic thirties, we got the less-seen but still fabled Cœur de Lilas (1931), in which a detective disguises himself as a workman and plunges into the underworld to investigate a murder. The chief suspect, Lilas, is protected by the surly Gabin.
In her book on popular song in French cinema, our colleague Kelley Conway has written a superb analysis of Cœur de Lilas, and you can find a clip of Gabin's big musical number here. Director Anatole Litvak handles his performance in a long tracking shot that keeps our attention fastened on Gabin's half-scornful, half-boastful mug as he spits out lines about his girlfriend's bedroom calisthenics ("The rubber kid. . . She dislocates you").
Gabin plays the third point of a love triangle in Cœur de Lilas, but he's somewhat more central to the lesser-known Du Haut en Bas (1933), a sort of network narrative that reminds us that The Crime of M. Lange (1936) isn't the only film tracing the tangled passions in a courtyard community. More easygoing here but still a force to be reckoned with, Gabin plays a footballer with his eye on an aspiring teacher forced to work as a maid. Other plotlines, including Michel Simon's raffish wooing of his landlady, intermingle in this thoroughly agreeable movie by the great G. W. Pabst.
A generous sampling of Gabin's later career included La Marie du Port (1949), Le Plaisir (1951), Maigret tend un piège (1957), and the brutal Simenon adaptation Le Chat (1970), the first film I saw on my first visit to Paris. En Cas de Malheur (1957), an efficient plunge into sex and crime by Autant-Lara, features Gabin as a prestigious but dodgy lawyer drawn to the pouting self-regard of Brigitte Bardot. In youth and age, as a sort of French Spencer Tracy, Gabin could exude both relaxed joie de vivre and stolid menace. An icon, as we say.
Americana, urban and rural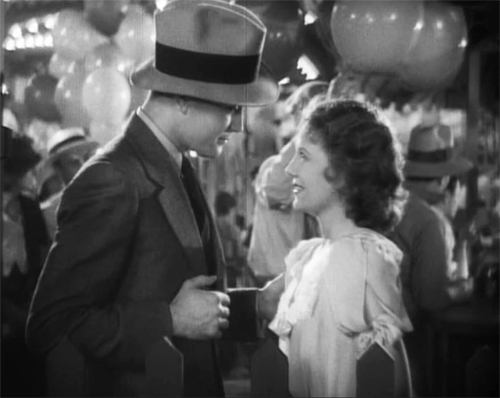 State Fair (1933).
Speaking of Spencer Tracy, it was a pleasure to see this Milwaukee native in a long-neglected racketeer drama. Quick Millions (released May 1931) arrived in the middle of the first big gangster cycle and was overshadowed by two Warners hits, Little Caesar (January 1931) and The Public Enemy (May 1931). As part of Dave Kehr's welcome second Fox cycle, Quick Millions had its own pungent force.
It traces the familiar trajectory of a working stiff, trucker "Bugs" Raymond, who claws his way to the top of the mob. Thanks to blackmail and crooked labor maneuvers ("The brain is a muscle," he tells his moll), he winds up triggering a spate of gangland killings that eventually swallows him up.
Quick Millions was noticed as one of the earliest films to find a smart tempo for talkies, one that relies less on long speeches than snappy scenes delivering one point apiece. The passage of time is signaled by changing license plates, and the ending is a shrug, shoving Bugs' death offscreen and giving him none of the tragic flourishes of Little Rico or Tom Powers. For almost every scene, the little-known director Roland Brown finds an unexpected twist in visuals or performance . Who else would film a sidling George Raft jazz dance from a high angle and then supply inserts of his legs, from behind no less?
Fox found more success with a folksy Grand Hotel variant based on the popular novel State Fair (1932). Henry King's 1933 film was planned as an "all-star" vehicle, and it did boast Will Rogers, Janet Gaynor, and Lew Ayres. An Iowa family heads to the fair, aiming for blue ribbons in pickle preserving and hog-fattening. The son has a surprisingly carnal affair with a trapeze artist, while the daughter meets a roguish reporter who makes her rethink her engagement to a hick back home. State Fair's script gives the plot a happier ending than the book did, but that's not necessarily a problem; we want these kind souls to enjoy a bit of glory.
Henry King became famous for rustic realism with Tol'able David (1921), a model for Soviet filmmakers, and Ehsan Khoshbakht's King retrospective reminded us that he worked this vein a long time. From 1915 Twin Kiddies (a Marie Osborne vehicle) to Wait 'Till the Sun Shines, Nellie (1952), this loyal Fox craftsman showed himself, like Clarence Brown at MGM, an adaptable director with an unpretentious gift for celebrating small-town life.
Still more, more…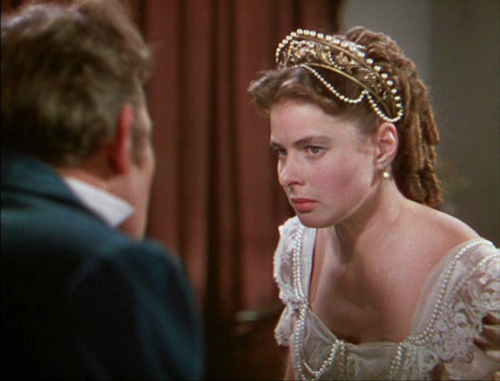 Under Capricorn (1949).
I could go on about other films, such as Zigomar: Peau d'Anguille ("Zigomar, the Eelskin," 1912), Victorin Jasset's forerunner of Feuillade's delirious master-criminal sagas. (In one episode, an elephant's trunk fastidiously picks the lock on a circus wagon and drags away a strongbox.) Our next entry will spend a little time looking at a neat Genina film from 1919. In the meantime, I'll sign off by mentioning two other high points.
The pretty Academy IB-Tech print of Under Capricorn (1949) made me like the film quite a bit better than previous viewings. As ever, one high point was La Bergman's virtuoso soliloquy admitting her guilt. Any other director of the time would have reenacted the crime in a flashback, but, in the shadow of Rope (1948), Hitchcock makes her squeeze out her confession in a ravishing single-take monologue running almost eight minutes.
Its power comes partly from the fact that the framing withholds the facial response of the man who loves her. He's slowly understanding the depth of her devotion to her husband during penal servitude. "How did you live all those years?" he murmurs. How'd you think? Her glance flicks over him, in both guilt and defiance (above).
Finally, no film gave me more pure pleasure than the restoration of Boetticher's Ride Lonesome (1959). Sony archivist Grover Crisp explained that the original prints had all been made from the camera negative (!) and so he had no internegatives or fine-grain masters to work from. Nevertheless, this digital version, made in 4K with wetgate scanning, looked superb.
I tend to judge Boetticher westerns by the strength of the villains, meaning that Seven Men from Now (Lee Marvin) and The Tall T (Richard Boone) sit at the top of my heap, but it's hard to resist the laconic dialogue Burt Kennedy supplied everybody in Ride Lonesome. And the antagonists facing Randolph Scott here–Lee Van Cleef (brief but unforgettable), Pernell Roberts (the good-bad rascal), and sweet-natured dimwit James Coburn (on his way to rangy knife-wielding in The Magnificent Seven)–add up pretty powerfully. Against them stands Scott as vengeance-driven Brigade, an unyielding chunk of sweating mahogany.
---
Thanks as usual to the Cinema Ritrovato Directors: Cecilia Cenciarelli, Gian Luca Farinelli, Ehsan Khoshbakht, Mariann Lewinsky, and their colleagues. Special thanks to Guy Borlée, the Festival Coordinator. Thanks also to Dave Kehr, Grover Crisp, Mike Pogorzelski, and Geoffrey O'Brien for talk about many of the classics on display.
The entire Ritrovato '19 catalogue, with full credits and essays, is online here. There are also videos of many events, including master classes with Francis Ford Coppola and Jane Campion.
Quick Millions was remembered several years after its release for "the rapid rhythm of its continuity." See Janet Graves, "Joining Sight and Sound," The New York Times (29 November 1936), X4.
John Bailey's introduction to Under Capricorn included a revealing short explaining the Technicolor dye-transfer process. For further information there's the remarkable George Eastman House Technicolor research site and of course James Layton and David Pierce's superb book The Dawn of Technicolor.
Kristin discusses Kiarostami's landscape techniques in a Criterion Channel Observations entry. In American Dharma, discussed by David here, Errol Morris reveals that Twelve O'Clock High was an inspiration for Steve Bannon's political career.
The Ritrovato program notes credit Fréhal as the working-class singer in Faubourg Monmartre, but Kelley Conway's Chanteuse in the City: The Realist Singer in French Film (linked above) identifies her as Odette Barencey, a lesser-known chanteuse of the period who resembled Fréhal.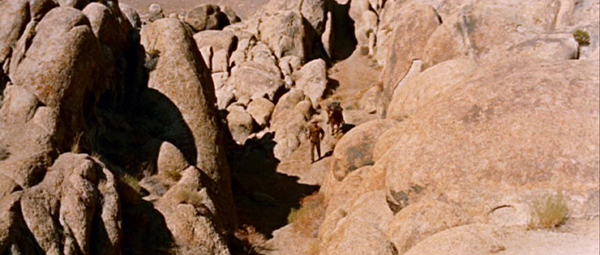 Opening shot of Ride Lonesome (1959).