Tuesday | October 30, 2018
open printable version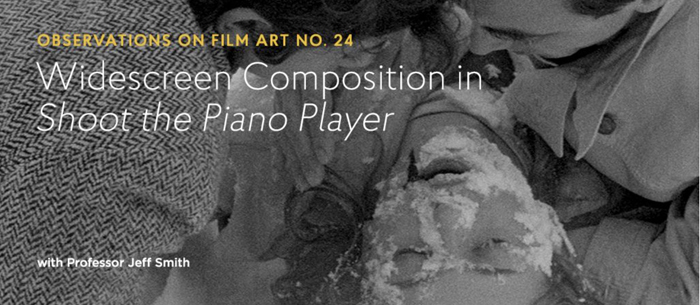 DB here:
Last Friday TCM/ATT/WarnerMedia announced the decision to cease streaming FilmStruck on 29 November. Soon after, the Criterion Channel posted another entry in our "Observations on Film Art" series. This one is from Jeff Smith, who analyzes Truffaut's widescreen shot design. It's a fine discussion, and we hope that if you're a subscriber, you'll have a look in the waning days of the service.
By good luck, the Channel has also posted an interview with Damien Chazelle on Pialat's A Nos amours. Damien filmed the interview during his visit to Madison last February.
As you probably know, the reaction to the closing of FilmStruck has been swift and intense. You can read ATT's official rationale here, along with Variety's speculation about the strategic plan behind it. The Criterion people have provided a statement:
We have some sad news to share: earlier this morning, Turner and Warner Bros. Digital Networks announced plans to shut down FilmStruck, the streaming service that has been our happy home for the last two years. Like many of you, we are disappointed by this decision. When we launched the Criterion Channel in 2016, we had two goals: to ensure that our entire streaming library remained available, and to address our audience in our own voice. We're proud of the work we've done, bringing curated programming and the full range of supplemental features to the streaming space, championing a diverse array of filmmakers from beyond our collection and creating original content that invites you into exciting conversations about cinema culture.
All this is very new, and we'll be sure to keep you updated as we learn more details. But rest assured that we are still committed to restoring and preserving the best of world cinema and bringing it to you in any medium we can. In the weeks ahead, we'll keep you informed about the great programming you can watch on the Channel before it shuts down on November 29, and we'll be trying to find ways we can bring our library and original content back to the digital space as soon as possible. Thanks to everyone who enjoyed FilmStruck, and we hope you'll join us as we look forward to what the future brings.
Kristin, Jeff, and I have posted twenty-four entries in our series and have very much enjoyed preparing them. We have four more in the can, one of which may go live in November. We have no insider information, but of course we hope we can continue with the series on whatever new platform Criterion might find.
Meanwhile, better binge-watch all those classics while you can. And thanks to the many people who have written us over the years and in recent days. We appreciate their support–and that of the Criterion staff, who care deeply about cinema.
---
Thanks to Kim Hendrickson, Grant Delin, Peter Becker, and the whole Criterion team for their superb work. A complete list of our FilmStruck installments is here.