Monday | October 22, 2018
open printable version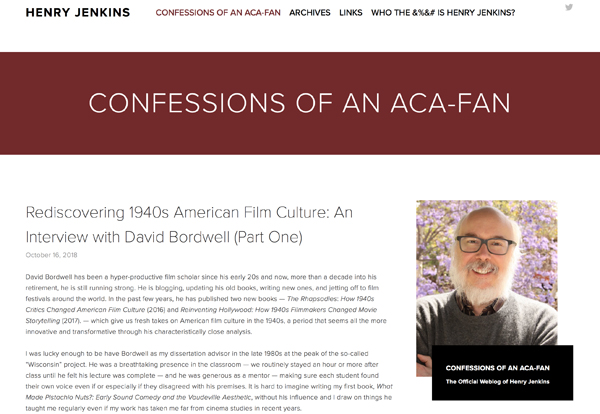 You probably know Henry Jenkins' vast website "Confessions of an Aca-Fan." It hosts blog entries, essays, interviews, and a podcast. As both a media scholar (the aca part) and a connoisseur (the fan), Henry has wide-ranging interests. He analyzes/enjoys/celebrates/criticizes film, TV, comics, music, and videogames (he testified about them to Congress). He's also a big advocate for the role of media in education and political change.
Henry was a student of ours here at Madison, and I directed his dissertation. That became the book What Made Pistachio Nuts? Early Sound Comedy and the Vaudeville Aesthetic. Currently celebrating its twenty-fifth anniversary, it's still very much worth reading as an original and entertaining cultural study of movie comedy. While doing his dissertation, Henry was also writing his trailblazing study of fan culture, Textual Poachers: Television Fans and Participatory Culture. (It now has an updated, twentieth-anniversary edition.)
Soon enough he followed that with another influential book, Convergence Culture: Where Old and New Media Collide. The idea of "transmedia storytelling" that Henry set forth here became a byword for the media industry as well as for scholars; his prophecy that we'd see a lot more of it has come true with a vengeance. We had a nifty dialogue about the idea online some years back (here and here).
And these are just three of his seventeen books! Henry is an epic multitasker, so he has found the energy to be an inspiring teacher as well. All of us at Wisconsin are thoroughly proud of him.
Naturally, when Henry asked me to participate in an email interview around my two 1940s books, The Rhapsodes and Reinventing Hollywood, I felt honored. Now he has run our conversation in four installments on his site, starting here.
I hope the answers I provide will shed light on my research projects. (As for the fan part: Yes, The Greatest Showman and Game Night are mentioned.) At the least I think people will learn a lot from Henry's questions. Thanks to him for reigniting the spark of conversations we've had over the years.