Sunday | September 18, 2011
open printable version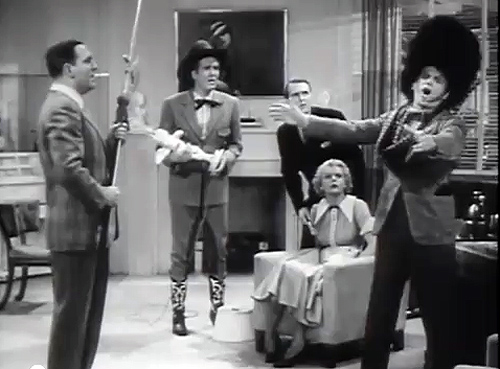 Hollywood screenwriters at work, according to Boy Meets Girl (1938).
It's not every conference that opens a morning session by asking the men in the audience to take off their underwear.
But I anticipate.
Last weekend I was a guest of the Screenwriting Resource Network's fourth annual Screenwriting Research Conference in Brussels. I think that a hell of a time was had by all, and I learned quite a bit, including some reasons why people are interested in screenplays.
Schmucks with Underwoods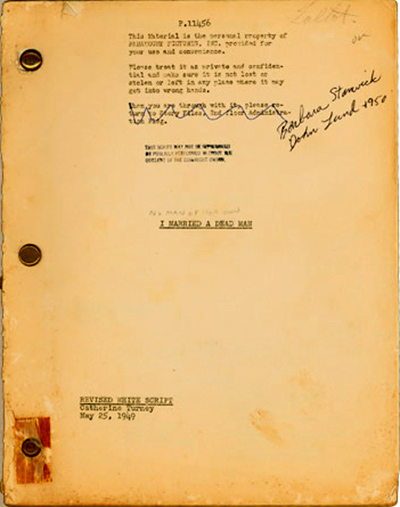 Catherine Turney script for No Man of Her Own (1950).
In my youth, there seemed to be a solemn pact among my peers that we would never study certain areas: censorship, audiences, adaptation (novels into film, particularly), and screenwriting. An earlier generation had, through patient labor, shown decisively that these subjects were dead boring. We, on the other hand, were fired by notions of the director as auteur, and indifferent to what were called "literary" and "sociological" approaches to film. So we triumphantly turned toward The Text—that is, the finished movie.
Things have changed since then. Yet there are still tempting reasons to consider the study of screenwriting a nonstarter if you're interested in cinema as an art. If you think of the finished film as the achieved artwork, then study of screenplay drafts risks seeming irrelevant. Whatever the screenwriter(s) intended seems irrelevant to the result. So what if six or more screenwriters labored over Tootsie? The movie stands or falls by what we see onscreen.
This was the view presented in Jean-Claude Carrière's three talks to our group. He suggested that the screenplay is destined to become landfill, and rightly so. It's like the caterpillar that becomes a butterfly. Once the film has been made, the script has no intrinsic value.
Someone might say, "Wait! We study a painter's sketches, a novelist's drafts, or a composer's early scores. These materials can contribute to understanding the finished work, and sometimes they have an artistic value of their own." The problem is that in these arts, the preparatory materials are in the same medium as the result. But a script can't count as a version of the film because prose can't adequately specify the audiovisual texture of a movie. It's commonly thought, plausibly, that giving the same script to two directors would result in significantly different films. So the script is at best a series of suggestions for filming, not a sketchy version of the movie. Why not discard it when the film is done?
The study of screenwriting has probably also lain in the shadows because of the proliferation of screenwriting gurus and how-to manuals. Every American over the age of eighteen seems to be writing a screenplay; the Cable Guy who visited me last week was working on two. So all the seminars and advice books have arguably put thinking about screenplays rather close to the amateur-script racket.
Moreover, screenplay studies seem to be part of a broader, paradoxical development in academic film studies. Today scholars have more access to films than ever before, thanks to video, festivals, archives, and the internet. Yet many researchers prefer to talk about everything but the film. More and more scholars want to study just those subjects that my cohort considered dull or irrelevant: censorship and regulation, audiences (composition, demographics, critical reception, fandom), and preproduction factors (storyboards, scripts). In addition, many academics have turned to bigger thematic ideas like film and architecture, film and the city, film and modernity. These trends of research usually make only glancing reference to actual movies, mostly mining them for quick illustrative examples.
In sum, many academics have abandoned the study of film as an artistic medium that finds its embodiment in important works. To get to know particular films more intimately, you increasingly have to go to the Net, to writers like Jim Emerson, Adrian Martin, and other sensitive analytical critics. Talking about screenwriting can seem to be another way of avoiding coming to grips with the intrinsic power of movies.
You can probably tell that one side of me shares some of the biases I've listed. But when I remind myself that what people should study aren't topics but questions, I cheer up quite a bit. For there are, I think, worthwhile questions to be asked about all these areas, screenwriting included. The Brussels event gave some good instances of resourceful, occasionally exciting research into them.
Based on my short acquaintance, most of the research questions seem trained on one of two broad areas: Screenwriting and The Screenplay.
In the trenches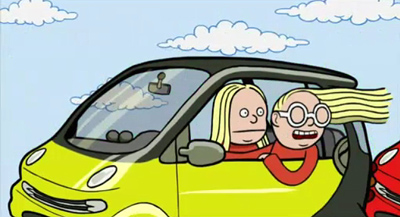 Kinky & Cosy
Screenwriting can be thought of as a practice, a creative activity with both personal and social aspects. How, we might ask, do screenwriters or directors express themselves in the script? How does a media industry recruit, sustain, and reward screenwriters? What are the conventions and constraints at work in a particular screenwriting community?
Questions like this are somewhat familiar to me. When I wrote my first book, on Carl Dreyer, I had to examine his scripts (notably the unproduced Jesus of Nazareth), and that helped me understand his characteristic methods of researching and planning his films. Later, when I collaborated with Kristin and Janet Staiger on The Classical Hollywood Cinema, I recognized a more institutional side of things. We can see from the films of the 1910s that filmmakers were cutting up the space in fresh ways. But this wasn't a matter of directors simply winging it on the set. Kristin used published manuals and Janet used original screenplays to show that shot breakdowns were planned to a considerable degree before shooting. This habit made production more efficient and controllable.
At the Brussels get-together, Steven Price offered further evidence of this sort, which displayed some of his research on early scenarios for Mack Sennett movies like Crooked to the End (1915). Interestingly, Steven found that sometimes the later version of a continuity script was more laconic than the initial one. Perhaps the gags, once spelled out in the first draft, could be left up to the actors. This is the sort of thing he identified as a "trace" of production practices.
A parallel of sorts emerged in Maria Belodubrovskaya's paper on screenwriting under Stalin. The Soviets, admiring Hollywood efficiency, tried to come up with a similar system. But their efforts to produce films in bulk were blocked by a censorship apparatus bent on ideological correctness. No surprise there, I guess. But Masha showed convincingly that the very efforts to mimic Hollywood's "assembly-line" system also discouraged authors from submitting scripts. The writers thought (like many of their LA counterparts) that such a setup denied them creative freedom. In addition, the prospect of story departments providing a stream of screenplays ran afoul of the tradition that gave the director control of the final draft. And the role of producer, as one who could steer the whole process, didn't exist! So much for the Soviet Hollywood.
What about other media? Sara Zanatta traced out the process of creating Italian TV series. She reviewed some major formats (miniseries, original series, adaptations of foreign series) and then took us through the process of creating individual episodes. Interestingly, it seems that the Italian system, unlike US television, makes the director the boss of it all. Frédéric Zeimat explained how he gained entry to the local screenwriting community through his university education, including work in Luc Dardennes' workshop at the Free University of Brussels. Eventually he came up with a script that won prizes. He is about to become a showrunner for a sitcom.
One of the most stimulating panels I heard considered the writing of graphic novels and animation. Richard Neupert explored how recent French animation sustained the tradition of individual authorship while still acceding to some international norms of moviemaking. The cartoonist Nix discussed how he faced new problems in transferring his three-panel comic strip Kinky & Cosy from print to television. TV demanded less written text, especially signs, so that the clips could be exported outside Belgium. More deeply, Nix had to rethink how to pace the action and leave a beat (say, two seconds) after the punchline.
Pascal Lefèvre, one of Europe's leading experts on comic art, provided a brisk, packed account of the history and practices of scriptwriting for Eurocomics. He described patterns of collaboration, format, and creative choice, placing special emphasis on comics as a spatial art different from cinema. His example was a page from Regis Franc's ulta-widescreen album Le Café de la plage. Here's a portion in which two periods of Monroe Stress's life coexist in a single space. He muses as an adult while his childish self gobbles up food under the guidance of Mom.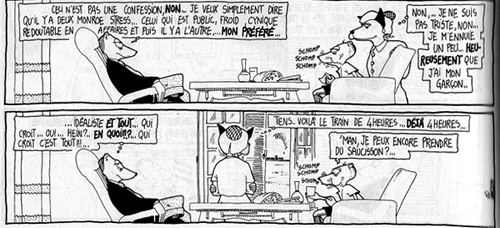 Comics space can also change abruptly, as when a window appears in second panel.
Other papers presented less institutionally fixed, more personal versions of screenwriting as a practice. Kelley Conway's lecture on Agnes Varda exploited unique access to the filmmaker's notebooks, scrapbooks, and databases. Kelley showed how Varda conceived three of her documentaries by means of strict categorical structures that were then frayed by digressions born out of the material she shot.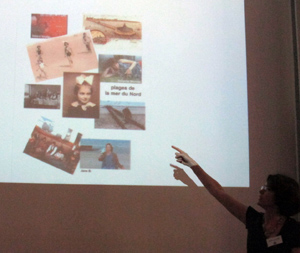 Anna Sofia Rossholm provided something similar for Bergman. Out of the vast Bergman archive she quarried sixty "workbooks," typically one for each film. Whereas Varda's books were filled with cutouts and images, Bergman was a word man, treating the books as diaries that recorded "this secret I." Anna Sofia proposed that in his jottings and planning, Bergman not only communed with himself (calling himself an idiot on occasion) but also explored patterns of doubling akin to those we find in the films. The workbooks evidently held a special place for him: he included their pages in films like Hour of the Wolf and Saraband.
David Lean might be thought of as working in between the Hollywood system and the more personal European milieu. Ian Macdonald suggested that one of Lean's unfilmed projects sheds light on what he calls screenplay poetics. Macdonald seeks, I think, a principled method for studying the creative process. He does this by tracing how a screen idea is transformed in a series of documents generated by the creative team. The process, he points out, is governed by the participants' various conceptual frameworks. For Nostromo, Lean solicited two screenwriters and oversaw their rather different versions of the novel. Ian showed that Lean seems to have found solutions to adapting the book by fitting it to the three-act structure advocated by Hollywood artisans, a concrete case of a filmmaker accepting a fresh "poetics" or set of creative constraints.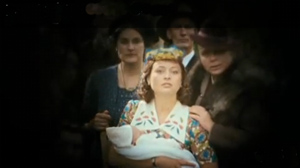 All of these inquiries could lead to more general thoughts about the creative process in cinema. For some filmmakers, it's a professional task, undertaken with full knowledge that problems and constraints will have to be dealt with. For others, such as Bergman and Varda, it's obviously deeply personal, even autobiographical. Perhaps most intimate was the film discussed by Hester Joyce. New Zealand filmmaker Gaylene Preston based Home by Christmas (2010; above) partly on audiotape interviews with her father as he recalled his World War II experiences. Her script reconstructed her interviews with actors, then filled in scenes with documentary footage and scenes she imagined. It's a family memoir on several levels: Preston's daughter portrays her own grandmother.
The Screenplay: What is it?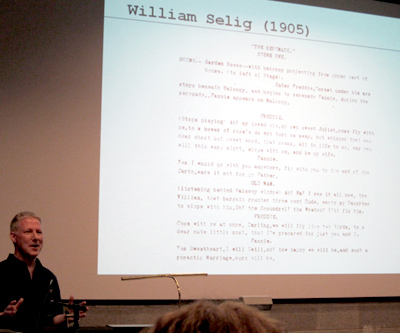 Several of these probes into the creative process raise a more theoretical question. How should we best conceive of the screenplay? As a blueprint? A recipe? An outline? These labels all suggest something disposable preliminary to the real thing, the movie. But why can't we think of the screenplay as a freestanding object? After all, there are films without screenplays, but there are also screenplays—some written by distinguished authors—that were never made into films. And some of these, like Pinter's Proust screenplay, are read for their own sake.
In cases like this, should we consider the screenplay a literary genre? And if the screenplay for an unproduced film can be considered a discrete object, what stops us from treating a filmed script in exactly the same way? Moreover, why even speak of a single screenplay, when we know that most commercial films at least go through several drafts? Can't we consider each one an independent literary text? We're now far from Carrière's idea that the script finds its consummation in the finished film and as a piece of writing it should wind up in the ashcan.
And not all screenplays are literary texts. The scrapbooks and databases that Varda accumulates are works of visual art, collages or mixed-media assemblages. Are these merely drafts of the film, or do they have an independent existence or value? We seem to be asking the sort of question that Ted Nannicelli poses in his Ph. D. dissertation. Is there an ontology of the screenplay?
Take a concrete example. Ann Igelstrom's paper, "Narration in the Screenplay Text," asked how literary techniques are deployed in the screenplay. When a passage in the script for Before Sunset begins, "We see…," who exactly is this we? Ann argued that traditional narrative concepts involving the source of the narration, the implied author and implied reader, and the rhetoric of telling can illuminate conventions of screenwriting. Here the screenplay seems definitely a literary text.
In his keynote address, "The Screenplay: An Accelerated Critical History," Steven Price (above) declared a more abstract interest in the ontology of the screenplay but proposed that there was no clear-cut way of defining it. Historically, the screenplay takes many forms. Steven pointed out that even in Hollywood, there were many alternative formats, ranging from detailed breakdowns to the "master-scene" method (the option that didn't specify shots or camera positions). And conceptually, the screenplay carried traces of its original production purposes, as well as other constellations of meaning. (Mack Sennett scripts seem to him part of a Sadean tradition of dehumanized, repetitive recombination.) So if there is a distinctive mode of being of the screenplay, outside of its role in production, it will turn out to be a messy one.
Envoi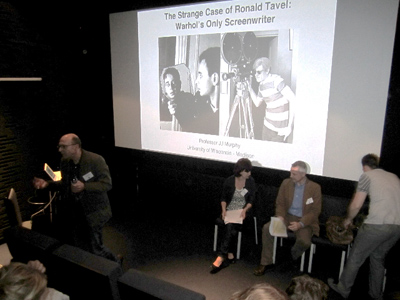 J. J. Murphy presents a paper on Ronald Tavel. Photo courtesy Richard Neupert.
If we conceive studies of screenplay and screenwriting as revolving around specific research questions, those of us interested in film as art can learn a lot. If our interests are in film history, researchers can show how organizations of production and individual choices by screenwriters/directors can shape the final product. For those of us interested in more theoretical explorations, asking about the nature and "mode of being" of the screenplay can't help but make us think more about the ontology of cinema itself.
And if we want to know films more intimately, being aware of the creative choices that were made by the filmmakers throws a spotlight on aspects of the film we might otherwise not notice. It's all very well to say we'll examine the film "in itself," but our attention is invariably selective. Knowledge of behind-the-scenes decisions can sharpen our awareness of artistic matters. Anna Sofia's research on Bergman, like Marja-Riitta Koivumäki's paper on Tarkovsky's screenplay for My Name Is Ivan, activates parts of the film for special notice.
Because there were split sessions at the conference, and because I was plagued by jet lag, I couldn't attend every panel and talk. I regret missing papers I later heard were very fine, and I haven't written up everything I heard. I haven't sufficiently talked about screenwriting pedagogy, represented in papers like Lucien Georgescu's dramatic appeal to rethink whether screenwriting should be taught in film schools, or Debbie Danielpour's stimulating survey of her methods of teaching genre scripting. So this is just a small sample of what these folks are up to. But you can tell, I think, that they're posing questions at a level of sophistication that my 1960s cohort couldn't have envisioned. Despite what the cynics say, there is progress in academic work.
As for men's underpants: All is explained here.
---
I'm grateful to conference organizers Ronald Geerts and Hugo Vercauteren for inviting me to speak at the gathering. I must also thank conference organizer and old friend Muriel Andrin, along with Dominique Nasta and their colleagues and students from the Arts du Spectacle Department at the Université Libre de Bruxelles. My friends at the Cinematek, Stef and Bart and Hilde, helped me with my PowerPoint. Thanks as well to the Universitaire Associatie Brussel (Vrije Universiteit Brussel / Rits-Erasmushogeschool Brussel) and Associatie KULeuven (MAD-Faculty / Sint Lukas Brussel). A high point of the event was the visit to La Fleur en Papier Doré. Special thanks to Gabrielle Claes for her heartfelt introduction to my talk, not to mention a delicious bucket of moules.
A founding document in the contemporary study of the screenplay is Claudia Sternberg's Written for the Screen: The American Motion-Picture Screenplay as Text (Stauffenburg, 1997). Other books central to the conference cohort include Steven Maras's Screenwriting: History, Theory, and Practice, Steven Price's The Screenplay: Authorship, Theory and Criticism, J. J. Murphy's Me and You and Memento and Fargo: How Independent Screenplays Work, and Jill Nelmes's anthology Analysing the Screenplay, which includes many essays by members of the group. See also the affiliated Journal of Screenwriting.
For more information on the Screenwriting Research Network, go here. (Thanks to Ian Macdonald for the link.) The next conference will be held in Sydney, and the 2013 one will take place in Madison, Wisconsin.
P.S. 22 Sept 2011: A panel discussion with Jean-Claude Carrière held during the conference is available here. Although the site is in Dutch, the discussion is in English. Thanks to Ronald Geerts for the information.
P.P.S. Thanks to Joonas Linkola for a spelling correction!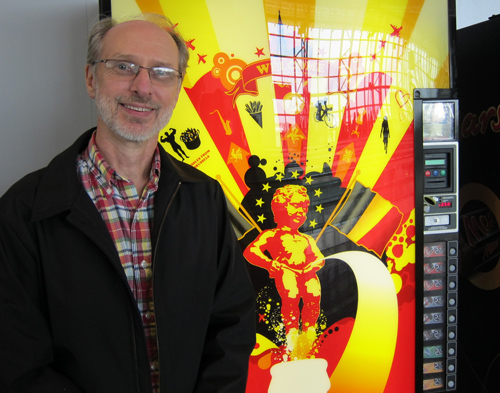 Coke does go through you pretty fast. Richard Neupert at a Coca-Cola machine that exploits a Brussels landmark.