Friday | April 29, 2011
open printable version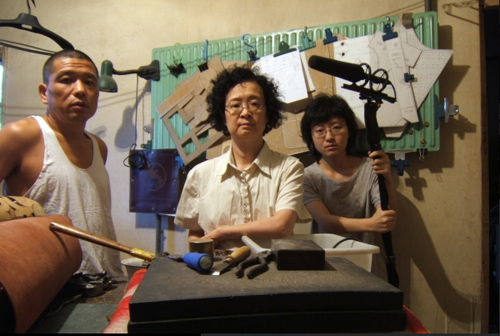 DB here in Madison, homebound from pneumonia, pining for Kristin and Ebertfest in Illinois:
The energetic Kevin Lee (when does he sleep?) has prepared a very nice video essay on Liu Jiayin's Oxhide II at Moving Image Source.
The text is based partly on my blog entry on the movie from 2009. Kevin's is something of an experimental piece, because it presents extracts from the entry in different voices and languages. I wasn't able to narrate it because I've lost my voice, but the readers did better than I could have. Thanks to Evan Davis and Yuqian Yan, as well as the translators involved.
You can buy Liu's first two Oxhide films on DVD at dGenerate Films, along with other important recent Chinese titles. Every university film department, and every serious lover of cinema, needs to own these movies. Liu shows what you can do with very few means but a lot of imagination. And Oxhide III is in the works.
And don't forget to visit the videos of introductions and Q & A's from this year's Ebertfest here. Some are streaming, some are archived, all are interesting. As I typed this, Paul Fierlinger was talking about the background to My Dog Tulip.