Tuesday | September 29, 2009
open printable version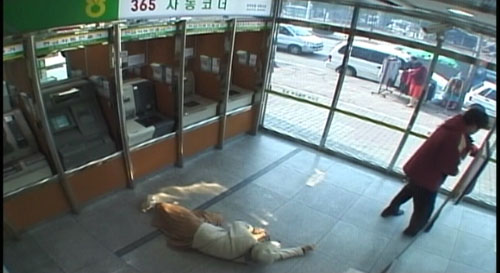 DB here:
Kristin and I are en route to the Vancouver International Film Festival, after a few days in Seattle visiting Sanjeev and Megan, nephew and niece-in-law. We were completely awestruck by the vast holdings of Scarecrow Video, where even the Warner Archives special-order DVDs can be rented. We also had a good long talk over JaK steaks with Jim Emerson, impresario of the superb website Scanners. Not to mention catching a screening of the lively Walt & El Grupo at the Seattle International Film Festival theatre. As a big fan of Saludos Amigos and Three Caballeros, I was thrilled to learn the background story, as well as to watch gorgeous 16mm Kodachrome footage.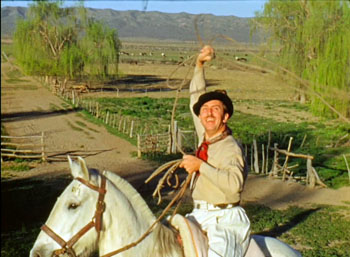 Last year's trip to Vancouver put us on the road for thirteen days, encountering movie-related stuff (and Obama) in surprising places. This time we took the plane—faster but less relaxing. To get a better look at the landscape, we'll be taking a train up to Vancouver.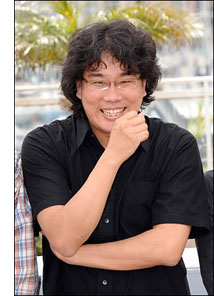 One of the films I'm most looking forward to at Vancouver is Bong Joon-ho's Mother, brought to this year's event by Tony Rayns. Alas, Bong himself will not be joining us. I enjoyed meeting him at my first Vancouver visit in 2006, when this blog was in swaddling clothes. He's completely frank and unpretentious.
Even before meeting him, I had followed Bong's career with keen interest. I think he's one of the best Korean directors, though he probably doesn't get as much attention as some others. Like the Japanese Kore-eda Hirokazu, Bong is the sort of quiet genre-hopper who's hard to pin down. His first feature, Barking Dogs Never Bite, is a charming romantic comedy that also offers a portrait of neighborhood life. The mordant Memories of Murder (2003) quietly bends the conventions of the city-cop-in-a-village movie, mixing comedy into a serial-killer tale. Bong's biggest commercial success came with The Host (2006), a monster movie in the grand tradition that manages to be at once scary, funny, and socially critical. Seeing it again this summer, I was struck by its compact elegance. Bong makes complex narrative and stylistic twists look easy.
Bong has also made some acute short films; he seems to understand that they require the snappy impact of a well-wrought short story. Probably his best-known short is the  "Shaking Tokyo" segment of the omnibus movie Tokyo (2008). It focuses on a hikikomori, a young man who has withdrawn from social contact and lives wholly through the TV monitor and the computer screen. Bong's hero tidily stacks empty pizza boxes along his walls like installation art. Only an encounter with a delivery woman makes him question his robotic seclusion. The ending, which lures our hero outside, provides a Twilight-Zoneish twist.
More single-minded, though, is a short I've just seen, the little-known Influenza (2004). There are several movies based on surveillance-camera footage; one of the most lyrical, Optical Vacuum, I reviewed here. Bong went instead for narrative. He staged a story in locales covered by surveillance cameras, and then retrieved the footage from the hours of material. Cut together, the shots follow Mr. Cho, a failed salesman who turns to petty theft and violent crime.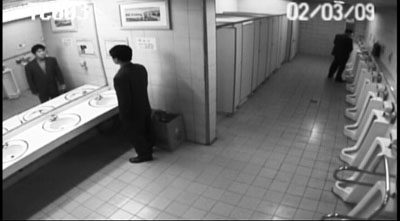 We discover Mr. Cho in men's rooms, car parks, and ATM stations. The scenes, each shot in a single take, run through various spycam techniques: fixed high angle, black and white imagery, stuttering motion, mechanical scanning of the scene (sometimes leaving the main action behind). We see wide-angles, telephoto shots, barely legible long-shots, and split-screen imagery picking out opposite points of view.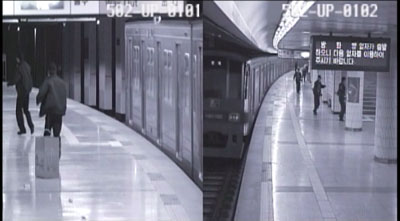 Everything we see is staged, I think. Unrehearsed events seldom look this cogent and poised. Yet sometimes, especially during the climactic crowd scene,  some of the action seems to have been left to luck.
Short but not sweet—mostly sour—Influenza shows what an ingenious filmmaker can do by setting himself a single, precise problem. Crossing the border between commercial fiction and avant-garde experimentation, the film deserves wider circulation.
As for Mother, Derek Elley's Variety review promises the trademark Bong blend of gentle comedy and unsettling drama. And Vancouverites have an extra bit of luck: A program of shorts by Bong and his colleagues from the Korean Academy of Film Arts graces the festival this year. Bong's next planned project, about the wretched survivors of a new Ice Age, shows him to be as unpredictable and unclassifiable as ever.
Thanks to Bong Joon-ho for his help in preparing this entry. The trailer for Walt & El Grupo is here. And there's a poignant story of the founding and near-demise of Scarecrow Video here.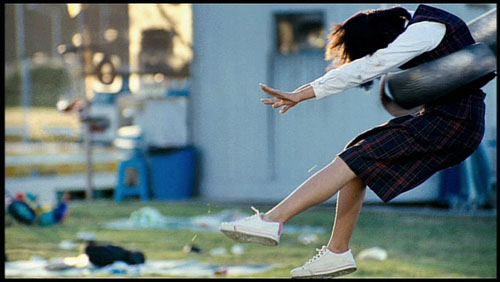 The Host.