Wednesday | July 18, 2007
open printable version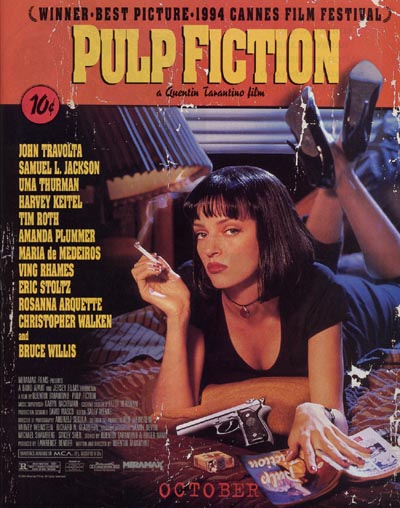 Kristin here–
While David is watching films in Brussels, I'm back in Madison, overseeing some house renovations, moving into the publicity phase of The Frodo Franchise in anticipation of its release, and generally enjoying a chance to catch up on my reading.
I've also finally tackled one of those "someday we really must …" projects. Not surprisingly, a considerable portion of our home is given over to storing books, journals, file folders, DVDs, videotapes, laserdiscs, negatives, and slides. For all too long a heap of old magazines has been sitting on the floor in the aisle between two of our bookshelves, on the assumption that someday we really must triage these and file the clippings in subject folders where we might actually have a chance of finding them.
Most of these magazines are old issues of Premiere, mainly from the 1990s. Premiere ceased publication as of April, and I can't say that I miss it greatly. It had slid distinctly by then, but back in the nineties it was actually pretty good. (J. Hoberman was writing regularly for it!) Every issue I've examined so far has at least one item worth saving, and sometimes two or three.
These issues aren't in chronological order, so the first stack I scooped up to look through was a random batch, with the October 1994 issue on top. It featured a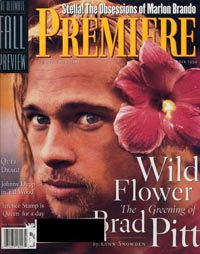 big close-up of Brad Pitt on its cover. He was just on the brink of becoming a star, being best known to that point for his supporting roles in Thelma and Louise and A River Runs Through It. He had just finished Interview with the Vampire.
What interested me more was an ad that greeted me as I flipped the first few pages: the famous fake-worn-dust-jacket ad for Pulp Fiction. Odd that I had happened to begin with an issue from the season when one of the most influential films of the past two decades was being touted in preparation for its October release.
Indeed, the April issue happened to contain Premiere's "Ultimate Fall Preview." Naturally I got sucked into checking out what other films had been released that season. Given all the complaints these days about franchise films dominating Hollywood and pushing out the worthwhile films, I wondered just how good the good old days were.
To get a sense of what was going on in 1994, let's start with the 10 top-grossing films of the year. Based on Box Office Mojo's list of domestic grosses (in unadjusted dollars), they are: Forrest Gump, The Lion King, True Lies, The Santa Clause, The Flintstones, Dumb and Dumber, Clear and Present Danger, Speed, The Mask, and Pulp Fiction.
From our current perspective, the lack of franchise films on this list is striking. Only Clear and Present Danger, the second film starring Harrison Ford as Jack Ryan, belongs to part of an exiting series. The only film in a long-established franchise that came near the top was Star Trek: Generations at #15. Other sequels appear further down the top 50: The Naked Gun 33 1/3: The Final Insult (#23), City Slickers II: The Legend of Curly's Gold (#32), Beverly Hills Cop III (#34), and Major League II (#45). No wonder sequels got a bad reputation!
On the other hand, several films in the top 10 spawned sequels: The Santa Clause, Dumb and Dumber, Speed, and The Mask. (Dumb and Dumber and The Mask both had their sequels considerably delayed by New Line Cinema's inability to meet Jim Carrey's skyrocketing salary demands and his resultant departure from the studio.)
In 1994, Hollywood was still in the early days of the franchise trend. After Batman in 1989, its sequel, Batman Returns, had come out in 1992, but that wasn't enough to establish a pattern. Jurassic Park had appeared the year before but hadn't yet seen a sequel. Aliens (1986) and Terminator 2: Judgment Day (1991) had both appeared seven years after the first films, suggesting that there was not exactly an automatic impulse to generate franchises. In fact, in 1994 we might expect to find Hollywood relatively untainted by franchise fever. Hence it should also very different from Hollywood today—if it's true that franchises drive out other films. If all the anti-franchise critics are right, 1994 should also be a distinctly better year for auteurist fare, art-house movies, and stand-alone popular films.
What do we find in Premiere's fall preview? In some ways it looks like a strong season. Apart from Pulp Fiction and Interview with the Vampire, there are Tim Burton's Ed Wood, Robert Altman's Prêt-à-Porter, Woody Allen's Bullets over Broadway, Luc Besson's Léon (aka The Professional), Frank Darabont's The Shawshank Redemption, and Alan Rudolph's Mrs. Parker and the Vicious Circle. Notable as well are Quiz Show and Nell. Buried in the "Also in Season" box at the end are Frederick Marx's documentary Hoop Dreams, Clerks (with Kevin Smith not even mentioned), and Krysztof Kieslowski's Red.
Alongside these films, though, there are the usual forgettable items: Junior (the Arnold Schwarzenegger-gets-pregnant comedy), Little Women, Disclosure, The Pagemaster, Radioland Murders and a bunch of other films that don't get watched much anymore.
Putting aside the huge blockbusters of 2007, the fall season of 1994 doesn't look all that different from the kind of fare Hollywood puts out now. Many of the same auteurs are with us. Burton is making Sweeney Todd (again with Johnny Depp). Allen continues to direct at his usual fast clip, albeit now in Europe. Besson promises more "Arthur" animated features. Darabont's Stephen King adaptation, The Mist, is due out in November. Jordon's thriller, The Brave One, starring Jodie Foster, is announced for September. Smith's Clerks II came out last year. Tarantino tried to find inspiration by moving from dime novels to grindhouse movies, this time without success. The influence of his 1994 classic, however, is still very much with us. Even the unexpected success of Hoop Dreams is echoed by the recent vogue for documentaries. We have lost some of our major directors since 1994, of course, including Altman and Kieslowski, and Rudolph seems finally to have ceased being able to fund his eccentric independent films.
Is the fall season of 1994 typical? Premiere also used to run a chart of the year's major releases called "Critics Choice," which used a one-to-four-stars system to show how favorably each film was received by fifteen popular reviewers. Looking at the rest of 1994's more memorable films, we find more familiar current directors , including Spike Lee (Crooklyn), the Coen Brothers (The Hudsucker Proxy), Ron Howard (The Paper), Oliver Stone (Natural Born Killers), John Waters (Serial Mom), Ben Stiller (Reality Bites), Zhang Yimou (To Live), Bille August (The House of the Spirits), Ang Lee (Eat Drink Man Woman), Kenneth Branagh (Mary Shelley's Frankenstein), Ken Loach (Ladybird Ladybird), James Cameron (True Lies), Robert Zemekis (Forrest Gump), Peter Jackson (Heavenly Creatures) and on, and on. Steven Spielberg would be there, too, if Schindler's List and Jurassic Park hadn't both come out in 1993. There is also the smattering of adorably eccentric (Four Weddings and a Funeral, The Adventures of Priscilla, Queen of the Desert) or beautifully acted (The Madness of King George) English-language imports of the sort that find an audience each year—not to mention the unclassifiable Thirty-Two Short Films About Glenn Gould. And 1994 was no richer in subtitled fare than recent years have been: apart from Red and To Live, the only other notable foreign-language import is Queen Margot.
I don't want to push the similarities between this randomly chosen season and the current Hollywood situation too much. There certainly are some differences. The rise of blockbuster franchises has changed the pattern of releases, with the big series films occupying the summer and Christmas seasons. It's interesting, for example, to note that the year's top grosser, Forrest Gump, was released in July (a week before True Lies), while today it would probably be given a fall slot. That's just a matter of timing, though. Even there we have distributors using counter-programming for smaller films, some of which inevitably become surprise successes, like The 40 Year Old Virgin.
So just what is it that got pushed out by franchises?
(For more on sequels and franchises, see the May discussion by the Badger squad and Henry Jenkins on the third Pirates of the Caribbean film. A lot of comments have been added to the latter since I first linked it. I see that Henry's post was also cited by Lee Marshall in an article in the June 22, 2007 issue of Screen International, "The People's Choice." Marshall makes the point that reviewers who lambaste big franchise films often do so in a condescending way that implicitly criticizes the public for liking them.)