Monday | March 19, 2007
open printable version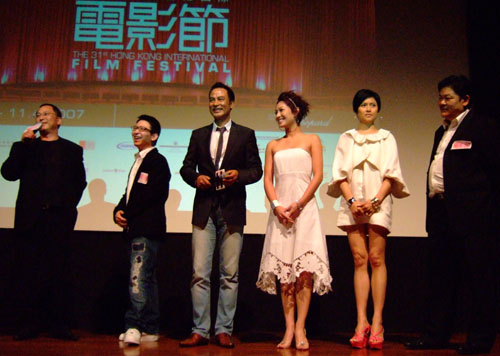 This year's Hong Kong International Film Festival is mammoth—at 23 days, perhaps the world's longest. It's smoothly meshed with the HK Filmart, a trade gathering for buyers and sellers, the Asian Film Awards, and a slew of other events, all under the umbrella of Entertainment Expo. The goal, Timothy Gray points out in a communique in Variety, is to confirm Hong Kong as a regional media hub.
So many things have happened to me since my arrival, and so many impressions pile up, the diary form is for now the best way I can recount my doings. In the course of my stay, I'll try for less fragmentary reportage.
Saturday 17 March
Back in my favorite city. Plane arrived two hours late around midnight Saturday, and the Internets connection in my room didn't work. Went to bed, got a surprising 8 hours' sleep.
Sunday 18 March
Joined my friends Mette Hjort and Paisley Livingston for a shopping expedition with their kids Erik and Siri to Sha Tin, a megamall in the New Territories. That night I stayed with them in their newly renovated home in Sai Kung, with calming views of a park and a bay. Slept 4 ½ hours; read about Alien Autopsy, prepping for a future blog.
Monday 18 March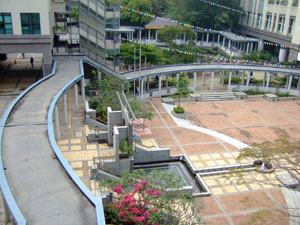 A busy day. Most of it was spent at cozy Lingnan University (one area shown above), where Paisley and Mette teach. I got a little tour and met artist-in-residence Jane Dyer, who's working on some lovely pieces involving books. She finds 'em, shreds 'em, paints 'em black…and turns them into disquieting sculptures.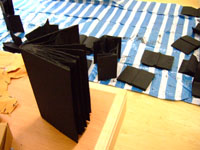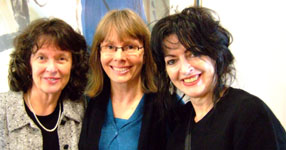 Had an informal sandwich lunch with the students in the Visual Culture program, then a more extended attack on dim sum with Mette (center), Jane (right), and Meaghan Morris, head of Cultural Studies at Lingnan and another fan of HK action cinema.
Late afternoon, I gave my CinemaScope talk, with an addendum on HK cinema's use of Scope. Good questions afterward.
With Meaghan I rushed off to Wanchai, where she lives and where I was slated to see the new Milkyway film, Eye in the Sky, at the Convention Center. After a comical mishap involving changing taxis, I made it to the Center just as the crowd was gathering. I hovered on the edge, uncertain of what to do next, when Yuin Shan Ding, Johnnie To's right-hand man, saw me and gestured me in.
So I walked the red carpet, waiting for somebody to stop me. I should have remembered: This is HK, where such events are unbelievably informal.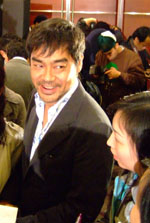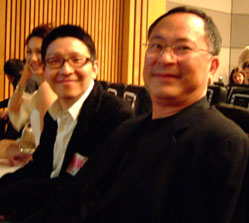 Inside I caught up with Shan and got my ticket. At that moment I met another old friend, Athena Tsui, who was coordinating things in the foyer. Behind her Simon Yam, Lau Ching-wan (above left), Johnnie To, and Yau Nai-hoi were giving press interviews in the glare of TV lights. After snapping some pix, I went in and took my favorite seat, down front and center—where I also found another old Hong Kong friend, Li Cheuk-to, bustling about seeing to a dozen matters. Soon the major players came in too. Above, it's Yau Nai-hoi, director of Eye in the Sky, on the left and producer Johnnie To on the right.
Then the ceremony started. The principals (To, Yau, Yam, Kate Tsui, Maggie Siu, and Lam Suet) got up on stage and said a few words of introduction. Simon claimed that he gained twenty pounds for his role, while Lam Suet proudly said that he had not.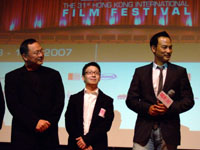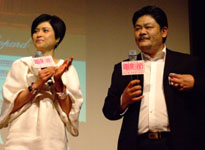 Compared to To's own directorial efforts, Eye in the Sky is more conventional genre fare. It's very linear, giving us essentially a ninety-minute pursuit sequence. As a result, we get almost no backstory about the plainclothes cops (Yam and Kate Tsui) who are tailing heistmeister Tony Leung Kar-fai. It does recall other Milkyway films, which are often built around games of chase and disguise. It's also very much a street film; you see a lot of the Hollywood Road area, and there are nice images of passersby caught unawares.
Here forward momentum is everything, with virtually no pauses for reflection or just catching your breath. Each scene seems caught on the fly, with aggressive smash-and-grab camerawork. Eye contrasts intriguingly with To's Expect the Unexpected, which exhibits more control of the run-and-gun look and immerses us more thoroughly in the lives of its police protagonists. Still, Yau's career will be worth watching, not least because Hong Kong needs to replenish its cadre of young directors.
Audience response to Eye was enthusiastic. Darcy Paquet has some quick first thoughts here.
I Am a Cyborg followed, but I have several other chances to catch it, and sleep beckons. Back to the hotel. Tomorrow, Tuesday, is the biggest day of my trip.