Monday | November 21, 2022
open printable version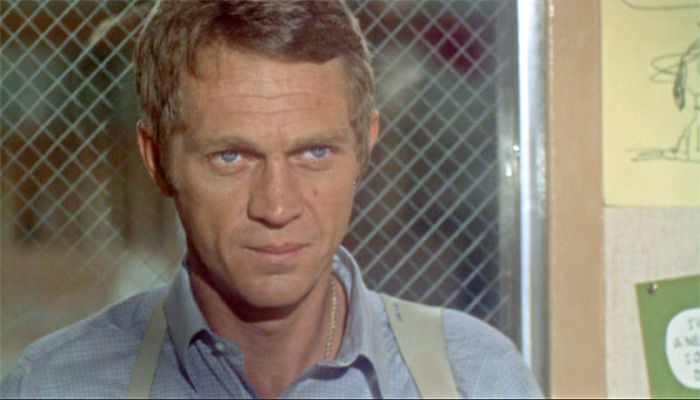 Bullitt (1968).
DB here:
Critics who are carried away by a film want to share their excitement. Thus is born what the Cahiers du cinéma writers called a criticism of enthusiasm. The magazine's editors suggested that the critic who most admired the film should write about it, on the premise that he (almost always a he) would make the best case for it.
Quentin Tarantino's new book Cinema Speculation (HarperCollins) is a stirring instance of this mode. Fueled by the motormouth intensity of his interviews and the monologues in his movies, the sentences crackle with nerd exuberance.
The eagle-claws-through-the-chest initiation rite in A Man Called Horse blew my fucking mind. As did Barnabas Collins' blood-squirting slow-motion wooden-stake evisceration in House of Dark Shadows. I remember, during both moments, staring at the screen with my mouth wide open, not quite believing a movie could do that. 
Significantly, he took in these and other splendors as a child. Tarantino frames his essays on particular films within a memoir of moviegoing. Now approaching 60, he starts by explaining he started watching films at age 4, accompanying his parents and later the men his mother was dating as a single woman. Seeing the "adult" fare of the 1970s as a small boy gave him a lifelong love of exploitation, crime movies, and Black cinema. For him the Adolescent Window opened early.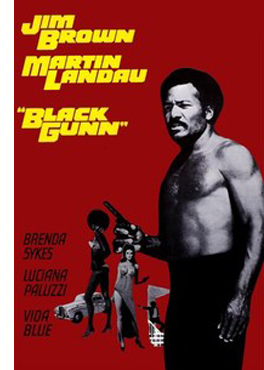 The opening chapter culminates in a life-changing visit to Black Gunn, escorted by his mother's boyfriend Reggie.
To one degree or another I've spent my entire life since both attending movies and making them, trying to re-create the experience of watching a brand-new Jim Brown film, on a Saturday night, in a black cinema in 1972. . . . [At a climactic scene of violence] the massive theatre full of black males cheered in a way the nine-year-old little me had never experienced in a movie theatre before. At the time–living with a single mother–it was probably the most masculine experience I'd ever been a part of.
At the end of the book he pays homage to another Black movie mentor, Floyd Ray Wilson. Living with Tarantino and his mother, Floyd dated the mother's friend and became Tarantino's teenage tutor on rock and roll and Blaxploitation. Floyd taught Tarantino the virtues of Willie Best, Stepin Fetchit, and Don Knotts. Floyd also wanted to be a screenwriter, and he inspired Tarantino to try his hand too. Django Unchained, our author says, springs from his tenuous friendship with Floyd, who wrote a Black western.
Knowing full well how a range of readers will respond to these accounts of interracial male bonding, with his usual insouciace Tarantino plows on through a series of critical essays on films that shaped his tastes, all rendered in a pitch of high enthusiasm.
Old School enthusiam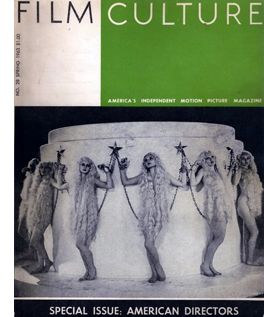 You can argue that the most epic display of the criticism of enthusiasm appeared in the spring 1963 Film Culture magazine. There Andrew Sarris published a roster of Hollywood directors under the rubric "The American Cinema." Each director was given a filmography and critical commentary. Most important, they were grouped into snappy categories: Pantheon Directors, Third Line, Esoterica, Beyond the Fringe, and so on. In 1968, Sarris published the material as a book, expanded by a long prefatory essay, considering more filmmakers, and using other labels. "Esoterica" became "Expressive Esoterica," for example, and "Third Line" became "The Far Side of Paradise." Some directors were also re-sorted; Anthony Mann moved up from Esoterica to the Far Side. The category "Fallen Idols," which included many of the most revered directors (Wyler, Huston, Kazan, Lean, Wilder, Zinneman), was now the snarkier "Less Than Meets the Eye."
The 1963 original and the 1968 book created a revolution in film taste. Sarris had been polemicizing in favor of "the auteur theory" for some time, but with his encyclopedic survey he created a canon. He claimed that he wanted only to launch a systematic history of American cinema, but the result was hardly historical in a strong sense. What mattered was critical evaluation. Writing a history of Hollywood would amount to appraising its directors.
Directors hadn't wholly been ignored by earlier writers. Griffith, Chaplin, Lubitsch, Flaherty, Stroheim, and Welles had been considered significant creative forces for some time. What Sarris sought to do was to map out the whole terrain of Hollywood to reveal a network of strong creators with distinctive "directorial personalities." They were not merely craftsmen; they had artistic visions.
Sarris's strategy was triumphantly successful. He included in his Pantheon not only the noteworthy figures I just mentioned but those revered by the Cahers du cinéma critics: Ford, Hawks, Hitchcock, Keaton, Lang, Ophuls, Murnau, Renoir, and von Sternberg. At least as important were his arguments in favor of second-tier figures like Aldrich, Borzage, Cukor, Minnelli, McCarey, Sturges, and Walsh. And so on down the line as he weighed the virtues of Gerd Oswald, Richard Quine, and dozens of others.
Sarris's legacy remains. To this day books and articles continue to be devoted to the works of these directors, famous and lesser-known. They are staples of Hollywood history. At the same time, researchers have expanded Sarris's purview by elevating some of his choices (e.g., Curtiz) and discovering major films by minor figures (e.g., Ulmer). Martin Scorsese's Personal Journey through American Movies (1996) is very much in the Sarris spirit, offering some different categories but still committed to the auteurist canon.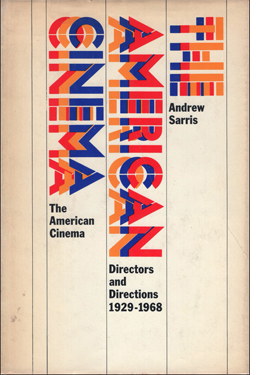 Film scholars today may question the tenets of the auteur theory, preferring to find involuntary cultural pressures in classic works, but to a surprising extent the big names remain central. And researchers discovering unexpected value in forgotten figures like Hugo Fregonese (subject of a retrospective at Bologna's Cinema Ritrovato this year) are fulfilling Sarris's edict that every film and filmmaker deserve serious scrutiny. (One critic has suggested that Fregonese would fit comfortably into Expressive Esoterica.)
The book version of The American Cinema: Directors and Directions popularized Sarris' aesthetic of classic Hollywood.  Just as important, it was a tribute to enthusiasm-fueled cinephilia. Sarris might talk about research, but this was mostly about enjoyment, seeking out little-noticed pleasures in a vast flowering landscape. "If you received The American Cinema at the right moment in your life," notes Kent Jones, "and many people including myself did, it came with the force of a divination, a cinematic Great Awakening."
But films continue to be made, and how are we to appraise them? Some directors in Sarris's survey continued their careers into the 1970s and beyond, but others emerged. Many of those became labeled the "New Hollywood." From this perspective, Tarantino's Cinema Speculation proposes a counter-canon, a cluster of filmmakers and films that demand to be appraised on terms that differ somewhat from those laid down by Sarris. Yes, they are solid artisans. Yes, they have "personal visions." But their auteur artistry has its own commitments.
Sources of enthusiasm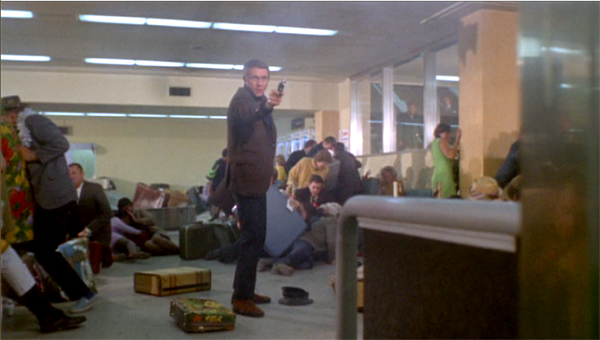 Bullitt.
Central to those commitments is the idea of genre. In one of the richest essays in the book, Tarantino suggests that what follows Sarris's period survey is a new Hollywood, which has two phases. In the first, Penn, Altman, and other filmmakers commit to criticize classic genres, pointing out their political and racial biases. The second phase consists of directors like Spielberg, Lucas, and De Palma who love genres and want to update and strengthen them,  or to invent new ones, like the "Revengeamatic." Tarantino appreciates both trends, but his sympathy lies with the second one. He praises some older genre directors like Don Siegel and is especially sensitive to  New Hollywood filmmakers who either worked to update genres (Tobe Hooper) or balanced indulgence in the genre with some critique of it (Taxi Driver, Hardcore).
Tarantino's favored 1970s genres are centered on violence: crime stories, westerns, urban adventures. In this, he follows audience tastes. Most people aren't auteurists, least of all Tarantino's 70s male mentors. He also focuses his attention on scripts, often providing backstory on how some of his favorites were revised in the production process.
More specifically, he's interested in character and dialogue–again, mirroring what most moviegoers notice and enjoy. He analyzes character action and sometimes interprets it as reflecting public attitudes or the director's temperament. He savors memorable lines of dialogue and reenacts the joy of audiences responding to them. In Taxi Driver:
Then the moment happened that made the whole theatre burst into hysterics. That one guy walking down the street, ranting and raving that he's going to kill his woman ("I'll kill 'er! I'll kill that bitch!"). We laughed so hard at that guy, we were a little disconnected from the movie for the next twenty minutes. 
Travis Bickle's Mohawk haircut triggers the same response. "The whole theatre burst out laughing. I'm talking hysterically laughing. I'm talking rolling in the aisles laughing–Get a load of that goddamn crazy fool!" 
The concern for characters emerges further in Tarantino's unabashed admiration for acting. Sarris' American Cinema treated stars as plastic material for the director's vision. For John Ford, John Wayne develops as a darkening version of western heroism. James Stewart is radically different in films by Capra, Preminger, and Anthony Mann. But Tarantino treats stars as bringing their own valences, which the director can fulfill more or less well. Steve McQueen is the privileged example.
The man embodies 1960s cool, and the films that respect that become singularly satisfying. Bullitt becomes a perfect vehicle for this paradigm of hip detachment.
This is the role he deserves to be remembered by. Because in this role he demonstrates what he could do that Newman and Beatty couldn't. 
Which is just be.
Just fill the frame with him.
There was craft at work here. Tarantino reveals that McQueen often trimmed his own dialogue, giving lines to others, because he knew the audience would be watching him. He could steal a scene with his pinky finger, as I tried to show here. But in Bullitt, he does so little that we watch him warily.
Tarantino doesn't bother with description of how this minimalism works facially–the fixed blue-eyed stare, the enigmatic pinched lips, the flat brows. He goes straight to psychology: Bullitt doesn't engage with anyone, so his mental states are opaque to us. His girlfriend admonishes him for his refusal to open up about his feelings. "Bullitt," Tarantino says, "doesn't explain to the audience or other characters what he's doing or thinking. He just does them and we watch." Here cool turns cold.
With performance as a central concern, Tarantino naturally reflects a lot on casting and performance. His vast knowledge of the genre and Hollywood actors, from stars to sidekicks, allows him to probe the actor's development of the character, as he does with Burt Reynolds in Deliverance and Sylvester Stallone in Paradise Alley. He often speculates on what the film would be like if this role were filled by someone else. What if Lee Marvin replaced Burt Reynolds in Deliverance? What if The Getaway was recast making Stella Stevens McQueen's wife, Richard Boone his major adversary, and Stuart Whitman the master mind? These "cinema speculations" are sometimes derived from actual casting choices, sometimes from Tarantino's huge knowledge of Hollywood players.
Add in music, to which Tarantino is very sensitive, and you have an aesthetic tailored to audience pickup. He has almost no specific comments about imagery or camera technique, the sorts of things that audiences tend not to comment on. Above all, you know when you have a memorable movie moment if a line or character reaction or actions scene induces the audience to shriek in pleasure. From age 4, he claims, for him the thrill of cinema has been bound up with a crowd response. (I found this reassuring, as Perplexing Plots begins with an audience's reaction to the climax of Pulp Fiction.)
Genre, character portrayal, memorable dialogue, performance filigree, the charisma of stars, and the immediate surge of audience appreciation–who else does this sound like? Pauline Kael.
Tarantino has called her the most influential person on his filmmaking; he pored over her collected reviews and channeled her voice. If Sarris was the impresario of classical studio production, Kael became the demanding guide to the New Hollywood. As Tarantino was absorbing the films, growing up with the flood of 70s features, he was tuning himself to the body of work that inspired her lyrical and indignant reviews. Sarris, who reviewed films for the Village Voice at the period, was always seeing the present in the terms of the past, but Kael's New Yorker readers were happy for her electrifying assurance that some filmmakers were living in the moment. (Always the contrarian, she insisted that her readers inclined toward art films and ignored her recommendations about Hollywood's output.) When she loved a film, her review was an orgy of enthusiasm–most notoriously, her piece on Last Tango in Paris (1972).
The only time I saw Kael in person, in fall of 1965, she shared a panel with Sarris at my college. Armed with a cigarette holder, she glittered by comparison with the rumpled, insomniac-looking man alongside her. He wanted to talk about Ophuls' Lola Montès. She wanted to talk about The Cincinnati Kid and especially about its star, Steve McQueen. I usually resist symbolism, but it's hard not to see this as part of a big change in tastes.
A fan's notes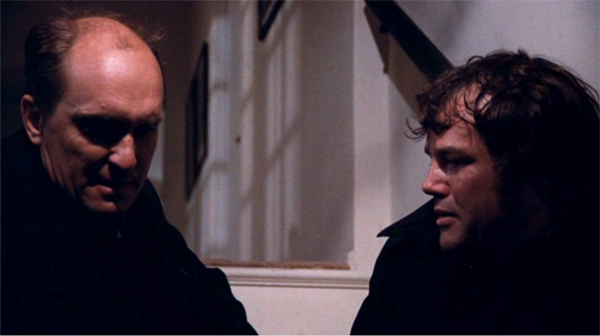 The Outfit (1973).
To get a sense of the strength of  Tarantino's criticism, consider his treatment of two genre masters. One is an old-timer who started in the 40s and had a vigorous career into the 1970s. The other is presented as a largely unappreciated director who helmed some of Tarantino's favorites. Both illustrate the power of Tarantino's enthusiasm and wide-ranging knowledge.
Across the 1950s and 1960s, Don Siegel developed a reputation for taut and violent action pictures, notably Riot in Cell Block 11, Invasion of the Body Snatchers, Baby Face Nelson, The Line-Up, The Killers, and Madigan. Sarris ranked Siegel with Budd Boetticher, Alan Dwan, Phil Karlson, and Joseph H. Lewis as "Expressive Esoterica." But after Madigan (1968), starring Richard Widmark, Siegel became something of an A-list director. His status was reinforced by an alliance with Clint Eastwood for Coogan's Bluff (1968), Two Mules for Sister Sara (1969),  Dirty Harry (1971), and Escape from Alcatraz (1979). He worked with other top stars like Walter Matthau (Charley Varrick, 1973), John Wayne (The Shootist, 1976), and Charles Bronson (Telefon, 1977). For a time he had box-office success alongside the New Hollywood prodigies.
Tarantino pays lengthy homage to Siegel throughout Cinema Speculation. He sees him as a virtuoso not simply of action cinema but of screen violence, a pioneer of what would emerge in impact-based films of the 1970s like The French Connection and Straw Dogs. (The editing of Madigan's final shootout still looks daring today.) Tarantino declares that the rogue law-enforcement officer who pursues his "own self-determined version of justice. . . is practically the quintessential Siegel protagonist." This quality sets the hero apart from his family, his peers, and society at large. Hence not only the bursts of brutality but also the curious lack of sympathy his cold, aloof men engender.
Tarantino celebrates several Siegel films but he focuses on Dirty Harry as a prototype and the director's best. He traces the mutations of the script as the project moved from Universal to Warners, with John Milius adding the famous "I know what you're thinking" line. In execution, the use of location shooting and many "movie moments" (Harry chewing his hot dog while firing at his prey, Harry's foot pinning down the screaming Scorpio on a football field) show a master at work. Siegel excels in chase sequences, and Dirty Harry has plenty. Above all, the film aroused audiences. They were shocked by the violence and thrilled by "crowd-pleasing action set pieces."
Tarantino answers criticisms of the film with some care. Dirty Harry isn't, he claims a fascist film because it was responding to genuine anxieties of its audience. The film was tailored for older Americans unable to adjust to youth culture, civil rights, drugs, and other signs of apparent decay. Harry mostly doesn't exceed reasonable behavior for an officer bent on justice. The exception is Harry's torture of Scorpio; but that's when the kidnapped girl might still be alive and the clock is ticking. Tarantino asks: "Would Billy Jack do any less?" Or, we might add, would Jack Bauer of 24?
More positively, Dirty Harry is the first significant serial-killer film, and it asks for a reconsideration of policing practices that are becoming outmoded after the Manson family and Zodiac. Scorpio is a new kind of villain who will flout the constraints of civil society. He seemed implausibly evil in 1971, but we hadn't yet accustomed ourselves to the monstrous depravity of the obsessed killers out there. The film is a plea for "New Laws for New Crimes."
Still, Tarantino calls the film "aggressively reactionary" in its reassurance that the audience's fear of change is justified. He points out that the bank robbery has to be conducted by Blacks to fulfill its function of scaring the audience with the spectre of Black Power. Is it then a racist film? Siegel called Harry "a racist son of a bitch." Tarantino modifies his case by calling Harry "both a troubled and a troubling character." He doesn't elaborate, but concludes that the ambivalence of the plot and its protagonist is overridden, Tarantino says, by the sheer professionalism of Siegel's filmmaking. Today's audiences, far from fascist or racist in their sensibilities, continue to enjoy the movie. As ever, the visceral response in the theatre is Tarantino's touchstone.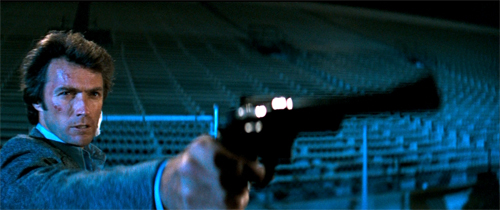 John Flynn doesn't feature in Sarris's compendium, since his career directing features began in 1968. Mentored by Robert Wise, he had been assistant director on comedies and The Great Escape (1963) before his first feature, the repressed-gay drama The Sergeant (1968). His most famous film is the cult favorite Rolling Thunder (1977), a bloody revenge saga that makes highly inadvisable use of a kitchen garbage disposal. Seeing it at age 14, Tarantino reports that it "blew my fucking mind." He followed its screenings across Los Angeles, and the book lovingly details all the venues he visited.
Over the years Rolling Thunder taught him that a film can criticize its own genre. He offers a comparative anatomy of the original script by Paul Schrader and the thorough rewrite by Heywood Gould. He finds that Gould's screenplay improves the original, not least in an exchange between the two buddy heroes.
RANE: I've found the men who killed my son.
JOHNNY: I'll just get my gear.
"That scene and those lines never fail to drive audiences wild wherever and whenever it's projected. And trust me, I've seem Rolling Thunder with every type of audience imaginable."
John Flynn's other major work is The Outfit (1973), a story of a professional thief, Macklin, who avenges the murder of his brother by a series of assaults on businesses run by the syndicate. Ultimately the two launch an attack on the fortified mansion of the big boss. Tarantino praises the playing of Robert Duvall and especially Joe Don Baker's swaggering performance as Cody, his wisecracking sidekick. "The hearty macho audience scattered around the little cinema made it even more fun. They laughed at everything Joe Don Baker said."
It's striking that Tarantino doesn't mention the radical changes that Flynn, acting as screenwriter with assistance of Walter Hill, made to the original book. The Outfit (1963) is third in a long-running series of novels by Richard Stark (Donald E. Westlake) centering on the professional thief Parker. Tarantino professes himself a fan of the character, though he admits to not having read most of the books. In the novel, Parker is aiming to force the Outfit to pay the money it owes him from a double-cross. His strategy is to encourage several other thieves to hit Outfit enterprises on their own. The second half of the book is taken up with those robberies, each with a new gang targeting a business in different cities: a casino, a numbers operation, a heroin-smuggling enterprise, and a racetrack bookie scheme.
Parker drops out of these chapters, and Stark treats us to semidocumentary analyses of how each racket works. It's a bold and fascinating approach, but the film avoids it, simply assigning some of the raids to Macklin and Cody. The result is a buddy movie. True, in the book Parker picks up a sidekick, Handy McKay, but their relationship is purely professional. Parker is a forbiddingly cold character, and no one can imagine him chortling, as Macklin does, at Cody's final quip, "The good guys always win."
Why did Tarantino ignore the book's original plot structure? In Perplexing Plots, I devote a chapter to Westlake's Stark novels because of their unique play with time. Every Parker novel but one is divided into four parts, and scenes are time-shifted within and between parts. Typically, one part leaves Parker's viewpoint and whisks us from character to character within a fluid nonlinear chronology. In The Outfit, that section is the one tracing the gang's guerrilla attacks on the syndicate, those in turn framed by the syndicate boss learning of them.
Most Stark adaptations drastically linearize the original plots. The most salient exception is Point Blank (1967), which pulverizes the action of The Hunter (1962)  far more than Stark does. (Tarantino mostly scoffs at Boorman's film, and I'm inclined to agree.) You'd think that Tarantino would notice how Flynn made the novel a more standard outlaw picture, whatever benefits it yielded.
The puzzle persists. Perplexing Plots has a chapter on Tarantino too, where I suggest that Stark's structure has a deep affinity to the back-and-forth time schemes in Reservoir Dogs and Pulp Fiction. This notion stems from from Tarantino's claim that The Hunter and other Stark novels "were very influential on" Reservoir Dogs. Perhaps Cinema Speculation's ignoring of the structural changes in Flynn's version of The Outfit better captures Tarantino's youthful response, in which masculine bonding and high-intensity violence play the central part. (He saw it at age 11, well before he read any Stark novels.) In any case, I hope my argument for his films' affinity for the looped patterning of the Parker books seems plausible.
Tarantino's focus on the 1970s shouldn't make us forget his connoisseurship in other realms, such as Hong Kong cinema and the spaghetti Western. Still, he's a model of the post-Kael downmarket cinephile, rummaging through every quickie release and even TV movies to find moments of arousing filmmaking in "the greatest movie-making era in the history of Hollywood." Accordingly, he betrays little interest in Hollywood classicism; he can't imagine working in the old studio system, in which a director might have to shoot a script he doesn't like. Moreover, I think he finds the elegance of classical film too fastidious compared to the rough antics on display in his favorites.
My own tastes overlap his, though I doubt I'll ever admire some of his prize filmmakers as much as he does. I'm principally a Sarrisite, insofar as my top Hollywood filmmakers coincide with his, though I find more to admire in Wyler and others than he does. And we all live on our own timelines. While that kid Tarantino was being transported by exploitation pics in the 1970s, I was stunned by the revelations of classic Japanese films by Ozu, Mizoguchi, and others. I think highly of Jaws (1975), but it's not sublime in the manner of Early Summer (1951) or Sansho the Bailiff (1954).
No news: Tastes differ. Critics owe it to us to whip up enthusiasm for the films that give them goosebumps of rapture. But they also owe us reasoned arguments for how and why that happens. Cinema Speculation is, for me, at its best when Tarantino supports his appraisals with analysis. But even when he doesn't, it's still a fucking blast.
---
Thanks to Jim Healy for assistance in preparing this entry.
Other film criticism by Tarantino can be found on the Beverly Cinema site, as well as in his many interviews. He traces his devotion to Pauline Kael at length in Lynn Herschberg's podcast.
The Sarris/Kael split isn't as drastic as I'm making it. Kael loved classic Hollywood too, especially in its frothier moments and in films that featured strong heroines. But she was generally opposed to treating the directors as having unified artistic visions; they seldom achieved much beyond engaging kitsch. She wanted to preserve the immediacy of contemporary cinema for current life and for its public. Sarris in turn was always ready to celebrate studio actors of the Golden Age, and he was eager to interpret current releases in light of politics–as was Kael, with her complicated but fervent feminism.
Kael's use of audience response as a touchstone surfaces throughout her reviews. She tells of audience applause in Gance's Napoléon, hisses and walkouts in a Mel Brooks screening, viewers' empathy for Teri Garr in Tootsie, and the roars of laughter greeting 48 Hrs. (All these are in Taking It All In [Holt, Rinehart, Winston, 1983], pp. 144, 216, 432, and 440.) I wondered about these real-time reports, because she saw most films she reviewed in pre-release press screenings. Often, she says, she saw the film on Monday and turned in the New Yorker review the next day. She discusses her reliance on press screenings in George Malko's 1972 profile, "Pauline Kael Wants People to Go to the Movies," in Conversations with Pauline Kael, ed. Will Brantley (University of Mississippi Press, 1996), 15-30.
Stephanie Zacharek, film critic for Time, tells me that Kael often attended screenings with paying audiences, sometimes before filing her pieces, if the New Yorker's deadlines were flexible enough. "In addition, during the 1980s, she was often shut out of screenings by studios that didn't want her to see their movies. In those cases, she would go to an early public showing." Thanks to Stephanie for this background.
Tarantino's other major literary effort, his quasi-novelization of Once Upon a Time . . . in Hollywood, is considered in this entry. It has fascinating resonance with many ideas in Cinema Speculation.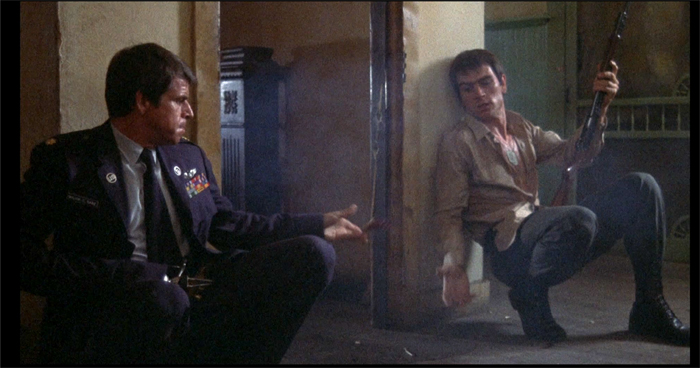 Rolling Thunder (1977).