Tuesday | July 3, 2018
open printable version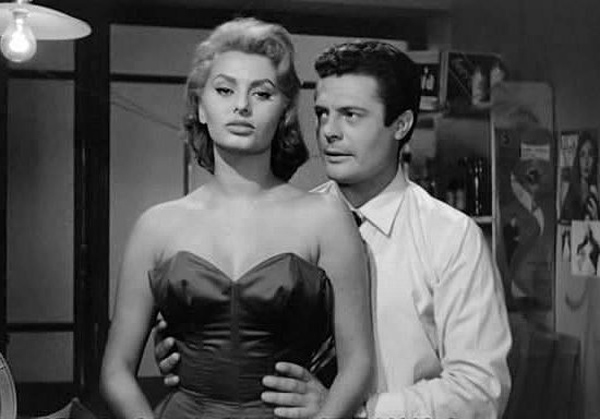 Lucky to Be a Woman (1955).
DB here:
How to sum up nine days of Cinema Ritrovato? I logged thirty-two features and half as many shorts and fragments, along with a few panels and workshops. Fate cursed me with the need to blog and to sleep, so I missed many prime items. And that's including my (sad) decision not to revisit films I'd already seen, so I sacrificed new exposure to masterpieces from Ozu, Mizoguchi, Feuillade, Leone, de Sica, etc.
In this last Bologna roundup, all I can do is wave at some of the surprises and discoveries that captivated me.
Many of my pals praised the Mexican noir Western Rosauro Castro (1950), which I had to miss, but I did get compensated by Prisioneros de la Tierra (1939), an Argentine classic of romantic realism. The plot concerns the exploitation of peasant migrants forced to work in dire conditions. One scene, of a drunken doctor in the throes of the DTs, got a rise out of Jorge Luis Borges.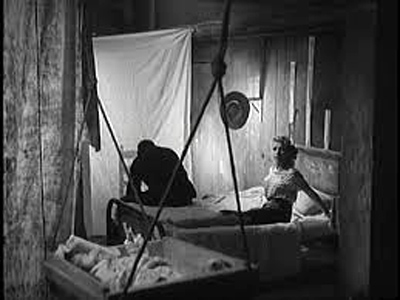 Even more shocking was the red-light melodrama Víctimas del Pecado (1951, above) by the great Emilio Fernández. A newborn baby dumped into a garbage can; a preening, sadistic pimp who can smoke, chew gum, and dance frantically at the same time; a nightclub dancer who tries to live righteously but winds up in prison for her pains; and several splashy music numbers–who could resist this? Not the Bologna audience, who burst into applause when, after slapping a child silly, said pimp got a quick and violent comeuppance. Of course the gorgeous cinematography of Gabriel Figueroa contributed a lot: One shot of a train blasting black smoke into the night would be enough to exalt a far less delirious movie.
Thanks to Dave Kehr of MoMA, who brought a sampler from his recent Fox retrospective, and to UCLA and other sources, aficionados of American studio cinema had no shortage of delights. Monta Bell's Lights of Old Broadway (1925) gave Marion Davies a dual role as twins separated at birth and she made the most of half of it, playing a no-nonsense colleen who makes it big at Tony Pastor's. Part of the fun was the film's historical references: Teddy Roosevelt as an undisciplined schoolboy, Weber & Fields as a kiddie act, and a solicitous Thomas Edison urging the heroine to invest in electricity.
Ten years later, One More Spring (1935, above) from Henry King offered a gentle seriocomic Depression tale. Two homeless men squatting in a garage take in a woman who sleeps on the subway, and they try to make ends meet with the help of a kindly old couple. At first engagingly episodic in the McCarey manner, the plot gets more tightly bound when the old couple faces the loss of their savings. Janet Gaynor is endearing, as usual, and Warner Baxter brings his clipped energy to the role of a hopelessly optimistic failure. There are no villains. The banker struggles to save his depositors, though he's frank enough to admit, "It's all the fault of the Republicans. Still, I'll vote for them in the next election. With the Democrats you never know what to expect." Another big laugh from the crowd around me.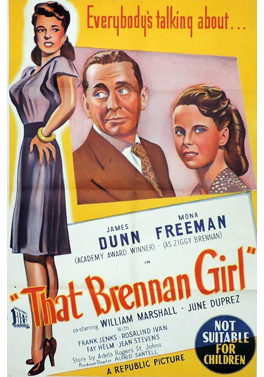 That Brennan Girl (1946) exemplified the opportunities that the boom in 1940s moviegoing offered downmarket studios. Apart from the second-tier cast and the warning "Not Suitable for Children," the production's B-plus aspirations were clear, yielding a surprisingly polished Republic picture (buffed up by a beautiful Paramount restoration). A woman raised by a predatory mother takes up petty theft and con games. She reforms, but after becoming a war widow she falls back into her old ways–endangering her baby in the process. That Brennan Girl could have served as an example in my Reinventing Hollywood book, since it flaunts a long flashback punctuated by dreams and bits of imaginary sound. Those narrative stratagems pervaded films at all budget levels.
Another 1940s technique was the chaptered or block-constructed film, Holy Matrimony (1943), a genial comedy about switched identities, contains sections with titles like "But in 1907" and "And so in 1908." The film, about a painter brought back to London from his tropical hideaway, reworks the Gauguin motif made famous by Maugham's Moon and Sixpence (1919). Was this release an effort to build on Albert Lewin's 1942 version of the novel? Monty Woolley plays himself, but Gracie Fields brought real warmth to the clever, ever practical woman who marries him.
Holy Matrimony was a welcome, if minor entry in the John Stahl retrospective. I had to miss the much-praised When Tomorrow Comes (1939) but was happy to break my rule of avoiding things I'd seen before when I had a chance to revisit Imitation of Life (1934). I persist in thinking this better than the Sirk version, not least because of its harder edge. Beatrice Pullman's exploitation of her servant Delilah's pancake recipe carries a sharp economic bite, and the brutal classroom scene yanks our emotions in many directions. (While Peola writhes in her seat, her mother asks innocently, "Has she been passin'?") As in Stahl's other 1930s efforts, his studiously neutral style is built out of profiled two shots in exceptionally long takes.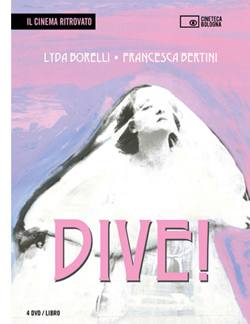 Ritrovato has always done well by its diva films, under the curatorship of Marianne Lewinsky. (They've just released a hot-pink box set of four classics.) In tribute to 1918 there were several star vehicles. I've already mentioned L'Avarazia (1918), an installment in a Francesca Bertini series devoted to the seven deadly sins.
Another high point was La Moglie di Claudio (1918), an exemplary tale of excess. When a movie starts by comparing its heroine to a spider, you know she means trouble. Cesarina (Pina Minichelli) two-times her husband, has an illegitimate child, flirts relentlessly with her husband's protégé, collaborates with spies, and steals the plans to the cannon the husband has designed. She does it all in high style. As she dies, she falls clutching a window curtain.
In a fragment from Tosca (1918), we got a quick lesson in the illogical powers of cinematic composition. Tosca (Bertini again) visits her lover Mario in prison. Their furtive conversation is played out while the shadows of the guards come and go in the background. That's a source of some suspense for us.
And for the couple as well. Instead of looking left at the offscreen window itself, which they could easily see, they–like us–turn to monitor the silhouettes.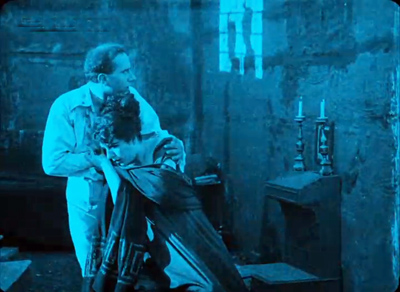 It's a nice variant on the background door or window so common in 1910s film.
Of all the surprises, the biggest for me was This Can't Happen Here (aka High Tension, 1950), an Ingmar Bergman thriller. You read that right.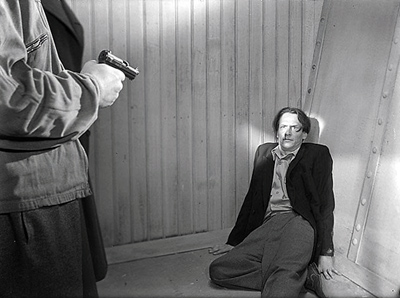 This Cold War intrigue shows spies from Liquidatsia (you read that right too) infiltrating a circle of refugees living in Sweden. The first half hour is soaked in noir aesthetics, with men in trenchcoats glimpsed in bursts of single-source lighting. The preposterous plot gives us a briefcase full of secret papers, attempted murder by hypodermic, torture scenes, and enemy agents acting impossibly suave at gunpoint. A cadre meets in a movie theatre playing a Disney cartoon, with Goofy's offscreen gurgles punctuating an informer's confession.
Bergman forbade screenings of the film, but Bologna was given the rare chance to reveal another side of his obsessions with brooding solitude and the pitfalls of love. Peter von Bagh's illuminating essay included in the catalogue rightly emphasizes how in This Can't Happen Here murder becomes the natural outcome of an unhappy marriage.
My visit was topped off by the charming Lucky to Be a Woman (1955) in the Mastroianni strand. Sophia Loren, looking like a million and a half bucks, plays a working girl accidentally turned into tabloid cheescake. Mastroianni is a louche photographer who can make her career. Bantering at breakneck speed, they thrust and parry for ninety-five minutes, all the while satirizing modeling, moviemaking, and the itchy palms of philandering middle-aged men. Mastroianni spins minutes of byplay out of an unlit cigarette, while La Loren plants herself like a statue in the foreground, facing us; if Marcello's lucky, she may address him with a smoldering sidelong glance.
What's not to like? After thirty-two years, Ritrovato's magnificence is unflagging.
---
As usual, thanks must go to the core Ritrovato team: Festival Coordinator Guy Borlée (with appreciation for help with this entry) and the Directors (below). They and their corps of workers make this vastly complex celebration of cinema look easy. It's actually a kind of miracle.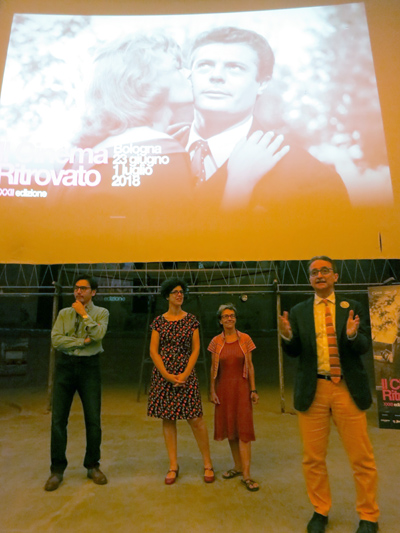 Ehsan Khoshbakht, Cecilia Cenciarelli, Mariann Lewinsky, and Gian Luca Farinelli.