Monday | October 23, 2017
open printable version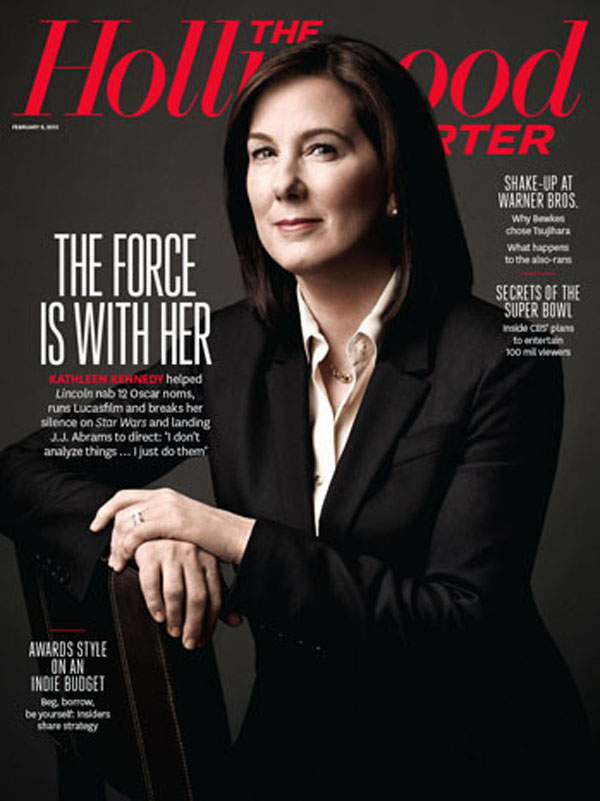 Kathleen Kennedy on the 1 January 2013 cover.
Kristin here:
Now that I have your attention …
We are now well into the season when award speculation begins. Well, actually Oscar speculation knows no season these days, but it snowballs between now and the announcement of the winners on March 4–at which point the speculation concerning the 2018 Oscar race revs up.
Among the issues that will inevitably come up is the question of whether more women directors will get nominated, especially following the critical and box-office success of Patty Jenkins' Wonder Woman. It would be great to see more female nominees for Best Director, but the real problem is achieving more equity in the number of women being able to direct films at all. Unless more women direct more films, their odds of getting nominated will be low. Maybe the occasional Kathryn Bigelow will emerge, but overall the directors making theatrical features remain largely male.
Variety recently ran a story about initiatives to boost women's chances in Hollywood. It stressed the low percentage of women in various key filmmaking roles:
The Center for the Study of Women in Television and Film at San Diego State University found that in 2014, women made up just 7% of the directors behind Hollywood's top 250 films. Overall, of the 700 films the center studied in 2014, 85% had no female directors, 80% had no female writers, 33% had no female producers, 78% had no female editors and 92% had no female cinematographers.
Discouraging, except that there's one figure that doesn't support the lack of women. If 33% of films were without female producers, that means 67% had female producers–which is a lot better than in those other categories.
One thing that has struck me as odd is the lack of attention paid to the distinct rise in the number of female producers being up for Oscars in the recent past. This Variety article, however, is the first one I've seen offering numbers to show that women are doing a lot better in the producing field than in other major areas.
The missing names
Kathleen Kennedy, the lady illustrated at the top of this entry has produced seven films nominated as Best Picture, and she is considered one of the most powerful people in Hollywood. How could she not be? She produced Steven Spielberg's films, alongside others, for many years and since October, 2012, she has been President of Lucasfilm in its incarnation as a subsidiary of Disney. She runs the Star Wars series.
In the Indie realm, producer Dede Gardner is on a roll, having since 2011 had three films nominated for the top prize in addition to wins in 2013 and 2016. Others, such as Megan Ellison and Tracey Seaward, have enjoyed multiple nominations. (I'm using the film's year of release rather than the year when the award was bestowed.) As we'll see, female producers are beginning to catch up to their male colleagues in number as well as prestige. Why no fuss about such important strides?
I think the main reason is that there's no "Best Producer" category. If there were, I suspect our image of women in the industry would be very different. But there's just a Best Picture one. In most cases neither the industry journals nor the infotainment coverage lists the producers alongside the titles of the Best Picture nominees. So who's to know that the "Best Picture" race also is, faut de mieux, the "Best Producer" contest.
Another, perhaps less important reason why producers draw less attention is that because a film often has several producers. It's more complicated to assign responsibility for who did what. Most people have a general idea of what directors do. They're on set, they make decisions, and they supervise other artists. A female producer, like a male one, may have been included for many reasons. She might have done most of the work in assembling the main cast or crew members or she might have concentrated on gaining financial support. She might instead be termed a producer as a reward for crucial support at one juncture. We can't know, and that perhaps makes it difficult for the public to get enthusiastic about producers. Of course, if journalists covered them more in the entertainment press, the public might gain more of a sense of what producers do.
Yet whatever their contribution, those producers played some sort of crucial role, and they are the ones who get up and receive the statuettes when that last climactic announcement of the evening is made. (Lately there has been a trend for the every member of the cast and crew and all their relatives present to rush onto the stage for a grand finale, but it's the producers who give the thank-you speeches.) They can take those statuettes, with their names engraved on them, home and put them on their mantels or to their office to display in a glass case. Yet few have any name recognition outside the industry, the entertainment press, and a few academics.
Despite these producers' importance, it's difficult to find out who they have been over the years. Go to almost any website, including the Academy of Motion Picture Arts and Sciences' own, in search of Oscar nominees stretching back through the years, and you will usually find names listed in all the other categories–but only the title of the nominated films in the Best Picture category. I finally found a complete list of Best Picture nominees' producers compiled by an industrious contributor to Wikipedia. Going through and doing some counting and cross-checking, I have created and annotated my own list. With it I've tried to show the fairly steady progress that women have made in this category. I call them "nominees" below. Somewhat paradoxically, they win the Oscars, though technically the film is the official nominee.
To keep this list from becoming even longer, I've listed only nominated films which had one or more women among their group of producers. Up to 2008 there were five films each year. Starting in 2009 the number could be anywhere between five and ten, though it's usually eight or nine. I give the number of nominated films starting in 2009. Assume any films not listed were produced by men. If you're curious about who those men were, click on the link in the previous paragraph.
Here's how things developed, including only years when female producers were "nominated." (My comments in red.) Be patient. It gets off to a slow start, but things pick up.
And the nominees are …
1973 The Sting  (WINNER)  Tony Bill, Michael Phillips, and Julia Phillips.
Julia Phillips becomes the first female producer nominated since the Oscars began in 1927 and the first to win.
1982  E.T.  Steven Spielberg and Kathleen Kennedy.
The second female producer nominated.
1984  Places in the Heart. Arlene Donovon.
The third nominated female producer.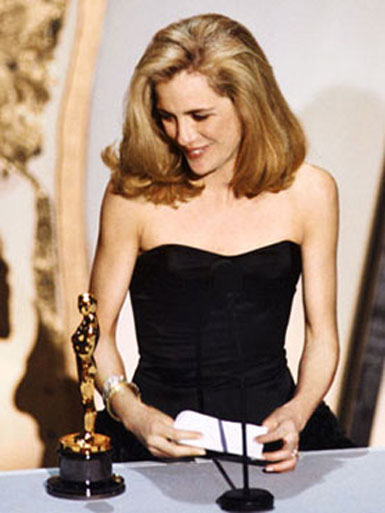 1987  Fatal Attraction. Stanley R. Jaffe and Sherry Lansing.
The fourth nominated female producer.
1989  Driving Miss Daisy. (WINNER) Richard D. Zanuck and Lili Fini Zanuck.
Lili Fini Zanuck is the second female producer to win.
1991  The Prince of Tides. Barbra Streisand and Andrew S. Karsch.
1994  Forrest Gump. (WINNER)  Wendy Finerman, Steve Tisch, and Steve Starkey.
The Shawshank Redemption.  Niki Marvin.
Wendy Finerman (right) becomes the third woman producer to win a Best Picture Oscar.
This is the first year when two women are nominated. From this point to the present, there has been no year without at least one female producer nominated.

1995  Sense and Sensibility.  Lindsay Doran.
1996  Shine.  Jane Scott.
1997  As Good as It Gets. James L. Brooks, Bridget Johnson, and Kristi Zea.
The first year when four women are nominated.
The first time two women are nominated for the same film.
1998  Shakespeare in Love. (WINNER) David Parfitt, Donna Gigliotti, Harvey Weinstein, Edward Swick, and Marc Norman.
Elizabeth.  Alison Owen, Eric Fellner, and Tim Bevan.
Life Is Beautiful. Elda Ferri and Gianluigi Brasch.
Gigliotti is the fourth woman to win a producing Oscar.
1999  The Sixth Sense.  Frank Marshall, Kathleen Kennedy, and Barry Mendel.
First year when a woman producer, Kennedy, is nominated for a second time.
2000  Chocolat.  David Brown, Kit Golden, and Leslie Holleran.
Erin Brockovich.  Danny DeVito, Michael Shamberg, and Stacey Sher.
For the second time, two women are nominated for the same film.
2001  The Lord of the Rings: The Fellowship of the Ring.  Peter Jackson, Fran Walsh, and Barrie O. Osborne.
2002  The Lord of the Rings: The Two Towers. Peter Jackson, Fran Walsh, and Barrie O. Osborne.
2003  The Lord of the Rings: The Return of the King. (WINNER)  Peter Jackson, Fran Walsh, and Barrie O. Osborne.
Lost in Translation.  Ross Katz and Sofia Coppola.
Mystic River. Robert Lorenz, Judie G. Hoyt, and Clint Eastwood.
Seabiscuit.  Kathleen Kennedy, Frank Marshall, and Gary Ross.
Walsh is the fifth woman to win in this category.
Walsh and Kennedy tie for the first woman nominated three times.

The second year when four women are nominated.
2004  Finding Neverland.  Richard N. Gladstein and Nellie Bellflower.
2005  Crash. (WINNER)  Paul Haggis and Cathy Schulman.
Brokeback Mountain. Diana Ossance and James Schamus.
Capote.  Caroline Baron, William Vince, and Michael Ohoven.
Munich.  Steven Spielberg, Kathleen Kennedy, and Michael Mendel.
Cathy Schulman is the sixth woman to win.
The third time four women are nominated.
Kennedy becomes the first woman nominated four times.
2006  The Queen.  Andy Harris, Christine Langan, and Tracey Seaward.
2007  Michael Clayton.  Jennifer Fox and Sydney Pollack.
Juno. Lianne Halfon, Mason Novack, and Russell Smith.
There Will Be Blood.  Paul Thomas Anderson, Daniel Lopi, and JoAnne Sellar.
The first year in which five women are nominated in this category.
2008  The Curious Case of Benjamin Button.  Kathleen Kennedy, Frank Marshall, and Céan Chaffin.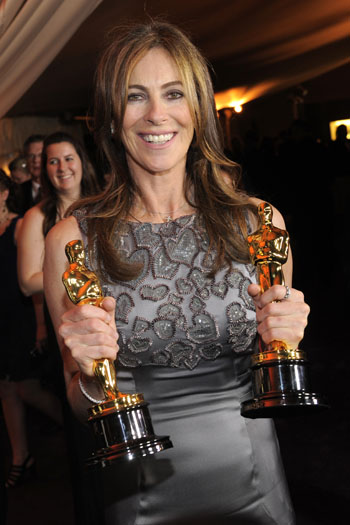 The Reader.  Anthony Minghella, Sydney Pollack, Donna Gigliotti, and Redmond Morris.
First time a woman, Kennedy, reaches a fifth nomination.
The third time two women are nominated for the same film.
2009  The first year of up to ten nominations. Ten films nominated.
The Hurt Locker. (WINNER)  Kathryn Bigelow, Mark Boal, Nicholas Chartier, and Greg Shapiro.
District 9.  Peter Jackson and Carolynne Cunningham.
An Education.  Finola Dwyer and Amanda Posey.
Precious. Lee Daniels, Sarah Siegel-Magness, and Gary Magness.
Kathryn Bigelow becomes the seventh woman to win in this category. (Right, with her producing and directing Oscars.)
The fourth time two women are nominated for the same film.
2010  Ten films nominated.
Inception.  Christopher Noland and Emma Thomas.
The Kids Are All Right.  Gary Gilbert, Jeffrey Levy-Hinte, and Celine Rattray.
The Social Network.  Pana Brunetti, Céan Chaffin, Michael De Luca, and Scott Rudin.
Toy Story 3.  Darla K. Anderson.
Winter's Bone. Alex Madigan and Ann Rossellini.
The second year five women are nominated in this category.
2011  Nine films nominated.
Midnight in Paris.  Letty Aronson and Stephen Tenebaum.
Moneyball.  Michael De Luca, Rachael Horovitz, and Brad Pitt.
The Tree of Life.  Sarah Green, Bill Pohlad, Dede Gardner, and Grant Hill.
War Horse.  Steven Spielberg and Kathleen Kennedy.
Kennedy receives her sixth nomination.
The third year in which five women are nominated in this category.
The fifth time two women are nominated for the same film.
2012  Nine films nominated.
Amour.  Margaret Mengoz, Stefan Arndt, Veit Heiduschka, and Michael Katz.
Django Unchained. Stacey Sher, Reginald Hudlin, and Pilar Savone.
Les Misérables.  Tim Bevan, Eric Fellner, Debra Hayward, and Cameron Mackintosh.
Lincoln. Steven Spielberg and Kathleen Kennedy.
Silver Linings Playbook.  Donna Gigliotti, Bruce Cohen, and Jonathan Gordon.
Zero Dark Thirty.  Mark Boal, Kathryn Bigelow, and Megan Ellison.
Eight female producers nominated, besting the previous record by three.
The first year in which each of two nominated films has two female producers.
Kennedy receives her seventh nomination.
2013  Nine films nominated.
12 Years a Slave.  (WINNER)  Brad Pitt, Dede Gardner, Jeremy Klein, Steve McQueen, and Anthony Katugas.
American Hustle.  Charles Roven, Richard Suckle, Megan Ellison, and Jonathan Gordan.
Dallas Buyers Club.  Robbie Brennert and Rachel Winter.
Her.  Megan Ellison, Spike Jonze, and Vincent Landay.
Philomena.  Gabrielle Tana, Steve Coogan, and Tracey Seaward.
The Wolf of Wall Street.  Martin Scorsese, Leonardo DiCaprio, Joey McFarland, and Emma Tillinger Koskoff.
Dede Gardner becomes the eighth woman to win an Oscar in this category.
Megan Ellison becomes the first woman nominated for two films in the same year.
2014  Eight films nominated.
Boyhood. Richard Linklater and Cathleen Sutherland.
The Imitation Game.  Nora Grossman, Ido Wostrowskya, and Teddy Scharzman.
Selma.  Christian Colson, Oprah Winfrey, Dede Gardner, and Jeremy Kleiner.
The Theory of Everything. Tim Bevan, Eric Fellner, Lisa Bruce, and Anthony McCarten.
Whiplash.  Jason Blum, Helen Estabrook, and David Lancaster.
2015  Eight films nominated.
Spotlight. (WINNER)  Blye Pagon Faust,  Steve Golin, Nicole Roaklin, and Michael Sugar.
The Big Short.  Dede Gardner, Jeremy Kleiner, and Brad Pitt.
Bridge of Spies.  Steven Spielberg, Marc Platt,  and Kristie Macosko Krieger.
Brooklyn.  Finola Dwyer and Amanda Posey.
The Revenant.  Arnon Milchan, Steve Golin, Alejandro G. Iñárittu, Mary Parent, and Keith Redmon.
Blye Pagon Faust and Nicole Roaklin become the ninth and tenth winners.
For the first time two women win for the same film.
For the second time, two nominated films have two female producers.
2016  Eight films nominated.
Moonlight. (WINNER)  Adela Romanski, Dede Gardner, and Jeremy Kleiner.
Hell or High Water.  Carla Haaken and Julie Yorn.
Hidden Figures.  Donna Gigliotti, Peter Chernin, Jenro Topping, Pharrell Williams, and Theodore Melfi.
Lion. Emile Sherman, Iain Canning, and Angie Fielder.
Manchester by the Sea.  Matt Damon, Kimberly Steward, Chris Moore, Lauren Beck, and Kevin J. Walsh.
Adela Romanski and Dede Gardner become the eleventh and twelfth winners.
For the second time, two women win for the same film.
For the second time, eight women are nominated, which so far remains the record.
Why should these names be hidden?
So we have overall 88 nominations for women, with twelve women winning Oscars for producing films. That compares with four nominations and one win for female directors. Women have not come all that close to parity with men in the producing category, but compared to the directors category, which people seem to take as a bellwether for the status of professional women in Hollywood, it's spectacular. Moreover, we can see a fairly steady growth over the past twenty-three years, to the point where seven or eight producing nominations a year routinely go to women.
Of course, Oscars are not the only or the most objective way of measuring women's power in Hollywood. One could try a similar examination of the number of women producing Hollywood's top box-office films over the years.  I assume there would be a similar growth in numbers, but the measurement would probably be a little more nuanced. That would be a much bigger project than would fit in a blog entry–even entries as long as the ones we occasionally favor our readers with. The San Diego State University study I mentioned earlier took an approach of this sort, and I'm sure there is deeper digging to be done among the statistics revealed by such research..
Given the way the Oscars have captured the public's and the industry's imaginations, however, the growing number of female producers being honored is a good way to point out that things may be better than they seem when one focuses narrowly on the directors category.
After all, the prescription for putting more women in the director's chair and behind the camera and so forth is always that more female producers and writers are needed, making films for women and by women. This seems reasonable, and yet the question remains, if women are doing so well, relatively speaking, in rising to the top as producers, why, over the twenty-three years since 1994 haven't they hired more women at every level for their film crews? (Of course, some of them have acted as producer-directors on their own projects.) Why hasn't Kennedy, who has been firing and hiring male directors for Star Wars projects lately, ever given a female director a shot at it? Maybe she will at some point, as the evidence grows that women can create hits.
Perhaps most women producers are constrained by their fellow producers on projects, who are often men. They may feel pressured to reassure studio stockholders and financiers by sticking with the tried and true. And yet there do finally seem to be signs that studios are looking beyond the obvious pool of talent. Patty Jenkins, an indie filmmaker, directs Wonder Woman to unexpected success. Taika Waititi, a Maori-Jewish indie filmmaker from New Zealand, suddenly finds himself directing Thor: Ragnarok, which shows every sign of becoming a hit. With luck, the effect of the rise of female producers, as well as of more broadminded male ones, will finally have a significant impact on both gender and ethnic diversity in Hollywood filmmaking.
In closing, I would suggest to the press that it would be helpful for them in writing their endless awards coverage to list more than just the titles of the Best Picture nominees. Add the names of their producers, who are in effect nominated for Oscars. Treat them more like stars, the way you do with directors. I realize that there are often lingering disputes over which of the many producers attached to some films are actually the ones eligible to accept Oscars for them. But once such disputes are resolved, these "nominees" should be listed, and certainly after the awards are given out, they should be part of the historical record of Oscar nominees and winners. This would help both the public and the industry to get the big picture, not just the Best Picture.
---
[Oct. 24, 2017: My thanks to Peter Nellhaus for pointing out Julia Phillips' win for The Sting in 1973. I have corrected the text accordingly.]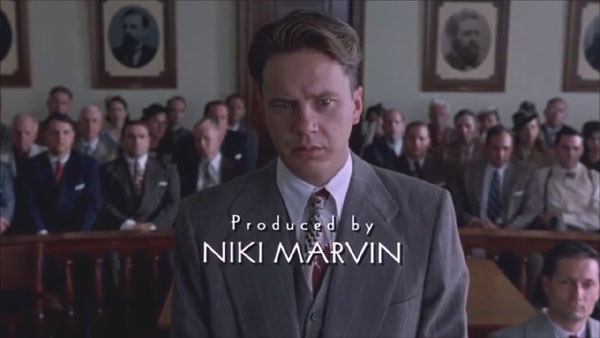 The Shawkshank Redemption (1994).