Wednesday | October 5, 2016
open printable version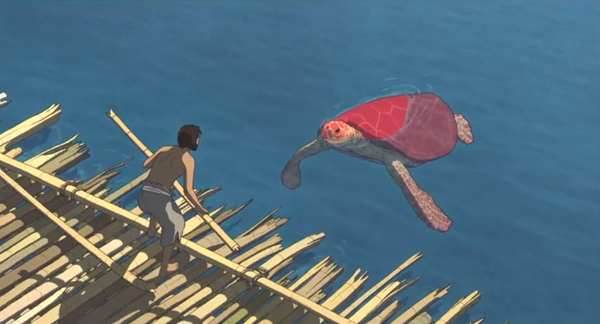 The Red Turtle (2016).
Kristin here:
Recently this blog passed its tenth anniversary. Our first modest entry, on Christine Vachon's book A Killer Life, was posted on September 26, 2006. The second was "A film festival for all seasons," the first of David's five reports on that year's Vancouver International Film Festival, where he was a judge in the Dragons and Tigers competition for young Asian directors. Since then we both have come to VIFF nearly every year. Its organizers and staff are always welcoming and we can see lots of films in a relatively relaxed atmosphere free from the red carpets, the markets, and the celebrities that make some of the bigger festivals difficult to navigate. We're delighted to be back in Vancouver now, reporting on its rich array of offerings for a tenth time.
 The Rehearsal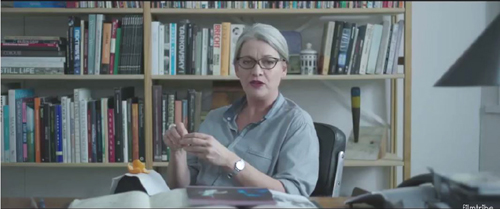 Canadian-born, New Zealand-bred, New York-dwelling director Alison Maclean gives us The Rehearsal (2016), her first feature since her best-known film, Jesus' Son (1998). In between she has been primarily working in television, including episodes of Sex and the City and The Tudors.
The film begins with an image of an Asian woman in a blonde wig and ultra-high-heel shoes facing directly into the camera and miming a tennis game (see bottom). Such an arresting opening is a wise move, since the film's early portions are mostly expository. The opening introduces Stanley, a young Maori man who gains acceptance to a high-pressure, prestigious drama school, despite his apparent lack of the necessary talent and drive. Overcoming his initial listlessness, Stanley gradually bonds with his classmates. He also blossoms somewhat under the tough-love approach, sometimes verging on cruelty, that is the policy of Hannah, the demanding head of the school (Kerry Fox, above, best known for playing Janet Frame in An Angel at My Table).
The opening image turns out to be a flashforward to a rehearsal of an original playlet that Stanley and a group of teammates must put on at the end of the school year. For their story they seize upon a current local scandal in which a tennis coach has had an affair with an underage pupil. Stanley has begun dating the girl's sister Isolde, which gives him knowledge about the situation that the group incorporate into their play. The main suspense arises from Stanley's failure to tell Isolde what his team is up to, despite the fact that inevitably she will find out. More drama arises from the effects of Hannah's harsh methods on the students, particularly Stanley's vulnerable roommate.
The Rehearsal currently has no American distributor but will play on October 5 at the New York Film Festival.
The Confessions (Le Confessioni)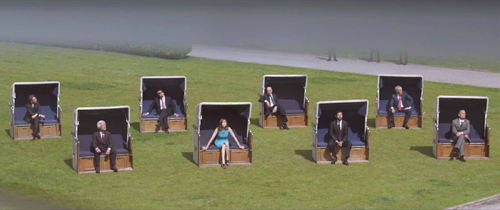 Early in The Confessions a spectacular drone shot follows a moving car from above the treetops. Eventually the car arrives at a driveway crowded with news photographers, and the camera leaves it to reveal a huge modern hotel and then move beyond it over ta body of water. Though not as flashy, the rest of the film has the sort of lush cinematography (above) and rich musical score that are familiar from such other recent prestigious Italian productions as The Great Beauty.
The plot involves a sort of bitter parody of a G8 meeting, with eight representatives of major countries meeting under the guidance of the head of the International Monetary Fund. They are preparing to execute some sinister plan, under the guise of "creative destruction," that will solve a current international financial crisis in a way that will benefit rich countries at the expense of the poorest ones. Daniel Roché, the head of the IMF, has also invited an Italian monk, Roberto Salus (played by Tony Servillo, so memorable in The Great Beauty and especially Il Divo), to attend.
The reason for Salus' presence is not clear, though Roché requests him to hear his first confession in twenty years. Roché is soon found dead. It's apparently a suicide, but some of the finance ministers attending the meeting seemingly try to eliminate Salus by casting him under suspicion of murder. The film turns into a cat-and-mouse game, with each seeking out Salus for devious conversations, punctuated with tantalizing flashbacks that gradually reveal what Roché had revealed during the confession scene.
Although on the surface the film seems to be developing into a thriller, it is too playful to be taken entirely seriously, and the wise, reserved Salus always delivers the final sardonic comic topper in his exchanges with each of the villains. There is even a suggestion of a sort of magical realism at a few points. Ultimately The Confessions is a somewhat uneasy mixture of genres but a highly entertaining one.
The Red Turtle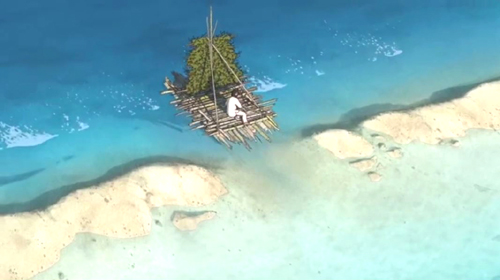 In the early days of the blog (December 10, 2006), I wrote an entry claiming that in contemporary cinema, animated films are on average more likely to be stylistically superior to live-action ones. Animated films have to be intensively pre-planned, including recording soundtracks in advance. Such careful preparation, which eliminates the easy reliance on "coverage" and limits changes in post-production, imparts a rigor and care that are too often missing in live-action features. Two experiences with animated films here at Vancouver reinforce my point.
David and I agree that The Red Turtle is a standout among the films we've seen so far. It's an animated feature by Michael Dudok de Wit, the Dutch animator who won the animated-short-film Oscar in 2000 for Father and Daughter. The Red Turtle won a Special Jury Prize at Cannes this year. It also has Studio Ghibli's name attached, which might lead to some raised eyebrows.
Studio Ghibli's three legendary animators all retired in recent years: Hayao Miyazaki, after The Wind Rises (2013); Isao Takahata, after The Tale of the Princess Kaguya (2013); and Hiromasa Yonebayashi, after When Marnie Was There (2014). Rumors that the studio would shut down fortunately proved false, despite the fact that its crew of animators was disbanded. The Red Turtle is the first film to bear the Studio Ghibli name since Marnie. The studio, not Dudok de Wit, initiated the project, and perhaps it will henceforth support occasional hand-picked productions like this one.
Though The Red Turtle uses traditional cell animation, it does not particularly imitate the studio's familiar style Nevertheless, the film is far from being a radical departure from its previous output. For one thing, The Red Turtle is vitally concerned with the depiction of nature. It opens with a storm that drives a single survivor from a shipwreck onto the beach of a small island, uninhabited by humans. His first contact with living things there comes when a curious sand-crab crawls up his pant-leg, and a group of these crabs provides touches of comic relief throughout.
Three times the unnamed man tries to escape aboard bamboo rafts (above), but each time a large red sea turtle destroys his craft (see top) and forces him back to the island. In the story's first fantastical event, the turtle transforms into a woman, and the two soon fall in love, Adam and Eve in a sparse Garden of Eden. They gain a son, a tsunami introduces a note of threat into the idyllic depiction of nature, and ultimately they face mortality. The simplicity and fantastical elements of the story would be perfectly convincing as a rendition of an existing myth, but the story is completely Dudok de Wit's invention.
The three human figures are drawn very simply and look like they were rotoscoped, though I can find no confirmation of that online. The depiction of the natural landscape and the creatures that inhabit it are, however, stunningly beautiful. Without attempting a photorealistic look, Dudok de Wit's team have captured the look and movement of sunlit seawater, the rhythmic rustling of leaves, and even the differences in color between the exposed and the submerged surfaces of woolsack blocks of granite at the ocean's edge. It is almost as if they have managed to rotoscope all of nature.
The classic films by the main directors at Studio Ghibli are more elaborate and complex than The Red Turtle, but the new film suggests that the studio will maintain its high standards in its future productions.
The Red Turtle was bought by Sony Pictures Classics and is scheduled for a mid-December American release.
 Window Horses (The Poetic Persian Epiphany of Rosie Ming)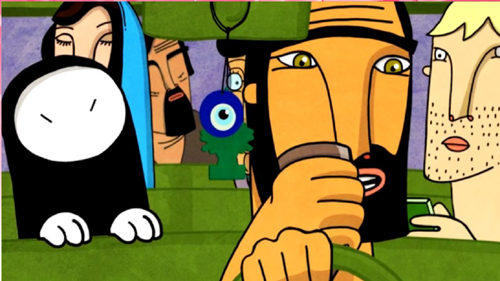 While The Red Turtle is a high-profile animated film, Window Horses originated as an Indiegogo project. Its success in that campaign led Sandra Oh to back the film, signing signed on as a producer and providing the voice of the film's heroine. The project gained additional support, including by the National Film Board of Canada. Still, it is likely to remain largely a festival item (it premiered at the Annecy International Animation Film Festival), with only a limited theatrical release in Canada early next year. (Information on that release is not yet available online, but news will presumably be posted on the film's website.)  It exhibits a lively imagination and stylistic sophistication that deserve a wider audience, which with luck it will achieve via streaming.
The story centers on Rosie Ming. With her Chinese mother dead and her father having apparently abandoned his family to return to Iran, she lives in Vancouver with her maternal grandparents. A self-published book of her verses leads to an invitation to a poetry festival in Shiraz. Donning a full chador in the hopes of fitting in, she finds herself surrounded by women wearing simple scarves and vibrant clothing.
The animation itself is colorful, with stylized faces that are vaguely reminiscent of Picasso (as in the tour-bus scene, above). Rosie stands out in her utter simplicity, rendered as a black-clothed stick figure with a round, white face sketched in only by eyes and, when she speaks, a mouth. Recitations of poems are accompanied by scenes of animation is a variety of styles, contributed by such animators as Kevin Langdale, Janet Perlman, Bahram Javaheri, and Jody Kramer.
Overall, it is an engaging and entertaining film, showing how much an independent filmmaker can do with limited means. In that it reminds me of Nina Paley's Sita Sings the Blues.
Films that have particularly impressed us so far include Pablo Larrain's Neruda (playing again on October 9), Cristian Mungui's Graduation (playing again October 5 and 11), and above all Terence Davies'  A Quiet Passion (playing again on October 9). We'll be blogging about these and others over the next several days.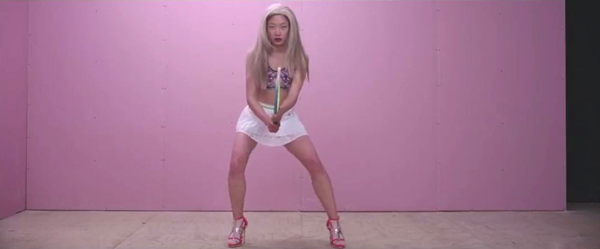 The Rehearsal (2016).