Sunday | March 30, 2014
open printable version

View of Hong Kong harbor from the Convention and Exhibition Centre. Above, the flag of the People's Republic of China; below, the Hong Kong flag bearing the Bauhinia emblem. According to official protocol the national flag must be larger and be mounted more prominently.
"For us, Hong Kong will always be the place."
Chuck Norris, The Octagon (1980)
DB here:
After missing two editions because of some minor health problems, I'm back in Hong Kong for their annual festival.  As customary, it kicked off with the Filmart, now the biggest film market in Asia. It gathers producers, distributors, and financiers for discussions and dealmaking. There are panels, equipment demos, and displays of media items for sale. There's the Hongkong-Asia Film Financing Forum, a competition that funds planned projects. (This year's winners are here.)
Some booths are huge. The TVB display was towering, dwarfing the TV chat show being shot underneath.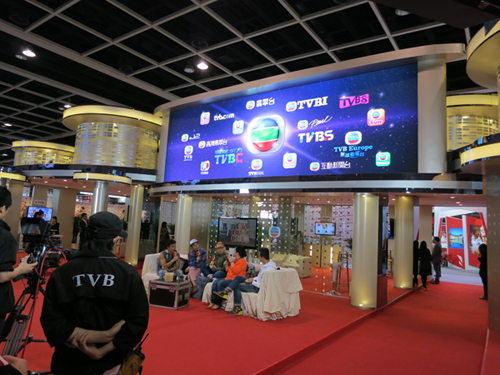 Since its founding in 1997, Filmart has been so successful that it spawned an umbrella event. The Hong Kong Entertainment Expo, now in its tenth year, is a jamboree for the international entertainment industry, including music and digital entertainment of all sorts.
Filmart is now very big. This year it packed in over 760 exhibitor stalls from over 30 countries (including Brunei and Malta). It attracted over 6500 attendees, and most, unlike me, were there to buy and/or sell films, TV shows, and video games.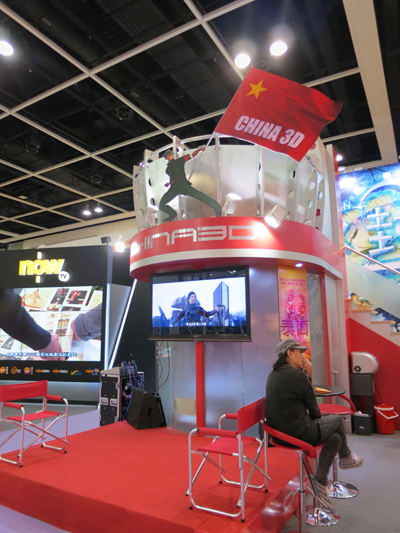 National film organizations use Filmart to coax production into their territory. Government agencies like KOFIC can put producers in touch with prime locations and service firms.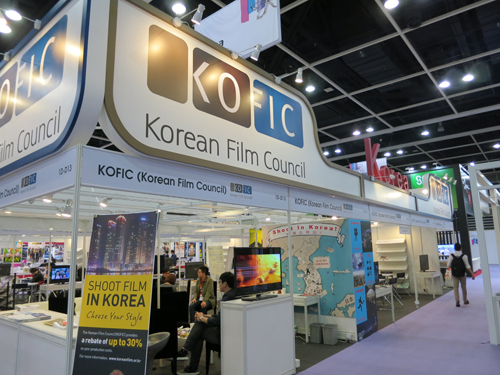 The opening reception was graced by Chief Executive C. Y. Leung, who while extolling the rule of law in the territory did not mention the recent violent attack on a major journalist. A characteristically blank-faced Leon Lai looked on. In the crowd, you might also meet Bruce Lee, or at least his avatar.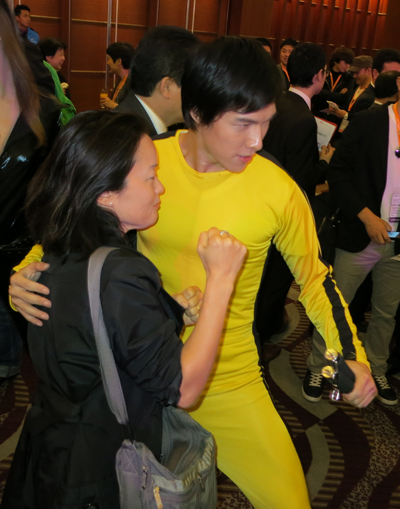 On the market floor, a Chinese vampire squared off against Donnie Yen, immortalized by Madame Tussaud.
Who would win in a face-off? The movie is probably being shot as we speak.
China ahead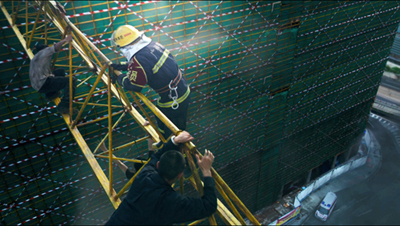 Out of Inferno (2013).
The big news this year was, as ever, mainland China. By any measure it just keeps growing. Back in 2012 it became the world's second-biggest market, yielding $2.74 billion in box-office grosses. (US and Canada were at $10.8 billion.) In 2013 Chinese grosses were $3.6 billion, a growth of 25%. (North American grosses grew only about 3%.) In tandem, the number of exhibition sites expanded hugely. China added over 5,000 screens in 900 new multiplexes, yielding a total of 18,195 screens. That is still remarkably few for such a populous country; North America has over twice that number. So we can expect still further growth. More generally, another sign of the times was that last year Asia-Pacific became the most lucrative region outside North America, and of course China is the centerpiece of that.
You see the China syndrome in the films as well. For several years Hong Kong producers and directors have partnered with mainland talent and business groups. Two of last year's best Hong Kong films, Johnnie To Kei-fung's Drug War and Wong Kar-wai's Grandmaster, epitomize cross-border initiatives, mixing HK and PRC stars in stories that hold appeal for both audiences.
A new wrinkle: Now even films that might seem purely of Hong Kong interest credit major Chinese companies as coproducers, and they may feature mainland stars. Tim Youngs, local HK film expert, suggests that because some big-budget Chinese films haven't succeeded in Hong Kong, mainland investors may be interested in financing  small films that will catch on in the territory.
Yet some films persist without mainland financing. An example I saw at Filmart is the modest indie Dot 2 Dot, by first-time director Amos Why.
The story is rooted in local history and geography. Chung, returning from Canada to take a job in a design firm, recalls how much he enjoyed connect-the-dots puzzles as a boy. Now he discreetly puts up speckles on walls, marking sites that were significant to him and his city. Xue, a young teacher, discovers them, puzzles them out, and draws out the abstract patterns that Chung embedded in them. When he spots her graceful graffiti he determines to find who has cracked his code. What gives the story contemporary currency is the fact that Xue has emigrated from the mainland and is teaching Mandarin to Hong Kongers, and she is played by Meng Tingyi.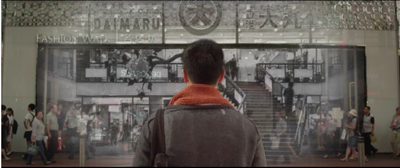 Dot 2 Dot interrupts its lovers-at-a-distance plot with images from Hong Kong's past. Xue's supervisor, an elderly teacher, and Chung, a nostalgia buff who treasures his childhood comics, recall moments in local history, such as when the Daimaru department store closed after a gas explosion. The émigré Xue, in finding her way around this imposing city, comes to appreciate its past. Eventually we learn through a degrees-of-separation device that both Chung and Xue have shared Hong Kong kid culture–two dots, in effect, waiting to be connected in adulthood. Those interested in allegory could see here a claim that for decades, China's modern popular culture has been imported from Hong Kong, and that fact fosters cross-border bonds.
On a bigger budget there are other more or less "pure" Hong Kong films–in tone and genre, despite mainland backing–being made. Even the cockeyed English title Out of Inferno (2013) brings back the 1980s and 1990s, as does the premise. Two brothers dedicated to firefighting fall out; one (Lau Ching-wan) becomes obsessed with his job, the other (Louis Koo) leaves to form a company specializing in modern fire-protection equipment. When a skyscraper catches fire during a party demonstrating the equipment, Koo and Lau's pregnant wife, along with many others, are trapped inside. The brothers must reconcile, inside and outside, to save innocent lives. In short: Towering Inferno + Backdraft + Johnnie To's Lifeline. Indeed, certain shots and the very presence of Lau Ching-wan, recall To's genre masterpiece. So what's new? Well, it's set in Guangzhou and it's in 3D.
Out of Inferno comes to us co-funded by the HK company Universe and the mainland company Bona. It grossed about US$2.6 million in Hong Kong and over $20 million in China, which says all you need to know about the relative power of the two markets.
Nobody I respect seems to like this movie. Most critics have written off the directors, the brothers Danny and Oxide Pang, as hacks. Kozo's review at LoveHKFilm states the case against. Granted, the film is routine in many ways and can't match Lifeline, but I enjoyed its almost unceasing bursts of clear, cogent action. I began to realize that one benefit of a firefighting movie is that rooms can explode, ceilings and floors can collapse, and elevators can stop or plunge–at any time, whenever you something to goose a scene. After all, it's a fire, right? Who can predict what a fire will do? In 3D, many shots were splendid, and I will watch Lau Ching-wan doing sullen integrity in nearly anything. Still, Tim Youngs alerts me (so I alert you) to another action-filled firefighter movie, As the Light Goes Out–not screened at Filmart, not yet available on disc, and with more admirers, at least in my vicinity, than Out of Inferno.
 A future for Retro
The White Storm (2013).
Universe and Bona, who seem to team up for blockbusters, offered a more delirious example of the Hong Kong flavor in The White Storm, which also screened at the Filmart. It's another exercise in mixing. We have Bullet in the Head: three boyhood friends undergo a harrowing trip to wilder Asia, expending much sweat and tears, and even more blood. We have Infernal Affairs too, with the deadly game of undercover work and the possibility that a Triad mole has infiltrated the police. The three buddies consist of the familiar pairing of Lau Ching-wan and Louis Koo, along with the ever-dependable Nick Cheung as the apparently weakest member of the trio.
Unusually long at nearly 140 minutes, The White Storm (the title refers to the heroin plague that has descended on Hong Kong) is really three movies in one. The first centers on Koo in the now-familiar role of the cop who wants to come in from the cold. After a frantic drug bust gone wrong, he's forced to return to the underworld and lead his comrades to a Thai kingpin. The second stretch takes place in Thailand. There after a savage assault on the dealer's compound, our three are captured. The dramatic weight shifts to Lau, who must choose to kill either Koo or Cheung. His decision gains complexity because we know something he doesn't about his partners' loyalty. The film's last portion returns to Hong Kong, with a few surprises and a bloody casino finale.
While building suspense in the Infernal Affairs mode–will the gang discover the mole in their midst?–director Benny Chan also tries to recover the searing romanticism of Woo's heroic bloodshed films. As far back as The Big Bullet (1996) he showed a flair for shocking, precise action, and his Jackie Chan vehicle New Police Story (2004) is an exhilarating piece of work. Benny Chan shows his skill in each of the three sections' violent set-pieces. Add in the 1980s-1990s Hong Kong excess–bodies thrown into pools of crocodiles, a sexy transsexual, outrageous haircuts–and you have an almost purely retro exercise.
Another throwback is the shameless but stirring tear-jerking moment in which the three men comfort Cheung's dying mother. She thinks that Lau is her son, back from study abroad with his buddies. They spontaneously accept her delusion, each pretending to be another member of the trio. The film's play with false identities turns melancholy, and in comforting her the men apologize, obliquely, to one another. Chan's use of singles and two-shots deftly traces out the flow of feeling, as the men exchange glances and Cheung starts to weep in shame.
The old Hong Kong cinematic energy resurfaced in another, stranger film, Fruit Chan's new release The Midnight After. It's based on a popular internet novel by Pizza (yes, you read that right). The premise is apocalypse, the time is now. A minibus driving from downtown Hong Kong to the New Territories passes through a tunnel and emerges into an urban landscape from which everyone seems to have vanished. A mass extinction? An evacuation? A time warp? The mystery deepens after we get an occasional glimpse of dark figures in protective gear monitoring the frantic efforts of the survivors to make sense of their fate. Some of the passengers die–crumbling to bits, suffering giant boils, bursting into flame. Even a compassionate bicyclist is drawn into the desperate struggle for survival.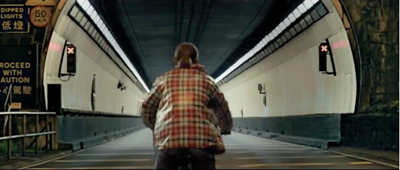 A Hong Kong director often asks us to take his or her film as reflecting a general mood in the territory. Fruit Chan says:
It feels as though Hong Kong is suffering the worst of times. People's lives, people's businesses and the political climate are all seriously depressed. The impact hit us harder than anything else in the past century. Through The Midnight After I'd like to tell the est of the world something about the problems that Hong Kong faces in this period of social upheaval.
The tone, as well as the plethora of familiar landmarks, may give the film some local resonance. More broadly, the film also joins a tradition of horror-fantasy that hearkens back to classic Hong Kong movies about the supernatural and even dystopian exercises like The Wicked City (1992). The latter was rendered with typical Tsui Hark brio, though, and The Midnight After is more sober and straightforward, at times perilously close to flat. Nor does it have the conciseness and growing creepiness of Chan's Dumplings (2004).
I didn't find The Midnight After particularly compelling. The characters are viewed from the outside and don't solicit much sympathy; they're mostly collections of types and tics, including a mysterious young woman who is given I-may-be-a-demon treatment by the expedient of momentarily billowing hair. As usual when a Cantonese film doesn't know what else to do, it sets its characters screeching, quarreling, running around, and punching. Moreover, I couldn't figure out what made the unfortunate victims die in different ways. And what's behind the mysterious watchers? My friends say: "There aren't any rules." Maybe they're right. But it's fairly easy to pile on mysteries in your plot; the task is to tie them up in the end.
To be fair, we don't really have the end. The film adapts only the first part of Pizza's cybernovel, so perhaps everything will get straightened out in a sequel. What matters, for better and worse, is that many  Hong Kong filmmakers still resort to Reboot mode.
---
You can read the trade papers' Filmart daily publications here. Also visit Film Business Asia for many articles on deals announced at Filmart. Peter Martin reports on a panel on the Asian industry at Twitchfilm. Perhaps most important, Patrick Frater of Variety signals an important upcoming change in PRC distribution policy.
My information on the 2013 growth in Chinese screens is gleaned from David Hancock's survey in of world exhibition in IHS Media and Technology Digest no. 504 (September 2013), 9-12. Additional information comes from Jeremy Kay's CinemaCon report in Screen International and Patrick Frater's account of screen expansion in Variety. Derek Elley offers a very thorough analysis of the contemporary Chinese industry in "Mainland Cinema's New Maturity," in Film Business Asia.
The trailer for Dot 2 Dot is here. Kozo, as you'd expect, has a nuanced review of The White Storm.
In other welcome news related to The Place, Grady Hendrix is back with Kaiju Shakedown. The inital entry is a full-blooded overview of the career of mystery auteur Jeff Lau.
P.S. 1 April 2014 (HK time): This entry has been revised to correct my original claim that Dot 2 Dot had some financing from the mainland. Director Amos Why wrote to explain that despite the credited participation of two companies based in Beijing, there was no investment from Chinese sources; the funding came entirely from Hong Kong. I thank Amos for the correction.

Smoke from a towering inferno? The creeping miasma of The Midnight After? No, just a low-lying cloud settling on Central after a rainstorm.