Friday | February 8, 2013
open printable version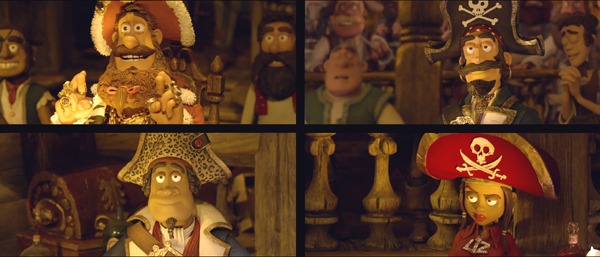 Awards scene in The Pirates! Band of Misfits.
Kristin here:
On February 1, the Annie Awards were given out. These are the honors bestowed by the International Animated Film Society. Up for best animated feature were the five Oscar nominees in the same category–Brave, Frankenweenie, ParaNorman, The Pirates! Band of Misfits, and Wreck-It Ralph–plus three others–Hotel Transylvania, Rise of the Guardians, and The Rabbi's Cat. Rather to my surprise, Wreck-It Ralph took the top honor.
This seems like a good occasion to follow up on some of my entries on animation posted here years ago and to present some comments on the five Oscar nominees.
Mainstream fare
Remember when entertainment journalists were suggesting that there were getting to be too many big-studio animated features in the market each year? Remember when supposedly there just wasn't that much demand and that cartoons were starting to eat into each other's box-office takings? No? I do, partly because back on January 23, 2007, I blogged on the subject. I said at the time, "The 'too many toons' issue looks to me like a tempest in a teapot."
For one thing, animated features were actually doing very well at the box-office:
In 2006, the ten highest domestic box-office grossers included four CGI hits: Cars, #2, Ice Age: The Meltdown, #7, Happy Feet, #8, and Over the Hedge, #10. On the worldwide chart, these four films rank high as well: Ice Age: The Meltdown, #3, Cars, #5, Happy Feet, #10, and Over the Hedge, #11. In the domestic market, 6 other toons make the top 100. So, 4 out of 10 toons are in the top ten, while 6 out of 90 live-action films make that short-list. I'm no math whiz, but that looks like 40% versus 6.6% to me.
Since 2006, animated features have increased in number, as witnessed by the fact that the Academy of Motion Picture Arts and Sciences upped the number of nominees in that Oscar category from three to five for the 2010 awards. Actually, the rules are more complicated than that:
All submissions sent to the Academy will be screened by the Animated Feature Film Award Screening Committee(s).  After the screenings, the committee(s) will vote by secret ballot to nominate from 2 to 5 motion pictures for this award.  In any year in which 8 to 12 animated features are released in Los Angeles County, either 2 or 3 motion pictures may be nominated.  In any year in which 13 to 15 films are released, a maximum of 4 motion pictures may be nominated.  In any year in which 16 or more animated features are released, a maximum of 5 motion pictures may be nominated.
The 2010 and 2012 Oscars each had five nominees in the category, while for 2011 there were again only three. This year there are again five, and it seems likely that this will continue to be the case.
In 2012all but one Hollywood studio had at least one animated feature among its five top-grossing films. So much for such films crowding each other out of the market.  Totals below are worldwide and include the grosses only to December 31:
Sony: Hotel Transylvania, #4 ($313.2 million, still in release; $324.3 million as of Feb. 3)
Warner Bros.: none
Fox: Ice Age: Continental Drift, #1 ($897.3 million)
Disney: Brave, #2 ($538.3 Million)
Disney: Wreck-It Ralph, #3 ($283.6 million, still in release; $376.6 million as of Feb. 3)
Universal: Dr. Seuss' The Lorax, #3 ($349.6 million)
Paramount: Madagascar 3: Europe's Most Wanted, #1 ($743.3 million)
Paramount: Rise of the Guardians, #3 ($261.2 million, still in release; $297.8 million as of February 3)
The first six of these films were in the 20 top-grossing American films of 2012; Rise of the Guardians was #30.
(These figures are from "Studio figures hit sky high" by Ian Sandwell, in the January 25, 2013 issue of Screen International. Unfortunately the charts of studio hits aren't in the online version of the article.)
People no longer suggest that there are too many animated films. In fact, they're a predictable mainstay of the studios, partly because they have proven themselves capable of generating lucrative franchises, just like those big action-packed CGI fantasy and sci-fi films. People are now suggesting that maybe there are too many of those in the market, cannibalizing each other's grosses.
The Return of Handmade Animation
In recent years, some members of the industry, the punditry, and the general audience have complained that small, independent films and even foreign fare have elbowed their way into the live-action categories. The best-picture category was reportedly increased from five titles to up to ten slots specifically to make sure that some blockbusters would make the list and draw in a larger audience for the televised Oscar ceremony. Still, The Hurt Locker beating Avatar has been pointed to innumerable times in order to claim that the Academy voters are out of touch with the broad popular audience's tastes.
Wait a minute. The box-office charts are themselves in touch with the broad audience's tastes as expressed by tickets sold. The Oscars are supposed to be about honoring the year's best films, not the biggest earners, aren't they? This year's best-picture nominees again reflect the Academy's willingness to cast a somewhat wide net, with a very low-budget film (Beasts of the Southern Wild) and a foreign one (Amour) sitting cheek-by-jowl with hits like Django Unchained and Les Misérables. Despite the expansion in the number of nominees, the really big hits that also garnered critical acclaim, notably The Dark Knight Rises and Skyfall, didn't make the list.
The same phenomenon has crept into the animated-feature list. Only two of the nominees come from those six that were in the top-twenty box-office hits: Brave and Wreck-It Ralph. The other three were all box-office disappointments to some extent: Frankenweenie, ParaNorman, and The Pirates! Band of Misfits. (Or, to call it by its funnier British release title: The Pirates! In an Adventure with Scientists!)
These three were all created via stop-motion animation. In contrast, all the hits in the list above were CGI, as was the mid-level grosser, Rise of the Guardians.
This is not to say that the three stop-motion film completely avoided computer effects. As Iain Blair pointed out recently in Variety, they made use of new technologies. ParaNorman worked innovatively with 3D laser printing to create huge numbers of slightly different faces for the puppets. (More on that below)
The Pirates! mainly used puppets, but there digital effects done in-house, creating water, fire, smoke, fog, and so on, including the whale. Basically, Aardman's using special effects in a puppet film the way live-action films use them. (A 3D printer was used to create different mouths to achieve variety of expression, a technique somewhat comparable to that used for ParaNorman.)
While Frankenweenie used puppets and miniature sets, it also included digital technology, like scenes done against greenscreens with clouds and background vistas added as effects: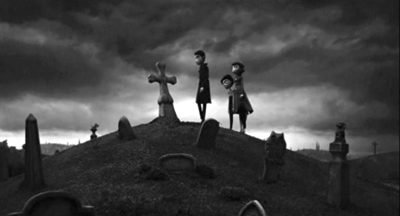 So why were the three films made mostly by hand all less successful than the year's big CGI toons? I would have thought that most people can't tell the difference, and those who can don't care. The characters in most CGI animation are basically imitations of puppets, and good stop-motion animation can look nearly as smooth as the digital equivalent. I doubt that audiences are consciously avoiding puppet-based films.
On the basis of these three films, one might almost believe that stop-motion films are become the art-house fare of the animated sector of the industry. I don't think that's the case, though. It's probably just an odd coincidence likely to be limited to 2012. If anything, I suspect that the dominance of the list of nominees by stop-motion films reflects the Academy's animation wing's appreciation of the work and skill that goes into such painstaking work. They clearly took note of films that used this technique, including The Pirates!, which was released way back in April. Which is not to say that CGI-based animation involves less work or skill. It just isn't quite so vivid and obvious.
The Pirates! was unquestionably a failure in the USA. This harks back to my entry kvetching that Flushed Away was sunk by DreamWorks, for lack of trying to turn Aardman into a recognizable brand like Pixar. Now Sony has done the same with The Pirates! In 2011, Sony also released Arthur Christmas to poor business; it's a hilarious and charming film, well worth a watch. I suspect The Pirates! has little chance for an Oscar, especially without the magical Nick Park name. (Park has won five Oscars on six nominations. He couldn't win six, since Creature Comforts and A Grand Day Out were nominated opposite each other!) But suppose The Pirates! did win. It would join Wallace & Gromit in The Curse of the Were-Rabbit, that other DreamWorks "flop" that won Best Animated Feature. It made 71% of its worldwide gross outside North America.
Moving on to the other two stop-motion films: One thing that struck me last year after watching previews for ParaNorman, Frankenweenie, and Hotel Transylvania was that there were a surprising number of kids' films based on horror-film premises. Some kids can take comic-scary stuff, some can't. The ParaNorman DVD has garnered 246 five- and four-star reviews on its amazon.com page, but also 76 one- and two-star comments, mainly complaining that the film is too scary for young children. Frankenweenie probably aroused similar reactions. No doubt many parents anticipated this problem and didn't take their kids to see these films. (I haven't seen Hotel Transylvania, which has done better at the box-office, but it doesn't seem to have the kind of morbid fascination with dead people and animals that the other two do.)
This year's nominees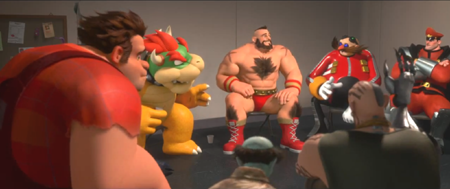 Wreck-It Ralph
I've seen all five of the features nominated for the animation Oscar this year. I try and see the big animated films of each year. I've been doing that for years now, and in late 2006 I posted an entry about why that is:
Among the new films I've seen in the past couple of years, I find that a significant proportion are animated. I don't think that's because I prefer animated films but because these days they are among the best work being created by the mainstream industry.
Why would that be? There are probably a lot of reasons, but let me offer a few.
Animated films, whether executed with CGI or drawings, demand meticulous planning in a way that live-action films don't. David has written here about directors' heavy dependence on coverage in contemporary shooting. Coverage means that many filmmakers don't really know until they get into the editing room how many shots a scene will contain, which angles will be used, when the cuts will come, and other fairly crucial components of the final style. This is true even despite the fact that filmmakers increasingly have storyboarded their films (mainly for big action scenes) or created animatics using relatively simple computer animation.
People planning animated films don't have the luxury of lots of coverage, and that's probably a good thing. Storyboards for animated films mean a lot more, because it's a big deal to depart from them. Every shot and cut has to be thought out in advance, because whole teams of people have to create images that fit together—and they don't create coverage. There aren't many directors in Hollywood who think their scenes out that carefully. Steven Spielberg, yes, and maybe a few others.
A similar thing happens with the soundtrack. In animated films, the voices are recorded before the creation of the images. That's been true since sound was innovated in the late 1920s. Pre-recording means that images of moving lips can be matched to the dialogue far more precisely than if actors watched finished images and tried to speak at exactly the right time to mesh with their characters' mouths. The lengthy fiddling possible with ADR isn't an option. Most stars are used to recording their entire performances within a few days, picking up their fees, and moving on to more time-consuming live-action shooting.
I think the same remains true, though I would now credit David Fincher with planning his films down to each shot and cut. Still, even the increased use of pre-viz doesn't seem to keep directors from shooting scenes from multiple angles and in many takes, encouraging a looseness in the editing.
Interestingly, Peter Ramsey, director of Rise of the Guardians, got his start as a storyboard artist for directors that included both Spielberg and Fincher. Ramsey was quoted in a recent Hollywood Reporter story on Rise of the Guardians, discussing that phase of his career: "You start learning to tell stories economically with the camera, connecting ideas on screen with the camera, blocking things so that they are simple but still dynamic." I think that sort of planning still accounts for the excellence of such a high proportion of animated films.
That's also why some of this year's nominated animated films were among the best I saw last year. If David and I were in the habit of making up ten-best lists for current years, The Pirates! and Wreck-It Ralph would undoubtedly be on mine, right alongside films like Holy Motors and Leviathan. But we don't, so I'll just offer a few comments, starting with the film I would most like to see win the Oscar and ending with the one that least deserves it.
The Pirates! should win. It has the technical virtuosity that all Aardman features share. It also has a breakneck pace of clever and witty action and jokes.
The main plot premise has four pirates vying for the Pirate of the Year award, and the ceremony itself is handled as a parody of Oscar-style shows, down to the split-screen views of nominees in the audience (see top). Aardman films are known for putting jokey items in the sets, to be noticed or not. This time there are so many posters, objects, street and shop signs, and other throwaway gags that the filmmakers felt obliged to reprise them during the final credits!
One thing I noticed in watching the DVD, however, is that a lot of these small posters and maps and so on are not big enough to be read, at least on an ordinary-sized video monitor. Academy voters who didn't see the film in theaters but watch it on screeners are likely to miss a lot of what makes The Pirates! so funny. Below is one frame of some of the larger items, from the Blu-ray version:
For me, a hair's breadth behind The Pirates! comes Wreck-It Ralph.  Besides winning the Annie for best feature, Wreck-It Ralph also won for in the feature categories for best direction, animated effects in an animated film, voice acting (Alan Tudyk as King Candy), and writing. Wreck-It Ralph has the same rapid-fire humor and inventiveness that characterizes The Pirates! without seeming derivative of Aardman's approach. The notion of an old-style video-game villain trying to become a hero is original, with Ralph attending AA-style 12-step sessions with other villains (see top of this section). Pulling several characters from different games into the same plotline works well, too. Not being a gamer, I'm sure I missed a great many allusions to real games, but apparently a supplement on the Blu-ray disc will provide that information.
And another hair's breadth behind Wreck-It Ralph comes ParaNorman, which won Annies in the feature categories for character animation and character design. The filmmakers innovated new 3D laser-printing technology that allowed them to make thousands of separate replacement faces so that the characters' expressions could be changed frame by frame.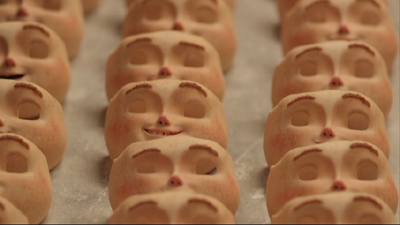 These replacement faces incorporated the color during the printing process, so that features like pink cheeks and freckles no longer had to be hand-painted and thus could be used more freely. (Even the most carefully applied pink applied by hand would shimmer from frame to frame.) As the making-of documentary Peeping through the Veil points out, Coraline, made with a similar face-replacement technique but with hand-painted color, could only use 13 freckles on the heroine's face, with no pink on the cheeks. In ParaNorman, Norman's friend Neil (some of whose replacement faces are shown in the illustration above) has innumerable freckles, as well as a pink nose and cheeks–all of which stay exactly in place.
The laser-printed faces also are translucent, allowing for subsurface light-particle scattering, allowing the puppets to have an appearance of realistic human skin (comparable to what was done digitally to create a believable Gollum in The Lord of the Rings and The Hobbit). The effect is particularly noticeable in the many backlit shots, where light passes through Norman's prominent ears: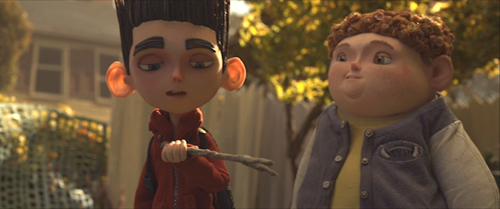 The effect of the new facial technology is a remarkably expressive set of characters.
The film's premise is that Norman can see and interact with dead people, which makes him an outcast at his school, victimized by bullies and avoided by the rest of his classmates. The exception is Neil, equally bullied for his chubbiness and eccentricities. The setting is a New England town that exploits its history of witch-hunting for touristic purposes. As a threat from a real witch's curse threatens the town, its modern inhabitants prove just as intolerant and prone to mindless violence as their ancestors. Confronted with the ghosts of past witch-hunters, they whip out their guns and become a mob. The whole thing is treated with grotesque stylization in the settings, character designs, and action. It's highly entertaining, though certainly there are gruesome moments too strong for some children. But the result is a lesson in tolerance that softens the grotesquery.
I'd be pleased if any of these three films won the Oscar.
Distinctly behind these three comes Brave. Our regular readers know that we're big admirers of Pixar. I've posted about Cars; we chatted about Ratatouille; David described a visit by Bill Kinder, Pixar's Director of Editorial and Post-Production, to our campus; and their films frequently feature in our general discussions of animation. They have their own category in the menu at the right.
Brave represents a distinct recovery for Pixar after the disappointing Cars 2. I'm a fan of the original Cars, but it seems to me that the filmmakers made a huge mistake by turning Mater, so hilarious in the original, into a pathetic figure and Lightning McQueen, so charming to begin with, into a nasty guy who is barely in the film. Brave was definitely better, though I thought it a bit thin. It needed a subplot, maybe involving the mischievous triplet brothers, to flesh it out. Famously including Pixar's first female lead character, it seemed to me to present an all-too-obvious story of a girl striving to do what everyone tells her girls don't do (compete successfully with the guys, resist an arranged marriage). Are we really still at that early stage of creating "positive images" for girls? Having just seen Hayao Miyazaki's extraordinary Nausicaä of the Valley of the Winds for the first time (in a 35mm print as part of the currently touring Miyazaki retrospective), I watched a princess of roughly the same age doing all sorts of daring things to save her country from ecological and military disasters, with none of the other characters ever mentioning that girls are supposed to leave such actions to the boys. It's just not an issue, but Nausicaä is a pretty positive image. That in a film from 1984. The desire to be politically correct seems to have made the Pixar screenwriters rein in their imaginations a bit.
That said, it's still a thoroughly entertaining film. Perhaps the most obvious strength is its sumptuous, evocative depictions of Scottish landscapes (see bottom). It's no surprise that Brave won the Annie for best production design in a feature (as well as best editing).
I'm looking forward to Monsters University. Maybe it will have to inventiveness and density that we associate with the best Pixar films.
Fifth comes Frankenweenie. I enjoyed it, but it seemed to betray its origins as a short. Moreover, the logic of its premises escapes me. The early section that shows Victor's love for his dog Sparky, Sparky's death, and Victor's resurrection of him using lightning à la Dr. Frankenstein is consistently amusing. Victor's appropriation of household gadgets to rig his laboratory in the attic wittily captures the 1930s Universal horror films without trying to stick too closely to them. But then his creepy "friend" Edgar (read Igor) wants to try the experiment on a dead goldfish, which is resurrected–but invisible. This invisibility is never really explained, but it contradicts what happened with Sparky. Other kids try their luck or accidentally turn a rat and other dead animals  into monsters, a tactic that seems designed to pad out the plot and generate danger to the community. These creations of monsters all seem to involve the same simple lightning strike that brought back Sparky, so why is he the same loving, cheery pet as before?
There's also a sense that Tim Burton is drawing on auteurist tropes that have become distinctly familiar. We have a black-and-white film about the interaction of the living and the dead, as with Corpse Bride. Again there's a character that resembles a classic figure from horror films of yesterday. In Edward Scissorhands it was Vincent Price, played by himself. In Ed Wood it was Bela Lugosi, played by Martin Landau. Here Landau is back to channel a similar figure, the teacher Mr. Rzyukruski, modeled on Price: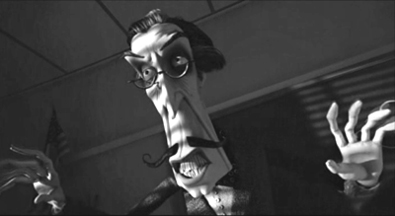 Again, Frankenweenie is an entertaining film, and the combination of smooth stop-motion animation and the CGI backgrounds make for an eerie combination, as in the pet-cemetery scene illustrated above. But it's not Oscar-worthy. It didn't win any Annies, but sadly, neither did The Pirates!
One last note. People complain, or at least point out, that a lot of live-action features these days are quite long, well over two hours in many cases. Yet animated features manage to tell their quick-paced, eventful tales succinctly: Brave (93 minutes), Frankenweenie (87 minutes), ParaNorman (92 minutes), The Pirates! Band of Misfits (88 minutes), and Wreck-It Ralph (108 minutes). This, of course, is partly for the benefit of the children in the audience, and partly because animation is so complex and expensive. Still, an adult walking out of any of these films can feel he or she has seen a movie satisfyingly packed with incident that moves along at a lively pace. Live-action directors might want to take a look at just how these films achieve that feeling.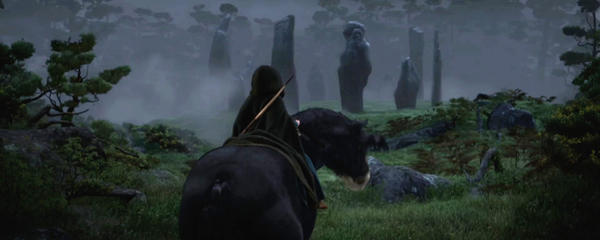 Brave.