Monday | October 15, 2012
open printable version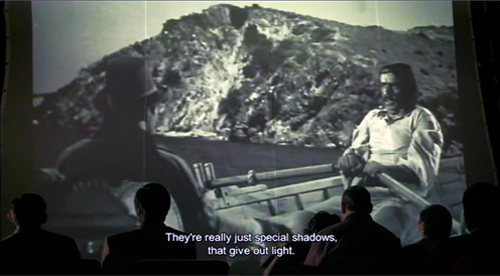 Night Across the Street (2011). 
DB here:
The cinema-is-dead complaint, Richard Brody helpfully points out, is now an established genre of movie journalism. In the last few weeks David Denby, David Thomson, Andrew O'Hehir, and Jason Bailey have in different registers sought to revive this quintessentially empty polemic. I've gone on about the tired conventions of film reviewing about once every year on this soapbox. (Try here and here and here and here; Kristin got in some licks too). For now I'll just say that I'm convinced that the Death of Cinema (or Hollywood, or the Intelligent Foreign Film, or Popular Movie Culture, or Elite Film Culture) is simply a journalistic trope, like Sequels Betray a Lack of Imagination or This Movie Reflects Our Anxieties. In short: an easy way to fill column inches.
These squibs seemed especially damp this time around because while these guys were knocking Hollywood and/or art movies I was enjoying the Vancouver International Film Festival. If you're willing to watch mainstream entertainments from outside Hollywood, or films that aren't the bland arthouse fare full of stately homes and British accents, or even films that don't chop every scene to splintery images, Dr. Bordwell has a cure in mind for you.
Had you been looking for breezy or outlandish entertainment, for example, the Dragons and Tigers wing didn't disappoint. Helpless, from South Korea, is a thriller built around identity theft. I thought it was clumsily plotted, but it sustains curiousity through the apparently bottomless series of discoveries a man makes about his missing fiancée. Jeff Lau's East Meets West is a Hong Kong farrago of rapid-fire gags, weird haircuts, references to old Cantopop, and nonchalantly wacko storytelling. Granted, the central idea of making the Eight Immortals of legend into modern superheroes (and one supervillain) is smothered by Scott Pilgrim-style SPFX. Still, I will watch Karen Mok Man-wai and Kenny Bee in anything, albeit for different reasons. Closer to mainstream Hollywood tastes was Nameless Gangster, in which a restless flashback structure traces the rise of a flabby brute from customs agent to top drug smuggler. Yoon Jongbin's slickly-made film ends with an abruptness that recalls the conclusion of The Sopranos.
Of all the pop-entertainment movies I saw at VIFF, the audience favorite was doubtless Key of Life, a nifty Japanese crime comedy. An amnesiac hitman and a shambolic slacker swap identities in a cunning series of coincidences that brings on some satisfyingly menacing underworld types. Intersecting the men's misadventures is a hyperorganized OL, or office lady, who determines to find herself a husband within a month. Everything sorts itself out, of course, with one nice wrapup saved for the middle of the closing credits. This is the kind of Japanese diversion I've recorded a liking for earlier (Uchoten Hotel and Happy Flight). Hampered by a wretched title, Key of Life probably won't get US theatrical distribution, although it may make some headway on VOD. Aussie movie maven Geoff Gardner and I agreed that if we had the money, we'd buy the remake rights.
Everything new is old (again)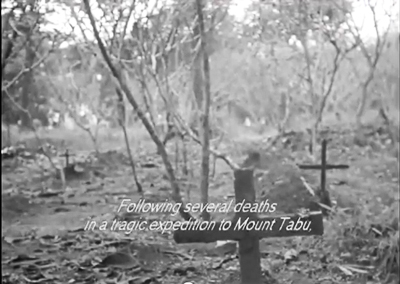 Tabu (2012).
Form is the new content, they say. (Too simple, but some do say it.) No surprise, then, that part of what appeals in contemporary cinema is its overt reworking of previous styles. Neo-noir is perhaps the most common current example, but ingratiating retro-stylings were on display in more rarefied forms at VIFF.
Part of the appeal is the rediscovery of the glory of the 4:3 aspect ratio. Kristin has already talked about how Pablo Larrain's No appropriates a seedy U-matic look to tell its tale of 1970s Chilean politics. A similar pastiche effect emerged from Mine Goichi's All Day, a short that used even grubbier video to parody Japanese family dramas. May we expect to see more VHS-looking movies? I wouldn't mind.
Silent cinema pastiches are usually lame, as witness The Artist, which scrambles history and treats old films as oddly soft-minded. (No Hollywood drama of the late 1920s would have been built around a protagonist so feeble he tries to commit suicide twice.) Jean Dujardin, and contemporary audiences that adore his film, should catch up with Hayashi Kaizo's To Sleep As If to Dream (1986), in which the contemporary story is played as a silent film and the rediscovered (fake) old film is accompanied by benshi commentary and music. The "forged" footage in Forgotten Silver also shows how good filmmakers can create convincing, pleasantly anachronistic imagery.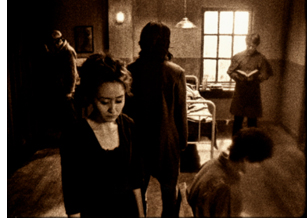 At VIFF, another D & T short, Yun Kinam's black-and-white Metamorphosis (right) tried to replicate the look of silent cinema. While a family crowds around a deathbed, we get disruptive editing, aggressive depth, and even static flashes (those vein-like seepages into the image caused in old films by cold temperatures). As a retro exercise, Metamorphosis is better-informed and more evocative than what we get in The Artist. Suggestions of Maya Deren and Menilmontant gives these images the aura of having been exhumed from the archive.
More celebrated since its Berlin triumph (two awards) is another 4:3 exercise, Miguel Gomes' Tabu. A vaguely 1920s prologue shows a brooding tropical explorer who has seen his ex-wife as a ghost. Then Part 1 ("Lost Paradise") takes us to stately black and white imagery of contemporary Lisbon. It's late in December, and Pilar is concerned about her elderly neighbor Aurora. The old woman is taken to a hospital and asks Pilar to find Aurora's old lover, Ventura. By the time Pilar discovers him, it's too late. After Aurora's funeral, Ventura starts to explain how they met in Africa. Here starts Part II ("Paradise").
Now the film becomes hypnotic. In Africa, Aurora is married to a sturdy, good-natured colonist, and she can hunt and shoot with the best of them. Ventura and his friend Mario, who's becoming a pop crooner, are taken into the household. He and Aurora begin a torrid affair. Part II is rendered without onscreen dialogue, but not in exact mimicry of silent cinema. There is piano music, it's true, and much of the action is carried by letters, as in a lot of silent movies. But there are no intertitles; instead, all the action is played out with the support of Ventura's voice-over, occasionally supplemented by the young Aurora reciting letters she wrote. Moreover, Mario's band and his singing are rendered in full lip-synch. More eerily, as Ventura explains the rise and collapse of the love affair, we get highly selective bits of noise—not everything audible in a scene, but perhaps the tinkle of glasses or a faint wind. These become the aural equivalent of glimpses.
"Paradise" gives us silent cinema not replicated, but refracted through memory and romantic longing. In a film paying homage to Murnau (a forbidden romance as in Tabu, the name Aurora recalling Sunrise), Gomes has apparently also sought to give us something like the "part-talkies" of 1928-1929. Those films had full-blown dialogue scenes (as in Part I) and other scenes containing only music and effects (Part II), relieved by synchronized musical numbers (a sequence showing Mario's band performing by the pool). Tabu recovers something of the strangeness of those transitional films, notably Sunrise itself, while remaining highly contemporary. It knows that we can turn to tradition when we want to rekindle a romanticism that would look high-flown today.
Long live the long take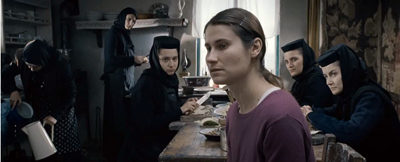 Beyond the Hills (2012).
At about 16 seconds per shot, Tabu has the same cutting rhythm as some early talkies, like The Black Watch and Hearts in Dixie. Today, as we've seen, the long take is increasingly the province of movies that play chiefly at festivals. All other things being equal, a movie with around 1200 shots, like the very popular Danish import The Hunt, will be an easier sell on the arthouse circuit than, say, Beyond the Hills, with only about 110 shots in 148 minutes. It's a pity. Although The Hunt is a solidly crafted drama in the Nordic enemy-of-the-people tradition, it moves rather predictably across the combustible subject of false accusations of child molestation. Beyond the Hills, by Cristian Mungiu, director of Four Months, Three Weeks, and Two Days, is more enigmatic and demanding.
Voichita is a nun in a rural Orthodox enclave in Romania. She's visited by her friend Alina. The two grew up as best friends in an orphanage, but Alina went to Germany to work, and now she insists that they must run off together. Voichita resists. Alina claims that Voichita once agreed to this plan. Has the young nun changed her mind and committed to the church? Or is Alina's plan an idée fixe that Voichita has simply humored, without ever intending to join her? Were they perhaps lovers? Alina's endless staring at Voichita and her lunges at suicide suggest deep passions at stake.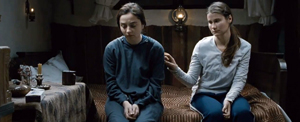 The refusal to supply full exposition makes characterization enticingly uncertain. Voichita's wide-eyed sympathy for her friend can be seen as both pliable and stubborn, while Alina's nearly wordless reprimands imply that Voichita has betrayed her. But perhaps Alina is just asking too much, or Voichita is being too unbending. The couple's drama is played out against the stringent background of a female community ruled by a priest. Alina is incorrigible, not responding to the gestures of salvation extended to her, and agreeing, stone-faced, that she has committed every sin on a list of over 400. Eventually the pious souls decide that Alina is possessed, and her demons must be exorcised. In a simple gesture of solidarity, Voichita declares something like love for Alina, but too late.
Alternating discreet handheld takes with fixed shots staged in depth, making no concessions to impatience or easy responses, Beyond the Hills recalls the sobriety of Dreyer's Day of Wrath and Bresson's Les anges du péché. It plays out in a rougher-textured, muddier world, but it's no less concerned with the dynamics of compassion and cruelty, dogmatism and eroticism. In each, a woman is ready to sacrifice herself for love. As Romania's Oscar submission, Mungiu's film deserves to find an audience in the US.
Long takes were also a specialty of the late Raúl Ruiz, whose penultimate film, Mysteries of Lisbon, won him probably the widest audience of his career. That film displayed his fascination with proliferating stories, but its adherence to a single plane of reality was exceptional in the career of a fabulist who enjoyed confounding all types of realism. In that regard, Night across the Street, his last fully completed work, is more characteristic.
An old office worker is about to retire and is convinced that someone is coming to kill him. While Don Celso awaits his assassin, he fraternizes with his co-workers, with schoolteacher and author Jean Giono, and with others in the hotel where he resides. He also recalls his childhood, when he talked to Long John Silver and went to movies with Beethoven. Eventually the plot shifts levels of reality even more radically, as one séance blends into another, characters shot down in a massacre return to life, and eventually Celso takes credit for inventing the people around him.
Mungiu's handheld shots have no place here. As in Mysteries of Lisbon and his Proust film, Time Regained, the camera glides through this world with velvety assurance. Sometimes the characters do too, as they seem to ride the dolly or saunter in front of a blatantly unreal backdrop. Ruiz subverts academic cinema by using its well-upholstered technique, but he also mines film history. He revisits tableau staging in the shrewdly split set of Don Celso's office, and he continues to exploit his more-Wellesian-than-Welles big-foreground technique.
Above all, the boy's trip to the movies, in an awkwardly tilted image in which the usher usually blocks the screen, pays typically skewed homage to the medium's enchantment. The mock film of Ruiz's Life Is a Dream has given way to The Foxes of Harrow, the Hollywood cinema of Ruiz's childhood.
Land, sea, and sky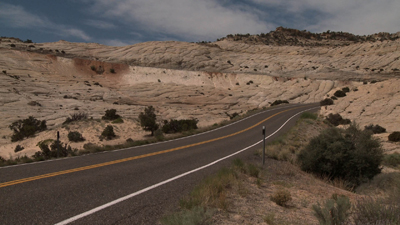 small roads (2012).
When one thinks of the long take, James Benning comes quickly to mind, and small roads is true to form—in more ways than one. Forty-seven fixed shots in 102 minutes take us from the Far West to the South and to the Midwest before shifting westward again. The roads are indeed small, far from superhighways and traffic circles. As usual, landscape is the protagonist and slight shifts in image or sound arrest our attention. There are plenty of perceptual teasers. When a distant truck descends the distant sloping road above, it vanishes. Will it re-emerge in the nearer road? At another point, we wonder when, or if a car we hear will appear in the frame.
Hogarth spoke of art that leads the eye "on a wanton kind of chase," and Benning's roads—almost never seen from dead center, so we're not given central perspective—carve oblique or sinuous paths into fields, plains, deserts, and forests. Road signs reenact the curve of the roadway, with carets and squiggles providing spare geometric "readings" of the piled-up surfaces of color and mass. There's also some synesthesia. In one shot, I thought I heard mist rolling in. The topographies are real but through Benning's strict scrutiny they become as fantastical as Ruiz's dreamscapes.
That's why I suspect that roads aren't the real subject of the film. They serve as a pretext for Benning's recurring interests in how wind curls clouds and makes branches tremble, how light outlines trees, how shapes like squat black oil derricks and the textures of fat snowflakes and soggy leaves can command the frame. Now that Benning has moved to digital filming, he has discreetly inserted some CGI. I couldn't spot any, though one partial moon in daylight looks suspicious to me. No matter. Painterly beauty, along with a certain placid mystery, is enough for any movie nowadays.
At the other extreme lies the bustle of Leviathan, a poetic, quasi-abstract documentary by Lucien Castaing-Taylor and Véréna Paravel. The filmmakers capture a New Bedford fishing trip through GoPro digital mini-cameras worn by fishermen, tossed into a netful of fish, or dragged through the water. Long takes abound here too, but it's hard to say how many. As in The Man with a Movie Camera, the very boundary between one shot and another is put into question. So is the boundary between us and the space onscreen, as we're weirdly wrapped in the extreme wide-angle yielded by this lens.
This is what you get when no human eye is looking through the camera. Often, in fact, nobody could look through the lens. No head, let alone human body, could occupy the space of some of these shots. Chains roll out past us from churning greenish darkness, while fish drift and slither on all sides. We're right next to a gull trying to use its beak to lift itself to another area of the hold. Here the fish-eye lens lives up to its name. The camera bobs in a tank as fish are tossed in and spin aimlessly past. Coasting along the edge of the craft, we dip abruptly in and out of the heaving water, our plunge accentuated by brutal sound cuts. We chase starfish and ride waves, spinning up to watch gulls blotting out the sky. Accelerations of speed (again, Man with a Movie Camera comes to mind) render the action hallucinatory, especially since the shutter can capture foam with strobe-like precision.
One result is a disembodied, dehumanized vision of sea and sky: The camera as flotsam. But we also get bumpy, skittish visions of human labor definitely tied to bodies that harvest the ocean. Work activities are filmed from cameras lashed to the fishermen's heads or lying on the deck among scallops to be shucked. Most documentary close-ups of artisans' tasks are taken from far back and with long lenses; here the very wide-angle GoPro lenses not only show tasks from the inside, but their distortions exaggerate each gesture, sometimes heroically, sometimes grotesquely. Either way, human activity has been defamiliarized no less than undersea life.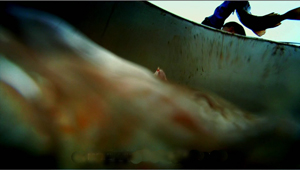 We start the movie immersed in a welter of details and stay enmeshed for nearly an hour. Only then do we get an "establishing shot" showing the boat deck and mapping the overall process of filling and emptying the nets. And fairly soon after that, as if to parody the usual documentary about fisher folk, we get a four-minute shot of the captain dozing off while watching a TV show (apparently The Deadliest Catch). Leviathan ends with a sequence that brackets the chiaroscuro of the opening, but we no longer see a clam's-eye-view of being snagged. Instead, we get barely illuminated darkness with whiffs of crimson teasingly darting to the edge of the frame, as if to signal the end, before swerving back to the center, then heading offscreen. Again, Ruiz has the line: Special shadows that give off light.
Ready to declare cinema dead? There is a cure for your malaise. We call it a film festival.
---
More of my thoughts on Ruiz can be found here and here. His widow Valeria Sarmiento completed his very last project, The Lines of Wellington.
On small roads and digital manipulation, see Michal Oleszczyk's discussion at Slant and Robert Koehler's informative review in Variety. In correspondence Benning confirms:
Yes, lots of compositing, but no speed changing, although the border cops are going around 100 mph. . . . Shot 26 has a sky that was filmed the next day about 100 miles away.  And yes the moon was out, but that shot is pointing north so I filmed the moon in the southern sky during the day, and put it into the northern sky.  All the compositing was done with shots I made; always somewhere nearby. (100 miles is nearby when you circle 2/3 of the US.)
You can learn more about Leviathan from Dennis Lim's article on the filmmakers in the New York Times. The New York Film Festival provides a lengthy Q & A on its website. See also Phil Coldiron's "Blood and Thunder: Enter the Leviathan" in the latest Cinema Scope, with some superb frame enlargements. Above all, don't miss the extract on vimeo, which gives you a good sample of the splendor of this film.
Leviathan (2012).