Monday | April 16, 2012
open printable version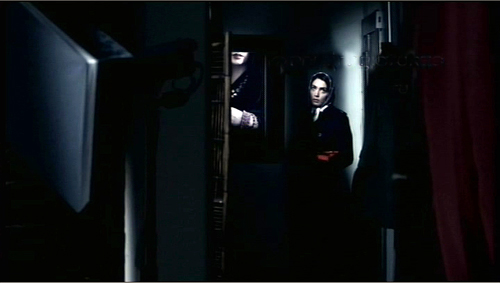 Good Bye (Mohammad Rasoulof).
DB here:
The thirteen years of our Wisconsin Film Festival have furnished plenty of high-definition moments. I'll never forget Roger Ebert facing a crowd of a couple of thousand in the Orpheum Theatre to introduce A Hard Day's Night, or Michael Snow explaining Corpus Callosum to a couple of hundred of the devout in our Cinematheque. We sponsored the first retrospective of Hong Sang-soo's work—after he had made only three films—and he came along. Hundreds of young filmmakers have visited Madison with their independent works, while we've also sponsored some wonderful restorations of classics. Somehow spring always arrives right on time as people line up, chatting, to pass from sunshine into the darkness of our local movie houses, or to the many coffeehouses and pubs near the venues.
Some years the festival has clashed with the Hong Kong International Film Festival, and it's always been awkward for me to leave Madison for the Fragrant Harbor. But this year, number 14, I can happily stay at home and let the festival come to me.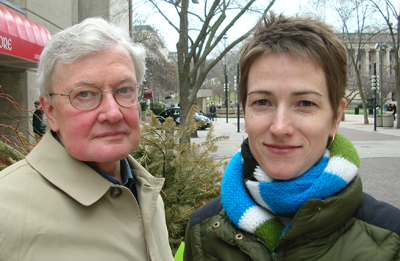 Roger Ebert and Meg Hamel, Wisconsin Film Festival 2006.
You can see what's on offer here. Our programming team has gone the full distance for us.
This year's guests include the distinguished experimentalist Phil Solomon (three programs, one curated by him) and Dan Levin, cognitive scientist and part-time filmmaker , who's paying tribute to Joel Gersmann in a movie called Filthy Theater. We also have James Schamus of Focus Features. You know him as the award-winning screenwriter of many Ang Lee films and a founder of the Good Machine company, a bastion of bold independent cinema in the 1990s. His New York Times profile is here. James is giving a talk, "My Wife Is a Terrorist" on Thursday at 7:30, and it should be quite something: a narrative analysis of his wife's Homeland Security file, including, he promises, meditations on redactions.
I thought I'd use today's entry to signal to Madisonians, and anybody else who's interested, some of the films that we're showing that I've found worthwhile. In some cases, I supply links to write-ups on this site.
Monsieur Lazhar is a warm drama given astringency by its sudden bits of realism. The mysterious title character takes a teaching post in a primary school and must negotiate between corridor politics and students' personal problems. Just enough sweetness, just enough toughness, and just enough of an uncertain ending to put it squarely in the Tradition of Quality. That isn't meant as a complaint.
For me The Devil, Probably is second-tier Bresson, which means first-rate anybody else. People tend to forget that this spiritual director, his eyes supposedly lifted to the clouds and mists of holiness, was also resolutely secular. He was fascinated by young people and their way of being in the world, from the boyish Country Priest to the hapless Mouchette. Moving with the times, he gave us this reflection on post-'68 disenchantment with where things were going. I should see it again. Everybody should.
Good Bye (aka Goodbye) has a bit of Bresson about it. It's an austere film concentrating on a woman lawyer forced out of her profession and up against a plethora of problems. Her past and present unfold gradually: Every scene has two levels, usually a mundane action that gradually yields hints about her husband, her unborn child, and her plans to leave Iran. A scathing portrait of a culture of bureaucracy, bribery, and surveillancer (the film was smuggled out of the country), Good Bye will stay with you. Kristin talks about it here.
Current, in my view wholly justified, admiration for Tinker Tailor Soldier Spy should bring people to The Deadly Affair, Sidney Lumet's intelligent version of A Call for the Dead. All have had their say about Guinness vs. Oldman as spymaster George Smiley, but what about a 57-year-old James Mason in the role? This time around the sexual jealousies underlying the recent Tinker Tailor are brought to the fore (the title is a pun), with Harriet Andersson as a ravishing Ann Smiley.
Another Brit retrospective item is Alberto Cavalcanti's Went the Day Well? Kristin spent a whole blog on this surprisingly grim study in complacency overcome by offhand heroism.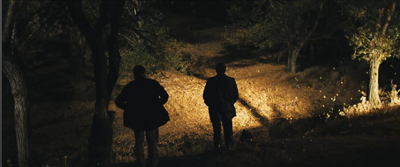 One of the very best films we saw at Vancouver last fall was Once Upon a Time in Anatolia (above), which we discuss a little bit here. Somber and mesmerizing, it coaxes you to pay attention. My kind of movie.
Action pictures are a universal genre; every culture makes some good ones. The French have been at it longer than most, and a happy result is
Sleepless Night.
A cop (is he dirty or just working undercover?) has to rescue his kidnapped son from a drug dealer. It was a neat idea to stage action scenes in a jam-packed disco-cum-casino, complete with glitterballs and zebra-skin doors, so our scruffy protagonist must hurtle through masses of the hip rich. There's a kitchen-utensil fight according to Hong Kong rules: Use everything to hand as a weapon, and don't stop until everybody collapses in pain and exhaustion. Lots of handheld work, but mostly coherent, with an admirable fondness for precise matches on movement. Kinetic fun, and wall-eyed for Hollywood.
Speaking of Hong Kong, there's one of Johnnie To's latest, Life without Principle. This story of intersecting destinies during the European financial crisis spurred me to comment at some length here. To is, in my immodest opinion, one of the best directors working anywhere today, and a chance to see his recent work is really splendid. We have a 35mm print, and I'm tempted to go back and see it a third time.
Klown's outrageous bad manners are perhaps a little too calculated, but this Danish dramedy from Lars von Trier's company does catch you up. Laced with jokes about pedophilia and manly touching rituals, it seems at first glance a rough-edged bromance. Two pals and a nephew go on a canoeing trip aiming to end at an upscale brothel. After a string of slapstick disasters, the thing looks ominously like it might end in hugs and cheerful tears, but the biggest sting comes in the last few seconds. With a funny, offhand performance by musician Bent Fabric and a walk-on by Jørgen Leth (himself no stranger to outlaw sexytime).
Testosterone to the bursting point is no less on display in Policeman, a bristling, brutal examination of male bonding among Israeli cops. Although it builds to an incendiary action sequence, it's mostly a study of how people of all classes and political cultures acquire an appetite for violence. Kristin wrote about it here.
Ben Rivers' Two Years at Sea is a low-key, haunting piece. A portrait documentary? Semi-autobiographical fiction? Experimental film? All three, I guess. And in glorious black-and-white 16mm, which Rivers processes himself. Kristin gives it thumbs up here.
Finally: No film can portray the state of a country at a moment in history, but you'll be thinking a lot about how today's Russia might work after you see Elena. A character study of a woman whose ruthlessness is made reasonable and even sympathetic, a thriller centered on how to keep your enemies close, and a sociological study of the haves and have-nots in rapacious capitalism.
Because these are outstanding movies, several are listed as sold out. But some seats have been kept aside, and inevitably some who bought tickets won't show up. The festival staff tell me that there will be a wait line for each show, and they'll try to get everybody in. Me, I hope to watch at least a dozen programs, and I'll try to blog about some in the afterglow. See you there?
Sleepless Night (Nuit blanche; Frédéric Jardin).