Tuesday | April 7, 2009
open printable version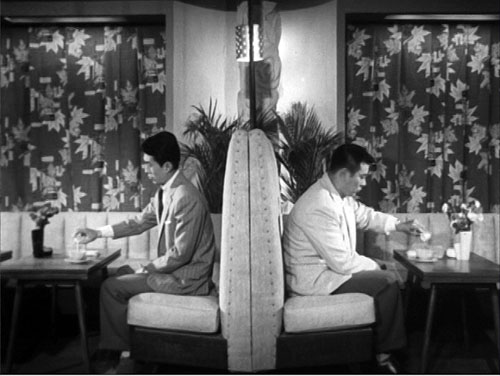 DB here, still in HK:
One director is about as conservative, artistically speaking, as you can get. The other is the long-established wild man of Hong Kong cinema. Both are showcased in retrospectives at this year's Hong Kong International Film Festival. In a later post, I'll talk about the outlier; today it's the Organization Man.
The Hong Kong Film Archive is running a series of works of Evan Yang (Yang Yi Wen). He wrote novels, scripts, song lyrics, and passionate letters to his wife and mistresses, but he's mostly remembered as a director. Laboring for M. P. & G. I., the Hong Kong studio owned by the Cathay company, Yang established his reputation as a reliable craftsman.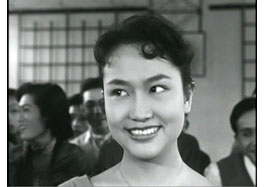 Yang is best remembered for a string of 1950s Mandarin-language movies set in modern Hong Kong; many sequences offer a virtual travelogue of the energetic, sun-drenched colony. Probably Yang's most famous film is Mambo Girl (1957), starring the effervescent Grace Chang Ge Lan, but local audiences have a fierce sentimental attachment to his two-part historical romance Sun, Moon, and Star (1961). I've seen some of these in other thematic retrospectives, but this series is quite thorough. It includes films Yang wrote as well as ones he directed, and it will run through mid-May.
It's hard to disagree with the severity of the program notes. "His films often suffer from loose structure and sloppy direction. . . Always professional but never a perfectionist. . . . Evan Yang is not a master, nor is he a great film artist. . . ." The impression, not wrongheaded, is of a Hong Kong Charles Walters. But Yang worked hard. In the Archive's exhibition of his personal papers, you can see his tidy, artisanal dedication. The script pages on display include elaborate notations of shots (ls, cu, diss to…) and markings for repeated setups. It's evident that Yang took pains to create his smooth, barely noticeable style.
His effort shows on screen. His staging is clean and functional, though he is probably too fond of lining people up in rows. There's seldom a self-consciously flashy shot or unstable composition. The emphasis is always on straightforward rendering of the melodramatic situations that drive his plots. A doctor falls in love with a patient who's married (A Little Girl Named Cabbage, 1955). A clerk's daughter is beautiful but mute, and the family needs money for her operation (The Beauty and the Dumb, 1954). A cat burglar trying to go straight runs afoul of his mercenary wife, who abandons their daughter and then returns to blackmail the family raising her (Blood Will Tell, 1954). Despite the all the adversity, however, things usually turn out well. In Madame Butterfly (1955), Yang updates the opera, making Pinkerton a Hong Kong businessman, and the string of pathetic coincidences swerves into a happy ending.
The musicals and comedies, although more light-hearted, still bear streaks of melodrama. What I had remembered about Mambo Girl is its fascination with that dance craze, but the plot actually has a serious basis: Grace learns that she's adopted and sets out to find her birth mother, who turns out to be a nightclub singer. The breezier college romance Spring Song (1959) takes itself not at all seriously, but there is a persistent class antagonism between Grace and her rich rival.
Stylistically, Spring Song shows us Yang in a playful mood. There's a visual gag during a scene in a coffee shop when our two male leads, Peter Chen Ho and Roy Chiao, wait for their girlfriends. Yang makes them mirror images, even timing the waiters' arrival to create a funny framing.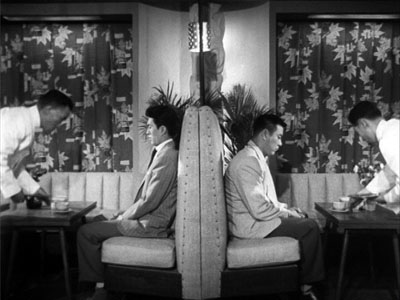 Of course when the women arrive and see each other, comic misunderstandings ensue, also played out symmetrically.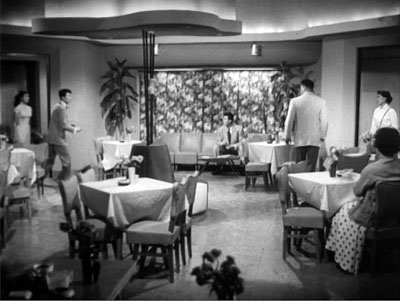 Somewhat more subtly, Yang stages the opposition between Grace and Jeanette Lin Tsui during a meeting of classmates by putting the antagonists at extreme ends of a crowded frame.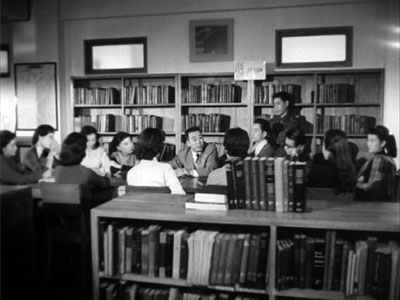 The archive has produced a handsome book of Yang's memoirs, in Chinese only, as well as an informative bilingual pamphlet on the retrospective. I hope to sample other items in the series before I leave next week; you know I won't miss Yang's take on spaghetti Westerns, Magnificent Gunfighter (1970).
Even if he weren't such a solid craftsman, I'd respect his films' sheer documentary value. When Hong Kong movies of the 1950s venture outside their rather creaky interior sets, they often yield up radiant images of a city on the rise. The scene in The Beauty and the Dumb showing Peter Chen Ho crossing the harbor, sitting happily in his sportscar on the Star Ferry, is enough to brighten your evening.
Spring Song, Mambo Girl, Sun, Moon, and Star, and other Yang films are available on DVD and VCD in English-subtitled, not-so-great transfers from Cathay.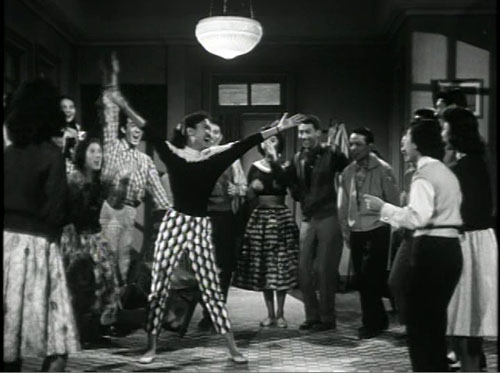 Mambo Girl.