Saturday | March 22, 2008
open printable version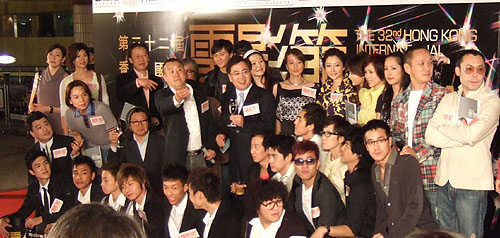 Today, pix from two get-togethers during the Hong Kong International Film Festival.
Johnnie's dinner
Johnnie To gave another of his legendary dinners, this time to a crowd of filmmakers, distributors, festival directors and programmers, and hangers-on like me. The meal was old-school HK fusion, mixing Brit colonial food (boiled tongue, boiled potatoes, boiled veggies) with unique local variations (pigeon, a puffy vanilla soufflé). I think it's akin to what Maggie Cheung and Tony Leung scarf down so elegantly in In the Mood for Love. Very tasty.
Among those present: Director Kirk Wong.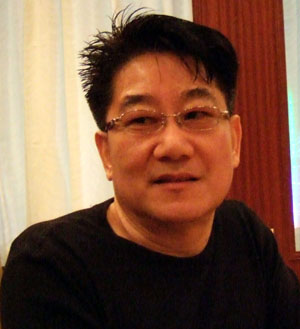 Kirk made The Club (1981), Health Warning (1982), Gunmen (1988), and other classics, including the 1994 double-header Organized Crime and Triad Bureau and Rock 'n' Roll Cop. These are terrific movies, admired by every fan of action cinema.
Festival consultants consult: Mike Walsh (Melbourne, Adelaide); Stephen Cremin (Far East Film Festival of Udine, Screen International); and Todd Brown (S x S W, FantAsia, Twitchfilm).
Cameron Bailey, Co-Director of the Toronto International Film Festival, lets me try an Ozu-style composition.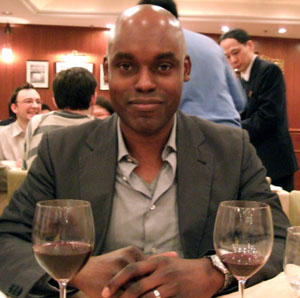 A small bolt of lightning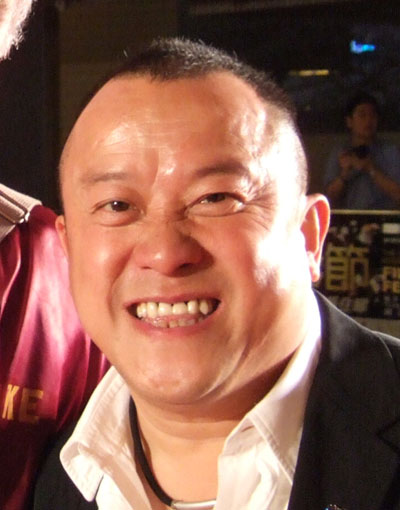 One of the most appealing things about Hong Kong film is that character actors, as we call them in America, go on and on, becoming not only stars but directors and producers. As Leslie Cheung pointed out, the local audience is loyal to its favorites and encourages them to try many things.
Eric Tsang, the short, cherubic guy with the perpetually hoarse voice and blinding smile, began, surprisingly, as a soccer player. In 1974 he became a bit player and stuntman in Shaws' martial-arts releases. He directed two of the movies in the top-grossing Aces Go Places cycle (1982, 1983), and rose to become a screen personality. He's so familiar to Hong Kong movie lovers that we couldn't call him Tsang; he's just Eric, and he's irreplaceable.
He worked steadily and hard, appearing in nine films in 1985 and an astounding seventeen in 1988. Several of his performances are superb: playing a small-time loser in Final Victory (1987), a flamboyantly gay music coach in He's a Woman, She's a Man (1994), a philandering policeman in the exhilarating and little-known Task Force (1997), a wistful romantic in Metade Fumaca (1999), and of course an implacable triad boss in the Infernal Affairs trilogy (2002-2003). He perks up every movie he graces, rescuing routine projects with his beaming ordinariness. In a fairly ordinary policier like Cop on a Mission (2001), he starts out as a thuggish menace and becomes not only sympathetic but heroic in his devotion to his errant wife.
Cop on a Mission is one of several of Eric's films screened in the HKIFF tribute. The event also emphasizes his role as a producer. Thanks to him, we have The Outlaw Brothers (1990), Dr. Mack (1995), Men Suddenly in Black (2003), Jiang Hu (2004), and several films he coproduced with Peter Chan Ho-sum. Most recently, Eric has launched a project to support young directors. He launched Winds of September, a feature trilogy about coming of age in the "three Chinas"—the mainland, Hong Kong, and Taiwan.
For the premiere of Tom Lin Shu-yu's Taiwan entry on Friday night, the festival held a little party for several hundred of Eric's closest friends. For once, that last phrase is no joke; everybody feels close to him.
Glamor to spare: Cheng Pei-pei, of Shaws' glory days and since, with her daughter Marsha Yuan Zi-hui.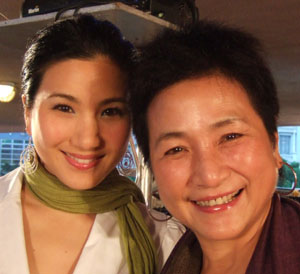 Peter Chan, fresh from the success of The Warlords, chats with Tony Rayns.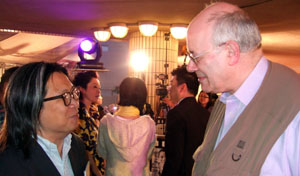 Michelle Carey, Festival Editor of the encyclopedic online journal Senses of Cinema and scout for several film festivals. Alongside, Cheung Tat-ming, idiosyncratic young actor; check out his laid-back performance in Once Upon a Time in Triad Society 2 (1996).
Also there were Teddy Robin Kwan, a wonderful actor and pop singer who first made his mark with movies from Cinema City, and Albert Lee, this year's Executive Director of the festival.
And Eric was as entertaining from the back as from the front.
Next time, I promise more on the movies. I close with two items:
Strangest line of the last twenty-four hours: From inside a hotel room I was passing: "Mom, I haven't mentioned a threesome until now."
Johnnie To shows himself a man of outstanding taste.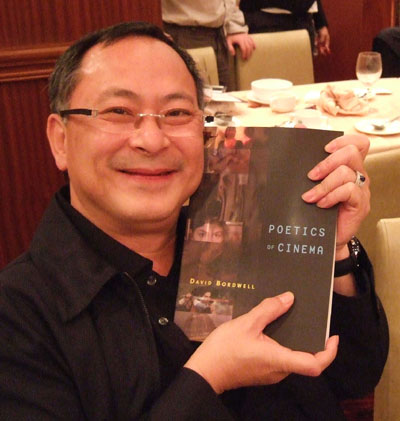 And I show myself a man of no shame. But you knew that already.