Friday | January 18, 2008
open printable version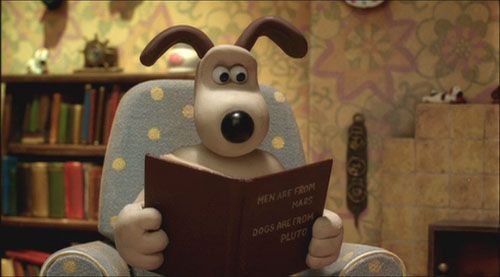 Cracking Contraptions: The Tellyscope
Kristin here—
David and I are currently plugging away on revising our Film History textbook. In setting out to update the section on Aardman animation, I ran into difficulties pinning down the dates of certain television series or the director of a given short film. Indeed, I was quite surprised at the dearth of complete chronologies or filmographies for such a famous and important company.
The obvious sources such as Wikipedia and the Internet Movie Data Base, are helpful but sketchy. Aardman's own "History" section on its official website is even briefer–and ends in 2005. The filmography in Peter Lord and Brian Sibley's coffee-table book, Creating 3-D Animation (p. 189), is far from complete. (I must confess that I'm still using the first edition, but even so the filmography is sketchy for the period it covered. The revised edition came out in 2004.) Each source was, however, incomplete in different ways. I decided to try and compile as comprehensive a chronology/filmography as I could as a research and reference tool. This turned out to be a considerable task. Given how little of this work will end up in the textbook, I decided that I might as well offer it to the world.
I expected to find one or more fan-originated sites that would provide additional information, as so often happens in the world of popular culture. The main "unofficial" site that came up when I Googled Aardman is actually an online shop with scarcely any actual information.
What follows is not by any means complete. It's more like a rough draft for a filmography, though it's more detailed than any that I have found so far. No doubt it has gaps and perhaps inaccuracies. One problem I encountered is that dates given in various filmographies seem to waver between when a film was made, when it was copyrighted, and when it was released to theaters or first shown in TV. I've tried to stick to release/broadcast dates when I could find them.
Aardman has produced many ephemeral animations for station-identification logos, credit sequences, and websites, as well as perhaps hundreds of commercials. I've made no attempt to include commercials, apart from the Heat Electric series, which are available on DVD. The following primarily includes television shorts and series, as well as films.
My main sources of information are: The Internet Movie Datebase; the history section of Aardman's official website (which ends with 2005); the Big Cartoon Database's Aardman page; Lord and Sibley's Creating 3-D Animation; Insideaard (a booklet included in the British DVD Aardman Classics); and the credits of various Aardman films on DVD and on AtomFilms. Some details have been filled in from the Wikipedia entries on Nick Park and Steve Box. The main Aardman entry is so far rather sketchy, though it includes some films not listed in other filmographies and links to entries on the individual films and series, given below.
[Added January 29: Aardman itself might seem to be the ideal place to start, but the company doesn't currently have a list of all its productions. It recently hired an archivist who, among other tasks, plans to compile such a list, including the commercials. In the meantime, this entry can serve as a stop-gap reference source.]
* indicates a music video, as identified in Lord and Sibley.
1970s
c. 1972, Friends and amateur animations Peter Lord and David Sproxton sell an untitled cel short featuring a "Superman" gag (illustrated on p. 10 of Lord and Sibley) to the BBC for about ₤15, for its "Vision On" series (producer Patrick Dowling; aimed at deaf children). The superhero's name, Aardman, would give the pair's company its name.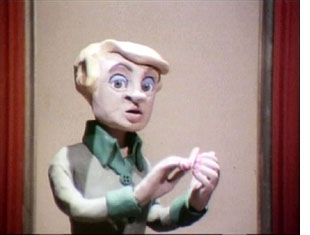 1976 Aardman Animation founded
1978 Two films for "Animated Conversations" series, BBC: Down and Out (copyright 1977) and Confessions of a Foyer Girl (left; both dir. Lord and Sproxton). First use of real-life interviews for soundtracks.
1980s
1979-1982 Morph shorts for BBC. Initially part of "Vision On" series, then "Take Hart," and finally on its own as "The Amazing Adventures of Morph" (dated 1981-83 in Lord and Sibley; 1980-81 on imdb).
c. 1982 Aardman starts making commercials. This becomes the financial staple of the studio and allows the company to move into larger facilities and hire more staff. Thereafter Aardman has produced 25-30 commercials a year. Lord and Sibley's filmography contains a list of the products/companies for which Aardman made commercials from 1982 to 1998, but listed alphabetically without individual dates. (A few of these are on YouTube, such as this one for Chevron.)
1983 "Conversation Pieces" series: Sales Pitch, Palmy Days, Late Edition, Early Bird, and On Probation (dir. Lord and Sproxton). All shown during one week on Channel Four for its first anniversary.
1985 Nick Park joins Aardman full time
1986 Babylon (Lord and Sproxton) First film that Nick Park worked on. Channel Four
* Sledgehammer (dir. Stephen Johnson; Aardman's portion animated by Park, Lord, Richard Goleszowski) Peter Gabriel music video.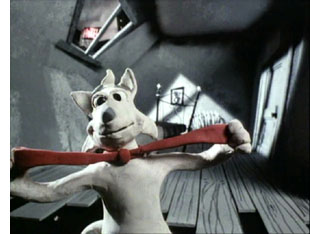 1986-91 Aardman provides the "Penny" segments for five seasons of "Pee-wee's Playhouse," CBS.
* 1987 My Baby Just Cares for Me (dir. Lord; right)
Going Equipped (dir. Lord)
* Barefootin' (dir. Goleszowski) On YouTube
* 1988 Harvest for the World (one sequence, dir. Sproxton, Lord, and Goleszowski)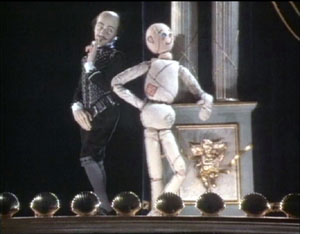 1989 "Lip Sync" series: Next (dir. Barry Purves; left), Ident (dir. Goleszowski; first appearance of Rex the Runt), Going Equipped (dir. Lord), Creature Comforts (dir. Park), War Story (dir. Lord) Channel Four
Creature Comforts spawns the "Heat Electric" series of ads
A Grand Day Out (dir. Park) Produced by the National Film & Television School and finished with help from Aardman. The introduction of Wallace & Gromit.
Lifting the Blues (dir. Sproxton)
1990s
1990 Steve Box joins Aardman
1990-91 Rex the Runt: How Dinosaurs Became Extinct (dir. Goleszowski)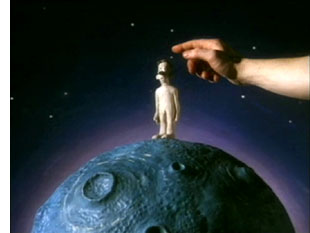 1991 Adam (Lord; right)
Rex the Runt: Dreams (Goloeszowski)
1992 Never Say Pink Fury Die (dir. Louise Spraggon)
Love Me … Loves me Not (dir. Jeff Newitt)
1993 The Wrong Trousers (dir. Park). Co-financed by Aardman and the BBC. Shown during the Christmas season.
Not without My Handbag (dir. Boris Kossmehl) Channel Four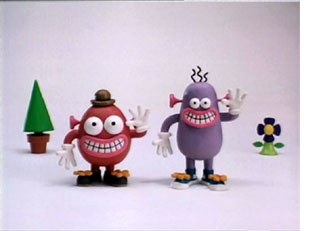 1994 Pib & Pog (dir. Peter Peake; left)
1995 A Close Shave (dir. Park), shown on the BBC at Christmas.
The Title Sequence (dir. Luis Cook and Dave Alex Riddett)
The Morph Files (dir. Lord and Sproxton) BBC
1996 Rex the Runt: North by North Pole (Goleszowski) "Pilot"
Wat's Pig (dir. Lord) Channel Four
Pop (dir. Sam Fell)
* Never in Your Wildest Dreams (dir. Bill Mather)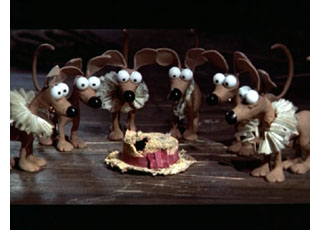 1997 Dreamworks pre-buys the U.S. rights to Chicken Run
Stage Fright (dir. Box, right)
Owzat (dir. Mark Brierly)
1998 Humdrum (dir. Peake) Channel Four and Canal +
Al Dente (dir. Brierly)
"Rex the Runt" (dir. Goleszowski) 13 episodes for BBC2, aired December 1998 to January 1999
"The Angry Kid" series (dir. Darren Walsh) 3 episodes posted on the internet by AtomFilms
* Viva Forever (dir. Box)
1999 "The Angry Kid" (dir. Darren Walsh) 13 episodes distributed on the internet by AtomFilms
Minotaur and Little Nerkin (dir. Nick Mackie) Theatrical release
Rabbits! (dir. Sam Fell)
2000s
2000 "The Angry Kid" (dir. Walsh) episodes 14-25 (continuation of season one)
Chicken Run (dir. Lord and Park) Aardman's first feature. Released in the U.S. by DreamWorks and in the U.K. by Pathé.
Non-Domestic Appliance (dir. Sergio Delfino) This and the next four films were posted on AtomFilms in 2003.
Chunga Chui (dir. Stefano Cassini)
Comfy (dir. Seth Watkins)
Ernest (dir. Darren Robbie)
Hot Shot (dir. Michael Cash)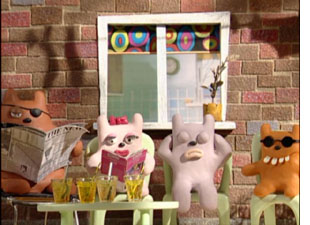 2001 "Rex the Runt" (dir. Golwszowski; left) second season, BBC2, 13 episodes, aired September to December
The Deadline (dir. Stefan Marjoram) A CGI short imitating Aardman's traditional claymation style, made for an Aardman retrospective in New York. Nickelodeon subsequently commissioned twenty one-minute episodes with the same characters to create the series The Presenters (The Deadline on YouTube.)
2002 "Cracking Contraptions" (dir. Lloyd Price and Christopher Sadler) Ten episodes shown by BBC during the Christmas season.
Chump (dir. Fell) Theatrical
2003 "Creature Comforts" (dir. Goleszowski) First season, 13 episodes, ITV1
"The Angry Kid" moves from the internet to BBC3
2004 The Angry Kid: Who Do You Think You Are? (dir. Walsh) 22 minute film outside the series.
2005 Wallace & Gromit in The Curse of the Were-Rabbit (dir. Box and Park) Released in the U.S. by DreamWorks and in the U.K. by United International Pictures.
"Planet Sketch" (dir. ?) 13 episodes, 2005-2006. For a breakdown of episodes, see the Wikipedia entry.
Creature Comforts, second season, ITV starting in October.
2006 Flushed Away (dir. David Bowers and Fell) Distributed in the U.S. by DreamWorks and in the U.K. by United International Pictures. Aardman's first CGI feature.
Purple and Brown (dir. Richard Webber) 21 episodes, Nickelodeon U.K. (Episode list on Wikipedia; a collection of the YouTube postings have been collected here, with some repetition.)
2007 January, DreamWorks terminates its five-feature contract with Aardman (claiming a write-off of $25 million for Wallace & Gromit in The Curse of the Were-Rabbit and $109 million for Flushed Away)
"Pib and Pog" (dir. Peake) Five shorts for the AtomFilms site: The Kitchen, X-Factor, Peter's Room, Daddy's Study, and The Dentist (copyright date 2006)
April, Sony announces that it has a deal to distribute Aardman features
"Shaun the Sheep" (dir. Sadler) 20 episodes, BBC, first series March, second series September.
"Creature Comforts America" (dir. ?) CBS, seven episodes. Three episodes aired in June, and the rest were cancelled due to low ratings.
The Pearce Sisters (dir. Cook) Theatrical
"Chop Socky Chooks" (dir. Delfino) 26 episodes, Cartoon Network (For character list, see Wikipedia entry)
2008 "Creature Discomforts" (dir. Steve Harding-Hill) Four public-service spots featuring disabled characters (with sound provided by people with disabilities), on ITV beginning January (also online).
Wallace and Gromit in Trouble at Mill (dir. Park) Half-hour Wallace & Gromit film to be shown by the BBC at Christmas.
[February 19, 2009: This films was shown under the title Wallace and Gromit: A Matter of Loaf and Death. The DVD is currently available for pre-orders on Amazon.UK and will be released March 23.]
1000 Sing'n Slugs (dir. ?) Bonus disc for re-issue of Flushed Away
2009 Announcement of "Timmy" (dir. Jackie Cockle) Spin-off from "Shaun the Sheep" aimed at pre-schoolers. 52 ten-minute episodes for BBC.
These features are currently announced as in progress: Tortoise vs. Hare (2009), Pirates (2009), Untitled Wallace & Gromit project (2010), Operation Rudolph (2010), and The Cat Burglars (2010).
Aardman has a CGI department mainly used for commercials and station-identification logos, including BBC's three "Blob" spots, Nickelodeon's "Presenters," and BBC2's "Booksworms"
Lord and Sibley list an undated, untitled public-information film on HIV/AIDS.
DVDs and the Internet
I won't attempt a complete list of DVDs, given that some of these films have been repackaged in various compilations. I'll mention the ones in our own collection, which cover most of what is available on DVD.
Leaving aside the Wallace & Gromit films for now, the crucial DVD for the studio's output is Aardman Classics, which contains 25 shorts plus 12 "Heat Electric" ads that use interviews with animals in the style of Creature Comforts. Unfortunately this DVD was issued only in the U.K. [Added January 22: It was also issued in Australia with Region 4 coding.] It's still available, and if you have a multi-standard player and are interested in Aardman, I can't recommend it highly enough. It contains most of the films to 1998, going back to Confessions of a Foyer Girl and Down and Out. Presumably for rights reasons, it does not include the classic music video, Sledgehammer.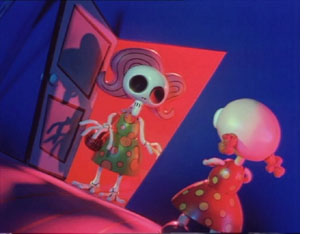 American viewers restricted to Region 1 DVDs have far less available to them. The American DVD of Creature Comforts (now out of print) contained only three other Aardman films: Wat's Pig, Adam, and Not without My Handbag (left)—among the best, no doubt, but far from the cornucopia on Aardman Classics.
Sledgehammer is included on the Peter Gabriel: Play the Videos DVD. I assume the quality there is distinctly better than the many copies available on YouTube and elsewhere on the Internet. By the way, the Quay Brothers did the rest of the animation for Sledgehammer.
Some of the TV series are available on DVD. Both seasons of "Rex the Runt" were released as a boxed set in the U.S. It's rather pricey but has a 260-minute running time and some minor extras. The British DVD of the first season of "The Angry Kid" is now out of print. Both seasons of the British series "Creature Comforts" are available as a set in the U.S. The ill-fated "Creature Comforts America" has also been released. So far the two "Shaun the Sheep" series are only available in the U.K., separately or in a boxed set containing both.
Chicken Run, Wallace & Gromit in The Curse of the Were-Rabbit, and Flushed Away are all out on DVD. (The Were-Rabbit disc includes the classic 1997 Steve Box short, Stage Fright, as well as some good making-of supplements.) I had held off ordering Flushed Away in the hope, probably vain given the film's weak U.S. box-office showing, that an edition with making-of bonuses will be forthcoming. Now, however, a re-issue (NTSC, but with no region coding) is coming out on February 19. (U.K. here.) It includes a second "all-new slugtacular disc," 1000 Sing'n Slugs (not sold separately). Forget the making-ofs, my pre-order is in!
Finally, the all-important question: which DVD of the three classic Wallace & Gromit shorts to purchase? For once the American disc, "Wallace & Gromit in Three Amazing Adventures," has the advantage, in that it includes all ten episodes of the "Cracking Contraptions" series. These are all available on the Aardman website, but for a larger image and better visual quality, fans will want the DVD. The British disc, "Wallace & Gromit: Three Cracking Adventures!" has only the three films and a bonus, "The Amazing World of Wallace & Gromit," a brief history of Aardman that I remember as being pretty good.
Apart from its own website, the official outlet for Aardman shorts on the Internet is AtomFilms, which currently has lists 37 titles under the category "The Best of Aardman." A group of very short films, Non-Domestic Appliance, Chunga Chui, Comfy, Ernest, and Hot Shot (all copyright 2000 but posted in 2003) look to me as if they might have been training exercises for young animators who also worked on Chicken Run. A group of classic films are available: Creature Comforts, Minotaur and Little Nerkin, War Story, Wat's Pig, Stage Fright, Hundrum, Pop, Owzat, Adam, Al Dente, and Loves Me, Loves Me Not. The original Pib and Pog is also there, as well as a "Pib and Pog" series of five original shorts posted in 2007. Another series, "A Town Called Panic," has six episodes; it is a Belgian production (copyright 2002; see the Wikipedia entry for episodes, characters, and links) which Aardman distributes. It was posted on Atom Film in 2007. There are also several "Angry Kid" episodes.
There are many Aardman items on YouTube. Many are bad copies of films available elsewhere, but there are some treasures to be found among them. I leave it to you to continue the search.
I would appreciate any corrections, additions, or other significant links that readers can provide.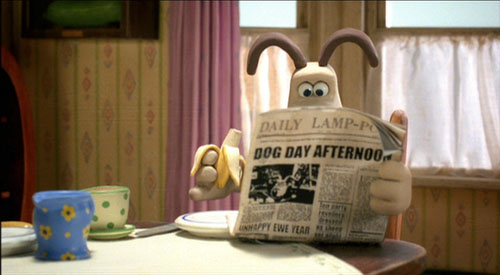 Cracking Contraptions: The Autochef