Sunday | January 21, 2007
open printable version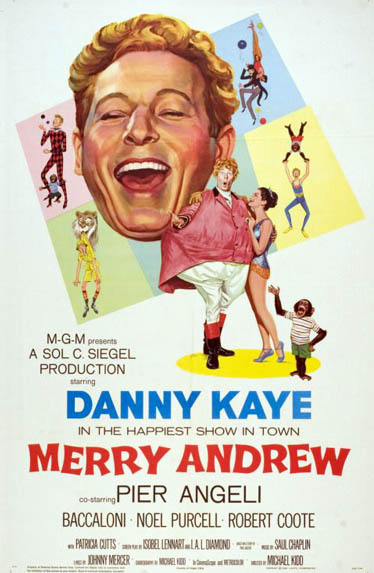 DB here:
Some day Ph. D. students will be writing dissertations on the contribution of Turner Classic Movies to US culture. I'd argue that Ted's baby is as important to our collective sense of cinema history as the establishment of the Museum of Modern Art Film Department was.
As a movie fan, I'm overwhelmed by the chance to see so many of my favorites for the cost of monthly cable. As a film researcher, I find myself feeling as if a film archive dumped a dozen movies on my front lawn every morning. In 1990, my colleagues and I would've killed for the opportunity to see this stuff, and now it's whizzed to us at home. "Seven Brides for Seven Brothers again?" some of us sigh. We are so spoiled.

To refresh his core MGM-RKO-WB titles, Turner showcases items from Columbia, Paramount, Goldwyn, and other studios. The channel has become an eternal college course in cinema, with no exams or papers and all viewers happy to earn a perpetual Incomplete.
Why mention TCM now? Because I'm especially wrought up by what's on offer over the waning days of January. Every day boasts many classics, so I'll mostly skip mentioning all the fine standbys that they're running. Here are more offbeat things I'm up for, most of which I haven't seen.
Overturning centuries of Western tradition, TCM defines a new day as starting at 6:00 AM. Sounds reasonable to me. But check for local playing times.
Jan 21: Stolen Moments (1920): I don't get Rudolph Valentino's appeal, but any film from this era demands a look.
Munchhausen (1943) A textbook classic from the Nazi cinema.
Jan. 22: The Legend of Lylah Clare (1968): Trashy premise + Kim Novak + Robert Aldrich = must-see.
Jan. 23: A cornucopia. I'll just keep the recorder going all day for:
The Black Book (1949): As oddball a film as Anthony Mann ever made, with John Alton's pitch-black scenes turning the French Revolution into a noir nightmare. Forget the commercial DVD, evidently ripped from a 16mm print; the TCM version should look better.
Gangster Story (1959): Walter Matthau starred and directed this NYC low-budgeter.
The Guilty Generation (1931): From Rowland V. Lee, endless supplier of B's.
The Criminal Code (1931): Excellent Hawks with Karloff. Bogdanovich paid tribute to this in Targets.
A string of Boston Blackie films, from 1941-1942: I remember this popular B series from TV syndication in my childhood. Fast-paced and punchy, with direction by Robert Florey, Edward Dmytryk, Michael Gordon, and the prolific Lew Landers.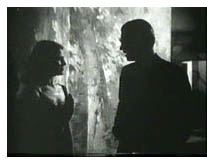 Angels over Broadway (1940; on right): Mostly shot in one nightclub set (in the Astoria studio?), a murky drama signed by Ben Hecht and Lee Garmes. Douglas Fairbanks Jr., Thomas Mitchell, and a young Rita Hayworth fill out sober long takes.
The King Steps Out (1936): Hard-to-see von Sternberg.
Jan. 24: Of course you'll watch La Strada, Detective Story, The Big Carnival, etc. if you haven't seen them. Me, I'm poised to record Merry Andrew (1958), a CinemaScope vehicle featuring Danny Kaye as an Oxbridge archaeologist. The film contains another unexorcizable ghost from my childhood, the song "Everything is Tickety-Boo." What's tickety-boo? Canadians know.
Jan. 25: Lots of prime stuff, including Experiment in Terror, Anatomy of a Murder, Dead Heat on a Merry-Go-Round, The Caddy, and several classic MGM musicals.
Jan. 26: A day devoted mostly Paul Newman and Paris, but there's also:
The Killer Is Loose (1956): Boetticher. Say no more.
To Paris with Love (1955): Robert Hamer, director of the Ealing classic Kind Hearts and Coronets, gave us this, starring Alec Guinness, one of cinema's finest and most modest actors.
A drive-in horror double bill courtesy William Beaudine: Billy the Kid vs. Dracula (1966) and Jesse James Meets Frankenstein's Daughter (1966).
Jan. 27: Of course you'll see, if you haven't, Gunga Din, The Yearling, The Naked Spur, The Manchurian Candidate (kinda overrated, methinks), The Spy Who Came in from the Cold (kinda underrated), The Quiet American, etc. But there's also:
The Last of the Mohicans (1935): This, rather close to Michael Mann's later version, I remember as being pretty solid.
A Bullet for Joey (1955): Edward G and George Raft in their sunset years; can it be bad? Okay, it can, but I'm still going to check it out.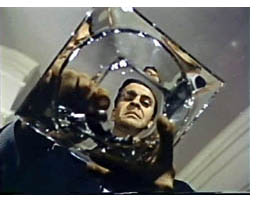 Jan. 28: Among much good stuff, including the still poignant Umbrellas of Cherbourg, I'll be targeting Dragnet (1954), a nifty, seldom seen feature by that unique genius Jack Webb. How often do we get an ashtray's-eye-view of a scene? Does this cablecast portend a DVD release?
Jan. 29: It's teen dance music till prime time: Bop Girl, Rock around the Clock, Don't Knock the Rock, Don't Knock the Twist, Don't Rock the Twist, Don't Twist My Rock, etc. Might just as well keep the recorder rolling… and rocking!
Today's outstanding piece of esoterica is The Show (1927). Every year or so I've been writing TCM to ask them to play this strange item from the agreeably warped Tod Browning. Let's just say that John Gilbert plays Cock Robin and Renee Adoree plays Salome, with Lionel Barrymore chewing the scenery as the villain. Other attractions include cuckoldry, decapitation, and murderous iguanas. With a new score from TCM's highly laudable Young Composers competition.
Jan. 30: Of course you've seen Ford's stunning Arrowsmith, Pressburger's Life and Death of Colonel Blimp, This Happy Breed, Shane, His Girl Friday, etc. But don't forget:
The Clairvoyant (1935): the relentlessly prolific Maurice Elvey, doyen of Brit good taste, directs Claude Rains (ditto) and Fay Wray.
Strike Me Pink (1936): Eddie Cantor isn't for all tastes, but I want to give this one a chance.
Raffles (1939): I'm a sucker for gentleman-thief stories, and with Gregg Toland as cinematographer, Sam Wood may indulge his Gothic streak, so memorable in Our Town and Kings Row.
Jan. 31: Not as strong a day as yesterday, but I'll be checking on This Could Be the Night (1957), helmed, as they say, by Robert Wise and starring the radiant Jean Simmons (another adolescent fascination of mine), and Mitchell Liesen's The Mating Season (1950), written by Charles Brackett and starring the fascinatingly blank Gene Tierney.
February, devoted to Oscar pictures, doesn't contain so many marginal items, but still it's a cornucopia of outstanding movies.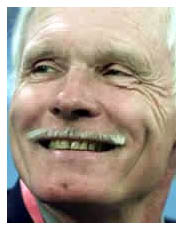 Controversial as he is, Ted Turner has proven a generous mogul, both politically and cinematically. Forget colorization! That was a bogus issue, and anyhow, for every colorized title a spanking fine-grain positive was made for archival preservation. Turner has done more than any single person to sustain and publicize the American film heritage, and he's made it available to everyone within reach of cable. You can read more about Ted in Ken Auletta's brisk and chatty biography.
Dorothy's rainbow comes to earth at TCM. Watch regularly. Check the website for extra stuff, and browse the 150,000 film database. Buy the monthly program guide; it's only twelve bucks. While you soak up the pleasure, pause to pity the cinephiles overseas. Their version of TCM, hedged by rights holder restrictions, offers mere crumbs from our bursting banquet table.
PS: Since I first posted this, film historian Doug Gomery has pointed out that Turner hasn't controlled TCM in 12 years, but both Time-Warner bosses Gerry Levin and Dick Parsons have kept it going. We owe them thanks for refusing to 'AMC' it with commercial breaks and dopey gimmicks. Fortunately it makes money for TW. Long may TCM prosper.
PPS as of 23 Jan.: Lee Tsiantis of the Turner Entertainment Group adds that credit also belongs to Jeff Bewkes, who among other duties oversees the channel. So a big thanks to him as well.