Tuesday | December 19, 2006
open printable version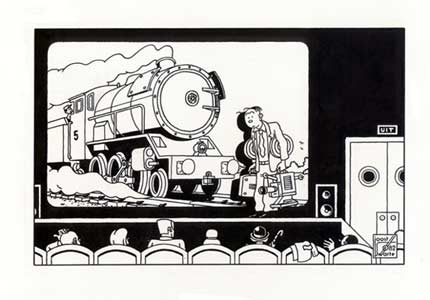 The Hilldale Theatre of Madison, Wisconsin opened its doors in spring of 1966 roadshowing The Sound of Music, and last weekend the theatre closed. To celebrate its passing, the management held a Sound of Music Sing Along, complete with subtitles to help with the lyrics. (No, not "How do you hold a moonbeam in your hand?" but the really tough ones.)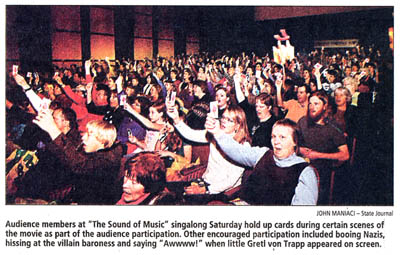 People came dressed as Maria, nuns, and the frog that was slipped into Maria's pocket. There were cues for audience interaction, including saying "Awwww!" when Gretl appears on screen. This brought back memories of The Rocky Horror Picture Show, which ran at midnight shows at the now departed Majestic Theatre from 1976 through the mid-1990s. For a report on that, and the connubial bliss it brought, have a look here.
Kristin and I came to Madison in fall of 1973, prime time. The campus boasted 22 film societies: Wisconsin Film Society, Fertile Valley, Green Lantern, Hal-9000, and all the rest. Members of the Union Film Committee, overseeing the only campus 35mm venue, were passionately debating whether to show Godard, or Jancso, or a John Ford retrospective. I convinced them to show The Young Girls of Rochefort, which hurt my reputation,and Play Time, which I think helped it.
The Wisconsin Center for Film and Theater Research had just acquired several thousand Warners and RKO films. The Majestic Theatre ran double and triple bills (kung-fu, Leone's Dollars trilogy). The Velvet Light Trap magazine was going strong, run wholly by students and semi-students.
In those days, before home video, it was glorious to be in Mad City. We had 6-10 movies to see every night, apart from course screenings. We didn't even own a TV. Who needed one?
Not to mention the cast of characters, all colorful. In the late 1960s-early 1970s the film community included:
The late Mark Bergman, premiere projectionist, fan of Phil Karlson, and gentle soul.
Joe McBride, critic (Variety), screenwriter (Rock and Roll High School), actor (The Other Side of the Wind), and excellent biographer (Spielberg, Capra, Ford, now Welles; What Ever Happened to OW? is very engaging).
Mike Wilmington, one of America's top film critics, a mainstay of the Chicago Tribune.
Tim Onosko, author of Wasn't the Future Wonderful?, industry consultant, and documentary filmmaker.
Gerry Peary, enterprising critic, screenwriter, and film professor.
Danny Peary, most famous for his series of Cult Movies books.
John Davis, co-founder of the Light Trap and creator of Capital City Comics.
Susan Dalton, another co-founder of the Light Trap and archivist at the American Film Institute.
Pat McGilligan, prolific critic, interviewer, and biographer.
Tom Flinn, the other co-founder of the Light Trap, pop-culture encyclopedist, and expert on Germans in Hollywood.
Bill Banning, founder of Roxie Releasing and operator of San Francisco's Roxie Cinema.
Reid Rosefelt, publicist, producer's rep, and filmmaker.
Many of these worthies ran film societies, so their ideas and passions showed through the films they screened. For more on the Madison Movie Mafia, go here.
Also present and active in late 1960s-early 1970s:
Filmmakers Erroll Morris, Stewart Gordon, Jim Benning, Bette Gordon, Michelle Citron, Karyn Kay.
Scholars-in-training James Naremore, Doug Gomery, Maureen Turim, Fina Bathrick, Marilyn Campbell, Diane Waldman, Ed Branigan, Vance Kepley, Peter Lehman, Brian Rose, Peter Brunette, Frank Scheide, and many more.
Great days, and nights…Mike Wilmington has written a fond appreciation of the whole scene here.
But this isn't just an exercise in baby-boomer nostalgia. The Madison Cinema Juggernaut rolls on. The Light Trap just published its 58th issue. The Onion, founded by Madison students, continues to be America's finest news source. Dan Fuller makes silent films with his students, using cameras from the 1920s, and the results have played at Pordenone. And not least, the Cinematheque, founded by faculty and students in the Communication Arts Department, carries on the spirit of the old film societies.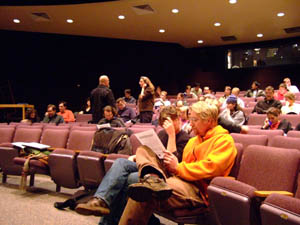 In sync with the closing of Hilldale, our Cinematheque ended the semester last weekend. (Crowd starting to gather above.) An outstanding schedule (S. Ray, Tarr, Godard, Sjostrom.) wound up with Lau Kar-leung's Dirty Ho, the last of our string of Shaw Brothers classics. It was, of course, a delight, full of flamboyant, good-humored, and downright weird kung-fu.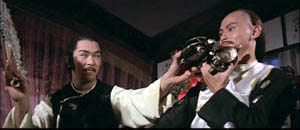 A lot of it was close-quarter work, as warriors examining pottery or sampling wine disguise their deadly thrusts as elaborate courtesy. Lau is arguably Hong Kong's top martial arts choreographer, but he's a fine moviemaker as well, and Dirty Ho is one of his best. Even the shabby state of the print, an original from 1979 complete with curious purple splotches, seemed to pay tribute to three decades of campus film fanaticism. It could have played the Majestic.
Even with the loss of the two Hilldale screens, Madison has five commercial screens dedicated to foreign and independent films, not counting the Cinematheque and the Play Circle in the Student Union. Come spring with Sundance, we'll get six more. And our Wisconsin Film Festival (April 12-15) comes hard on the heels of the Sundance complex. Wisconsin Movie Madness lives on.
DB
PS: Thanks to Ivo Blom for the Swarte illustration up top.
PPS 21 December: Today's Isthmus has a nice story on Dan Fuller and the Wisconsin Bioscope company. I played a small role in their last film of the semester, and despite the need to wear eye shadow, this gave me an even greater appreciation of their efforts. They'll have a screening of recent work some time next term.