Archive for the 'Animation: Aardman' Category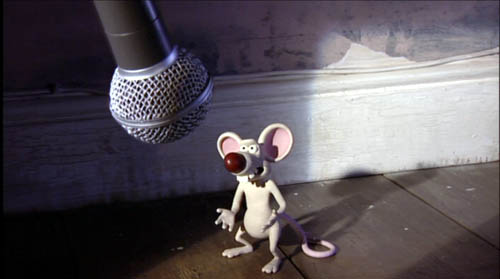 Creature Comforts: The Brood.
Kristin here—
On December 6, 2006, I commented on a Variety article which suggested that DreamWorks was probably going to sever its distribution pact with the British animation firm Aardman. The reason was the poor box-office performances of Wallace & Gromit in the Curse of the Were-Rabbit and Flushed Away.
At the time I claimed that DreamWorks had not done a good job promoting either film, despite its earlier success with its first Aardman release, Chicken Run.
Now, as Variety predicted, on January 30 Aardman announced that they would no longer be distributing through DreamWorks. The official press release on the firm's site states:
"We've enjoyed a hugely successful and creative relationship with Jeffrey and DreamWorks Animation," stated Peter Lord and David Sproxton, co-owners of Aardman Animations, "but both companies are aware that our ambitions have moved apart, and it feels like the right time to move on. Aardman has an ambitious slate of feature film projects in development and will announce their future production and distribution plans shortly."
Variety's coverage of the split quotes another Aardman spokesman, Arthur Sheriff: "The business model of DreamWorks no longer suits Aardman and vice versa, but the split couldn't have been more amicable."
The report notes that Aardman is currently making a series of seven episodes of an American version of its hit British TV show Creature Comforts. (The two seasons of the British series are available on DVD.) CBS ordered the episodes but has not yet announced when they will be aired.
Variety's article remarks, "Skein could be another test of whether U.S. auds have cooled on Aardman's claymation style and quirky British humor, which stands in sharp contrast to the fast-paced, jokey CG toons of DreamWorks and most other American animation studios.
This looks like a case of blame the victim. American audiences haven't had much of a chance to warm up to Aardman's style. DreamWorks made little or no attempt to promote Aardman as a brand or to make the signature characters, Wallace and Gromit into stars as familiar as Shrek. (I'll take the penguin in The Wrong Trousers over the ones in Madagascar any day.) Maybe DreamWorks subscribes to the peculiar notion that there may be too many 3D animated features in the market. Or maybe becoming a subsidiary of Paramount has made its executives determined to stick to the tried and true and exploit the Shrek franchise until it drops below its target income. Or both.
I suppose the ideal would be for Pixar/Disney to pick up the American distribution of Aardman's future films. John Lasseter and company know how to sell a toon.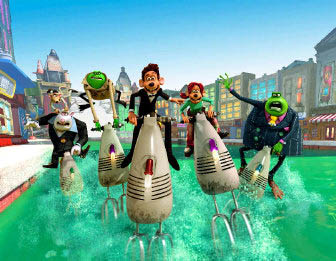 Kristin here—
Back in my December 10, 2006, entry, I discussed some reasons why CGI animated features often seem better than their live-action competition.
In passing I mentioned that industry news sources were discussing whether there were too many CGI films made last year. "Studio executives and commentators continue to debate whether there are now too many CGI films coming out. Indeed, the November 24 issue of Screen International says, 'Much has been made this year of the seeming over-saturation of studios/computer-generated titles, with critics and analysts pointing to growing movie-goer apathy.'"
I realize that industry pundits have to have something to write about at year's end. Unlike the critics, they don't have the ten-best lists and who-will-win-the-Oscar options, so they assess box-office trends. One year indies suddenly are in, the next year the big sequels have surged back, and the next year the indies are back. To read the trade papers, one would think that trends come in neat one-year cycles. Maybe studio executives plan their upcoming films according to these supposed trends, but films being greenlit now will only appear years in the future. By then the cycles will have turned over and over.
The "too many toons" issue looks to me like a tempest in a teapot. If you look at the various box-office lists for 2006, CGI animation did better proportionately than live-action films did.
Let's start at the bottom. The December 25-31, 2006 issue of Variety ran Nicole LaPorte's "2006: H'w'd diagnoses its duds." (I'd link to the online version, but it seems inexplicably to have disappeared from Variety.com.) There she talked about the 10 biggest failures of the year. Despite the title, the diagnosis and choice of films was done not by studio employees but by an "inhouse Variety poll." To be included, films had to be relatively big-budget items that could plausibly have been hits on the basis of the track records of their directors, stars, or source material. (e.g., Lady in the Water, Poseidon, A Good Year).
One animated feature made the list: Flushed Away. I have already expressed my liking for this film and made some suggestions about why it undeservedly failed. Presumably it is a coincidence that DreamWorks' head of marketing is leaving the company to set up on her own. She had presided over many hits for DreamWorks, and her new firm will continue to work with its releases. Still, the Variety story announcing the move refers to the lackluster performance of Flags of Our Fathers but does not mention Flushed Away or earlier Aardman films.
OK, so one of ten flops as designated by Variety staff members was a CGI feature. Nine of them are live-action films.
Now let's go to the top of the list. The ten highest domestic box-office grossers in 2006 included four CGI hits: Cars, #2, Ice Age: The Meltdown, #7, Happy Feet, #8, and Over the Hedge, #10. On the worldwide chart, these four films rank high as well: Ice Age: The Meltdown, #3, Cars, #5, Happy Feet, #10, and Over the Hedge, #11. In the domestic market, 6 other toons make the top 100. So, 4 out of 10 toons are in the top ten, while 6 out of 90 live-action films make that short-list. I'm no math whiz, but that looks like 40% versus 6.6% to me.
Of course, as I pointed out back in the infancy of this blog, grosses aren't the best measure of success. How much a film cost obviously determines how profitable it will be. Casino Royale, the #9 domestic box-office pull in 2006, took in $164 million—it is unanimously hailed as a hit, but it cost a reported $150 million to make. There's also the factor of "prints and advertising": how much it costs to order thousands of copies of a film and how much is put into the various forms of publicity. As I noted, P & A costs are seldom announced.
Recently, however, Kagan, a company with access to proprietary industry figures, put out its list of the 10 most profitable films of 2006. (Only films that "open wide" are included. That used to mean something like 500 or 600 theaters, but as more films come out on thousands of screens, the term has become pretty vague.) Kagan does factor in P & A expenditures alongside the filmmaking budget to determine a figure for a film's total costs. It also has a formula to calculate the total income from all major forms of distribution: not just theatrical box-office, but DVD and the various other video and TV income for a film. The result is about as accurate a notion of profitability as we outside the industry are likely to get.
Going by Kagan's reasonably reliable profitability figures, how do animated features stack up? We all know that CGI is expensive. A live-action feature that depends very heavily on computer trickery might spend as much as half its budget on special effects.
Surprisingly, CGI animation can be profitable. Kagan pronounced Ice Age: The Meltdown the most profitable film of 2006. With total production, marketing, and other direct costs of $256.4 million and an estimated $1.05 billion worldwide gross from all distribution channels, the proportion words out to 4.11 on the "Kagan Profitability Index." (A film generally is assumed to be profitable if it achieves a KPI rating of 1.75 or more.)
Three other animated films made the top ten on the Kagan KPI list: Cars was the 8th most profitable film, Over the Hedge the 9th, and Happy Feet the 10th. These figures are all the more remarkable when one considers that a high proportion of tickets sold for animated films tend to be at the lower children's admission prices.
The real question isn't really whether there are too many animated features coming out. It's actually how large the G and PG markets are. Live-action films come in all ratings, so they are not all competing with each other. R-rated horror films compete with other edgy teen-oriented movies but not with family-friendly holiday movies. Toons tend to compete with each other, but they also compete with G and PG live-action films. Flushed Away was not done in because it opened on the same weekend as another CGI toon. It presumably sank partly because it was released on the same day as The Santa Clause 3.
In 2006, live-action films for children didn't do as well among domestic grossers as animated ones did. Night at the Museum was #5 with $205 million, but the next highest film of this type, The Santa Clause 3, took in $84 million to end up at #22.
Bottom line—and that's what we are talking about here—there doesn't seem to be a glut of animated films so far. Let's see what Shrek 3 and the other CGI toons of 2007 lead the pundits to diagnose a year from now.
Kristin here–
Coincidentally, the day before I was planning to see Flushed Away, the latest feature from the brilliant English animation studio, the new Variety arrived with a relevant story. "An Aard-Knock Life," reveals that "After the second commercial disappointment in as many years from the quirky British claymation studio, insiders say DreamWorks Animation is unlikely to put any more Aardman toons on its sked. Instead, the Blighty company is believed to be looking for a new theatrical partner—likely one that doesn't have 'Shrek'-sized expectations for its releases."
If that happens, maybe Aardman should also make sure that its next studio knows how to sell a movie.
The first "disappointment" for DreamWorks was Wallace & Gromit in the Curse of the Were-Rabbit. That film was so disappointing that it won the 2005 Oscar as best animated feature and was a hit virtually everywhere in the world except the USA.
I'm irresistibly reminded of Disney/Buena Vista's releases of a few films by Hayao Miyazaki. Not really knowing what to do with these complex, poetic masterpieces, they essentially gave up on the first, Princess Mononoke (American release, 1997), doing almost nothing to publicize it and letting it play to nearly empty theaters in a relatively limited release. Spirited Away (2001) got a lackluster release from Disney, who at least had the decency to make both dubbed and subtitled prints available. Once the movie won the 2002 animated-feature Oscar, the studio gave it a half-hearted re-release. Howl's Moving Castle (dubbed, 2005) must have gotten most of its business as a result of sterling reviews rather than publicity.
One thing DreamWorks and Disney have in common in these cases: both of them seem not to have noticed that they didn't make these films. That does matter when you're trying to find an audience for them.
You could argue that three of the greatest sources of animation, at least theatrical feature-length animation, are Pixar, Aardman, and Studio Ghibli, Miyazaki's company. (On this level of brilliance, it's hard to choose among them.) Buena Vista distributes both Pixar and Ghibli films. Pixar films clean up at the box office; Ghibli films pick up rave reviews and awards. (Outside North America they set box-office records.) Distributing Aardman films has been an iffy undertaking for DreamWorks. Chicken Run succeeded, Curse of the Wererabbit didn't, and, if Variety is right, DreamWorks hopes for no better from Flushed Away.
Why the disparity, when these three studios have walked off with the past four best animated picture Oscars? I'd suggest it's because Disney and DreamWorks have made no attempt to make their imported films into recognizable brands. They sell them as if they were their own products. Then they wonder why people are mystified when they see "Disney's" Spirited Away or "DreamWork's" Flushed Away and find that these films are not what they're used to from those studios.
Pixar, on the other hand, succeeds in the U.S. partly because it's a brand. These aren't Disney films, they're Pixar films, with the cute little lamp that jumps around in the logo. Even now that Pixar has been bought by Disney, you can bet that the films will go out under the name "Pixar" and have that little lamp.
Disney has never really tried to establish Ghibli as a brand. I think Miyazaki's films are awkward for the American market. They'e too grown up for the kids who usually go to animated features, too much "cartoons" for adults. Still, given Miyazaki's reputation—the reviews, the awards, the success in other markets—I suspect Disney could succeed by stressing the Ghibli name and reputation and marketing them as art-house films. They get trampled in the multiplexes.
Similarly, DreamWorks keeps trying to market Aardman films as DreamWorks films. Flushed Away is, according to the ads, "From the creators of Shrek and Madagascar." If you lure people into the theaters with that claim, of course they're going to be baffled when they get sophisticated, witty tales instead of broad, obvious comedy. (I enjoyed Shrek, but it's been considerably overrated. That it rather than Monsters Inc. should have won the first best animated feature Oscar shows why hype and box office can do.)
If DreamWorks instead had made any effort to make Aardman into a brand as recognizable here as in Britain (well, nearly as recognizable), these films would undoubtedly have a bigger success here in the States. Releasing the three Wallace & Gromit shorts as a feature-length program, as was done in Europe, could have won a devoted following for them and things Aardman. Such a release would have cost very little and could have prepared the way for Curse of the Wererabbit and others.
So, back to Flushed Away and its supposed failure. From my reading of the box-office figures over the mere 12 days the film has been in release, it looks like a moderate success. If DreamWorks is ready to write it off already, then Hollywood really has become so focused on opening-weekend grosses as to be blinkered to all other indicators.
As everyone noted, when Flushed Away opened on November 3, it split the family audience with The Santa Clause 3: The Escape Clause. With Borat's "surprise" success (a surprise only to Twentieth Century Fox and a few pundits), taking in $26 million in 827 theaters and grabbing the Monday infotainment coverage, the Santa Clause came in second at $19, 504,038 and Flushed Away a close third at $18,814,323. After 12 days, those two are still bringing in similar grosses: Santa Clause totaling $42,312,847 and Flushed Away $41,017,254.
But, as I suggested in my piece on Borat, the top three films of the November 3 weekend looked like they would have legs and hold up remarkably well on their second weekend. Sure enough, Santa Clause dropped off a mere 13.2% and Flushed Away only 11.7%. These days, a drop-off of significantly below 50% on the second weekend is considered good. These two drop-offs are very, very low.
If DreamWorks can accept a modest success rather than a Shrek-size result, they may emphasize Flushed Away as a hit, let it play through the holidays, and see what happens when kids are out of school.
DreamWorks also might look at its own history with Aardman. Chicken Run's opening weekend gross was $17,506,162. (Given inflation, that's probably comparable to Flushed Away's opening). Its domestic total was $106,843,564. Not a smash, but good enough to put it twentieth on the box-office chart for that year. Moreover, Chicken Run's opening weekend was 16.4% of its eventual domestic gross. These days some films take in half their total on the first weekend. Let's compare it with another long-legged film. The Fellowship of the Ring (a December 2001 release which was still in theaters in August 2002, two weeks after its DVD came out), made 15.1% of its domestic gross during its opening weekend.
Maybe DreamWorks is doing what I suggested not to do: looking on Monday morning at what won the horse race and jumping to conclusions.
So, what did I think of Flushed Away? I thoroughly enjoyed it. I kind of miss the thumbprints you could sometimes spot in the clay of previous Aardman films, but otherwise this first venture into CGI looks very similar. (The studio says they went to CGI in order to make the many water effects seem realistic.) Like the Pixar features and other Aardman films, it has a clear, tight storyline structured around goals, the primary one being that of the hero, a pet mouse, trying to get home after being flushed down the toilet to the sewers.
The world under London's pavement is dense with the usual clever references and puns and bizarre characters that populate Aardman's features. More so than usual, in fact: a whole city full of shops, advertisements, and miniature objects that have been put to new uses. In fact, there's so much to see that I frequently felt the pace was too fast, whipping you past sets before you could do more than glimpse the details. The references to other films, from Finding Nemo to The Two Towers, come thick and fast.
The movie also benefits from the trend of recent years toward all-star vocal casts in animated films. With Hugh Jackman for the hero, Kate Winslet for the heroine, and Ian McKellen for the main villain, the characterizations are wonderful.
And as for the singing chorus of slugs that wanders through the film … well, it has to be seen and heard to be believed. As with other Aardman films, stick around for the credits.