Wednesday | May 19, 2021
open printable version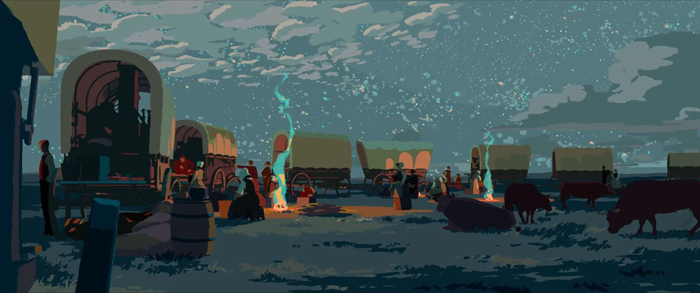 Calamity: A Childhood of Martha Jane Cannary (2020).
Kristin here:
Last time I wrote about three Middle Eastern films. Now I'm writing about three films that are all over the map and presented in no particular order. Such are the pleasures of film festivals, including the Wisconsin Film Festival, which wraps up Thursday, May 20. At 11:59 pm, all the films will be taken offline and we can all look forward to next year's festival–with luck, back on the big screens of Madison.
The Village House (2019, India)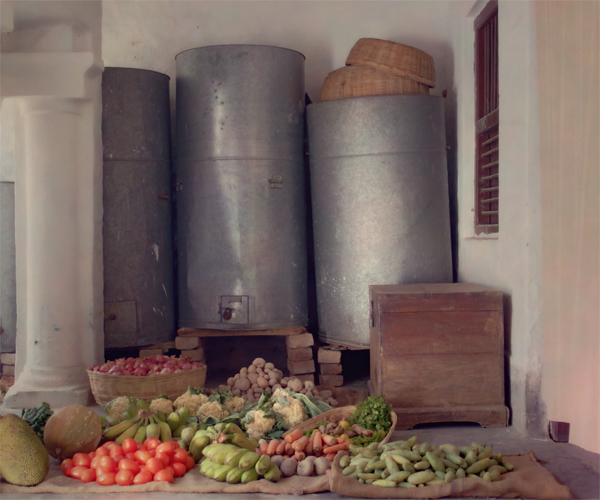 Achal Mishra's first feature is a slow, entrancing, nostalgic love letter to his parents' sprawling villa. The film is broken into three parts, set in 1998, 2010, and 2019. There is no real storyline, apart from the inevitable dissolution of the large extended family that inhabits the house in the first part. There is little dramatic conflict, either. Instead Mishra films everyday activities: men playing card games and teasing each other, women perpetually cooking or caring for a new baby, boys lured away from a game of hide-and-seek to go pick mangoes. It's the sort of ideal of capturing the quiet poetry of life that the Neorealists never quite achieved.
Mishra admits to being strongly influenced by Ozu and Hou Hsiao-hsien (in his podcast discussion with programmer Jim Healy), and it shows, though there is never overt imitation. The camera never moves, and there are nearly as many shots of empty locales as those with people present. Idle conversations are lingered over in long takes.
Mishra also mentions Wes Anderson, and there certainly are quite a few planimetric shots in the film (above). The three time periods are also set off from each other by different aspect ratios: nearly square for 1998 (also above), widescreen for 2010 (second frame below), and full anamorphic widescreen for 2019. The purpose of these contrasting framings are quite different from Anderson's in The Grand Budapest Hotel, where the the shots imitate the film ratios of the historic periods that the story moves among.
The narrow rectangle of the 1998 scenes suggests the crowded bustle of the house. From side to side it's full of food (yet again above) and people in many shots.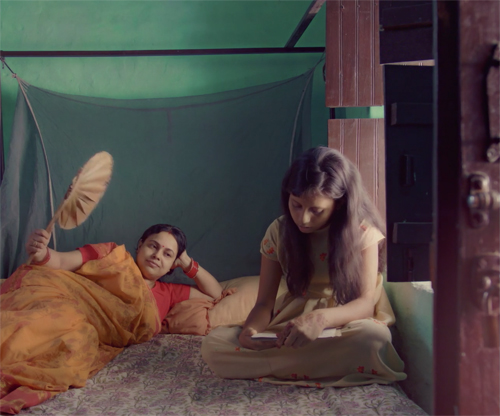 We don't get much of a sense of the geography of the house, just that it's full of rooms where ordinary things are going on. We also probably have some trouble figuring out who all the characters are (especially since the jumps forward in time have different people playing them). Still, there's always something to look at and listen to.
By 2010, the house is aging and the village offers fewer opportunities. One of the sons can't find a job and wants to sell a plot of land to get money to start a pharmacy. Perhaps the biggest drama in the film comes when an older man tries to talk him out of it. The mundane is still present, though, as one brief scene consists of one character telling another, "The toilet door needs repair, and the kitchen door is jammed." This casual-sounded remark turns out to be a hint of things to come.
The village still offers traditional festivals, but the sense of community has become less idyllic.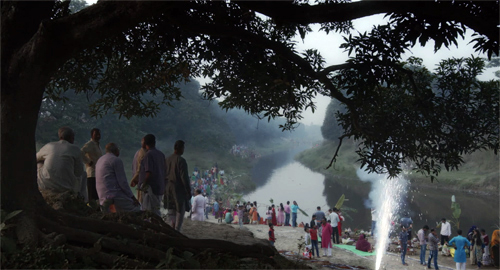 Slowly, however, the family members leave, culminating in the wordless departure of the old grandmother at the end of the 2010 scene.
The final third opens into full widescreen, with more extensive views of the house, empty or nearly so. These don't give us a much better sense of its geography, but definitely a sense of its desertion by all by an elderly caretaker and some intrusive goats.
The renovation of the house starts at this point, though we are not shown what it eventually came to look like.
The Village House is available to stream anywhere in the USA until the end of the festival.
Calamity: A Childhood of Martha Jane Cannary (2020, France)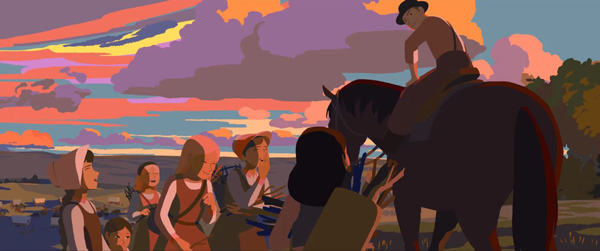 Rémi Chayé's film won the Cristal for a Feature Film (top feature) at the Annecy International Animation Film Festival for 2020, and it's easy to see why. Done with hand-drawn images, it has a look all its own. The unblended areas of color create a simple but beautiful set of images (top and above).
The story is aimed primarily at children. It tells an imagined tale of the childhood of Calamity Jane (about which very little biographical information survives), who gains skills and self-confidence when her widowed father is injured during a wagon-train journey west. It's a woke story for the modern age, as young Marsha endures bullying from the guide's son and ridicule over her tomboyish clothes and behavior.
Some of her achievements are bit over-the-top, but there's a tall-tale aspect to the narrative–as is emphasized by scenes in which characters boast of their own acts of bravery around the campfire.  It's entertaining enough, but adults will probably be more impressed by the visuals.
The film is in French with subtitles. I would say that any child not old enough to read subtitles would probably be scared by some of the bullying, violence, and near disasters that occur, though older kids could probably handle them pretty well, given that all ends happily.
Calamity is also available nationwide for the duration of the festival.
Fear (2020, Bulgaria)
I went into Ivaylo Hristov's Fear knowing little about it except that it deals with a middle-aged Bulgarian widow who captures a lone African refugee. At first she is afraid and suspicious of him but gradually, of course, comes to feel sympathy and even friendship for him. Something of a cliché in this day and age, I thought.
It turned out to be far more complex than a warmhearted tale of a bigot changing her ways. For a start, it's a throwback to the more cynical of the black comedies of the Czech New Wave, with a similar kind of humor directed against the local authorities, primarily the border patrol and the mayor. They are required by law to feed and house refugees coming across the border before sending them onto the next facility. Most people crossing the Bulgarian border are on their way to Germany. Bamba, whose family have been killed in an unnamed African country, is going there, as are a small, hapless group of Afghans rounded up by the border patrol.
That patrol is mocked, as in the absurd line-up by height in the image at the bottom. They are completely unprepared to accommodate the Afghans, herding them first into the closed local school and later into the open-sided apartments in an abandoned construction site. These are not, however, the bumbling but largely harmless officers of The Firemen's Ball. Underneath the gags, they are racist, ignorant bullies, roughing up the completely passive Afghans during the round-up. A chillingly funny interview of the officer in charge by a local TV reporter goes on in the foreground, with her repeatedly asking if the Afghans are armed and violent. When he replies that he's never caught one with weapons or met any resistance, she begs for an anecdote of a time when the patrol was threatened. Again he says there wasn't one, and she turns to the camera, triumphantly announcing that her audience has witnessed the dangers of letting refugees across the border.
The main story starts quietly by characterizing our heroine, Svetlana, as fearful. She has just lost her teaching job, and we learn that she goes regularly to the cemetery to talk with her dead husband. She lives alone in the country and sleeps with a hunting knife under her pillow. Jobless and not having received her last pay, she goes hunting and runs across Bamba on a forest path. Terrified, she marches him at gunpoint to the border-patrol office, which is deserted because of the mission to capture the Afghans. She tries the Mayor (above), but is told to deal with him herself.
On the first night she ties him up in the yard but eventually allows him to sleep in a locked room on an air mattress. Gradually she becomes more hospitable, to the point where the villagers begin to gossip about her, doing the things that people shocked by interracial couples do–killing Svetlana's dog and tossing rocks through the window.
In between such episodes Svetlana and Bamba talk to each other, he in perfect British-accented English and she in Bulgarian. We learn a lot about both, but they learn little about each other and can only convey ideas like "I want to wash your clothes" with hand gestures. Nevertheless gradually trust and even warmth are established.
One could argue that Bamba is a bit too close to being a Magic Negro. Not only does he speak perfect English, but he's a medical doctor. He's patient and polite and does his share of the chores around the house once Svetlana lets him in. Still, it's hard to imagine a plausible plot in which a less respectable-looking, working-class black man could win her over in the same way. Plus he is an engaging character, and he makes the dour Svetlana turn into one, so we are unlikely to complain.
The film is shot in impressive black-and-white anamorphic widescreen. There is one spectacular shot that's quite breathtaking. It's a drone image, starting on a simple sea view, moving backward through an open-sided room in the building under construction, and continuing on and on to reveal an immense, rambling, unfinished complex.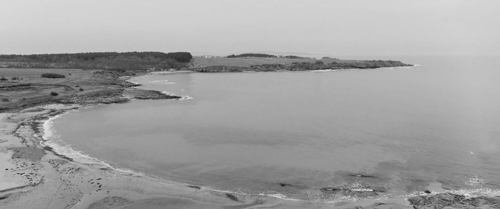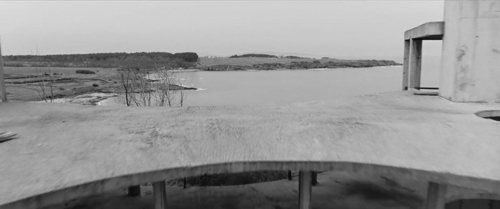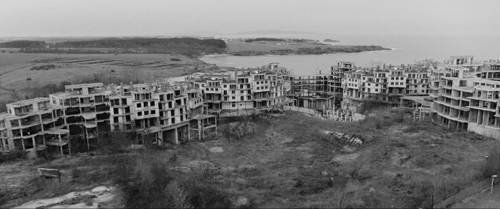 Did some entrepreneur envision turning the town into a seaside resort and lose funding partway through? We never know, but it provides an odd contrast with the poverty of many of the residents of a seemingly failing town. The only connection to the plot is that the Afghans spend a miserable time trying to live there until the border patrol gives up and trucks them further into the country in search of a place that can deal with them.
Fear turned out to be one of my favorite films of the festival, alongside Sun Children. It's available for streaming only in Wisconsin through tomorrow.
---
The Festival's Film Guide page links you to free trailers, podcasts, and Q&A sessions for many of the films.
Thanks as ever to the untiring efforts of Kelley Conway, Ben Reiser, Jim Healy, Mike King, Pauline Lampert, and all their many colleagues, plus the University and the donors and sponsors that make this event possible.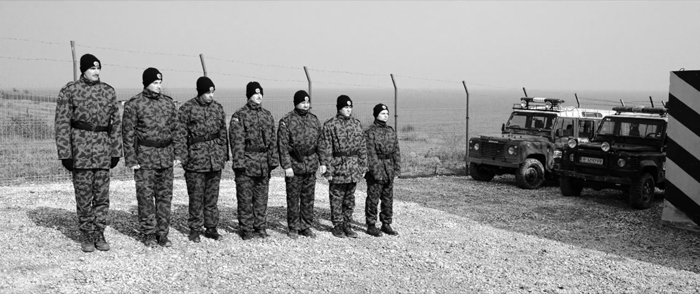 Fear (2020)