Sunday | March 27, 2016
open printable version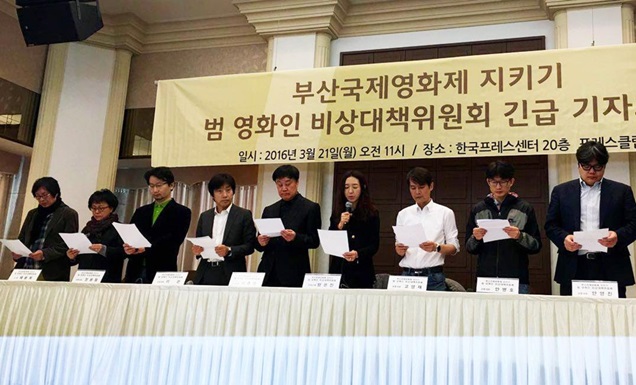 DB here:
The aggressive action taken by Busan's mayor Suh Byung-soo to curtail programming at the city's international film festival continues to have repercussions. A January post here reviewed the controversy, and a later one relayed the support offered to festival Co-Director Lee Yongkwan by the Rotterdam Film Festival. These entries include links that can supply backstory.
The reporting of Jean Noh at Screen Daily has covered some new developments. A 10 March panel concluded that the festival is "on the verge of being ruined."  Last week nine major Korean film organizations threatened a boycott if  Mayor Suh does not withdraw from the festival board and apologize for his actions. The photo above is from that event. Things are getting hotter. Suh cut short a meeting to discuss revisions to the festival policies, and, as Noh reports:
Busan City has since filed an injunction against 68 newly appointed advisors to the festival including internationally renowned filmmakers such as Park Chan-wook (Stoker), Ryoo Seung-wan (Veteran), Choi Dong-hoon (Assassination) and top stars such as Ha Jung-woo (The Chaser) and Yoo Ji-tae (Old Boy).
At this juncture comes a piercing second Open Letter to the people of Busan from critic, filmmaker, and programmer Tony Rayns. You can read Kamikaze Mayor, a good-old-fashioned butt-stomping polemic, on Geoff Gardner's Film Alert 101 website.
Busan International Film Festival, September 2015.