Monday | May 16, 2011
open printable version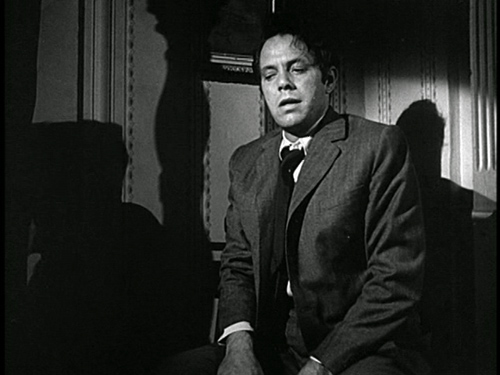 House by the River (1950).
DB here:
"Point of view" is one of those terms that we can't seem to do without, but it's rather vague. The clearest application of the term would be to shots that conform more or less to what a character sees, presenting what we might call optical point of view.
But sometimes we're given access to what a character sees, hears, and knows less narrowly. Without any optical pov shots, we might still be restricted to a character's range of knowledge. This happens in detective films like The Big Sleep, which confines us almost completely to what Philip Marlowe knows. We follow him into scenes, stay with him as the action plays out, and then leave the scene when he does. We're "with" him, but not via optical point of view.
In his book Engaging Characters, Murray Smith calls this sort of restriction to character knowledge alignment. He points out that it has both objective and subjective sides. Objectively, we're spatially attached to a character in the course of a scene or several scenes. Subjectively, we may get access to the character's thoughts, memories, dreams, or immediate perceptions (as with a POV shot). Spatial attachment refers to the limited range of our knowledge; subjective access refers to the depth of knowledge about the character's inner experience.
But what about our emotional engagement with the characters? We usually call this "identification," but Smith shows that this is a misleading way to think about what happens. Identification seems to imply taking on another's state of being, but we don't necessarily mimic a character's emotions. We might pity a grieving widow, but she isn't feeling pity, she's feeling grief. Smith talks instead of allegiance, the extending of our sympathy and other emotions to characters on the basis of their emotional states. Allegiance, Smith maintains, depends partly on the moral evaluations we make about the character's actions and personality.
Alignment and allegiance don't necessarily involve us with only one character in the course of a film. Cases like The Big Sleep, which put us "with" Marlowe all the way through, are rare. Often a filmmaker shifts our alignment and allegiance away from one character to another, perhaps in the course of a single scene. That may involve some careful choices about staging, framing, sound, and cutting.
I offer you an example from Fritz Lang's marvelously perverse House by the River. I'm afraid I can't avoid spoilers, but at least I don't give away the ending.
At the point of a nail file
Stephen Byrne, a struggling but well-to-do writer is married to the lovely Marjorie. But this doesn't stop him from trying to seduce their maid Emily. While struggling with Emily, Stephen strangles her. With the help of his brother John, he stuffs Emily's body into a large sack and deposits it in the river. Stephen's crime has stirred something in him, and he begins writing a new book, Death on the River, with its plot based on what he has done. Meanwhile, an inquest into Emily's disappearance casts suspicion on John as her killer.
The very end of the inquest scene has shown the prosecutor and chief inspector confronting Stephen, who says he won't do anything to incriminate his brother. Since neither John nor Marjorie knows of this conversation, we're aligned with Stephen. He now has precious information: the police are likely to be watching his brother, not him.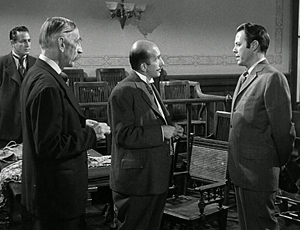 Our alignment with Stephen continues at the start of the next scene, which shows him at work on his manuscript. Marjorie comes in and asks to talk with him about Inspector Sarten.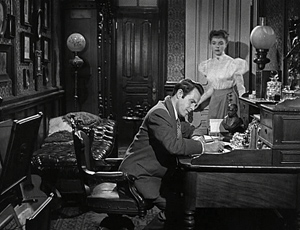 After a pause to consider, Stephen reluctantly follows her into her bedroom. Lang's camera, angled along the corridor, puts us strongly with him.
As Stephen enters the bedroom, Lang continues to favor him. Stephen comes into a knees-up shot facing front, but the answering shot of Marjorie weeping at the window is more distant, approximating his optical point of view.
Often filmmakers give us slightly stronger alignment with one character than another by framing one more closely than another. That happens here, I think, for Lang repeats these camera setups several times as Stephen apologies for being snappish and asks Marjorie what she wants to tell him. We know he's being pleasant only because he wants information.
She comes forward and sits, reporting that she has seen the detective following her. Now we can see her expression more clearly and she is less remote from our concerns.
Again the setups repeat for a bit, with the framings still making Stephen more salient. Aligned with him, and to some extent allied as well, we are able to share his sense that danger is approaching. Stephen comes forward and steps into a more neutral and balanced framing. I'd argue that our sense of being "with" him now begins to taper off.
Marjorie points to the window (in one of Lang's compositionally accented gestures) and suggests that an officer may be watching the house. Stephen goes to look out.
Stephen suggests that the police should be targeting John, since he's acted suspiciously after the inquest. As Stepehn talks, he saunters to the dressing table and uses the file there to smooth his nails. He suggests that John may very well have had an affair with Emily. Although the framing is in long shot, we can see Stephen's expression clearly, and it's duplicated in the mirror. By contrast, when Marjorie rises indignantly and upbraids him, her back is mostly to us.
Stephen sits, remarking, "There's a limit to this business of being brothers, Marjorie." She turns slightly, saying, "Stephen, you're insane." This line prompts a cut to Stephen, still smoothing his nails but turned from us.
His face turned away and no longer visible in the mirror, Stephen says casually, "You're very fond of him, aren't you?" Now we're more aligned with Marjorie, seeing more or less what she could see. Lang could have staged this phase of the scene to give us more information about Stephen's expression (say a low-angle depth shot with his face in the foreground), but the opaque shot we get is balanced by a close, clear view of Marjorie for the first time in the scene–another step toward alignment and allegiance with her. The turned-away shot of Stephen also highlights his gesture of filing his nails, important in what will come next.
Cut to a medium shot of Marjorie's reaction. "You know that." Back to Stephen: "Are you in love with him?"
Stephen doesn't see her reaction, which confirms his guess about her feelings for John, but we do. More important, our allegiance shifts toward her too. We know that Stephen is lustful (he's seeing women in town every night), but Marjorie is suppressing her fondness for John for the sake of her marriage vows. She has the moral edge.
He questions her further, finally turning to her and grinning: "Don't think I haven't been aware of it." Cut back to her: "You have a filthy mind"—something we know to be true. Her moral scheme fits ours, and sympathy for her builds.
This riposte wipes the smile from his face and he walks slowly toward her, the nail file extended like a knife, but also waggling jauntily in his hand. He recovers his flippancy and assures her he doesn't feel any jealousy toward John because he no longer finds Marjorie attractive.
After he says he finds cheap perfume exciting, she calls him a swine. He resumes filing his nails. Stephen leaves the shot but, crucially, Lang's camera dwells on Marjorie, glaring after him.
The scene's final shot shows Stephen strolling down the corridor, and it ends with him smiling and slamming his door. It is a kind of symmetrical reply to the early shot of him going to her room.
This point-of-view shot anchors us with Marjorie, both perceptually and morally. She now realizes that she is the only ally John has.
Marjorie doesn't know that Stephen is the killer and that John helped him dispose of the body. As often happens in films, we know more than any one character. As a result, we can register suspense when Stephen approaches with the nail file (we know he's capable of stabbing her), but she evidently doesn't feel herself in danger. To put it more generally, a string of scenes which restricts us to one character after another gives us a moderately unrestricted knowledge of the overall narrative.
Still, moment by moment, the director can use film technique to weight one character's reaction more than another's. We can balance those short-term reactions against our wider compass of knowledge. Our sympathies can shift as we register characters' changing awareness of their situation, however partial their awareness may be.
Interestingly, the end of this scene, emphasizing Marjorie's new understanding of Stephen's turpitude, links to the next scene rather neatly. We see John at home, drinking with grim determination, but when he answers the door he finds Marjorie there.
The segue to Marjorie as a center of consciousness in the bedroom scene prepares for her going to comfort John.
More broadly, the shift initiates a new phase of the film in which Stephen must further cover up his crime. For nearly all of the film's first half-hour, we're restricted to Stephen's ken, when he commits and covers up his crime. After that, the film's narration alternates between scenes organized around Stephen and ones organized around John, with two brief ones centering on Marjorie. The inquest, at twelve minutes the longest sequence in the film, gathers together all the characters and functions as something of a neutral and objective reset.
That scene is followed by the one I've examined, in which we return to Stephen writing a manuscript, as we saw him at the start of the film. The new scene's narrational weight briefly shifts, as we've just seen, from him to Marjorie. After she leaves John's house, however, the film will build suspense by attaching itself almost wholly to Stephen as he plots to kill both his brother and his wife.
Smith points out throughout his book that alignment and allegiance are complicated matters. It sometimes happens that we have sympathy for the devil–someone who's acted immorally but whom we might root for to some degree. Bruno in Strangers on a Train is a classic example. And we can think of instances of villains who engender some sympathy because they have some admirable features or because they are treated unfairly.
So I don't want to leave you with the impression that Lang hasn't toyed with our allegiances more severely in other stretches of House by the River. At the start, Stephen is at best a bounder, but who doesn't want him to succeed initially in hiding his crime? (For one thing, if he didn't try, the story would be over too soon.) And there may be something admirable in his cleverness and bravado as he tries to palm the guilt off on John. My discussion of this scene simply wants to show that the fluctuations of alignment and allegiance can be quite small-scale, and they often depend on niceties of directorial technique.
Craftiness
Artistry depends on craft, and craft is something both cinephile critics and academics have neglected.
Coming across that sentence in a recent essay in Film Comment, you might have a question. What is craft, and how is it different from artistry?
Some thinkers, most famously R. G. Collingwood, saw a sharp line dividing the two. I'm more inclined to see them on a continuum, at least in certain art traditions. In film, I'd suggest that craft consists in fulfilling the task at hand with skill and efficiency.
Craft implies a set of norms, a default or standard that any competent artisan should be able to fulfill. Artistry then, we might say, becomes a plus. It goes beyond the task's narrow purpose. Ozu's establishing shots, for example, do more than establish the locale of the upcoming scene. They create intricate plays with compositional motifs that recur through the entire film. Artistry may not necessarily add complexity, though; it can also compress and concentrate. Bresson eliminates establishing shots and providing environmental information through glimpses of background or information on the soundtrack.
Sometimes artistry adds a psychological complexity not apparent in the bare-bones task. This might be given through performance and/or the way the scene is shot. This is what I think happens in the House by the River scene. It's not a flamboyant job of direction. We need to take a little effort to see how Lang has set up the master shot to allow Stephen to go to the window, then to the dressing-table; and to see how Lang has reserved the closer shots of the couple for a new level of conflict.
But so much might have been done by any solid artisan. And you could imagine other ways to shoot the scene. Someone like Preminger might have presented the entire encounter in a few balanced two-shots. Lang's extras—the discreet use of optical point of view, the analogous corridor shots, and the subtle variation in shot scale between Stephen and Marjorie, not to mention Stephen's playful waggling of the nail file—build subtle attitudes toward the characters.
Call it artistry, or cunning craft. Either way, it shows how directors can shape our experience by adjusting the range and depth of our knowledge, sometimes in small but powerful ways.
---
The distinction between range and depth of information in cinematic narration is presented in Film Art: An Introduction, Chapter 3 and in my Narration in the Fiction Film. For more on these concepts, see Meir Sternberg's Expositional Modes and Temporal Ordering in Fiction. Murray Smith's Engaging Characters refines these and other distinctions in order to understand how we grasp character in film.
Tom Gunning's The Films of Fritz Lang offers a detailed, fascinating commentary on House by the River, concentrating especially on motifs of writing, mirroring, and filth.
For other entries on the craft of staging dialogue scenes, go here and here and here and here elsewhere on this site. For more on niceties of direction, from a director seldom credited with such, try here.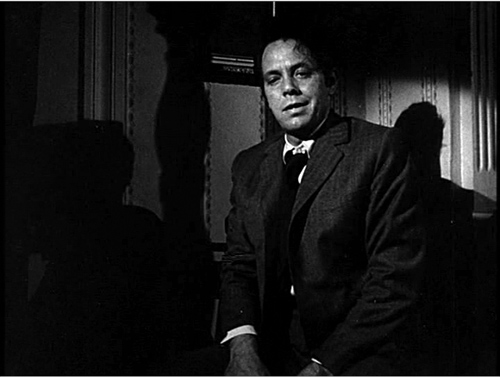 House by the River (1950).