Sunday | October 17, 2010
open printable version
DB here:
This slide, which appeared briefly before every screening at the Vancouver International Film Festival, epitomizes one of the event's virtues: quiet sanity. Of course we must discourage people from recording the movie. But just as surely, we want people to photograph the filmmakers and record their comments and get the word out. Spreading the news benefits everybody, particularly the filmmakers.
Indeed, the whole VIFF clambake is run as efficiently as anyone can imagine. Want to get into a film? Very likely you will. A movie is getting buzz? Likely as not, extra screenings will be mounted. Annoyed by mobile devices in the throngs around you? House managers firmly ask people to shut them off. Now.  Yet there's nothing aggressive here. This is a city in which the buses preface the flashing notice "Out of Service" with an apologetic "Sorry." A Manhattan bus would say, "You're outta luck, pal."
Now that Kristin and I are back, we know whom to thank: the organizers, the programmers, the office staff, and the inexhaustibly cheerful volunteers (700 strong). Below are Alan Franey, Festival Director, and PoChu AuYeung, Program Manager and Senior Programmer.
Come down for breakfast and you're likely to run into Foreign Guest Coordinator Theresa Ho and Hospitality Suite Manager Eunhee Cha Brown. Dreyfus is usually not far away.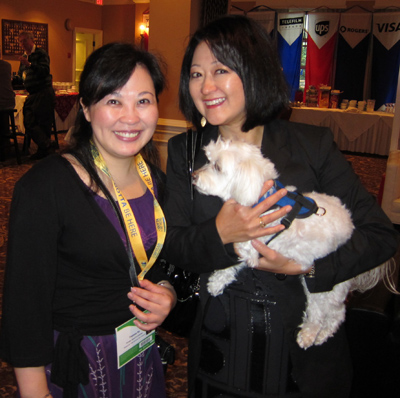 Then there's the multi-talented Lillooet Fox, Food and Beverage Coordinator, waffle wrangler, and music supervisor for Amazon Falls, playing in the festival.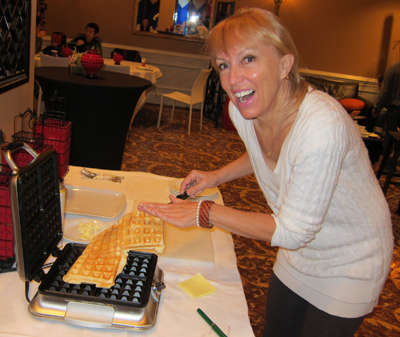 Ever notice how film people are always "on," always subtly copping stances and looks from movies? Shelly Kraicer, Dragons & Tigers programmer, does his dressed-down version of Lars von Trier.
Speaking of T-shirts, nothing beats telling a story with your thorax. Consider Sean Axmaker (Parallax View) and Robert Koehler (Anaheim International Film Festival) and Raymond Phathanavirangoon (Hong Kong International Film Festival).
At happy hour, the waffles vanish and adult beverages come into their own. VIFF programmer and editor of Cinema Scope Mark Peranson hoists one with Variety critic (and University of Wisconsin alum) Rob Nelson.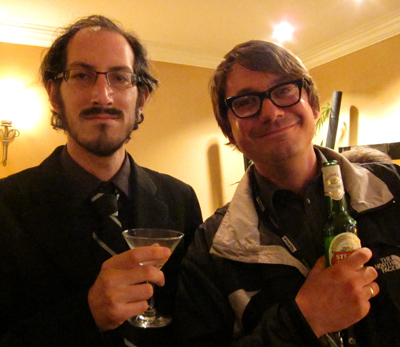 Of course everyone mingles with filmmakers. Freddie Wong, director of The Drunkard, is reunited with Bérénice Reynaud, Cal Arts professor and author of a book on City of Sadness.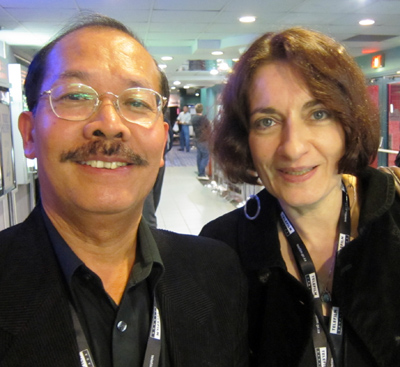 Tony Rayns, veteran Dragons and Tigers programmer, is flanked by Bong Joon-ho on the left, Denis Côté (Curling) across the table, and Mark Peranson on the right. Geoff Gardner and Jack Vermee are in the distance. Again, the cinephiles pay homage to a shot, in this case from Hong Sangsoo's Oki's Movie.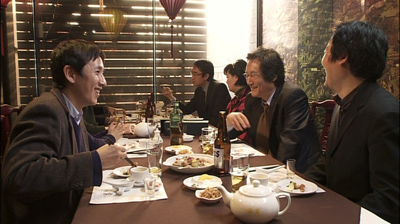 Jim Udden, another Badger and Professor at Gettysburg College (and author of a book on Hou Hsiao-hsien), talks Taiwanese film with director David Verbeek (R U There?).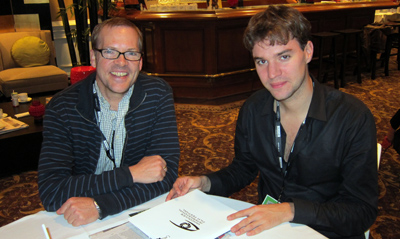 Trustworthy translator Alex Fu and director Zhu Wen (Thomas Mao).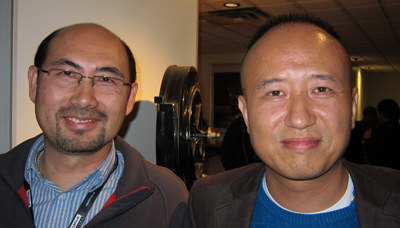 Takahashi Nazuki and Abe Saori celebrate after their screening of Icarus Under the Sun.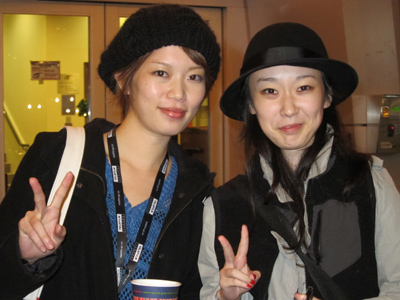 Meanwhile, Geoff Gardner (watch for his VIFF coverage in Urban Cinefile) finds that a rival venue has conjured up a star from another era.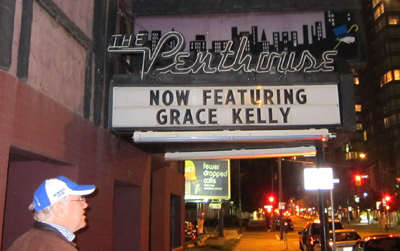 And although we left Vancouver all too soon, we'll always have Japadog. Not everything in Vancouver is quiet sanity, but even the nuttiness is quite easygoing.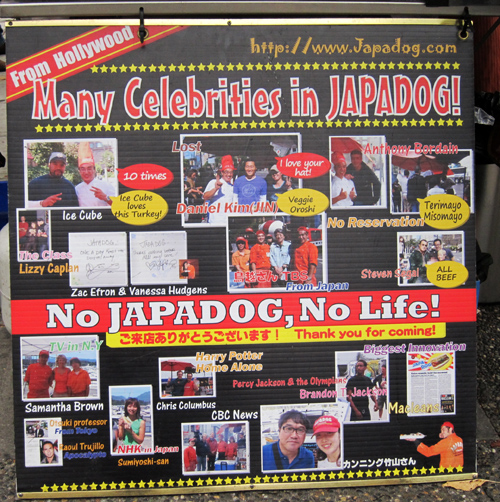 I recommend no. 4, Spicy Cheese Terimayo.