Wednesday | March 24, 2010
open printable version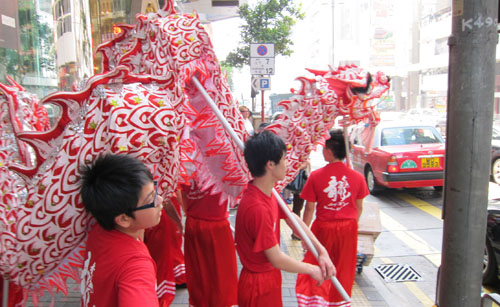 DB here:
Once more, Hong Kong. Still a spellbinding place, although the municipality is doing whatever it can to force pedestrians underground and surrender the streets to cars. Even a dragon has to wait for the pedestrian light. And now, thanks to the sandstorms in China, the air is thick with pollution. I have taken defensive measures. My students probably wished I'd worn one of these more often.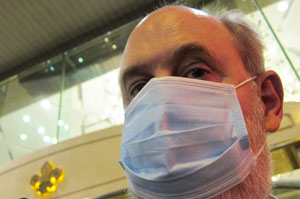 Yes, that is the Boy Scout logo behind me. Why? Answer here.
I've already seen a few films at the Hong Kong International Film Festival, but I'll try as usual to fold my viewings into a few thematically related entries. In the meantime, amateur reportage and celebrity gawking take over. I'm surface-skimming, I grant you, but it's quite a surface.
For some years now, the festival has meshed with Filmart, the regional film market and trade show, and the Asian Film Awards. So you need badges.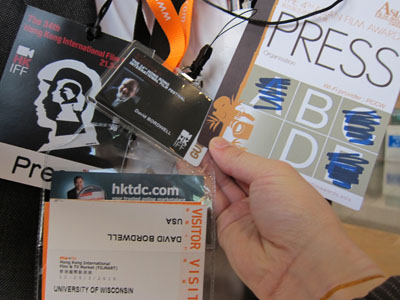 For most of this week, the big events take place at the Hong Kong Convention Centre.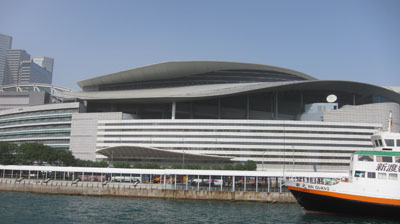 The opening reception for the festival offered all the glitter you can ask for, literally, when a cascade of sparkling paper showered down on the group photo of the organizers.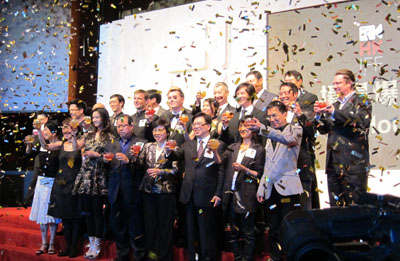 Among those present: Tang Wei, star of Lust, Caution and featured alongside Jacky Cheung in Ivy Ho's festival-opener Crossing Hennessy.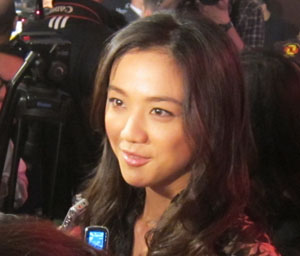 Then there was Lisa Lu, radiant as ever. She was a wonderful star in Shaws' golden age and continues to visit the festival annually, while sustaining her acting career.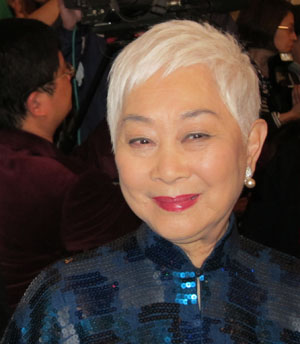 Clara Law, director of one of the opening films, Like a Dream, embraces Lisa while Nansun Shi, herself a legendary and still central Hong Kong producer, looks on.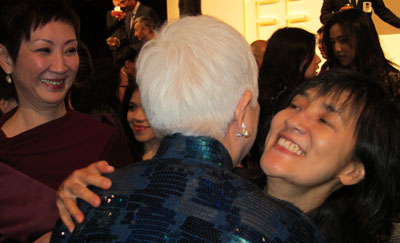 Filmart this year teemed with mainland Chinese media firms, but the classic Hong Kong companies also put in their appearance.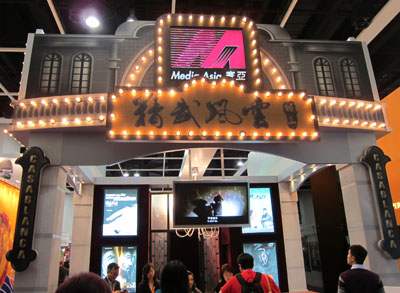 It's reassuring to see that Wong Jing, the brains behind Naked Killer and Naked Weapon, hasn't abandoned his old ways.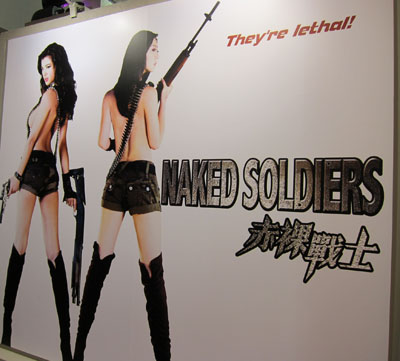 New regional enterprises are emerging. Patrick Frater and Steven Cremin, old Asian hands, have created FilmBusinessAsia as a resource of news, industry analysis, and in-depth information. Based in Hong Kong, they are ably teamed with Business Development Executive Gurjeet Chima, who speaks five languages.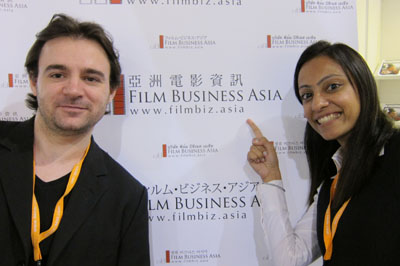 Anyone interested in Asian film will find  their information-packed website a must.
Two more entrepreneurs are Joey Leung and Linh La of Terracotta Distribution, a London-based outfit with an already impressive library. I met them through King Wei-chu, on the right, a programmer for Montreal's FantAsia.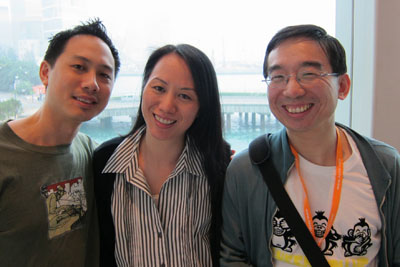 Three-dimensional film and TV were all over Filmart. Take a look at a 3D setup using the Red HD camera.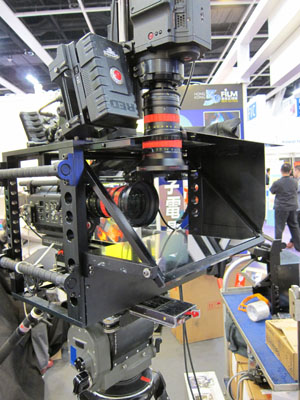 What a contraption! To shoot Potemkin, Napoleon, and a host of other 1920s films, you just needed a Debrie Parvo, that model of Style Moderne design.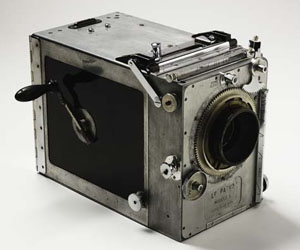 Still, 3D television seems more or less ready for prime time. Can you tell the difference between reality and a 3D image?
Also at the Convention Centre was the Asian Film Awards ceremony, which whizzed by in two hours. On the red carpet runway you could see some celebrities, such as Wai Ying-hung, a Shaw Brothers ingenue and kung-fu warrior from the 1980s who would win for best supporting actress in Ho Yuhang's At the End of Daybreak.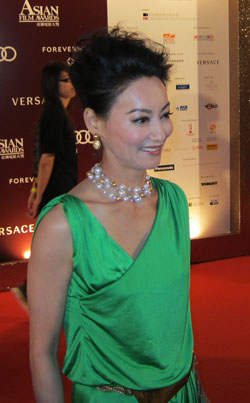 Among the slinky models and standard-issue teen idols on the red carpet, a note of dignity was struck by Amitabh Bachchan, who got a lifetime achievement award. He might as well officially change his name to Megastar Amitabh Bachchan.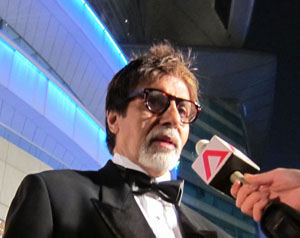 For a complete rundown on the award winners, you can go here. We wrote about three of them in earlier blog entries: Bong Joon-ho's Mother (best picture, best actress, best screenplay), Ho Yuhang's At the End of Daybreak (best newcomer, best supporting actress) and Chris Chong's Karaoke (best editing). Among the nominees, we also wrote about Love Exposure, About Elly (I really wish it had won something), Cow, Air Doll, and Breathless. I was particularly struck by the cheers and whoops the audience gave Wang Xueqi of Bodyguards and Assassins, which I caught up with today. He's an actor of gravity, who unlike most Hong Kong performers believes that less (hamming) is more (engrossing).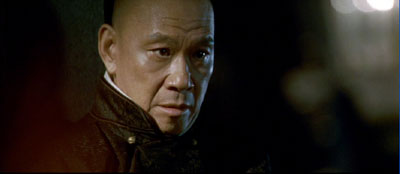 With the big launching events over, we can get down to the real business: Watching movies and discovering some sublimity in them. More entries, as usual, to come.