Thursday | April 10, 2008
open printable version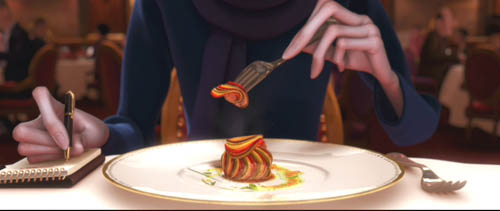 DB here:
On some of Bill Kinder's business cards, the I in PIXAR is represented by Buzz Lightyear, the blustery, not-too-swift astronaut of Toy Story. It's a typical gesture of self-deprecation from the studio that showed that computer animation didn't have to be just plastic surfaces and mechanical expressions. Pixar is cool, geeky, and warm all at the same time. Its films are both smart and soulful, made by movie fans for movie fans, and for everybody else. Like the best of the Hollywood tradition, Pixar movies have the common touch and still offer the most refined pleasures.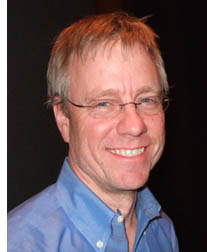 Kristin and I have already written admiringly about Pixar on this site (here, here, and here). It's quite likely that this studio is making the most consistently excellent films in America today. So we were delighted when our colleague Lea Jacobs arranged for Bill to come to the University of Wisconsin—Madison last fall. He toured our new Hamel 3-D media facility, met with faculty and students, and gave a talk, "Editing Digital Pictures." Bill is Director of Editorial and Post-Production, a position that gives him an encompassing view of the Pixar process as he champions the efforts of the editors and their teams as key creative contributors.
A graduate of Brown, where he studied with our old friend Mary Ann Doane, Bill is like Pixar movies—intellectual, good-natured, energized, and adept at connecting with people. He started his career in news-gathering and TV editing before moving to work at Francis Ford Coppola's American Zoetrope, in the days of Jack (1996) and the uncompleted Pinocchio project. He joined Pixar in 1996, while they were finishing Toy Story. When the success of A Bug's Life enabled Pixar to move to a purpose-built facility in Emeryville, Bill went along.
Whittling vs. building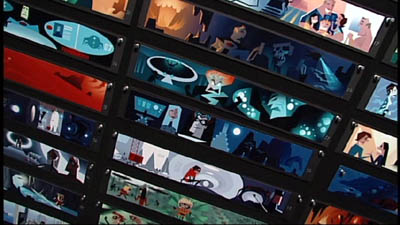 I've always been uncertain about what an editor does in the animation process. Since every shot is planned and executed in detail, what can be left for an editor to do? Bill started from that question. No, editing digital animation isn't just a matter of cutting off the slates and splicing perfectly finished shots together.
As in live-action filming, the animation editor is working with dozens of alternate versions of every shot. The reason is that at Pixar, there are roughly five phases of production: storyboarding, layout, animation, lighting, and effects/ rendering. Each one generates footage that has to be cut together.
The static storyboards, for instance, present poses, expressions, and movements against a blank background. They are assembled in digital files that can be played back as if they were a movie. In order to plan the next phase, the resulting "footage" has to be edited, and choices are made at every cut. And each scene is storyboarded at least five different ways, with many variations of action and timing. A single film uses up to 80,000 boards!
At the next phase, layout, the scene's overall action is planned. Layout artists develop the staging of each shot, testing different backgrounds and camera angles with the editors. Again, the alternatives have to be assembled and cut in various combinations.
Whittling versus building, Bill called it. The live-action editor gets a mass of footage that has to be triaged, but the animation editor is building and tuning the film from the start. Editing operates at each phase, from storyboarding to final rendering. This "almost overwhelming iteration," as Bill called it, demands that the editorial department hold all the alternatives in its collective mind at once. Add to this the fact that Pixar can take up to five years to produce a film, maintaining several editorial teams to cover projects at different degrees of completion. When you realize that all this brainpower and bookkeeping are necessary for even the simplest shot, you appreciate the felicities of the finished product even more. These people make it all look easy.
Continuity and the viewer's eye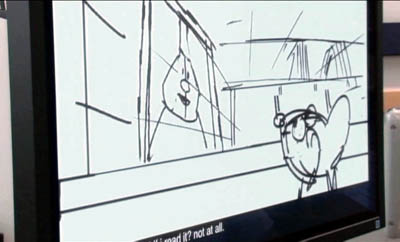 Bill explained that digital animation occasionally requires something like live-action coverage. (1) Action sequences with fast cutting need to be spatially clear, and "chase scenes can be hard to board." So sometimes the layout artists create master shots and closer shots from different angles that the editor will pick out and assemble, live-action fashion.
Like live-action editors, Pixar editors have to keep an eye on continuity of the objects in the frame. Because each shot is reworked across many phases, items of the set, lighting, color, atmosphere, effects and rendering have to be maintained, on many layers or levels of the program. (I gather it's like the layers in PhotoShop.) Sometimes a layer, whether a prop, character, or set element, fails to "turn on" and so a discontinuity can crop up. A finished Pixar film typically has 1500 shots or more, so there's a lot to keep track of.
In another carryover from live-action features, Pixar plots are conceived and executed in three discrete acts. It's not only a storytelling strategy but a convenience in production. Rather than waiting until the entire film is done to examine the results of the different phases, the filmmakers can finish one act ahead of the others in order to troubleshoot the rest.
I've studied how filmmakers compose the image in order to shift our attention (2), so I was happy to hear that this process is of concern to the Pixar team. "Guiding the viewer's eye," Bill called it. He explained that in looking at storyboards and animated sequences, his colleagues sometimes use laser pointers to track the main areas of interest within shots and across cuts, especially when characters' eyelines are involved. Nice to see that sometimes academic analysis mirrors the practical decisions of filmmakers.
The auteurs of Pixar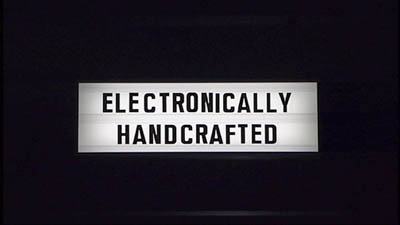 What makes Pixar films so fine? Bill supplied one answer: It's a director-driven studio. As opposed to filmmaking-by-committee, with producers hiring a director to turn a property into a picture, the strategy is to let a director generate an original story and carry it through to fruition (aided by all-around geniuses like the late Joe Ranft). Within the Pixar look, John Lasseter's Toy Story 2 and Cars are subtly different from Brad Bird's The Incredibles and Ratatouille or Andrew Stanton's Finding Nemo and upcoming Wall.E.
Bill covered many other fascinating topics, including the importance of sound ("the animated film's nervous system"). But I'll end with some pull-quotes from Bill's talk.
*Francis Ford Coppola: "No film is ever as good as its dailies or as bad as its first assembly."
*Gary Rydstrom: "Film sound is the side door to people's brains."
*Bill himself: "Editing is just writing, but using different tools."
We're grateful to Bill for his visit and look forward to seeing him again. Goes to prove what we've said before: Popular American filmmaking harbors many of the most intelligent, sensitive, and generous people you'll ever find.
(1) In live-action production, coverage involves shooting a master shot of a scene that shows the entire action. Then parts of the action are repeated and filmed in closer views. This allows the editor several options for cutting the scene together.
(2) I talk about this in Chapter 6 of On the History of Film Style and throughout Figures Traced in Light. See also Film Art, pp. 140-153, and this blog here and here.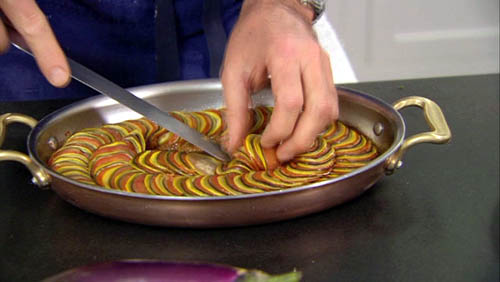 PS: Another glimpse into the kitchen: Bill Desowitz reports on Wall*E at Animation World. Now Pixar is trying to emulate the look of 70mm. And there's footage from Hello, Dolly! in there? All the signs point to another nutty, dazzling achievement.