Monday | April 2, 2007
open printable version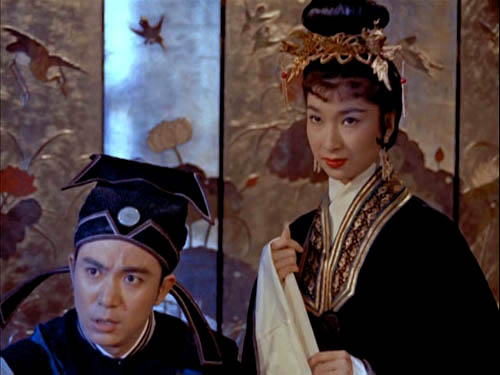 Enchanting Shadow.
A classic storyteller, in suitable surroundings

Film director Li Han-hsiang didn't benefit from the 1980s-1990s explosion of interest in Hong Kong cinema. For one thing, most of his films were for Shaw Brothers, and those were hard to find on video. For another, Li worked in genres that didn't attract many fanboys and fangirls. As a result, he's not as well known as his Shaws compadres Chang Cheh, King Hu, and Lau Kar-leung.
Although opinions about his directorial skills vary, there's no denying his historical importance. Besides making over 100 films, Li both shaped and reflected several trends in local cinema. A massive retrospective of his work has begun at the Hong Kong Film Archive during the festival, and it will continue well into May.
While several of Li's films are now available on DVD through the Celestial library, the retrospective features many titles that are hard to see, and it samples the range of this important director's career.
Li's breakthrough came in the huangmei diao genre, the "yellow plum" opera. These operetta-like films tended to center on romantic tales of court life, often involving ill-fated lovers. Li's Diau Charn (1958), The Kingdom and the Beauty (1959), and The Love Eterne (1963) helped define the huangmei picture. The films became flagship Shaws vehicles, showcasing vast sets, eye-searing color, and sweet music, and they won praise at Asian film festivals. Spurred by his success, Li went independent. He relocated to Taiwan and continued to make lavish costume dramas, most notably the two-part Beauty of Beauties (1966).
His gamble failed, and Li returned to Shaws to make The Warlord (1972), with Michael Hui. As Shaws began to pursue more sensational fare, Li proved surprisingly adept at erotic films and films about gambling. He returned to the costume drama too, as in The Dream of the Red Chamber (1977), with Brigitte Lin playing a male role (heard that before?). Li's biopic of Emperor Puyi, titled The Last Emperor (1986), beat Bertolucci's project to the screen.
Li also made small-scale films about local neighborhood life, like Rear Entrance (1960), and during his Taiwan stay he explored understated melodrama too. Clearly, a retrospective is overdue, and the Archive has done it up right.
The screenings run until 25 May. Along with the films, there's a handsome book, Li Han-hsiang, Storyteller. It features in-depth essays, many interviews, and an annotated filmography. (I don't find the book listed for sale on the Archive's website, but its price is HK$128, and general ordering information is here.) The archive is presenting an exhibition of costumes and props from the films, including lingerie worn by one female star.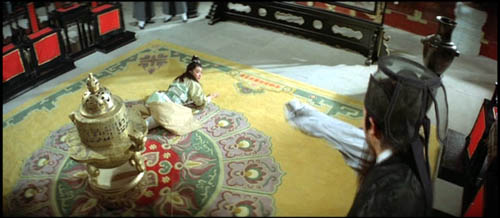 The Dream of the Red Chamber (1977).
I had little to say about Li in Planet Hong Kong because in the late 1990s the Shaws collection was inaccessible and I was able to see only a few of Li's works properly. The titles shown at earlier editions of the HKIFF were certainly impressive, notably Enchanting Shadow (1960), based on the same story that is the source for A Chinese Ghost Story (1987), and the costume extravaganza Beauty of Beauties. Still, I thought that Li lacked the filmmaking élan of his friend King Hu.
I've now seen several more Li titles, and though I see no reason to revise my first impression, I've come to appreciate his distinctive virtues more. He's by and large a woman-centered filmmaker, and his female protagonists tend to be energetic and enterprising. The Love Eterne is particularly interesting in its endorsement of women's ambitions. I haven't seen evidence that Li has a distinctive approach to staging or cutting, as some other Shaws directors do. His emphasis falls upon settings and costumes, presented in vivid color schemes and captured in graceful widescreen compositions.
Here are some thoughts on what I've watched in the series here.
Flower Drums of Fung Yang (1967): One of Li's Taiwan pictures, this centers a young woman who, after being raped by bandits, takes up street performing. Trouble comes in the form of her husband, who resents her ability to support the two of them, and a rival singing troupe. The musical score consists of a single song played in a variety of moods. The standard conceit of a woman pretending to be a man enhances a sad tale of the hopelessness of women's lot—a common Li theme.
The Winter (1969): The best of the Li's I've seen in this go-round. Our hero is a shy restaurant-owner who can't bring himself to admit he loves the girl next door. Simple and poignant, shot largely on location in a teeming street market, the film is unusually quiet for Li, and he displays resourceful use of the anamorphic ratio. The film has become a classic of Taiwanese cinema, and Tony Rayns tells me that its understated realism influenced Hong Kong's New Wave generation of the 1970s.
Four Moods (1970): An episode film. I had seen the King Hu contribution, Anger, several times before, and it's still the best in the quartet. Li's own contribution, Happiness, is a story about a miller and the ghost he meets while fishing. Amiable, somewhat confusing in its attitude toward the miller's daughter, this wouldn't convince you that Li was a good director.
The Burning of the Imperial Palace (1982): Li was given the rare opportunity to film in Beijing's Forbidden City, and he took full advantage of it: The pageantry of his splendid long shots makes today's greenscreen vistas look insubstantial. But as Wallace Kwong explains in his essay in the Archive anthology, Li's mainland collaborators demnded many changes in the storyline.
The film traces the rise to power of the girl Cixi, recruited to the young emperor's harem and eventually becoming a rival to his wife. In elaborate, rapidly edited sequences, Li tells a captivating story of a weak ruler (played by a very young Tony Leung Ka-fai) and the strong women behind him, who are ready to strike deals with Western imperialists.
Reign behind the Curtain (1983): A continuation of Burning, and another engaging palace intrigue. The emperor fritters his kingdom away while Cixi produces a male heir and enters into a tactical alliance with the empress. After his death, the two women struggle with the eight-man advisory council, and eventually with each other. Cixi has turned from an innocent girl into a Machiavellian power-broker, all adding to the woes of China. Like its prequel, a gripping story and skilful performances.
Five rather different films! I look forward to more.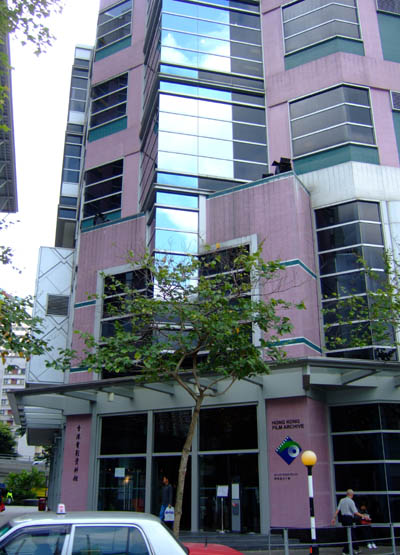 A home for Hong Kong films
When I first came to Hong Kong in 1995, the Archive was housed in a trailer. Now it has a lovely building in the tranquil neighborhood of Sai Wan Ho. The light, airy lobby boasts posters and an exhibition hall, currently illustrating the Li retrospective.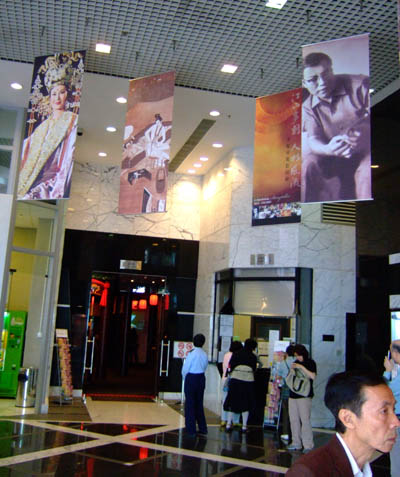 Law Kar has been a key player in preserving and interpreting the local film heritage. He went to school with John Woo and founded some of the first local university film societies. An important critic, he oversaw many of the festival publications that provided gweilos like me precious information. He has also written a fine book with Frank Bren on early HK film history. Recently retired as the archive's Head Programmer, he still turns out for events, and I'm always happy to see him.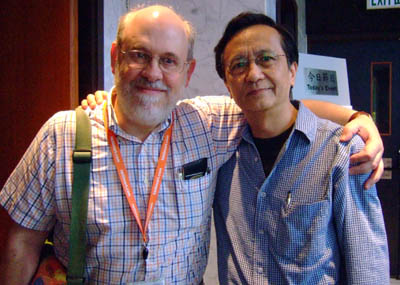 There's a hiatus in the Li screenings for a couple of days, so I'll post this now and catch up with other films in a later entry.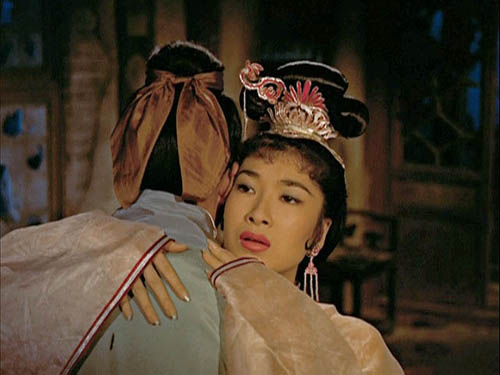 Betty Lo Tih in Enchanting Shadow.